Frontpage Popular News
Sea.Hear.Now 2023 Proves Rock Is Here To Stay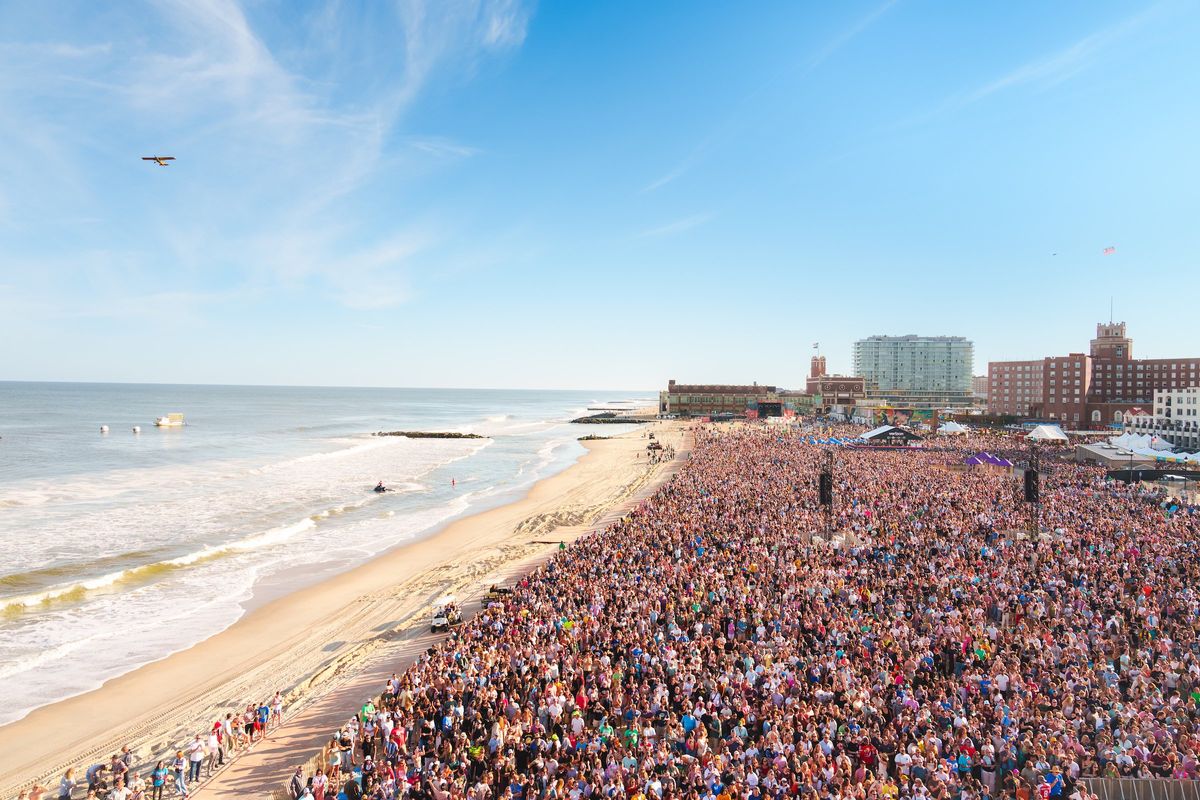 Ismael Quintanilla III
Asbury Park, New Jersey is not just a popular shore destination, but a Mecca of music history. Home of iconic venues like The Stone Pony- where Bruce Springsteen got his start in performing- thousands of people flock just for The Pony alone...but every September, the seaside city gathers to celebrate rock and roll for Sea.Hear.Now.
---
Sea.Hear.Now is the perfect ending to your summer for multiple reasons. It gives you an excuse to enjoy the sun and the sand one more weekend post Labor Day, even better that you throw all of your favorite artists together. I've always said that festivals are the best bang for your buck as a music fan- you spend a few hundred dollars to see at least 10 artists over multiple days with general admission seating, as opposed to that $2,000 Taylor Swift ticket.
I've been to a few festivals spanning from Firefly in Dover, Delaware to the infamous Coachella in Indio, California. I've seen bands I may not have purchased single show tickets to, and I've become fans of artists just by happening upon their performances at these events. Festivals are great ways to try out new music without throwing all your money away- and there's no better way to get a feel of an artist than seeing them live.
This was my first year at Sea.Hear.Now, and it didn't disappoint. For fans of older music and new music alike, there's truly something for everyone here. Located on the actual beach (so bring sand-appropriate shoes), Sea.Hear.Now features clothing pop-up shops, local food and drink vendors, and much, much more. Here are the highlights:
The Best Performances of Sea.Hear.Now 2023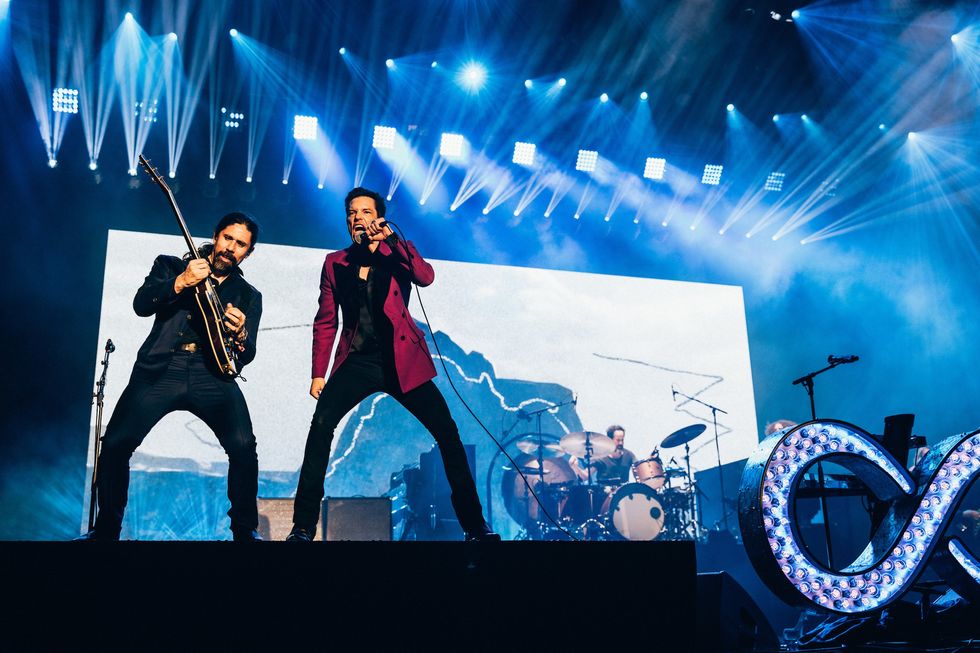 The Killers at Sea.Hear.Now 2023
Chris Phelps
I'd be crazy if I didn't start with what we all came for: the music. I hadn't seen most of these acts live before, but I have admittedly seen (and worshipped) The Killers at Firefly a few years ago. But my reviews are as follows:
Sheryl Crow- if I can look half as good as her, I will consider myself successful. My first headline thought was: Breaking News: Sheryl Crow Has Still Got It. She has a powerful voice, knows how to rock the guitar, and "Soak Up The Sun" will always be famous.
Greta Van Fleet- one word: wow. Everyone compares them to Led Zeppelin, and I was so shocked by the vocal range and witty banter they provided. I became an instant fan.

Royal Blood- not only did I get the chance to interview the lovely British duo this weekend, but also see these two rockstars. Kicking off their tour, Royal Blood did not disappoint.

The Killers- I can't say enough about this band and how amazing they are live. They opened with my favorite song of all time, "Mr. Brightside," and I astral projected to the moon. Ask anyone there, The Killers are a must-see whenever they're in town, bringing up a fan every time to play drums with them. Always electric, never a let down.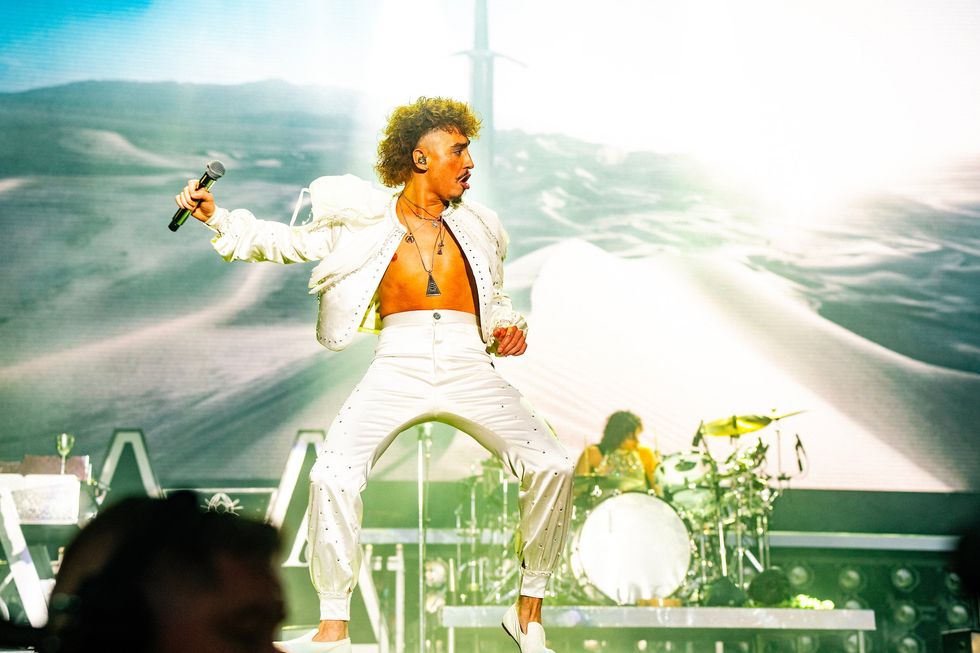 Greta Van Fleet at Sea.Hear.Now 2023
Pooneh Ghana
Stephen Sanchez- Sanchez creates story lines with his music, and to hear it seaside felt ethereal. Hits like "Until I Found You" sound better at the beach.
The Beach Boys- First of all, they brought out John Stamos as their drummer (instant win). But Mike Love and Bruce Johnston brought the house down, with Love's son also helping them out. I loved every second of it.
Mt. Joy- Philly's finest, Mt. Joy sounds just as good live as they do on your phone. Something about Mt. Joy at Sea.Hear.Now just makes sense.
Weezer- Weezer was another highlight of the festival- playing all of their hits and sounding identical to their soundtracks. "Beverly Hills" and "My Name is Jonas" were some of my faves.
The Foo Fighters- The Foo Fighter fans were plentiful, belting out every word. They didn't miss a beat, and were the perfect ending to a rock-filled weekend.
The Food at Sea.Hear.Now 
At any given festival, the food looks better than it tastes. It's just a fact, no matter what they try and tell you. However, I did have my first Korean-style corn dog, which was essentially a giant mozzarella stick with a hot dog in the center and sauce on top...and it was delicious despite the fact that it would have sent a Pilgrim into cardiac arrest.
The drinks were moderately priced compared to other festivals I've been to, there were plenty of free water stations (as opposed to Coachella), and I need to give a special shoutout to the Hendricks Boat Bar. They had the best triage of Hendricks drinks (I don't even like gin and these were delicious) curated by Erik Andersson, who also gave us a great tour.
The Experience at Sea.Hear.Now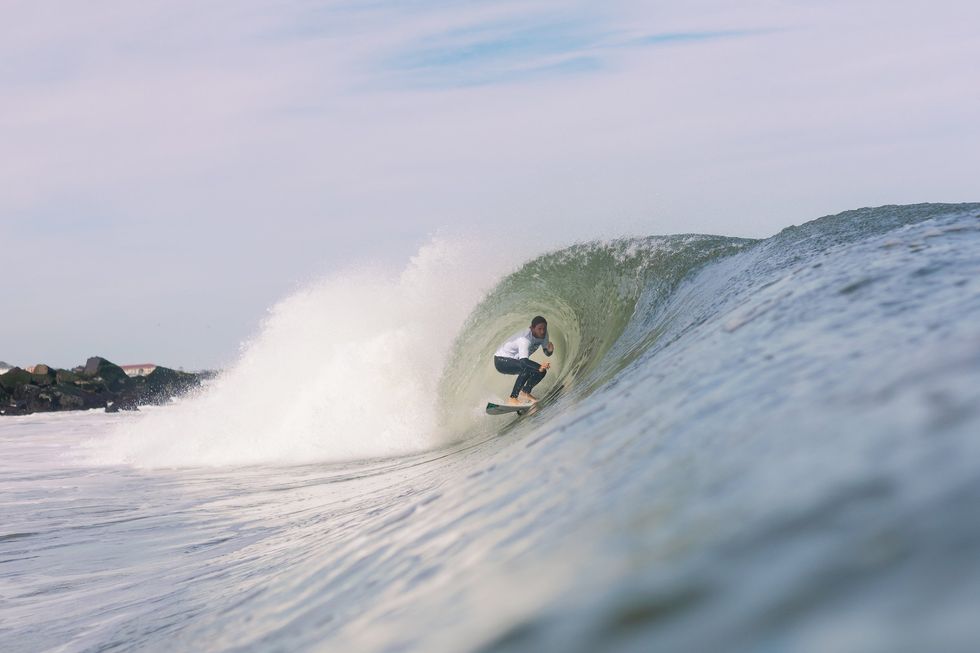 Cam Richards
Fiona Mullen
Sea.Hear.Now has a lot to offer: picture opportunities, specific drink tents like Tito's, Twisted Tea, etc., and even shopping opportunities. And for once, I want to emphasize the perks that VIP tickets could get you: your own viewing area close to the stage so it's never a bad view, access to festival merchandise (not bands, however), your own bathroom area and food/bars, TV's and a lounge. It's truly worth the upgrade.
There's even a surfing competition, which honestly worried me a bit since there was a hurricane but I'm not the professional. But what I loved about this festival is it stayed true to Asbury Park's roots, featuring everything the small city had to offer.
No matter what, it's a more relaxed vibe compared to the intense marathon that Coachella is. You have a wider age range of people, all dressed however they want (from festival chic to football jerseys on Sunday). But that's the beauty of Sea.Hear.Now: come as you are, all will be welcomed.