Culture Feature
I Gave Myself the Life I Deserve in "The Sims 4" Because Real Life Is Terrible
Constructing my pixelated alter-ego is the most productive thing I've done in months.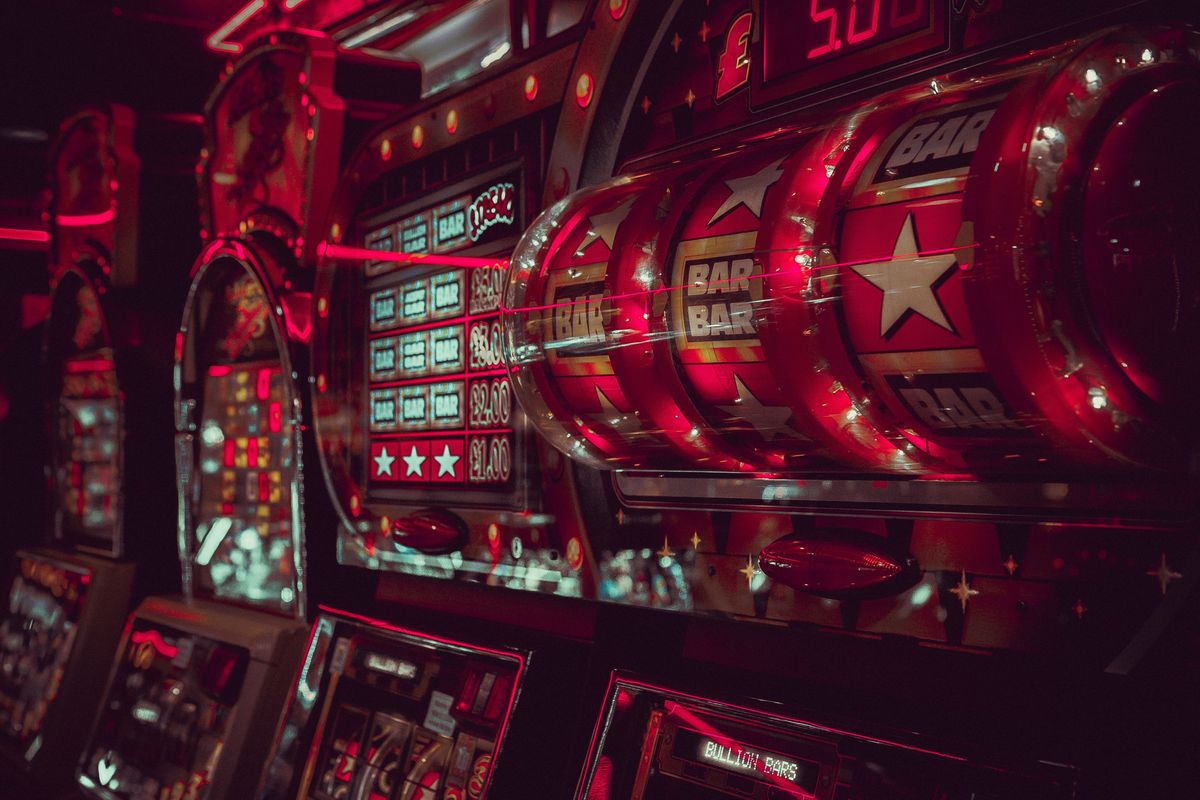 Today, I'm introducing the world to my Sim alter-ego. She's really going places, unlike my actual self, who's hardly moved in months.
Although I've never identified with the title of "gamer," simulation video games have held a special place in my heart for almost as long as I can remember. Back when I was way too young to know what the word "WooHoo" euphemized, my older cousin showed me The Sims on his computer — the original, horrifically low-res version that came out in 2000 — and very patiently taught me the basics of building a house in the world's most famous simulation game to date. Little did anyone know that I'd be hooked for life.
---
But The Sims didn't return to me until a few years later; in the meantime, I built theme parks in Roller Coaster Tycoon, trained labrador retrievers in Nintendogs, and pestered my friend's brother to let us play Mario Kart and Tony Hawk Pro Skater on his Nintendo 64. At some point, when my parents deemed me old enough, they bought me The Sims 2. I likely killed half my brain cells during my innumerable hours of playing it.
By high school, I was preoccupied doing Very Cool High School Things, and my obsession with The Sims franchise waned. Then, when the world shut down last year, I found myself in need of mind-numbing entertainment that could easily suck up hours of my time. Would I succumb to the supremacy of Nintendo and join the millions of social distancers who purchased the latest iteration of Animal Crossing? No — that'd be much too predictable. Instead, I'd end my decade-long hiatus and download The Sims 4.
My obsession returned like it had never left. After refamiliarizing myself with building tools and geeking out over the return of iconic franchise families like the Goths and the Calientes, my adult self had fully reverted to the young Simmer who nearly broke our family's PC with game mods and custom content. While my real life was feeling particularly bleak and entirely out of my control, The Sims 4 provided me with a sense of nostalgia and a refreshing ability to oversee pixelated humans to my heart's content.
Then, I had a revelation: The only way to make my time playing The Sims 4 even more fulfilling was to, in fact, create a Sim version of myself. And to take it a step further, I was going to give my Sim-self the life I deserve, because the United States' elected officials have completely fumbled the handling of our public health, thus robbing me of four months and counting of my precious youth.
Sim Abby isn't too different from Real Abby, really — only a little bit better. We look very much alike, right down to our tiny bangs. Sim Abby is an Arts Critic, sort of like Real Abby, except Sim Abby makes about 1000 Simoleons a day and lives in a very cute one-bedroom apartment. The New York City job market and real estate are quaking.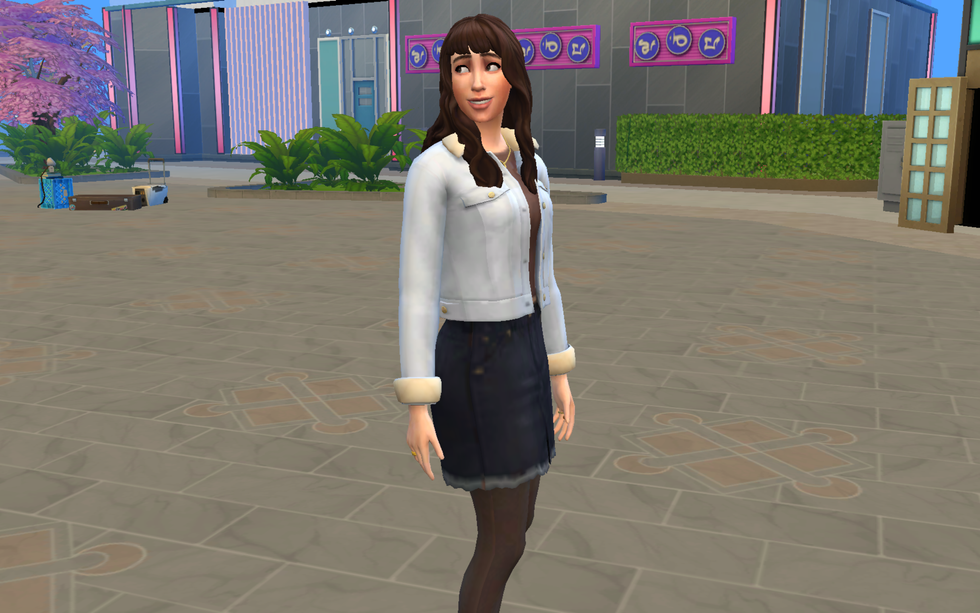 Photo by Abby Jones
Sim Abby's three traits are Music Lover, Good, and Vegetarian, because I decided that for the sake of my mission I would completely overlook all of my poor traits in real life. Sim Abby has maxed out the Writing and Charisma skills (social anxiety doesn't exist in The Sims 4), and she has achieved the "Friend of the World" aspiration, which is the aspiration most in-line with Real Abby's debilitating fear of being disliked by everybody she comes in contact with.
Because Real Abby hasn't so much as made eye contact with a cute boy in a bar since March of 2020, I decided to give Sim Abby a boyfriend named Spencer. Spencer is your textbook emo boy, with messy dark hair, full tattoo sleeves, and a nose piercing that says, "Have fun telling your therapist about me!"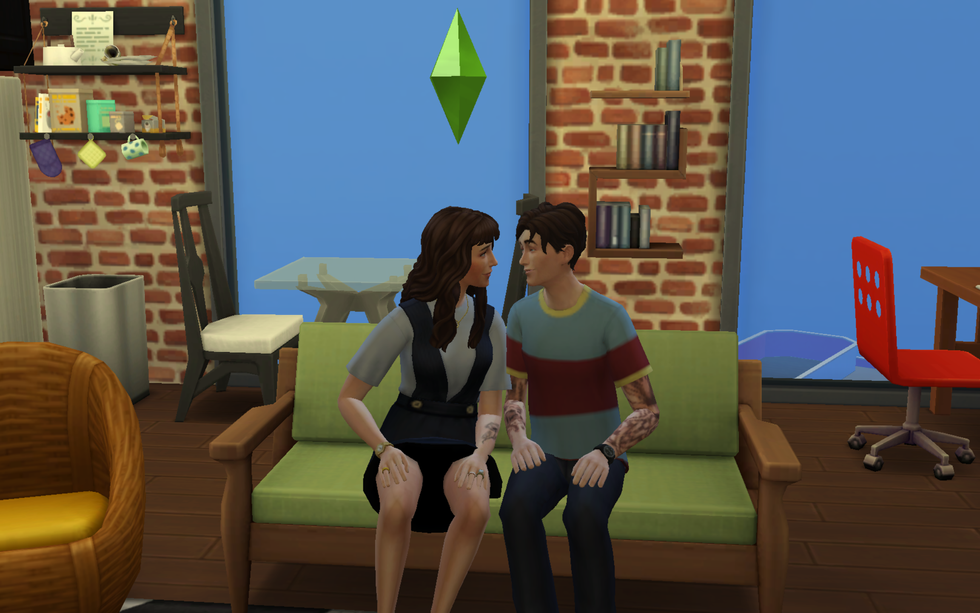 Photo by Abby Jones
Spencer is a musician waiting for his band to take off, so for authenticity's sake, he lives in a messy house with his three bandmates, who together play shows in the basement. Sim Abby goes to all the gigs, even though the band isn't that good yet, because she is very nice.

Here are a few other recent highlights of Sim Abby's life:
She hugged her friend! Remember human contact?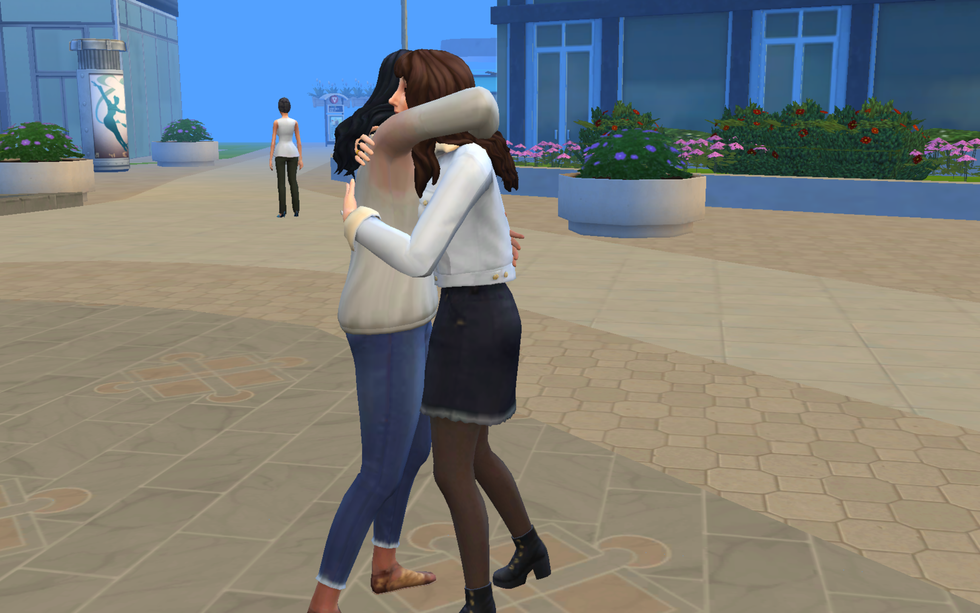 Photo by Abby Jones
She sang karaoke! Too bad The Sims didn't get the rights to Liz Phair's "Why Can't I."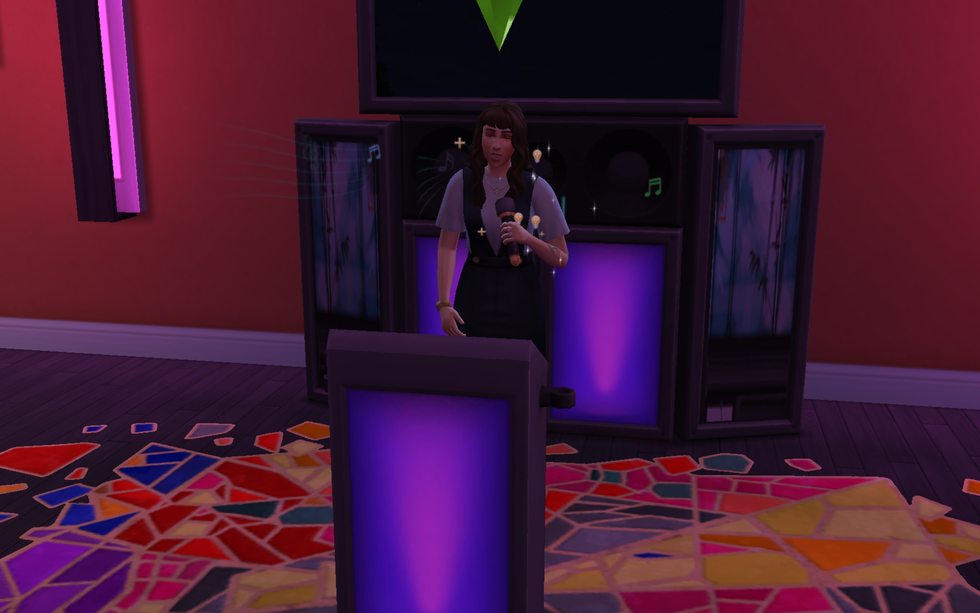 Photo by Abby Jones
She went to a costume party dressed as a hot dog even though she's vegetarian!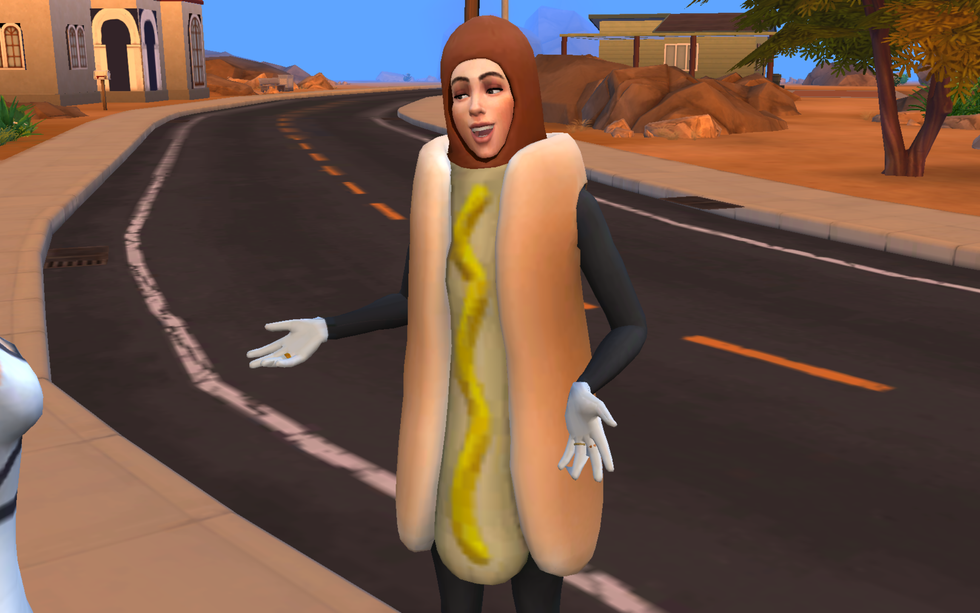 Photo by Abby Jones
I don't want to know how many hours I've spent in total crafting Sim Abby's perfect life, but I haven't regretted it for a second. If your real life is feeling increasingly dreary, I'd suggest you download The Sims 4 and create the life you've been missing out on.