TV
Dramas based on true crime stories are fraught with contradictions–are these criminals or characters, stories or confessions, entertainment or exploitation?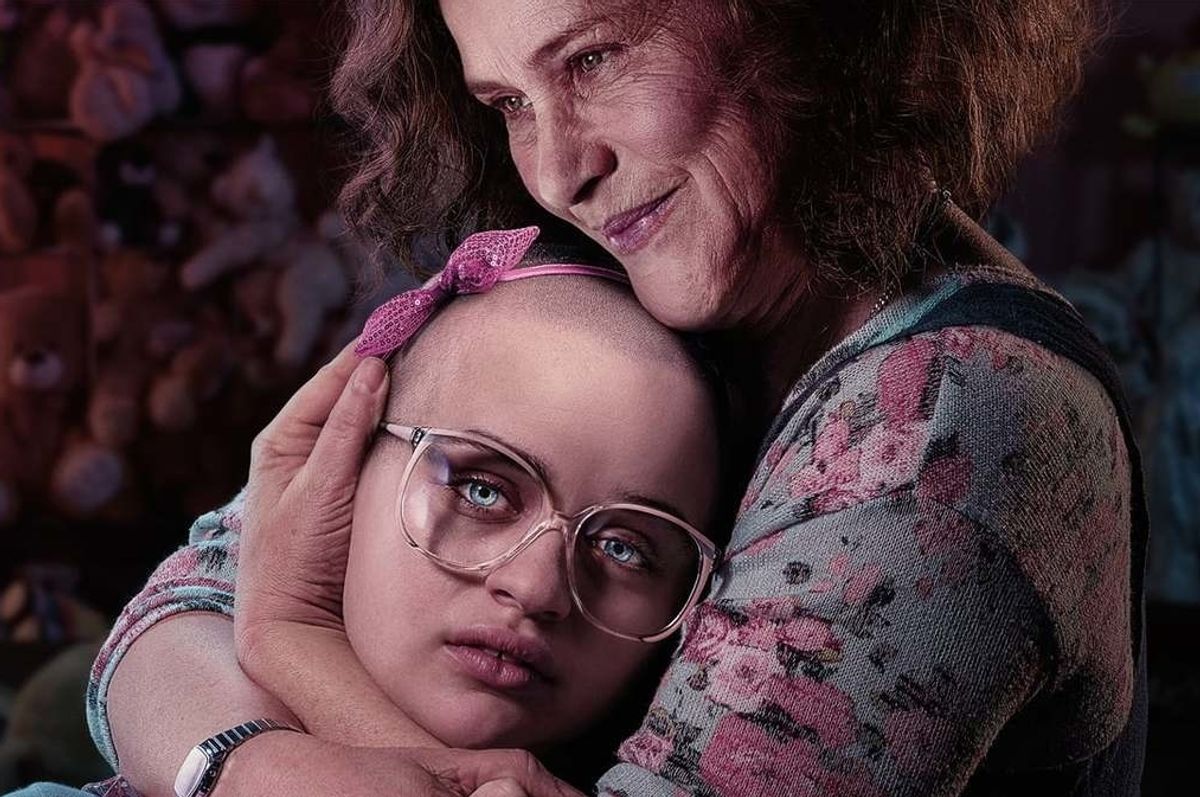 Hulu
Hulu's The Act is uncomfortable. Its eerie mood and artificial setting feels like being inside the dollhouse of a murder scene.
Season one dramatizes the suspected Munchausen Syndrome by Proxy—and eventual murder–of Dee Dee Blanchard (Patricia Arquette), who cared for her daughter Gypsy Rose (Joey King)–who's currently serving a 10-year prison sentence for her mother's death. The Act takes on the challenge of exposing Gypsy's motives with an eight-episode season that re-creates the Blanchards' sheltered world of mental illness, child abuse, and con artistry. Showrunners Michelle Dean and Nick Antosca (Channel Zero) barely take creative liberties with the already stranger-than-fiction story. The Act embraces the contradictions between fiction and reality by re-enacting a crime that was facilitated by someone's distorted sense of fact, fantasy, and self.
In 2015, Dee Dee Blanchard was found stabbed to death in her bed, with her young, wheelchair-bound daughter missing from their home. But soon, Gypsy was found and told authorities a bizarre story of child abuse and psychological manipulation at the hands of her mother. Buzzfeed's Michelle Dean broke the story, which quickly evolved from a gruesome headline into HBO's documentary Mommy Dead and Dearest. In structuring their series, Dean and Antosca largely stay true to the facts. In 2008, Habitat for Humanity rallied a small Missouri community to build a disability-friendly home for two special victims of Hurricane Katrina: a single mother and her disabled daughter suffering from epilepsy, muscular dystrophy, chromosomal defects, life-threatening allergies, and severe asthma, among other ailments.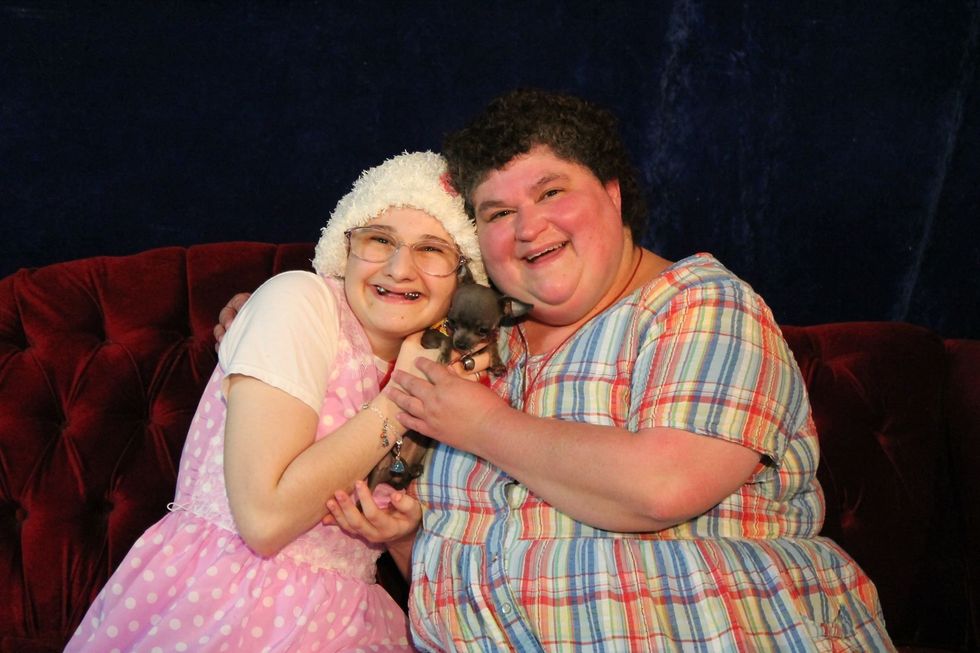 Elle
The Act spans the seven years leading up to Dee Dee's murder, opening with the Blanchards moving into their new house, whose cotton-candy colored walls, plushie-filled shelves, and suffocating hallways comprise the entire world Gypsy is allowed to explore (aside from multiple doctors' offices). Arquette plays Dee Dee with exaggerated southern charm and a thick Louisiana accent to match–and alarming commitment to the woman's frequent mood swings that move from screaming at Gypsy to suddenly weeping in her arms. Most apparent is Dee Dee's infantilizing treatment of her daughter, whose true age is deliberately concealed from doctors and even Gypsy herself. Early on in episode 3, "Two Wolverines," we see that Gypsy's only recreational outlet is to attend fan conventions with her mother, who still pressures her to dress up in gaudy costumes of Disney princesses. When Dee Dee lies about her daughter's age in order to receive discounted tickets, Gypsy begins to question whether Dee Dee has been lying to her about everything else.
Arquette's breathless charisma and King's exaggerated childishness can feel exhausting–and yet they're some of the truest-to-life details of The Act. The real Dee Dee managed to deceive doctors and good Samaritans about Gypsy's health for decades in order to receive a free home, gifts, and thousands of dollars in donations. Upon her arrest, the real Gypsy first told police she was 19 years old, when in fact she was believed to be 23; her mother had lied so often that she wasn't sure of her true age. The Act's intense focus on the interior lives of Dee Dee and Gypsy can also feel suffocating, as most of the early episodes take place inside their nauseating, bubblegum-pink home. Scenes showcasing their codependency can grow redundant and gratuitous, from Dee Dee shaving Gypsy's head in the sink to screaming at her never to sit on the porch without her.
But the highlight of the show is how the Blanchards contrast with the outside world. Across the street from their Disney-themed home is Mel (Chloë Sevigny), the young, no-bullshit single mother of a rebellious teenage daughter named Lacey (AnnaSophia Robb). Their dynamic with the Blanchards is hard to pin down, as they develop from suspicious neighbors to friends to witnesses. Sevigny and Robb give standout performances as the two most relatable characters in the show. Both of their sharp tongues and strong will thrill Gypsy, especially Lacey's. In fact, the contrast would seem contrived if the characters weren't based on the Blanchards' actual neighbors, who were the first to contact police after Dee Dee's death.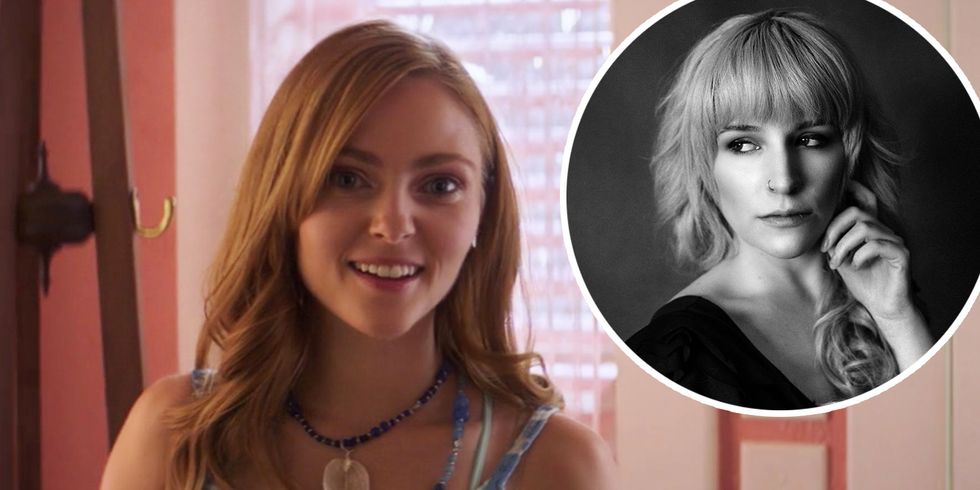 In Touch
In truth, the pacing of the show can feel tiresome if you already know the story of Dee Dee Blanchard: Dee Dee's obsessive control over her daughter becomes more sinister and Gypsy's desperate rebellion leads her to online dating, which is how she meets Nick Godejohn. Played by Calum Worthy, Godejohn was 25 years old when he became Gypsy's online boyfriend. The 25-year-old was said to have learning disabilities that gave him the permanent mentality of a 15-year-old. Even though Worthy, at times, makes Godejohn sympathetic with confused and nervous ticks and crushing naivety, Nick can feel like a caricature of a villain–which means he fits perfectly into Gypsy's fantasy world. They call each other "prince" and "princess." Nick believes he has multiple personalities, including a "bad side" named Victor. Nevertheless, his "good side" wants to be Gypsy's "hero."

Ultimately, Dean and Antosca chose not to depict the murder onscreen, opting instead for an impressive six-minute long tracking shot in which Gypsy rises from the bed she shares with her mother (according to the real Gypsy, "Don't hurt me" was the last thing her mother said before falling asleep), lets Nick into their home, and hands him a knife before waiting in the bathroom. Dean told The Hollywood Reporter, "From the beginning, Nick and I knew that the murder was only going to play out from Gypsy's perspective, which is to say, she didn't see it. She only heard it. It was very important to the way that Gypsy oriented herself to this final act of violence, that she kept away from it in some sense."
In that sense, The Act presents a modest defense of Gypsy Rose. Her detachment from reality, her inner fantasy world, and the severity of her mother's abuse suggest that she was a victim forced into an impossible situation. Still, King's intelligent performance only emphasizes the pre-meditated nature of events, with her careful deliveries and shifting eyes suggesting that she knows more than it's safe for her to say. King impresses most in the last three episodes of the series. She consistently captures Gypsy's frozen youth with a versatile performance, ranging from naivety (in episode 7, she doesn't understand why Nick isn't given home-cooked meals from his mother) to seduction (episode 5 includes them having sex through a webcam and ends with her asking "Victor" to murder her mother). King even mimics the real Gypsy's high-pitched baby voice.
As a silent third character in the series, the Blanchards' creepy, Stepfordian home perfectly mirrors Gypsy's artificial sense of self: the result of a lifetime under her mother's neurotic control. When Gypsy flees with Nick, she enters the real world where colors are drab, people are rude, and she's lost the only source of comfort she's ever known. In the final episode, her neighbor Mel comes to visit Gypsy in prison. The conversation is unsatisfying, as Mel doesn't receive answers or clarity.
Likewise, we're never certain if the fissures between reality and fantasy have healed for Gypsy or if they ever will. Mel asks, "Who are you? Who are you now that your mother's gone?" When the season ends with Gypsy returning to her cell, we see in her mind's eye that her mother is still with her, sitting next to her on her cot. Antosca explained, "That final moment in her prison cell, we thought that was the key image of the show. That's what really leaves you with the question of 'Is she ever free?'"

Dramas based on true crime stories are fraught with contradictions–are these criminals or characters, stories or confessions, entertainment or exploitation? Hulu's first true crime anthology, The Act, clearly hopes to emulate the success of FX's Golden Globe and Emmy award-winning series American Crime Story. In the bizarre new world of dramas based on true crimes, viewers are forced to acknowledge that they only have mediated access to "facts" and a limited interpretation of the truth.
---
Meg Hanson is a Brooklyn-based writer, teacher, and jaywalker. Find Meg at her website and on Twitter @megsoyung.

---
POP⚡DUST | Read More...
"13 Reasons Why" Is Problematic—But It Hasn't Caused Teen Suicides
What Netflix's 'Bonding' Gets Wrong About Sex Workers
Why Series Finales Hurt: When Your Favorite TV Shows Break Up With You