MUSIC
New Mac Miller Album Sparks Old Questions About the Ethics of Posthumous Releases
Mac Miller's estate just announced the release of another album.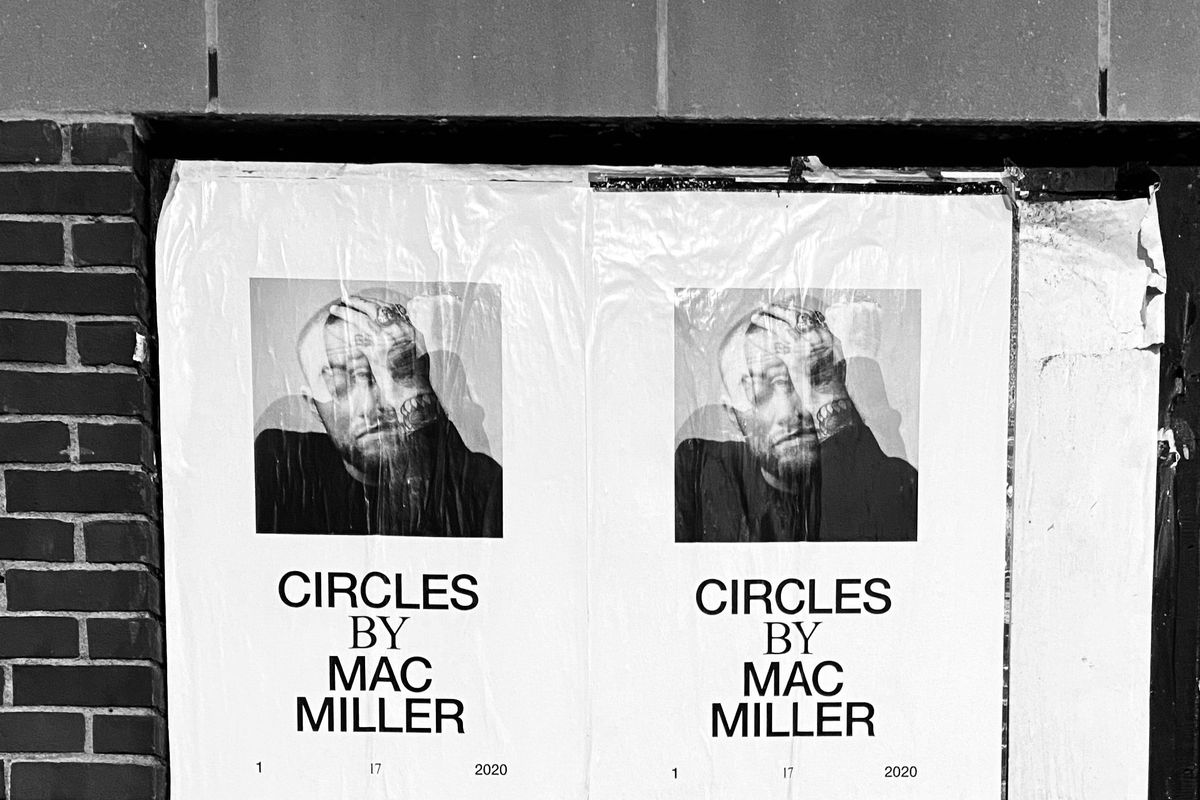 Mac Miller's family just released his posthumous album Circles, which Miller was "well into completing" before his death in 2018.
It seems that most fans are in agreement that Circles is a positive release, because it's been approved by his family and Miller was already working on it before his death. Many are celebrating and reminiscing about Miller, who was a beloved figure and an incredible musician.
However, posthumous releases sometimes raise thorny questions, especially when it's not as clear that the artist actually wanted the material in question to be distributed. This summer, a relevant debate ensued when Prince's estate announced that it would be releasing an album of never-before-heard recordings of songs that the late legend wrote and sold to other artists.

Called "Originals," the album was a collection of demos and bootlegs. The songs were selected by none other than JAY-Z and Troy Carter, who sifted through Prince's extensive "Vault" recording collection of demos and B-sides to curate this new album. The LP, which was released on July 19, included many tracks that became hits for the artists who recorded them—like "Manic Monday," recorded by the Bangles, and of course, "Nothing Compares 2 U," which became Sinead O'Connor's signature song.
Still, despite its curators' influence and Prince's incomparable songwriting talent, this announcement raised some questions about whether Prince really would've wanted these songs out in the ether. Each track was recorded as a demo, and it's impossible to know whether their maker was satisfied with any of them.
Prince was a masterful producer, one who insisted on complete control of the record-making process from beginning to end. One of his recording engineers, Susan Rogers, said that "he needed to be the alpha male to get done what he needed to get done; he couldn't spend any mental energy battling with people for dominance or position. If you wanted your own way of doing things, you shouldn't be working for Prince."

"Originals" was not the first album released by Prince's estate after his death—it was preceded by Piano & a Microphone, Purple Rain Deluxe, and Prince 4Ever. These releases were mostly lauded by even the most discerning critics, albeit with some caveats. NPR Music's Ann Powers wrote that she believes if Prince were alive he would "most certainly not" have wanted Piano & a Microphone to be released—but oddly, she followed this claim by arguing that the album's release is not exploitative, because "we understand Prince's creativity in a different way because of it and for that reason, it doesn't feel like a violation, it feels like a gift."
Prince - Purple Rain (Official Video)www.youtube.com
Still, others raised the alarm, citing the clearly unfinished, unpolished nature of some of the demos—something that a perfectionist like Prince never would have tolerated. "Will his 'true' fans really care if the finely wrought production that is the hallmark of the best of Prince isn't present here? Is this album selling both artist and audience short?" asks Adrian Yorke, going on to argue that posthumous releases can do a disservice to both fans and artists by providing them with products that do a disservice to their creator's dedication to the quality of their craft.

Continuing to capitalize on the late star's legacy as they have since his death, Prince's estate has also announced that they will be releasing his unpublished memoir, The Beautiful Ones, this fall; the book will combine Prince's unfinished manuscript with photos, lyrics, and other ephemera.
Many fans have celebrated these announcements. Of course, we all want more content from our most beloved artists, and Prince and Mac Miller's legacies deserve to live on into eternity—but a problem arises when it becomes unclear whether material is being released because it honors its creator's vision or because some industry executives smell a profit. How much should estates really be allowed to capitalize on the legacies of the dead, especially when it's likely that the late artist in question would not have wanted their unfinished work to be released?
Similar questions have been raised about Avicii's posthumous album, which has skyrocketed to the top of the charts since its April 10 release. Named SOS—a somewhat unfortunate title for an album by a man who, before his death, outright told interviewers that he was experiencing a mental health crisis due to excessive touring—the album was conceived by the Swedish producer's A&R team merely three days after his passing. Its release came after repeated revelations that suggest Avicii's mental health issues were exacerbated by relentless pressure from his management to capitalize on his money-making potential. On the other hand, the album is a collection of songs that Avicii allegedly "nearly finished," according to The New York Times, and it was released with his father's blessing. SOS will be followed by another album, Tim, to be released in June.
Avicii - Wake Me Up (Official Video)www.youtube.com
No matter how many people supported it, this rapid-fire dissemination and hardcore marketing of music that the original creator didn't have the final say over raises questions first provoked by the 2017 documentary, Avicii: True Stories, which features grim clips of the late star lamenting his brutally packed tour schedule. It's disturbing to watch, and disconcertingly intimate—this generates its own ethical grey area—but ultimately, it's more disturbing to consider that the management company that pressured Avicii towards his death is still profiting from their own refurbishments of his unfinished music.

Of course, not every industry executive thinks that demos and unfinished musical relics should be fodder for the public ear. Avicii's collaborator Nick Romero, who has refused to release the demos in his possession, stated that "I don't know if it morally feels right to me to work on songs that the original composer has not approved. I know that Avicii was really a perfectionist, and I kind of feel bad if I put something out not knowing if he wants to put it out."
Similarly, Universal CEO David Joseph famously destroyed all the demos Amy Winehouse had created for her third album—though this didn't stop her estate from releasing the poorly received posthumous collage of deep cuts, "Lioness: Hidden Treasures." The same fate befell Tupac and Biggie Smalls, whose posthumous work garnered better critical reception than Winehouse's, but regardless was still released without their creators' stamp of approval.
Lil Peep's posthumous release Come Over When You're Sober, Part II prompts similar questions. His close collaborator, Smokeasac, crafted that album, and a team of people, including his mother, believed they knew him well enough to create something that would do justice to his legacy—after all, Peep was on a stratospheric ascent before his untimely passing from a drug overdose. Still, when you listen to the album, although it's a masterful work in its own right, you can almost feel the inevitable lack of Peep's definitive touch, an emptiness that feels almost ghostly. Every truly great artist possesses some sort of x-factor, some ability to tap into a force outside of themselves that is at once completely unique to them; and so posthumous releases, especially when pieced together out of incomplete excerpts and spare vocal lines can feel more like Frankensteins than finished products. Even when loving hands craft them, often there's something missing.
Broken Smile (My All)www.youtube.com
On the other hand, Lil Peep was already planning on finishing Come Over When You're Sober, Part II before he died—whereas Prince and Avicii had exactly zero say in their newest releases.

We'll have to see if Circles sounds like it's missing some finishing touches from Mac Miller when it comes out. Inevitably, it will—because Miller is gone, and has left a sense of emptiness behind—but in a world where music is saved and sold with increasing rapidity, even when it's unfinished, we need to question who is creating and selling every posthumous product.
Ultimately, it seems that posthumous releases become major issues when they're motivated by big money and greed. When estates and management companies pump out half-baked products simply to cash in, you can often feel it in the quality of the songs—and if ghosts exist, then some industry executives might be in for a serious haunting.
On the other hand, capitalism already has its teeth in so much of the recording industry, endlessly distorting and altering artists' visions in order to sell more records or garner more streams. Still, for people like Prince, whose undeniable vision and power defined and shaped everything he ever released, perhaps fans shouldn't be so quick to celebrate something that maybe should've been left to rest. In terms of Avicii's output, fans should definitely be more discerning before supporting a management company whose obsession with profit effectively caused his death, and who continue to profit off his legacy even after his tragic passing.
Perhaps a better use of someone's posthumous influence is an organization like the Tim Bergling Foundation, started by Avicii's family soon after their 28-year-old son's death. The foundation will "initially focus on supporting people and organizations in the field of mental illness and suicide prevention," and "also will be active in climate change, nature conservation, and endangered species."
In a press release, his family wrote, "Starting a foundation in his name is our way to honour his memory and continue to act in his spirit." Of course, no one knows how Avicii would feel about any of this—but it's likely that the philanthropist would prefer his legacy to generate a foundation that looks to the future instead of releases that remain determined to drain every penny they can from the past.