Film News
Wait — What Is the Twilight TV Show Even About?
A television series based on Stephanie Meyers' Twilight Saga has just been picked up by Lionsgate TV. Here's what we know so far: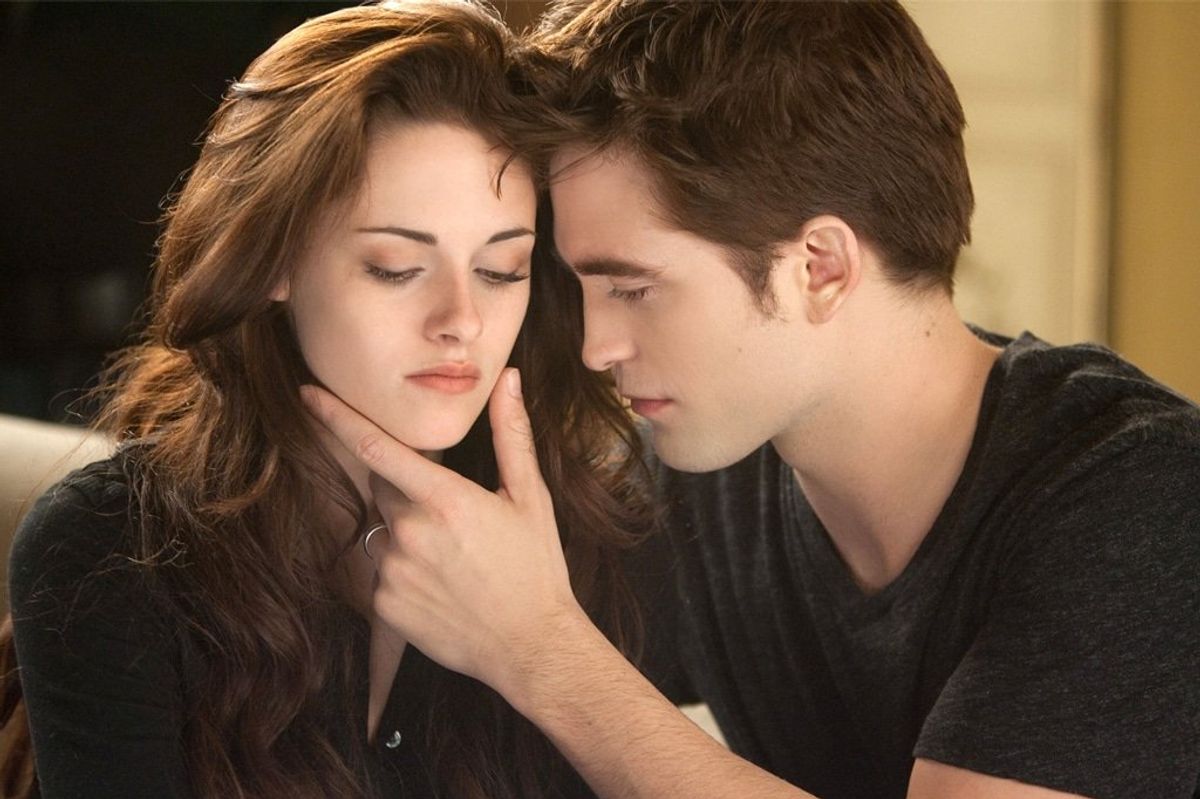 Summit Entertainment/Entertainment Pictures via ZUMA Press

One of the most significant pop culture phenomena for youth in the 2000s was Stephanie Meyers' Twilight. The books, the five-part movie series, the years of Team Jacob and Team Edward merchandise — you couldn't escape them. The series spawned a collection of spin-offs, a decade of supernatural romance content (Vampire-mania just about rivaled Beatles-mania at some point), and rocketed Robert Pattinson and Kristen Stewart to superstardom.

---
Despite being mostly ridiculed by the press as a silly fascination of teenage girls, Twilight and its stars were household names. So it's no surprise that the past few years have seen a resurgence in its popularity.
As other Y2K cultural ephemera, fashion, and aesthetics return to the zeitgeist, it makes sense that such an influential cultural touchstone of the decade is also included. Fresh audiences are discovering the strange, seductive world of Forks, Washington. And the once-teenaged fans who have grown up can return to their beloved series and watch again with more mature eyes.
The consensus: although they were ridiculous, the Twilight films will remain part of the culture forever. In fact, their absurdity is part of what makes each revisit so fulfilling.
\u201chaven't been the same since\u201d

— THE TWILIGHT SAGA \ud83c\udf4e (@THE TWILIGHT SAGA \ud83c\udf4e) 1680730284
Studios must think so, too. Because a TV show based on the iconic series just got greenlit for production.
What does this even mean? What will a new Twilight Saga series even look like? Will it be a reboot? Will it be a spinoff? Will it be a secret third thing? Turns out, not even the producers or writers know.
All we've heard is this: the series is in early development via Lionsgate Television. The writer attached is Sinead Daly, who has credits on Tell Me Lies, The Walking Dead: World Beyond, Raised by Wolves, Dirk Gently's Holistic Detective Agency, The Get Down, and more. However, the direction this production will take is still unclear.
\u201c\u2018Twilight\u2019 TV Series in the Works (Exclusive) https://t.co/byeX8hJ5yP\u201d

— The Hollywood Reporter (@The Hollywood Reporter) 1681921117
But to diehard — or Twihard — fans of the book series, this news doesn't come as a total shock.
After the final film premiered in 2012, Lionsgate CEO Jon Feltheimer mentioned that "there are a lot more stories to be told, and we're ready to tell them when our creators are ready to tell those stories."
Recent rumors imply that Stephanie Meyer herself is spearheading this reboot. So, I guess, the time has finally come for more Twilight content to feed the ravenous, devoted fans.
This news coincides with the news that another beloved supernatural YA franchise — Harry Potter — is also getting a television series adaption with its creator at the helm. While JK Rowling is a controversial figure due to her dangerous views on trans rights and feminism, the notion of a Twilight reboot is a welcome joy.
Whatever you make of this fabulous 2000s fantasy content comeback, there's no denying that these two authors built seriously influential worlds of their generations. So, of course, studios keep coming back for more.
All we know is that the Twilight resurgence is back in full force. No matter what they make, I'll be there to tune in — and don't blame me for hoping for a K-Stew or R Patz cameo.