CULTURE
Cancel Max Landis completely.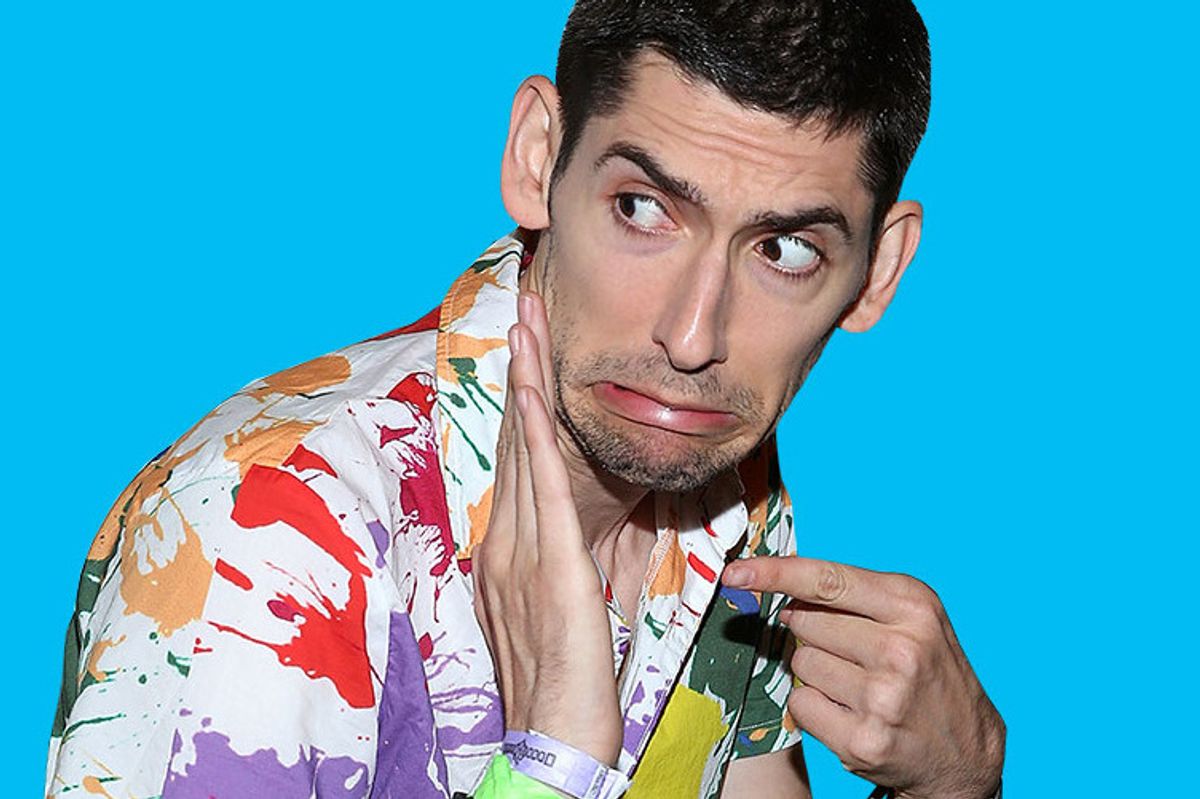 *TRIGGER WARNING*
Whenever sexual assault allegations are levied against wealthy, powerful men, the same sentiment echoes from the Internet peanut gallery: "But should this really ruin their careeeeeers?"
In the case of Hollywood screenwriter Max Landis, the answer is a 100%, unequivocal, enthusiastic yes.
This morning, The Daily Beast released a bombshell report, compiling allegations from eight separate women—many of them ex-girlfriends and former friends of Max—chronicling a pattern of sadistic behavior towards women ranging from psycho-sexual manipulation to outright rape. Almost all of the accounts are corroborated or backed up by documents and evidence. When we say, "Max Landis is an alleged rapist," please understand that the "alleged" is included solely for our legal team.
Many people might be wondering why we're talking about someone they've never heard of before. After all, those outside of the entertainment industry are probably not very familiar with Max Landis. Within Hollywood, however, Max Landis is a superstar screenwriter, known for his ability to sell loads of scripts on spec (essentially, original ideas he came up with) and his big, loud personality. He's written a number of middling, forgettable screenplays, including Bright and American Ultra. He's also the son of legendary producer/director John Landis, which explains how he came up in the industry in the first place (*cough* nepotism *cough*).
He's also known for being predatory towards women: an open secret that's been circulated by people in his periphery for years. But his scripts sell and get turned into mediocre movies so, for whatever reason, prior allegations haven't stuck.
hey remember when max landis was accused of sexual assault by multiple women and just disappeared from twitter in h… https://t.co/8n91yYYx5P

— rachel kiley (@rachel kiley) 1548869684.0
This time, though, Landis's career won't be recovering. Why? Because nobody should ever want to actively support a known "alleged" rapist, someone who held a woman down against her will as she continually said "no" and had sex with her anyways. Of course, that's not to say we shouldn't believe victims and cancel powerful predators in other situations with less evidence––after all, victim testimony is oftentimes the only evidence that exists. It's simply to say that, in this case, we all know what happened.
There are no puzzle pieces here; this one's clear as day. Max Landis isn't "allegedly" a grey area rapist—he's textbook. But almost scarier than that, Max's pattern of abuse, manipulation, and degradation seems akin to a serial killer's MO. "All of them go blonde, all of them lose weight, and all of them are under his spell," a former friend named Gage told The Daily Beast about Landis' girlfriends.
Moreover, Max Landis' behavior has carried onto his sets. Various women he's worked with on movies spoke to The Daily Beast about him harassing them and assaulting them in the workplace. "At one point we were on set with people around and he pushed me down and got on top of me on a bed. I raised my voice and told him to get off of me, and eventually managed to push him off," said Tasha Goldthwait, a set costumer on Landis' Me Him Her. This dude is "allegedly" such a piece of absolute trash that he can't even keep it in his pants at work.
Even in a culture numbed by the constant stream of #MeToo stories, the allegations against Landis are jarring. We're talking about a guy accused of choking multiple women on multiple occasions, threatening to kill them, and then crying about it to seek their sympathy. We're talking about a guy who keeps a list of women he's slept with, ranks the experiences, and then shows it to current partners to make them cry. We're talking about a guy who "allegedly" told a black out drunk girl that he was her boyfriend in order to rape her. That's who Max Landis is, and nobody should ever, ever, ever support the financial well-being of a person like that.
Boycott Max Landis. Boycott all of his work and every studio or company that ever chooses to work with him again. Boycott every project he ever touches. End his career forever.