CULTURE
In light of Dame Dash's recent interview with the "No Jumper" podcast host, we take a look back at all the despicable things Adam Grandmaison has done over the years.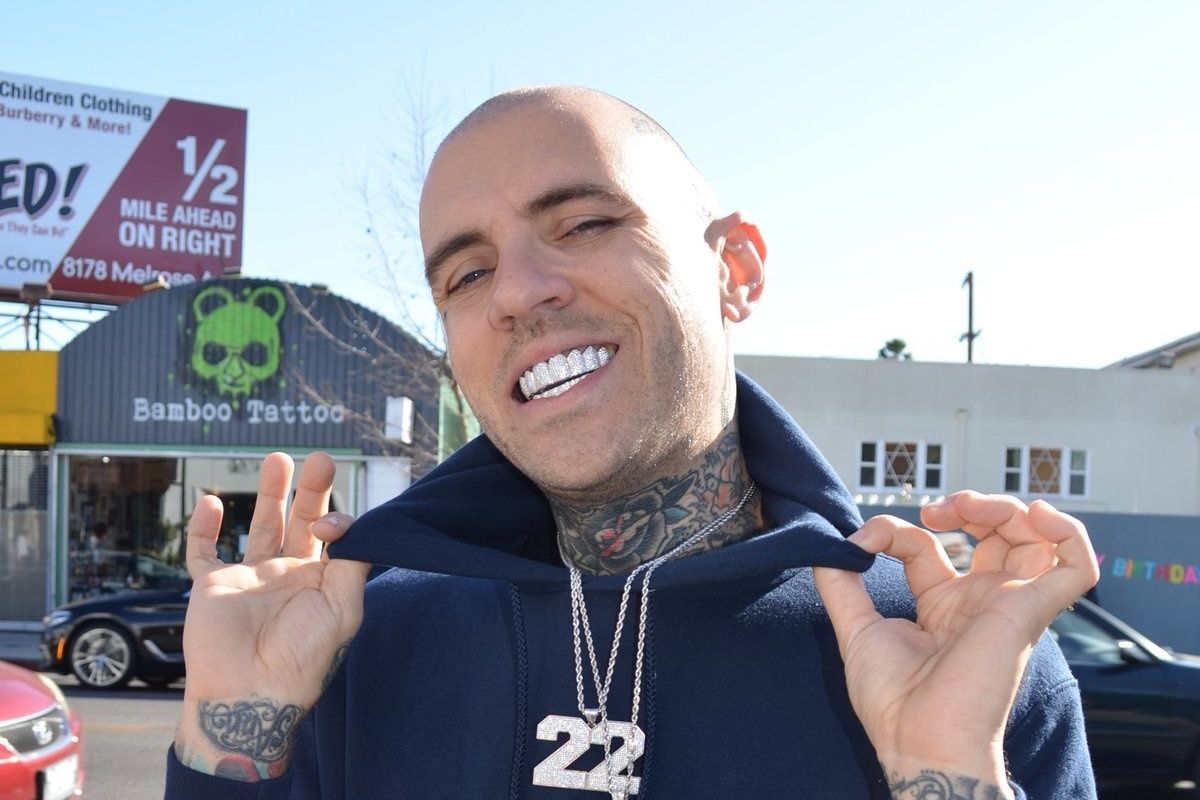 Twitter
In 2005, a young woman met a man online named Adam Grandmaison. Grandmaison, who goes by Adam22, is the founder and host of the popular hip-hop podcast No Jumper.
The podcast established Grandmaison as a sort of hip-hop tastemaker, as it's historically offered candid interviews with many of rap's upcoming stars. From XXXTENTACION to Suicideboys and Smokepurpp, the podcast has achieved critical acclaim for having its finger on the pulse of hip-hop culture.

With that in mind, the young woman met up with Grandmaison in Manhattan, they went to his apartment, and they started to hook up. "[It] quickly became uncomfortable as it went further than I wanted to go," the woman told Pitchfork. "I told him I wasn't into it, but he didn't stop and became pretty angry." He allegedly continued to have "sex with [her] lifeless body."
DJ Akademiks Interviews Adam22 from No Jumper on his Rape Accusations |Full Interview| www.youtube.com
Grandmaison went on to slut-shame the woman on a public forum in 2009 when he got word that she claimed he raped her. The 1,800-word post, titled "The Time a Girl Accused Me of Rape," goes on to describe in "graphic terms" the sexual intercourse he had with her, maintaining that it was consensual. "She was letting me touch her all over and was making out with me the whole time, but she didn't seem like she was really enjoying it all that much," he wrote. "How much a woman enjoys sexual activity is usually not highly correlated to how much fun I'm having though, so I didn't give it much thought."

Another woman told Pitchfork a similar story, claiming that as she watched Netflix with Grandmaison, she tried to "barricade" her hands over her v-gina while telling Grandmaison to "stop" as he continually tried to have sex with her. Grandmaison proceeded to "pull her arms over her head," before allegedly raping her. The woman and Grandmaison supposedly met online when she was just 16. "I was like, 'Dude, I told you I wanted to wait,'" she said. "'Why did you do that?'" Grandmaison asked the woman to keep what happened "a secret" between them, as the Internet personality was still "getting lots of heat" over the first claim of rape. The woman was 18 at the time of the alleged assault. The 35-year-old podcast host later wrote another 9,000-word blog post about the incident deriding the woman and claiming "she was pretending to not want to bang me."
When both accusations resurfaced in 2018, they caused Grandmaison to lose a record deal with Atlantic Records. Besides that, the career of Adam22 has continued, practically uninterrupted, despite multiple other accusations of "serial rape" and intimidation coming to light in recent years. He even once "apologized" for raping a woman.
In addition to a disturbing history of violence against women, the internet personality has a backlog of racist, pedophilic, and homophobic Tweets dating back years. "Can any and all hot high school students stop following me on Instagram? I have enough temptation in my life as it is," read one. "Most blacks are habitual line steppers," read another. "Shouts to all the 18-year-old girls that let a real dude like me hit it even though when I was 8 they were still an egg," read another. "If statutory rape is wrong, I don't wanna be right," read another. Grandmaison has claimed that all the tweets are fake. Here are just a handful of them below.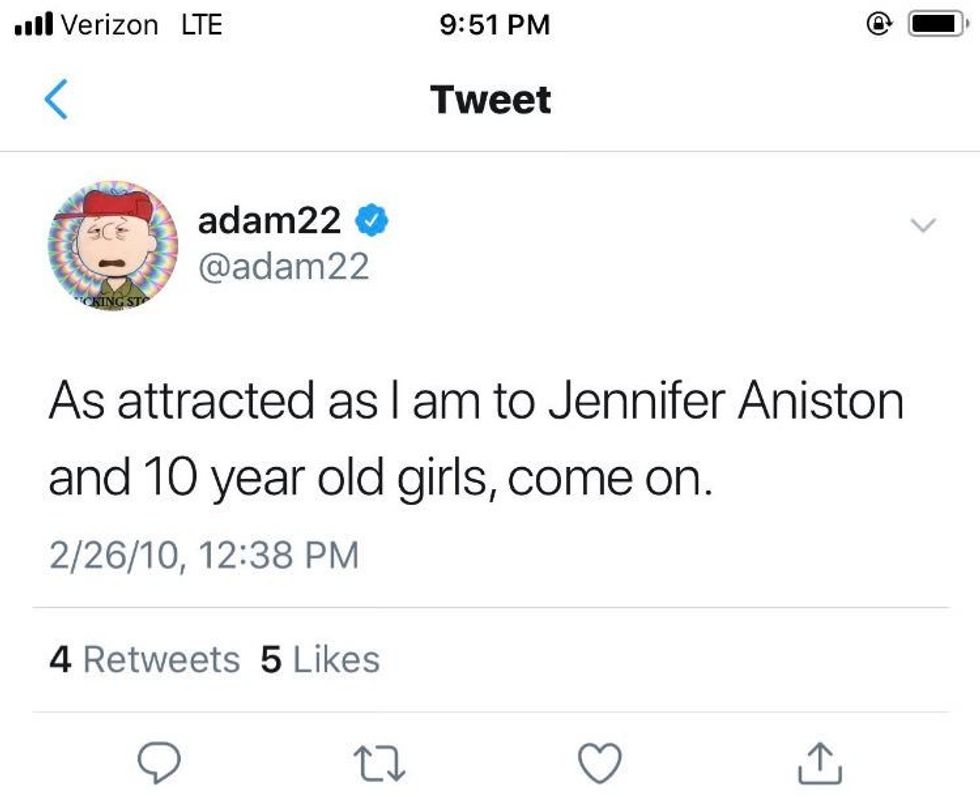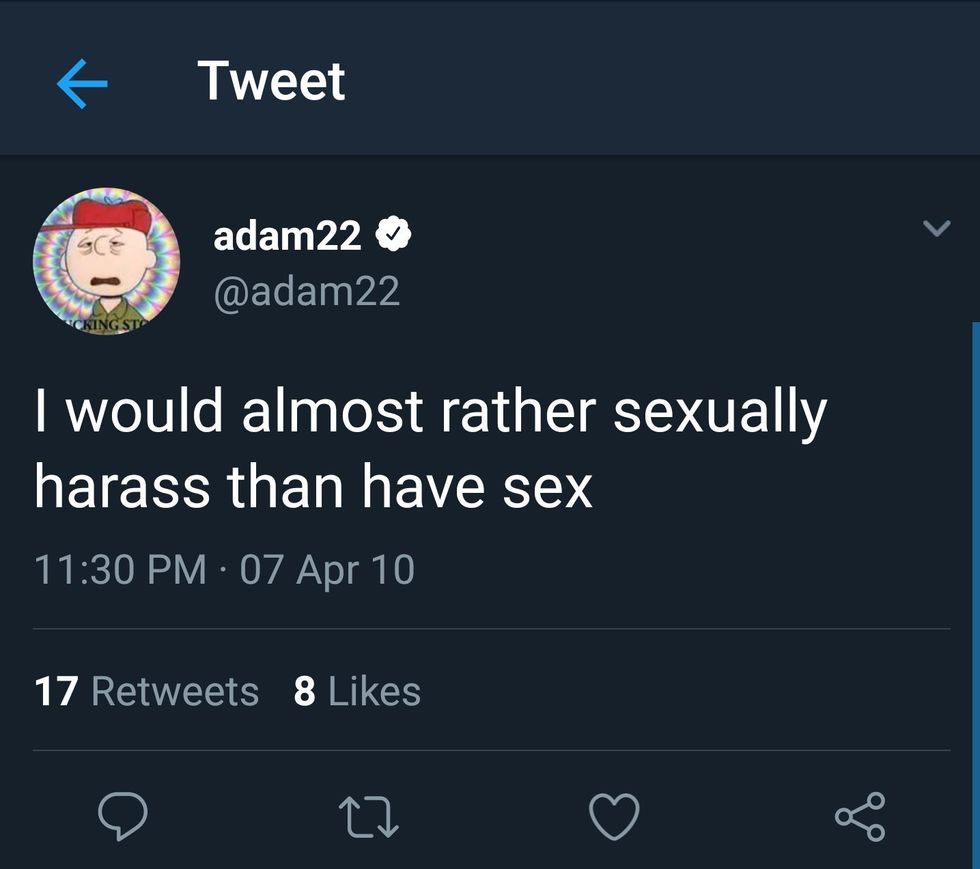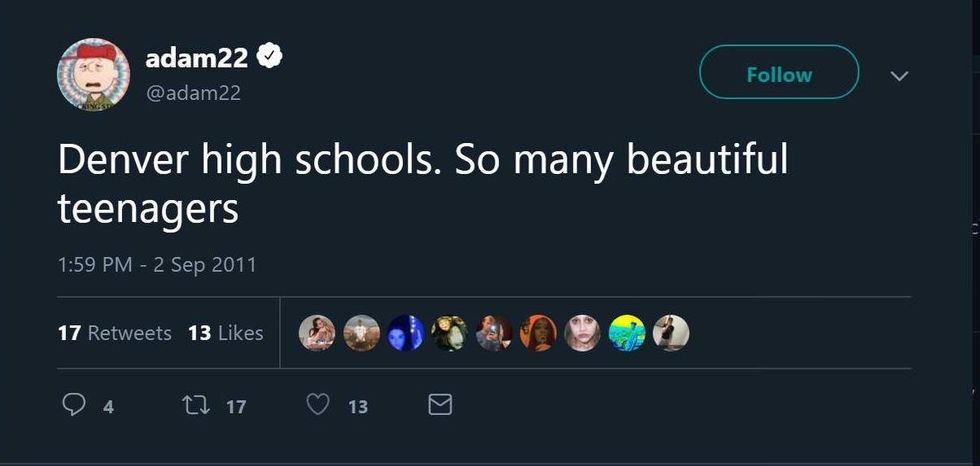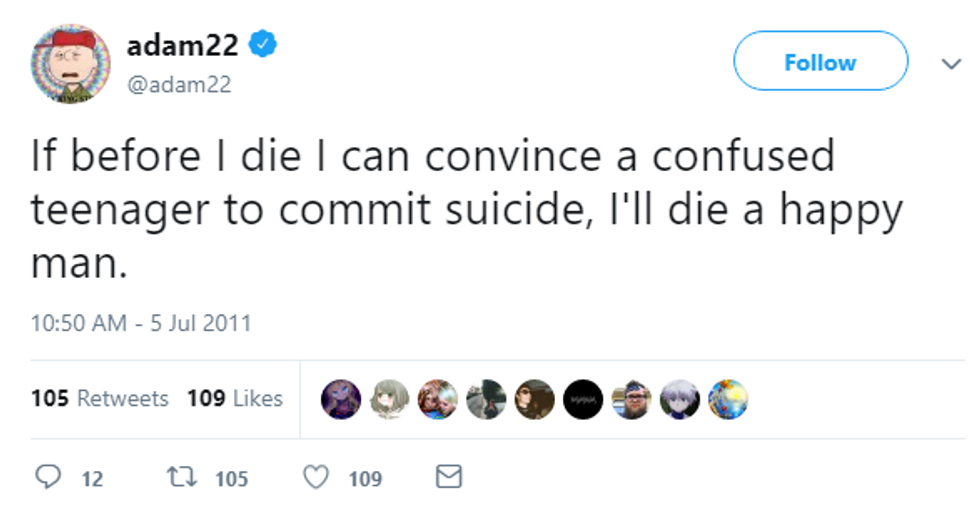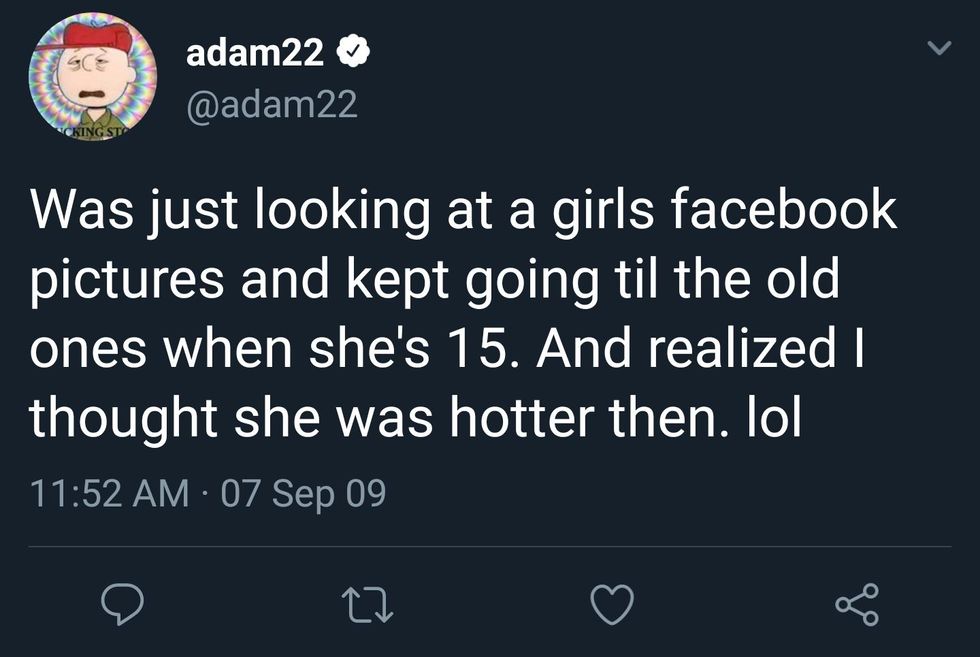 Despite his blanket denials of all the accusations against him, Grandmaison hasn't exactly attempted to hide his misogynistic view from the public eye. In what was meant to be a candid expose with Rolling Stone, Grandmaison talked about how he almost had a threesome the night before the interview. "At one point, I had my door closed in my room and [two women] were smoking cigarettes out the window...I'm sitting on the bed and both their asses are right there." He told the publication. "I was thinking, 'I need to just grab their asses and start rubbing their p*ssies and this could totally get cracking right now." Grandmaison said he "didn't have it in him."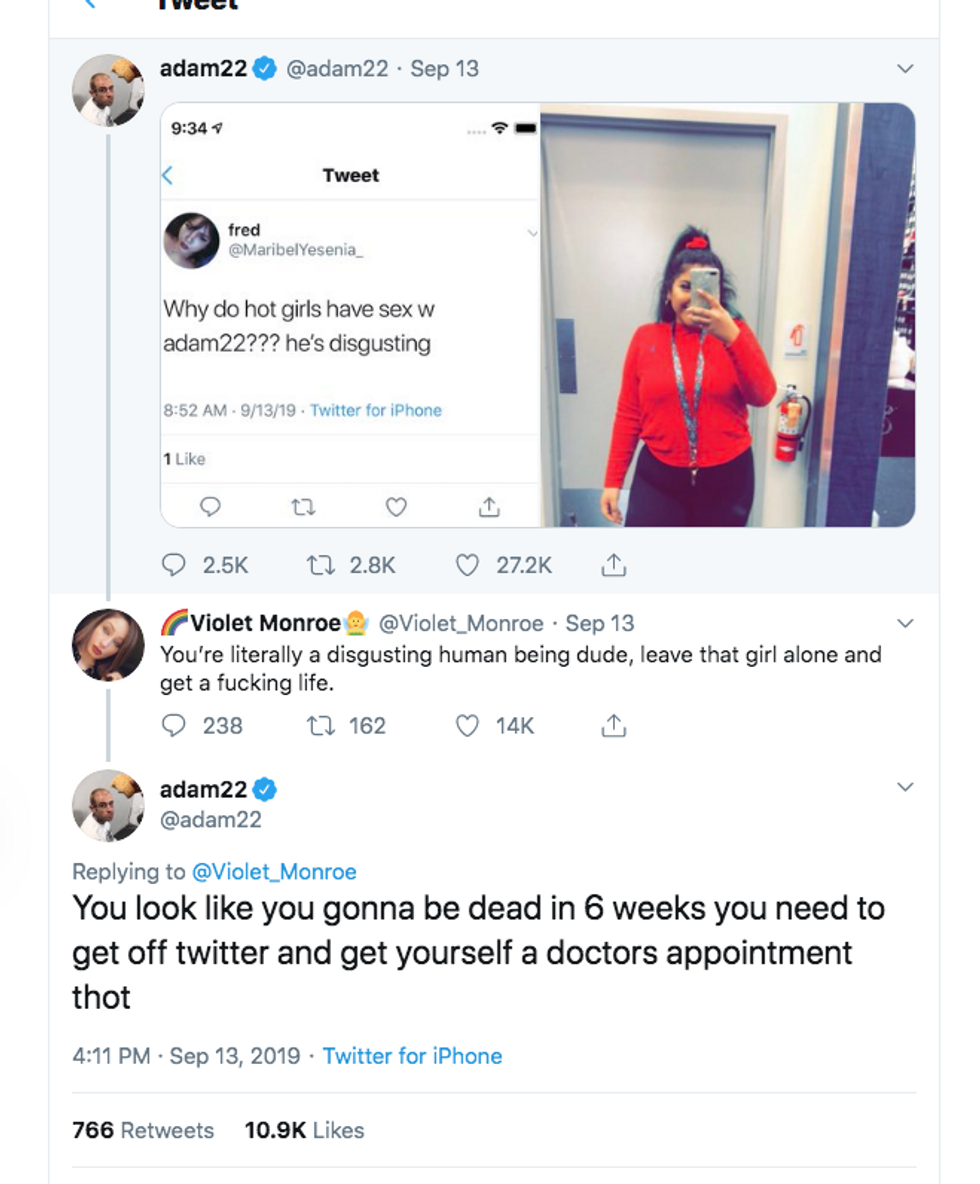 Adam22 has regularly been called an "influential tastemaker" in hip-hop. He has made a career out of discovering upcoming rap talent, yet his "genius" seems completely recyclable. "I stay up most nights until like 6 or 7 in the morning listening to music online, watching videos and going down weird reading wormholes," he said of his process. In addition to all the aforementioned offenses, Adam22 is regularly accused of being a culture vulture, and even before his time on No Jumper, he came under scrutiny for posting a video of BMX bikers bunny-hopping over homeless people. "I feel like ever since we moved west, I have a much better understanding of who hates me in bmx," Grandmaison Tweeted. "And just as I suspected, it's mostly f-gs." This past Friday, he dismissed Sam Smith's pronoun change as mere album promotion.

With all of these factors at play, his ability to peruse the internet for new music and carry on conversations with artists shouldn't make him immune to cancel culture or legal repercussions. Hip-hop underdogs should think twice before allowing this man to be their first major co-sign. "For most men, being falsely accused of rape is a horrible experience that can ruin their reputation, cost them thousands in legal fees and may land them in jail, but for me," Grandmaison wrote in a statement following the allegations of rape, "I would have to say that it was overall a very positive experience."