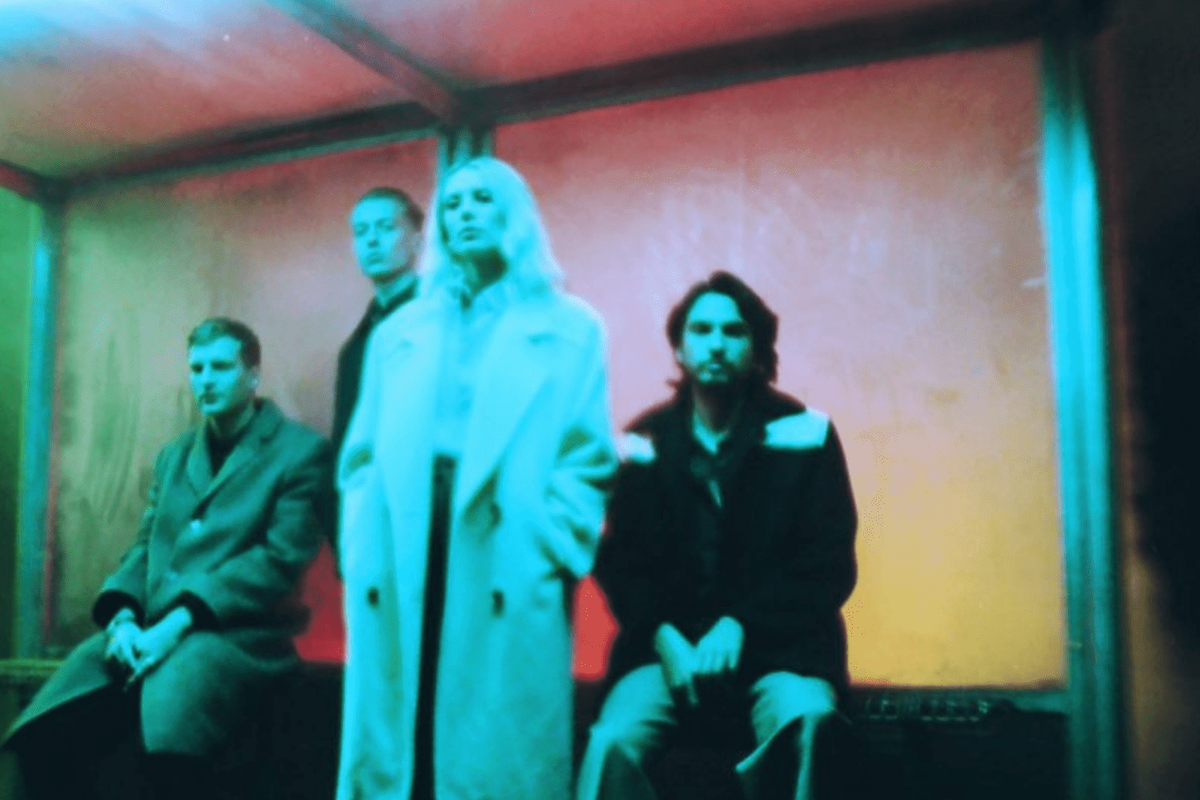 Wolf Alice's Blue Weekend, out last week, has soared to the top of the UK charts, ousting Olivia Rodrigo's SOUR from the top spot.
This is the London-based band's first number one album (their last two went to number two), and it cements the indie rockers as future megastars.
---
Blue Weekend feels like a career-defining piece of work. These stadium-sized rock songs have the feeling of a frenzied ritual, and it's not hard to imagine how thrilling hearing them live would be. Many of the songs, such as "Lipstick on the Glass," have a hypnotic quality that draws easy comparisons to Radiohead and other psych-rock acts who are able to harness complex musical arrangements into cohesive wholes, but Wolf Alice's sound is all their own.
The band's lead singer, Ellie Roswell, has an incredibly elastic voice that transforms with effortless ease. Tracks like "Smile" hit on a grittier, more punk-rock tone, finding Roswell asserting her dominance with riot grrrl-like lyrics over a growling guitar hook. (Actually, "Smile" sounds a bit like a more mature version of Rodrigo's "brutal"). Other songs like "Safe from Heartbreak (if you never fall in love)" have a whimsical, fairly-like psychedelic edge.
Many of these songs are about the most musically generative of topics — the ups and downs and highs and lows of relationships — and throughout the album, Roswell explores the bitterness and pain of love, the desperate desire to make someone else happy ("How Can I Make It OK?"), and the bittersweetness of coming to terms with a relationship's inevitable end ("No Hard Feelings.")
Wolf Alice - How Can I Make It Ok? www.youtube.com
"The Last Man on Earth," the album's lead single and one of its best, is a song galactic in scale that explores the limits of the human ego and questions man's self-absorption "And when your friends are talking / You hardly hear a word / You were the first person herе / And the last man on the Earth," Roswell sings. Mostly, it just builds and builds until it hits a starry climax.

Across the board here, the lyrics are secondary to the magnetic music, which feels possessed — almost too easy and powerful, almost as if it was made thanks to a pact with the devil. (Listen to the chorus of "Feeling Myself" and tell me there's not some kind of witch or demon there singing some of those harmonies).
In all seriousness, the album feels like a truly hi-fi rock and roll offering, expertly produced, glamorous, textured, and mature. This is a band on top of their game, and it'll be thrilling to see where this group goes as touring begins again.
True to form, the album has received some of the highest critical praise across the board. "Chiefly, Blue Weekend is a winning example of how a rock band has to be able to do a bit of everything in order to thrive in 2021's genre-agnostic ecosystem," writes Al Newstead for Triple J. "And it's a record that does a bit of everything really well."
Part of the album's magic comes from the fact that it's clearly not trying to be anything for anyone. "Every time you've been your more authentic self and people like it, that gives you the confidence to be even more authentic the next time and open up a bit more," Ellie Roswell told NME of her songwriting process.
Clearly, this album is the work of someone who has fully embraced her unique talents and has actualized them to the fullest. It just so happens that her talents are damn pleasing to the ear.
Wolf Alice - Delicious Things www.youtube.com
Related Articles Around the Web