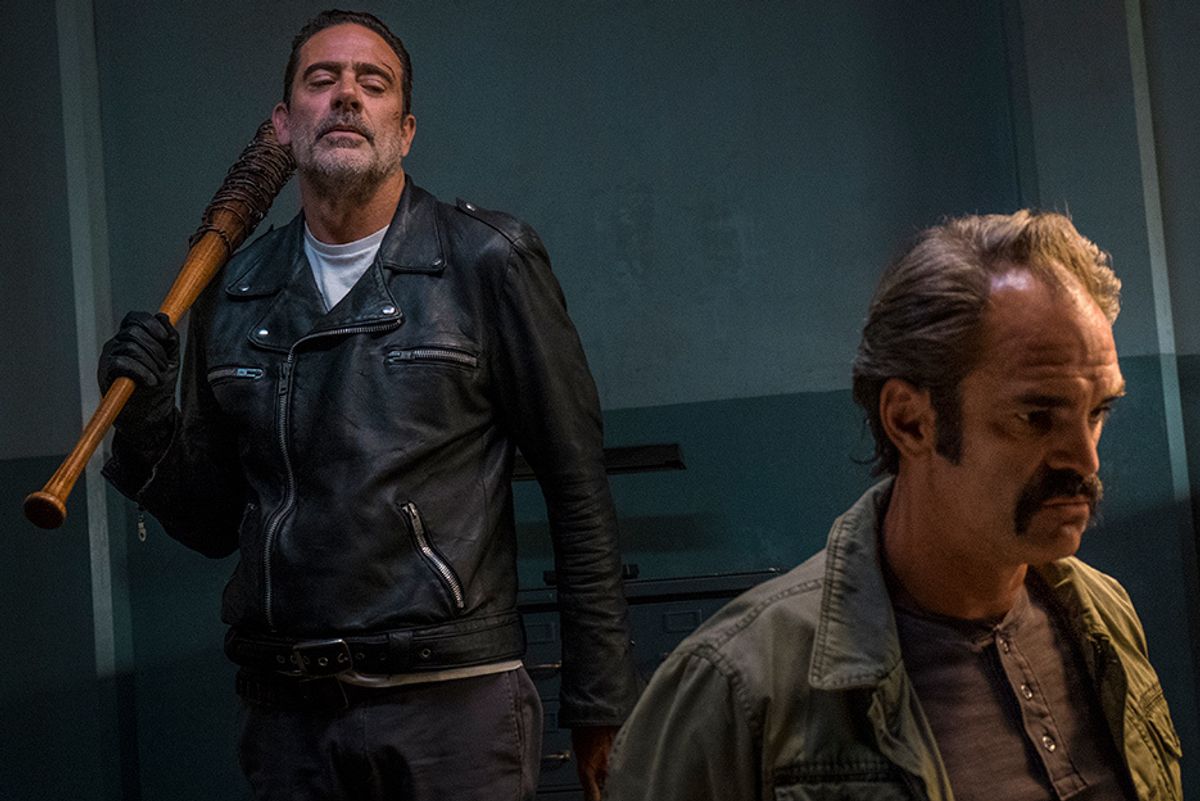 Negan (Jeffrey Dean Morgan) and (Simon) Steven Ogg
In "Worth" we find out the value of all the players, so to speak, in the power games ensuing at the Sanctuary. The fixation over the last couple years with Dwight's chessboard comes to mind when we witness the strategizing and deception among the likes of Eugene, Dwight, Simon, and Negan. Who really are these duplicitous people we thought we already knew? Each think they are a step ahead of the other, but who is the one ultimately in control?
---
Do Something Useful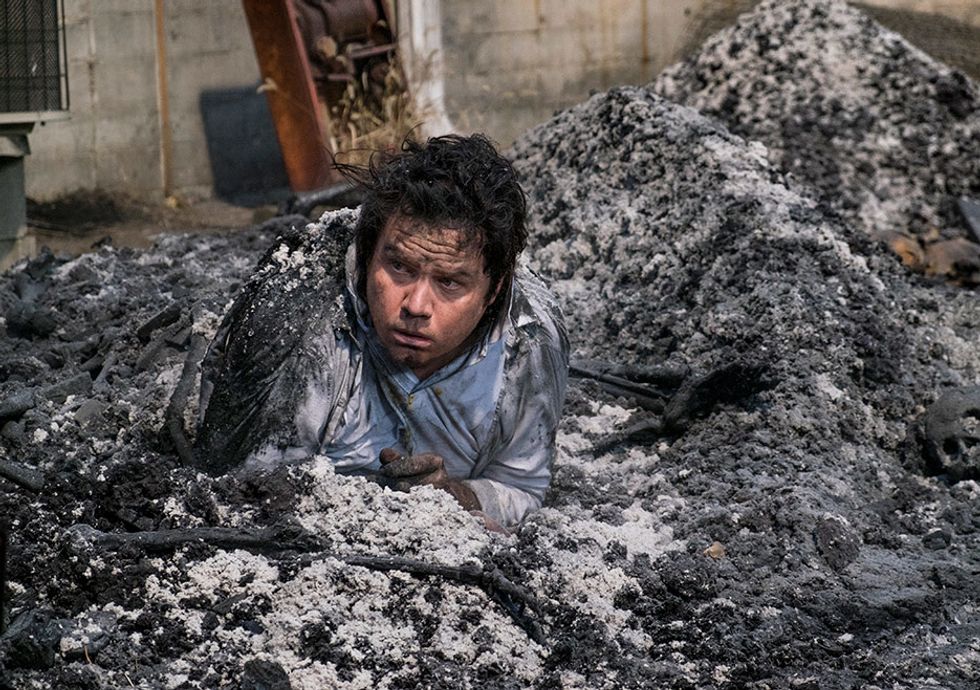 Eugene Porter (Josh McDermitt) Photo by Gene Page/AMC
Remember the "rat" that Gavin mentioned earlier this season? In a meeting with the top Saviors, he explains that the right kind of rat can kill a lot of people. He suggests that there must be a Savior that is double crossing them and aiding Rick. At the time, we assumed this was directed toward Dwight. Now, not only can that statement apply to just about any Savior at this point, but I think the statement is actually best suited for Eugene. We don't get a lot of screen time with him lately, but each time we do we see his character twist into an increasingly desperate and literally disgusting shape. His physical behaviors are taking on that of some kind of rodent -- his revolting mandatory sardine lunches, him puking it on Rosita to get away, him hiding in burnt human remains just to survive -- it seems there is nothing sacred left for Eugene, physically or morally. So, what is his worth?
Nobody cares about Eugene anymore but everybody still needs him, and he knows it. With this lack of rapport or solid inclusion with any one person or community, he has to find another way to stick around, and that is to be not only useful but indispensable. Negan doesn't care about Eugene at all and probably already has him sniffed out. Rosita would have killed him already were it not for "what's in there," meaning his brain. But for all the brains he's got and the power and value that comes with it, it seems that Eugene is still the pawn in this game. Will that change this season?
---
You Already Have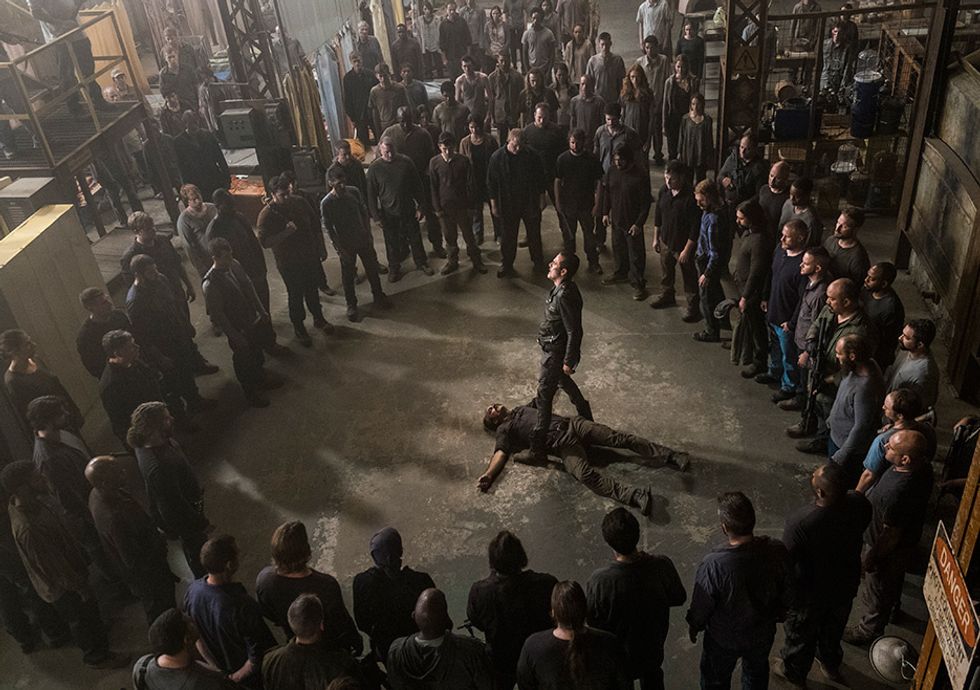 Photo by Gene Page/AMC
Negan has been hunted, cornered, beaten, abandoned, and abducted within the last few episodes; let's say he hasn't been oozing his usual cool and confidence lately. He turns everything around in this episode, though. Finally -- finally -- Simon has been found out for the amoral predator that he is, a "demented, broken, god damned ghoul" as Negan declares it. The delicious moment when Negan appears and Simon realizes Dwight has used him is one I imagine quite a few fans savored. It appears Simon is not the king he thought he was. What about Dwight?
Despite his past transgressions, it's been a little painful lately to see the way the Alexandrians have been treating Dwight considering all of his invaluable assistance to them, so it was nice to hear Negan sincerely acknowledge just how focused and clever Dwight is, and tough. Its more impressive that he pays him this compliment considering he already knows about Dwight's deceit (another tiny redeeming moment for Negan perhaps?). Dwight's confidence in his covertness is shattered immediately, though, when Negan blows his cover. I don't know if I want to imagine the fate Negan has dreamed up for him. It seems Dwight might not be in control of this chessboard after all, or does he still have a few other moves? History would suggest he just might.

Not only does Negan's outsmarting of Simon prove his dominance, but he makes a visceral show of it by killing Simon with his bare hands in maybe the best bare-knuckle-boxing scene in the entire series. A brutal physical end to a violent man like Simon was an appropriate choice of death by Negan, but since Dwight's treachery doesn't lie in his brute force but in his intellectual cunning, Negan's reckoning for Dwight might echo the psychological torture of Daryl. One thing we know about Negan is that he does not waste resources, and someone as clever as Dwight, despite their contentions, is still valuable to a pragmatic man like Negan. And, knowing that Dwight actually does care about Rick and the gang now means that Negan's wrath for the Hilltop will be inflamed.. This is also part of Dwight's retribution for his treachery: the pain of knowing he might have just killed everyone that he had the best chance of living with, people he was starting to actually care about. Currently, Negan appears seven steps ahead of everyone. If the other saviors are pawns, and Simon the would-be King, I guess that makes Negan... the queen?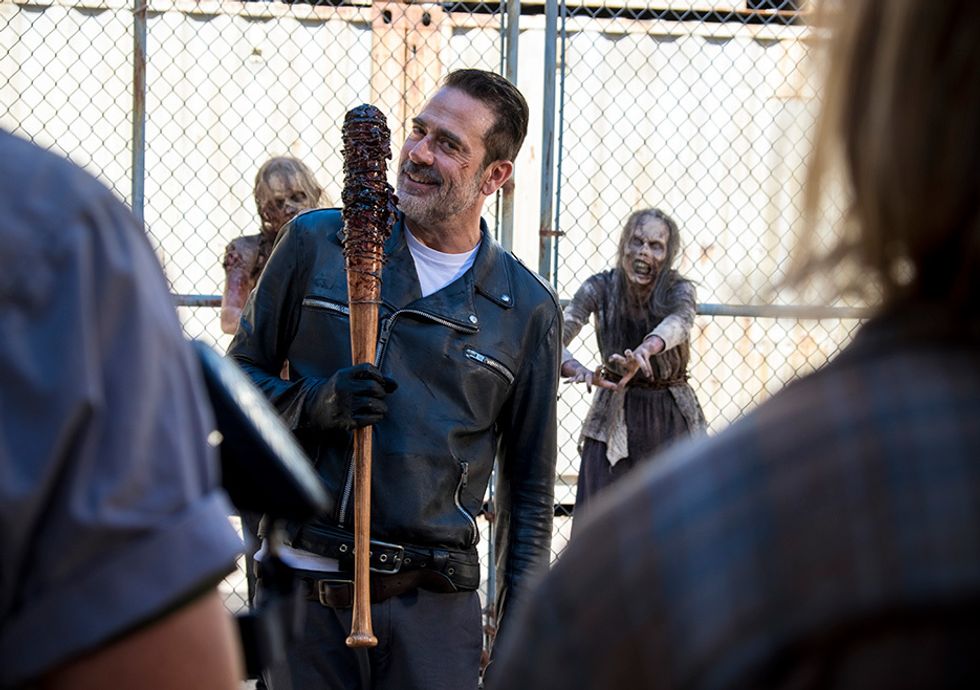 Negan (Jeffrey Dean Morgan) Photo by Gene Page/AMC
---
With power games playing out dramatically at the sanctuary, a moment of peace has settled over the Hilltop now that Rick has finally read the dying words of his son. Carl reminds him of the "city upon a hill" -- (the religious allusions are on-point as usual) that the Hilltop can become. With this newly discovered inspiration from his late son, will Rick's motivations change, and how will it affect his decision to trust Dwight's plan, his ability to accept Siddiq into the group, and his handling of Negan? Who will end up in control by the end of season eight?

---
Other Lingering Questions
Will Father Gabriel find a way to remain on his mission to save his people? Will he try compromising the bullets in another way?
Will Carl's other letters, such as his one to Enid, be read in the finale?
P.S. The season eight finale is screening in theaters!

---
Ciara Cerrato was a projectionist and curator at the Hot Springs Documentary Film Festival, and she currently is a poet and freelance writer in New York
---
WTWD? Bonus Clip!