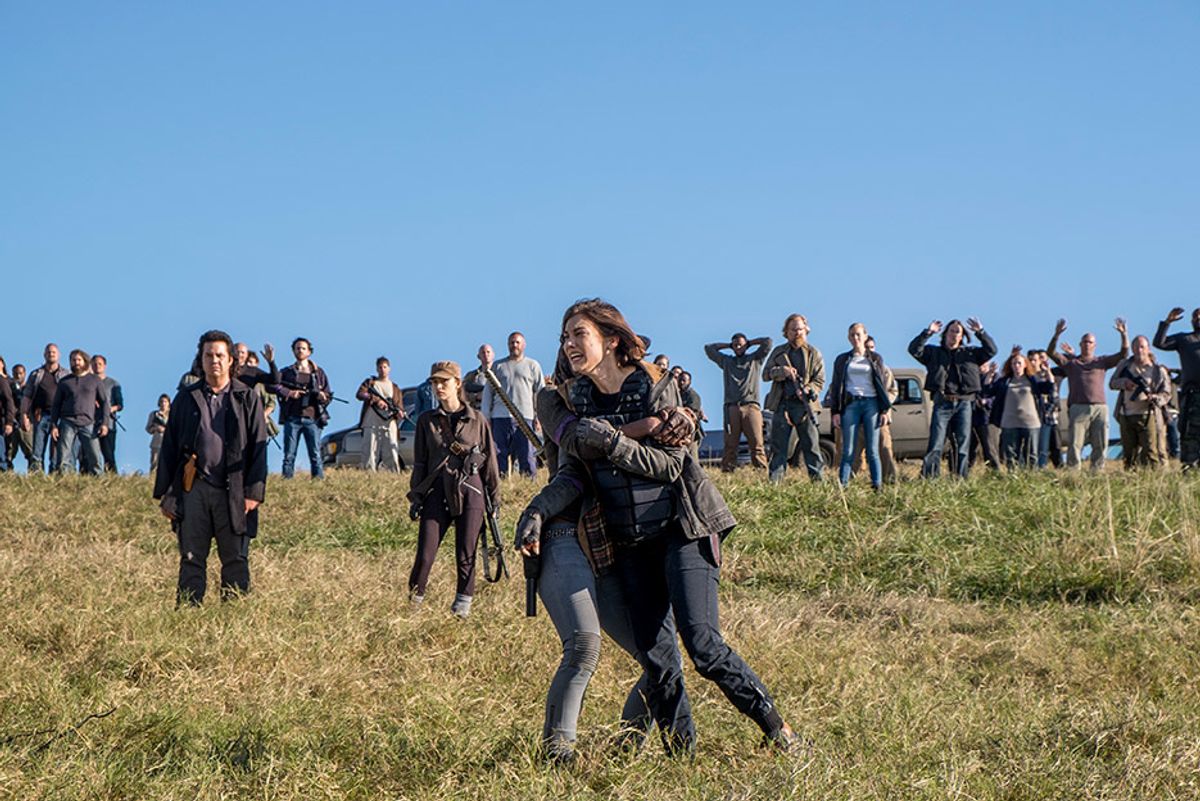 Maggie Rhee (Lauren Cohan) Photo by Gene Page/AMC

With a finale as complex as this one, this time around fans might need a summer to brace themselves for the new TWD world to come. What has been resolved, and what has been initiated by the end of season eight? Many viewers already are speculating about the inner rift between Rick and Maggie and their viewpoints on Negan. Who do you agree with?
---
It's Not Over 'til He's Dead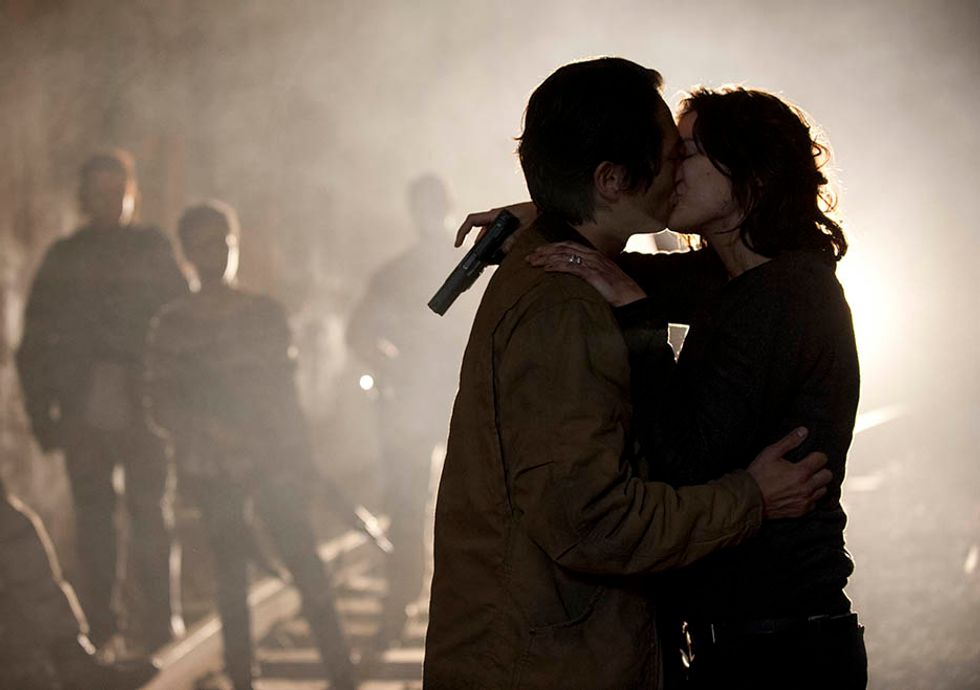 Glenn Rhee (Steven Yeun) and Maggie Rhee (Lauren Cohan) in Season Five Photo by Gene Page/AMC
While "Wrath" was packed with unexpected emotional moments, one of the most gut-wrenching ones was Maggie's reaction to Rick saving Negan. She has held it together so well for so long, it's as if all the vengeance and anger she has been harboring was utterly unloosed. The cry she lets out is a cry of grief, and when you hear it, suddenly you remember that even though it feels like two years since Glenn was killed to viewers, not a lot of time has passed for the characters. And, as far as we know, Maggie is still carrying his baby. Maggie has a laundry list of reasons to want to wipe Negan out. Even though her cry of anguish was difficult to hear (enough to move Jesus and Daryl toward her concerns), her blood lust for him is unsettling to say the least. Because of what he did to her and the person she loved, as well as all the other horrors Negan has inflicted upon others, Maggie cannot comprehend Rick's decision to save him. After watching the final scene with Maggie, it begs the question: What would Glenn think of Maggie's choices?

Glenn was adaptable, optimistic, and caring; he chose to save people even when others might abandon them. He reminded others to help people as well. Would Glenn want to see Maggie so consumed with violence and hate because of his death? Is Maggie right in believing a man like Negan should die? And, what will killing him accomplish and how will it change her and the rest of the group?

---
I Remember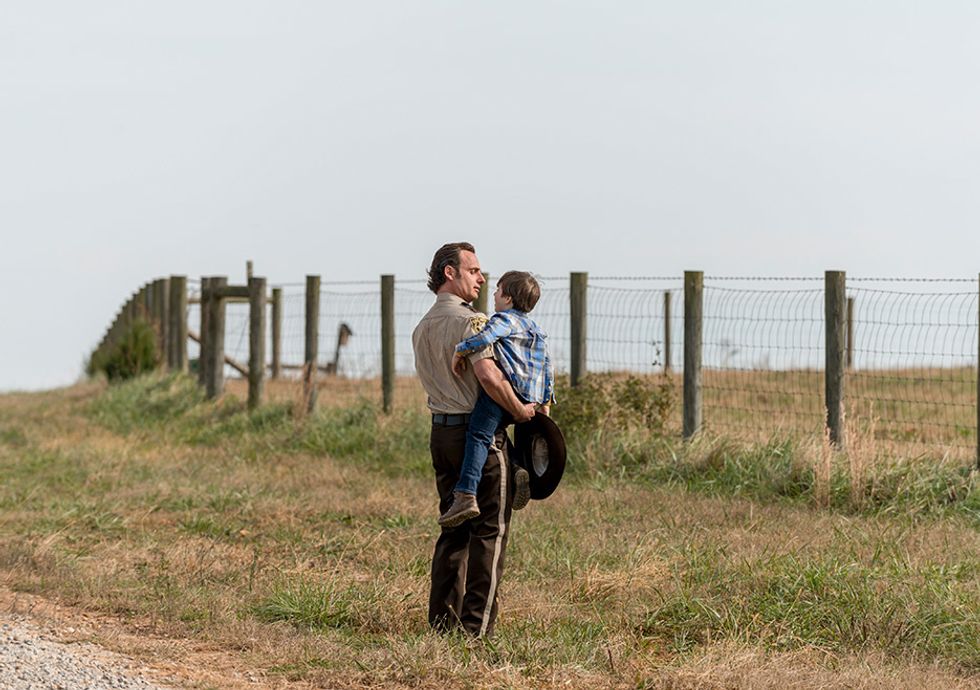 Photo by Gene Page/AMC
Rick's handling of Negan at the close of the episode was a life changing experience for Rick. He has been ruminating over everything Carl told him about hope and a new way forward. He has tried to fight it mostly. I don't think Carl's ideas clicked for Rick until he slashed Negan's throat. He used his late son's name, a young man who wanted peace, to kill a person. Rick knew that if he let Negan die, he would never recover from that dishonoring of his son. Negan knows it too, which is why he has a sick smile on his face when he sees what Rick has done. Ultimately, getting Rick to dishonor Carl and kill him would be the only way for Negan to win, so to speak, against Rick. Though fans may have initially wanted to scream at Rick that way Maggie did (and I'm sure many of them did), once you hear his and Michonne's plans for Negan, it makes more sense.
Rick is ending the war not through death but through life, through mercy. Rather than responding with emotion and vengeance, Rick approaches Negan's fate with utilitarianism (a taste of Negan's own medicine perhaps). It would be more productive to use Negan as an example of what is unacceptable and unsustainable in this world. He hasn't spared all his wrath as he wants him to "rot in a cell" (maybe a little payback for what he did to Daryl!). Does Rick really think Negan will just submit to this arrangement?
Negan has a profound choice before him. He can also honor Carl, one of the only people he seemed to ever care about, by letting go of his ego and his old ways and allowing himself to be brought into the fold. Or, he could revert to his usual ways and try to fight or escape. Is there hope for Negan to make this choice as well as to survive the wrath of the likes of Maggie and Daryl? Could Negan possibly take sides with Rick and Michonne if the group's disagreements about Negan culminate to in-fighting?
---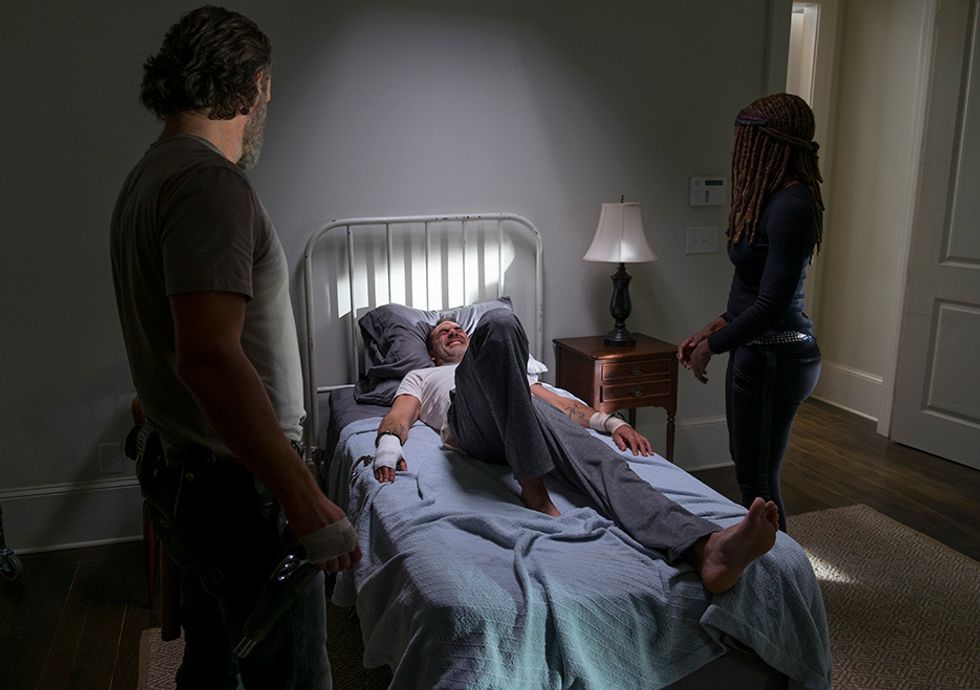 Rick Grimes (Andrew Lincoln), Negan (Jeffrey Dean Morgan), and Michonne (Danai Gurira) Photo by Gene Page/AMC
---
Ending this season without a major death and with a cliff-hanger that includes possible conflict within the group makes this finale singular. Based on past structures of the show, it wouldn't be surprising if we return to season nine with a major time jump, similar to the one between seasons three and four. What will the new world look like now that All Out War is over? What do you want for "after?"

---
Other Lingering Questions
How will characters like Eugene reintegrate back into the group?
Has Carol relocated to the Kingdom for good? What does this mean for her?
What will the currently burnt-out Alexandria look like compared to the Hilltop when we return? Remember, Maggie is the only one with the "key" to the future. Think she will share that key with Rick now?
---
Ciara Cerrato was a projectionist and curator at the Hot Springs Documentary Film Festival, and she currently is a poet and freelance writer in New York
---
WTWD? Bonus Clip!