"What is your definition of being happy?"

In the second episode of Netflix's latest true crime docuseries, Killer Inside: The Mind of Aaron Hernandez, Stephen Ziogas, Aaron Hernandez's childhood friend, can't imagine what drove his friend to commit first-degree murder. He says, "I think the biggest misconception is he was someone who had everything and threw it all away. From what we know now, can you ever really define that he was happy?" In June 2013, the New England Patriots tight end had fame, wealth, a devoted fiancee, and his first child on the way. Looking back on what followed, Ziogas adds, "He did everything that, in that storybook setting, would make you happy, but obviously he was still hurting."
The three episodes of Killer Inside create a rare, objective look at Hernandez's life, mostly built from audio recordings of Hernandez's phone calls while in prison, security footage from his own home, testimonies from his criminal trial, and interviews with his close friends and former teammates. While those close to him describe him as playful, teasing, and full of life, they also discuss his childhood traumas from his physically abusive father, his long history of anger issues and violent outbursts, and his struggles with his sexuality.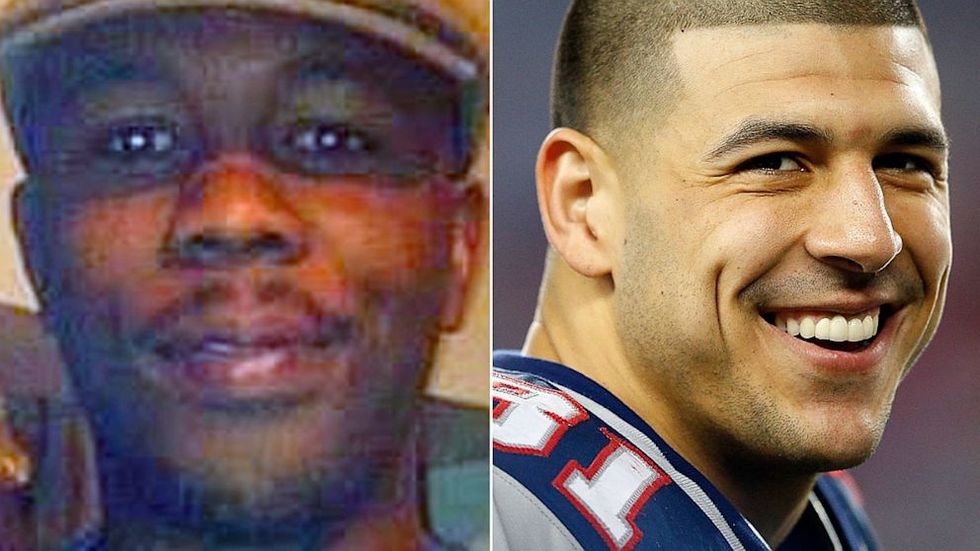 ABC News
In June 2013, the body of Odin Lloyd, a 27-year-old semi-professional football player, was found in the street with wounds from six gunshots. In what was described as a particularly messy crime, Hernandez murdered Lloyd with motives that are unclear to this day. At the time of his trial in 2015, prosecutors argued that Lloyd was targeted because he'd spoken to people disliked by Hernandez while at a bar in Boston. But friends and photographs paint a friendly relationship between Lloyd and Hernandez, who were respectively dating sisters Shayanna and Shaneah Jenkins. The men bonded over their love of video games and smoking (Lloyd's nickname was the "blunt master").

Why did the beloved New England Patriot murder Lloyd, who was set to become his brother-in-law? The docuseries doesn't offer a clear answer, because those answers ultimately died with Hernandez when he hanged himself in his jail cell in 2017. Hernandez killed himself with his prison bed sheet on the same day his former NFL team visited the White House to celebrate their fifth Super Bowl win.
The series taps into the power of personal testimony mixed with compelling video and audio evidence to unfold a mind-boggling backstory, including a second criminal charge Hernandez faced on top of first-degree murder. He was charged and tried for fatally shooting two men in a car outside of a nightclub in 2012; his lawyer, Jose Baez (noted for defending Casey Anthony), successfully cast doubt on his involvement, resulting in a not guilty verdict. In fact, Hernandez was described as having high spirits prior to his death, with the double-murder charges dropped and an appeal of his life sentence with no parole in the works.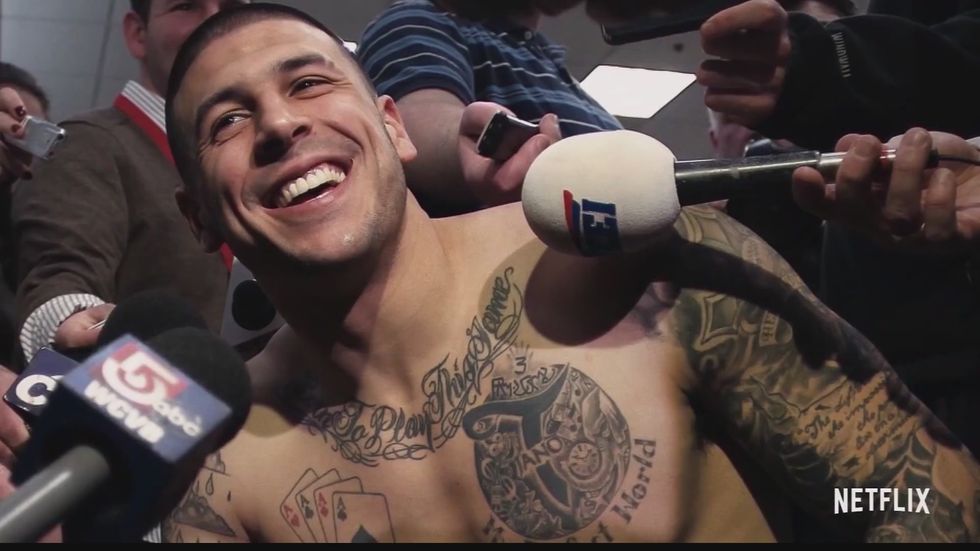 In the larger picture, however, Hernandez was clearly at odds with his own identity, with jarring contradictions causing rifts in both his personal and professional lives. He complained that the Patriots organization "try to ruin all your fun because that want you to only be business [sic]," even asking to be traded in 2013 and struggling to bond with his teammates, who viewed him as impulsive and "immature." He idolized his abusive father, Dennis Hernandez, as "a good man" who was "also really wild," but he resented his mother, whom he felt abandoned him after his father's death. He makes a belligerent call from prison, yelling, "I was the happiest little kid in the world, and you f***ed me up. I had nobody. What'd you think I was going to do? Become a perfect angel?" He grew up attending a safe, "typical American high school" but fostered a bad boy image, keeping company with violent criminals while professing his love for the Harry Potter series to his fiancee and close friends.

And then two issues are weakly covered–disappointingly so–in the third episode of Killer Inside: Hernandez's sexual history, which involved allegations of childhood molestation and represssed homosexuality, and its connection to his perpetual anger; and Hernandez's confirmed brain damage incurred from playing in the NFL. The series' tepid handling of the issues create an abrupt ending, with more emphasis on humanizing Hernandez, a convicted murderer of at least one man, while giving incomplete consideration of how trauma impacted Hernandez's psychology.
Rumors about Hernandez's sexuality persisted both during and after his life, with one inmate coming forward after Hernandez's death to allege that they were lovers in prison (he is not interviewed in the series). One childhood friend recounts discovering his own bisexuality when he and Hernandez would sexually experiment in high school. He affirms, "He [Aaron] wasn't ashamed of who he was. Aaron was proud of his sexuality. It was just, he couldn't say anything—at the time, there was no one in the NFL that had ever broke this news."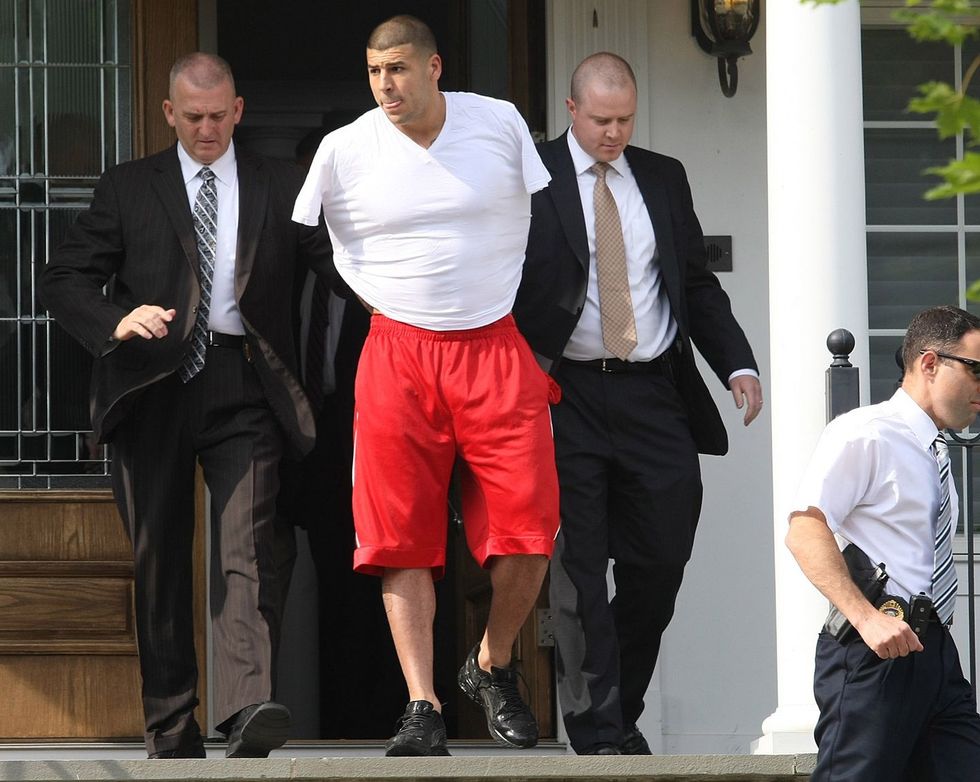 However, throughout the docuseries, Dennis Hernandez's severe homophobia is starkly outlined next to his son's admiration of him, underlining the recurring theme of troubled and toxic masculinity in Hernanez's violent outbursts. Additionally, one of Hernandez's lawyers, George Leontire, says that Hernandez confided in him about being molested by a male babysitter as a child (his older brother, DJ Hernandez, has publicly corroborated the story of abuse). Leontire says that he, as a gay man, felt bad for his client: "Aaron asked me if I felt or believed that someone was born gay...Aaron had a belief that his abuse as a child impacted his sexuality. That was one of the things that he held onto as to why he, in his mind, has this aberrant behavior." And then, most egregiously, in 2017 one reporter named Michele McPhee published an unconfirmed story that Odin Lloyd was targeted because he'd caught Hernandez with a man. She was interviewed on a popular Boston sports radio show, where the hosts openly mocked Hernandez about being the Patriots' "tight end." Two days later, Hernandez hanged himself.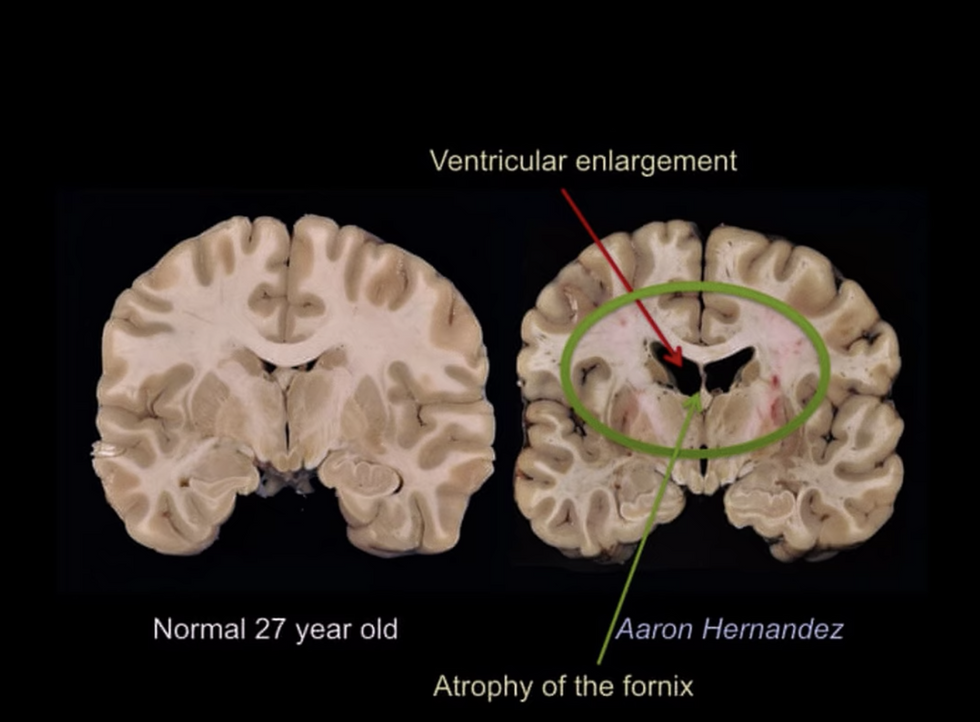 Netflix
In the last minutes of the Killer Mind, we learn that Hernandez's family donated his brain to science with shocking results. In 2017, the same year of Hernandez's death, former NFL player Fred McNeill became the first living patient to be accurately diagnosed with chronic traumatic encephalopathy (C.T.E.), a form of severe brain damage resulting from repeated head traumas. As the disease develops in four worsening stages, symptoms range from memory loss, confusion, depression, and dementia to violent mood swings and suicidal ideation. Shortly after Dr. Bennet Omalu first discovered the disease in professional football players, a study examined the brains of 111 deceased players; 110 were confirmed to have CTE. Examination of Aaron Hernandez's brain showed "the most severe case they had ever seen in someone of Aaron's age," with degeneration well into stage three, comparable to a player well into his 60s.

Hernandez's turmoil over his sexuality is not framed as an excuse for his actions, but overall, the series' tepid handling of the issue creates an abrupt end to the matter, with incomplete consideration of how this impacted Hernandez's psychology. In all likelihood, the combination of childhood trauma, internalized shame, and brain damage created the double loss of life surrounding the Aaron Hernandez case. Odin Lloyd's family has forgiven Hernandez, but the senselessness behind the crime makes its unsettling loss feel frozen in time. In a suicide letter addressed to his lawyer, Baez, Hernandez wrote, "Wrong or right — who knows — I just follow my natural instincts and how it guides me."