FILM
Did you miss the hidden cultural references, Keanu Reeves improvising, or the ultimate secret to good Asian food?
Always Be My Maybe is the long-awaited result of Ali Wong and Randall Park's shared love of rom-coms, their years of working the San Francisco stand-up comedy circuit together, and mainstream cinema's sore need for more Asian-American representation.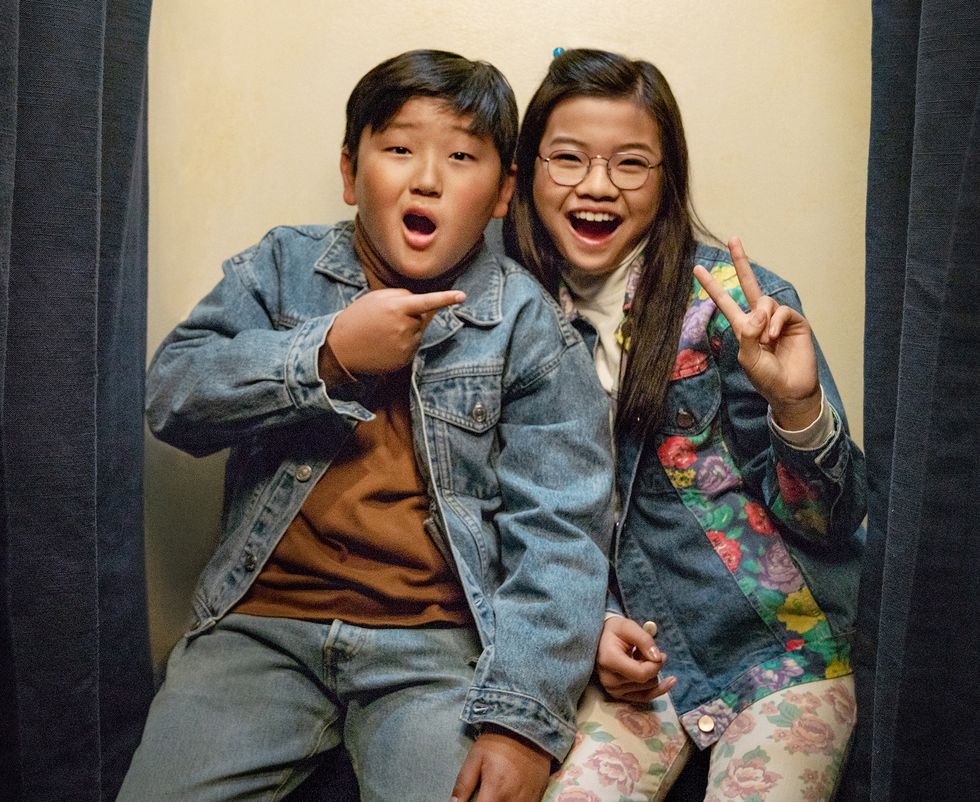 US Magazine
In a 2016 interview with The New Yorker, Wong joked that she and Park planned to make "our version of When Harry Met Sally." Taking additional inspiration from Eddie Murphy's Boomerang (1992), they joined forces with Michael Golamco (Grimm) to co-write Always Be My Maybe, a uniquely authentic Asian-American love story. Its merit lies in the fact that it isn't centered on Asian-American identity as an existential problem—rather, the love story just happens to involve two people who share that cultural background.

In fact, understatement is one of the film's smartest features. Director Nahnatchka Khan (Fresh Off the Boat) creates immersive scenes of Asian-American culture in the San Francisco Bay area spanning from 1996 to 2019. Wong described the film's careful subtlety: "It's such a cool, confident thing when you don't explain the premise, you just have the premise. It's our reality, and we're not going to take time to explain it."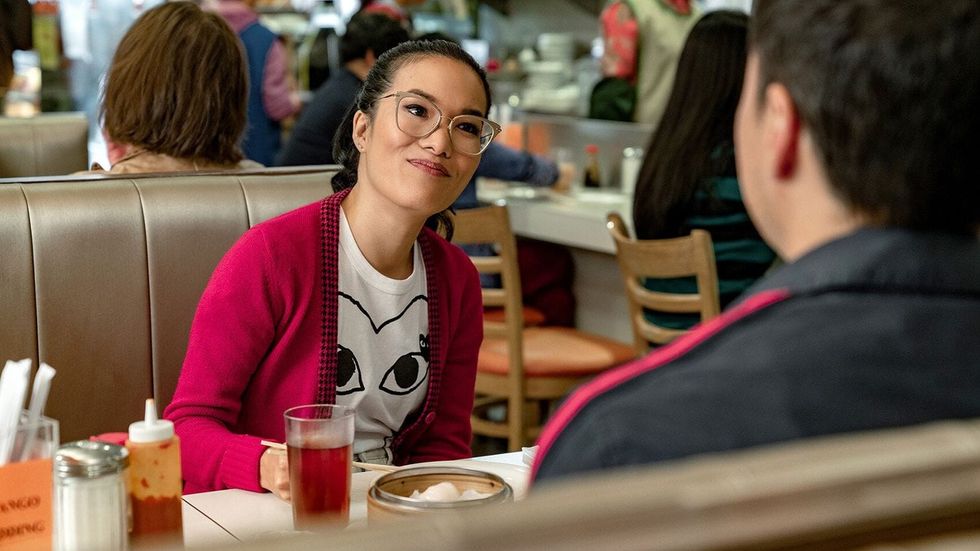 The Washington Post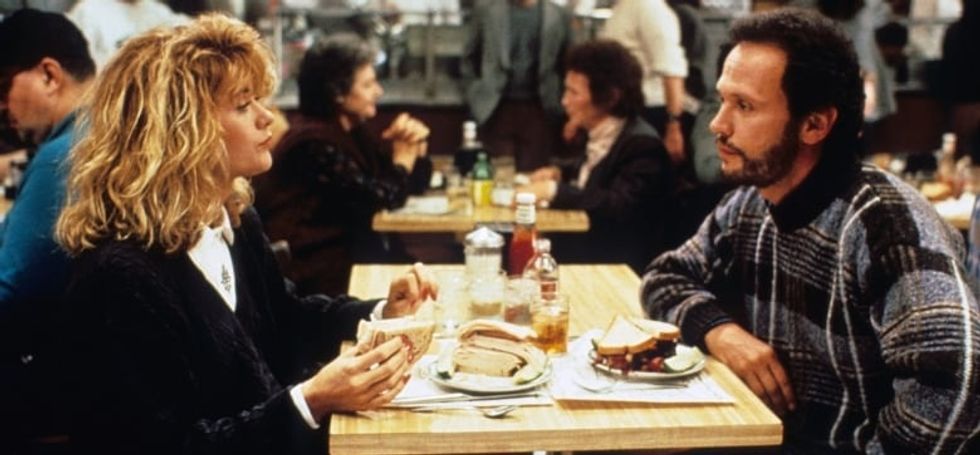 Ali Wong and Randall Park apparently LOVE this movie."When Harry Met Sally"
The plot has simple and familiar rom-com tropes: A successful (and wildly wealthy) adult returns to her troubled childhood home; she reunites with her childhood best friend; the two friends harbor hidden feelings for one another; a rival suitor comes along to challenge their promising romance; they're driven to confess their feelings for each other. It's a plot cooked in 90s rom-coms, with Wong and Park pandering to the tropes in order to subvert them by adding a brand new context: the Asian-American community in San Francisco.

So in Wong and Park's version of When Harry Met Sally, it goes like this: Sasha Tran (Wong) is a celebrity chef whose success has allowed her to open a series of restaurants specializing in "elevated Asian cuisine." Her jet-setting lifestyle leads her back to San Francisco, where she reunites with her childhood best friend, Marcus (Park), who's still living in his childhood home, taking care of his father, smoking a lot of weed, and fronting a local all Asian rap group called "Hello Peril" (get it? It's a brilliant play on "yellow peril" because: racism. Also, their music is excellent. Seriously, listen to this good shit). As for the rival suitor who literally makes Sasha's toes curl and finally prompts Marcus to profess his feelings, yes, it's Keanu Reeves: Hollywood's "Only Good Celebrity."
We don't deserve Keanu Reeves https://t.co/20Nm0lMrfw

— Netflix US (@Netflix US)1559428524.0
Reeves plays (and even improvises) an over-the-top, narcissistic version of himself, satirizing both his own reputation as "one of the nicest actors in Hollywood" and the whole worshipful culture of fame. His character is a face toucher and an intense starer who breathes nonsense like, "The only stars that matter are the ones you see when you dream." Wong, Park, and Khan all wanted Reeves as the first choice for the role. Aside from bragging that she got to kiss both Keanu Reeves and Daniel Dae Kim, who plays Sasha's short-lived fiance in the film, Wong said, "We thought, Who would be Marcus's worst nightmare? It should be an Asian American icon who's a great actor and who's funny but also willing to make fun of himself...[Keanu] was flattered that we remembered he was Asian American."
She added, "It's always been important to me, to express my desire and attraction toward Asian American men. Since I first watched Speed, I was very aware that Keanu was Asian American because my family and community wouldn't shut up about it."
At worst, the film's incredible comedic strengths can make its romantic speeches seem lackluster; but, even then, Wong and Park's performances are inspiring in their earnestness. In fact, the entire film speaks of authenticity, from depicting friendly, easy-going Asian-American parents who aren't tokenized as strident traditionalists to portraying the awkward exchanges between LGBTQ individuals and those well-meaning people who awkwardly try too hard to show they're "allies."
For instance, Asian Twitter celebrated the film's rare inclusion of two Asian-American leads and its attention to cultural details, including the multi-ethnic neighborhood of the S.F. Bay area in the 1990s. One user wrote, "If no one says it, I will. #AlwaysBeMyMaybe is not just a film that's an ode to asian food but also an ode to 90s bay area hip hop and the asian americans who grew up embracing that culture…"
if no one says it, I will. #AlwaysBeMyMaybe is not just a film that's an ode to asian food but also an ode to 90s b… https://t.co/zym3uUCbh5

— 🤷🏾‍♀️ jenilee. 🤷🏾‍♀️ (@🤷🏾‍♀️ jenilee. 🤷🏾‍♀️)1559330516.0
William Wu wrote, "#AlwaysBeMyMaybe gives us a film with four parents who are loving, funny, and charming in their own unique ways. It is a rarity to see older Asian characters not be depicted as caricatures. I recognize these parents. I know them. It is great to see them in this movie."
#AlwaysBeMyMaybe gives us a film with four parents who are loving, funny, and charming in their own unique ways. It… https://t.co/H0U9TuosZQ

— William Yu (@William Yu)1559424377.0
It took me this long to realize "Hello Peril" was a play on words.

— amber ruffin (@amber ruffin)1559528524.0
Y'all THE SPAM AND FURIKAKE OVER RICE HAD me and @seanmiura TEARING UP ALREADY when we watched this in the theater.… https://t.co/O2qv1zmenV

— Jenny Yang stands w the WGA (@Jenny Yang stands w the WGA)1559523707.0
- recognizes the ways AsAm identity and coming of age are inextricably tied to the experience of food—how it's made… https://t.co/j1fjK42Iph

— Nicole Clark (@Nicole Clark)1559328046.0
Finally, Always Be My Maybe celebrates food as cultural and familial touchstones. We don't just crave films with diverse casting; we want good films representing diverse cultures, which Always Be My Maybe delivers intelligently and poignantly. From Marcus' Korean mother teaching a young Sasha how to cook kimchi jigae, a spicy stew, to adult Sasha marketing her next restaurant as hipster-baiting "nondenominational modern Vietnamese fusion," their particular stories speak about race, class, and family in any situation. It simply does so while offering insights into Asian-American culture, like when Marcus grows sick of Sasha's elitist food and deadpans, "Asian food shouldn't be served in a shot glass. It should be served in a big ass bowl."