TV
Anthony Bourdain's 5 Best Moments
The late, great Anthony Bourdain would have been 65 today.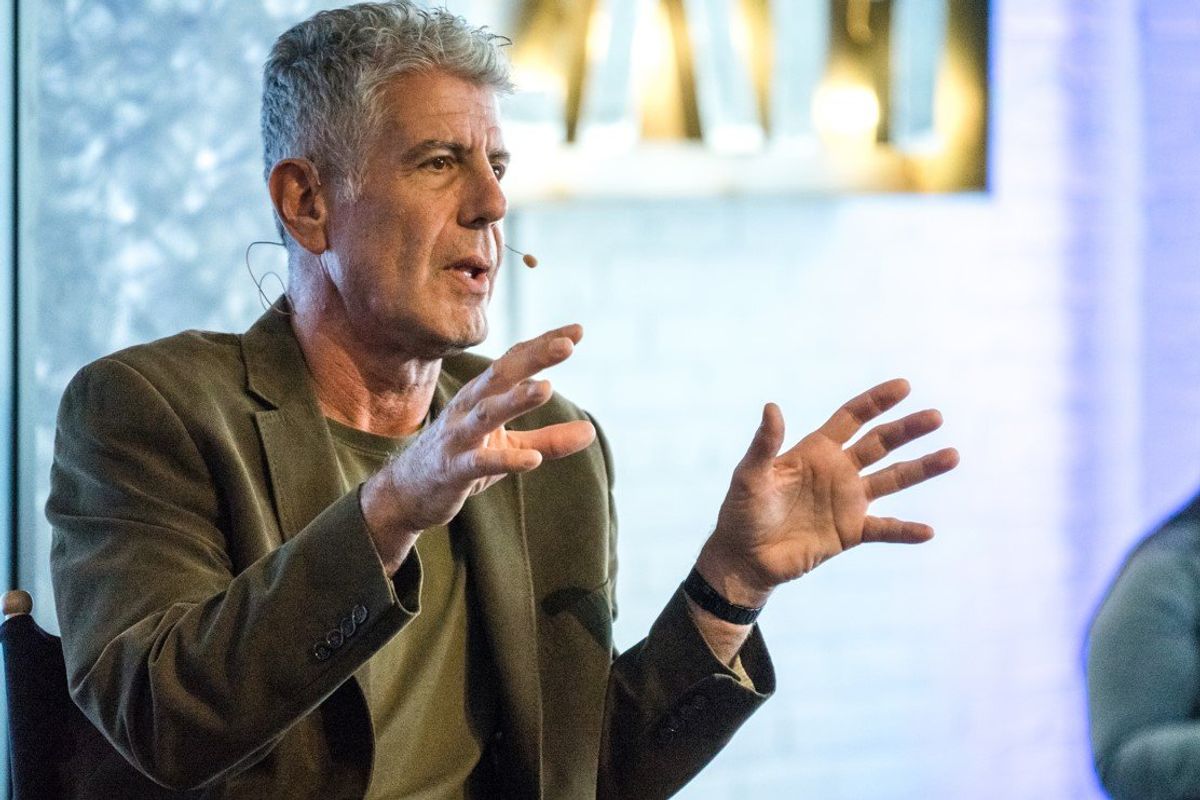 Photo by stock_photo_world (Shutterstock)
The late, great Anthony Bourdain would have been 65 today.
The smooth-tongued TV culinary master, unfortunately, took his own life back in 2018, but he left behind a legacy full of great moments, both with the food he ate and with the people he charmed along the way. The best way to pay tribute to such a brave explorer is to revisit the moments that only Anthony Bourdain could capture. Whether it be stressing over what to order at Waffle House, or gorging on a hot bowl of noodles with a former president, Bourdain succeeded in leading a life unlike anyone else's. Here are some of his best moments from over the years.
---
Bourdain Spends Christmas In The Philippines
When Anthony flew to Manila for Christmas, he visited the sprawling Philippine city to not only take in the sites but to deeply connect with the people. He spent dinner with a woman named Aurora and her massive family, highlighting Aurora's unshakeable maternal spirit throughout the years. She had spent three decades cleaning houses and babysitting in order to financially support those she loved, one of whom was Bourdain's director on Parts Unknown.
Bourdain used Aurora's story to then highlight the massive diaspora of migrant Filipino workers who would often leave home for years before returning. Aurora's children, who were now all middle-aged, were finally being given the opportunity to get to know their mother after decades apart. Her sacrifice was inspiring, and Bourdain highlighted it in a poetic way only he could.
Bourdain Tries Waffle House For The First Time
"It is indeed marvelous," Bourdain said of Waffle House. "An irony-free zone where everything is beautiful, and nothing hurts. Where everybody, regardless of race, creed, color or degree of inebriation is welcomed." Never has anyone described the drunken debauchery of Waffle House with such grace, but that was Bourdain's bread and butter. He was always able to describe the grimiest parts of the human experience with elegance. On Bourdain's first trip to the fast-food chain alongside legendary chef Sean Brock, he gorged himself on the legendary guilty-pleasure food, while reminiscing on why places like Waffle House are the lifeblood of America.
Exploring New England's Heroin Epidemic
In a more somber episode back in 2015, Bourdain explored northern Massachusetts, which was and still is deeply struggling with a heroin epidemic. Bourdain touched on his own experience with heroin, and explained not only his own relationship to the drug but small-town America's relationship to it as well.
Stopping By a Strip Club With Alton Brown
In an episode titled "The Layover" back in 2013, Bourdain dove face-first into Atlanta's cuisine, and capped off a successful evening at the Clermont Lounge with Alton Brown. The two chefs took shots out of plastic cups, and even met a gorgeous lady named "Blondie," who was proclaimed to be the unofficial mayor of Atlanta. The best part is probably when Bourdain said the Clermont Lounge "should be a national landmark."
When He Visited Iran
When Bourdain visited the war-torn country of Iran, he offered a gorgeous, authentic look at Iranian culture. He visited the abode of an Iranian art gallery owner and was fed a feast of delicious Persian food such as sour cherry rice with meatballs and chicken. Needless to say, Bourdain was shaken by the flavors and warmth he received. "Iran does not look, does not feel, the way I expected," he admitted.