Music Features
Ariana Grande isn't writing the "Communist Manifesto" with this one, but the video opens the door for a core tenet of leftist work: imagining alternative structures to create a different world.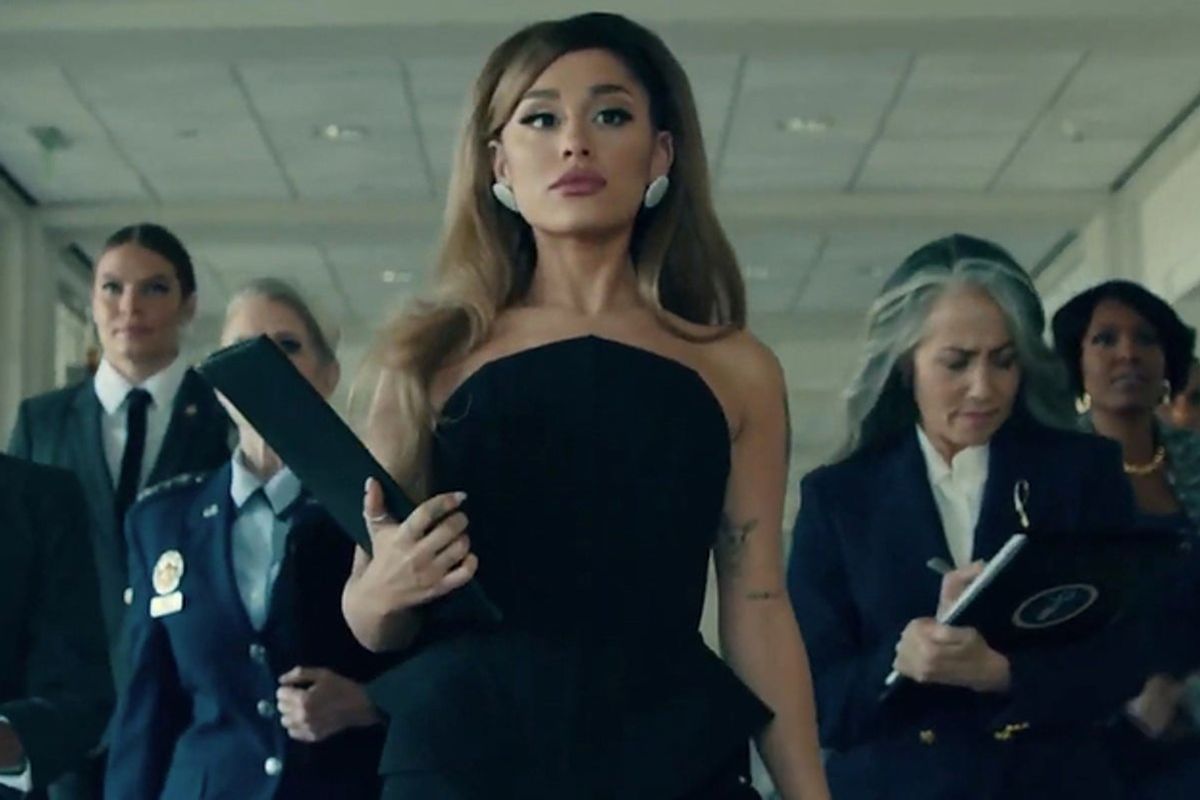 Upon first listen, focused more on the visuals than the lyrics, I assumed Ariana Grande's "Positions" was about the professional multidimensionality of women.
This did not turn out to be the case. Interpret the actual lyrics however you will, the song is a certifiable banger; and, more importantly, the video Makes Some Points.

In the David Meyers-directed visual of the lead single and title track of her new album, Ariana Grande is President. She struts around the recognizable rooms of the White House in recognizable Jackie O-inspired outfits, but the world she is living in seems not to be ours. How can it be when she's surrounded almost exclusively by women and BIPOC?
---
Overall, the "Positions" music video is pretty much what you'd expect from its premise —gorgeous shots of Ariana in gorgeous clothes — but the details beg for a more radical reading. The surface level politics are left-leaning, but the foundational conceit is doing core leftist work: imagining alternative futures.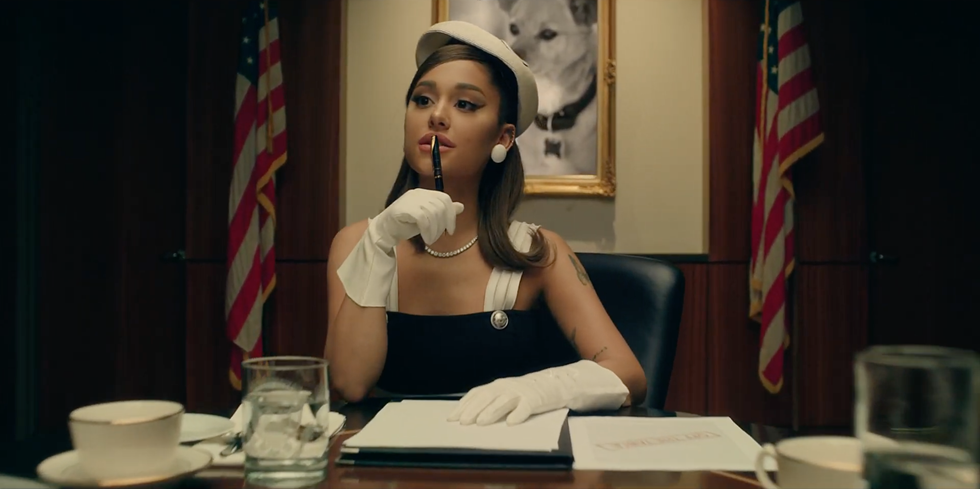 Leftist Politics Are Fundamentally about Creativity
Any leftist will tell you this: There is no definite, right answer. There are, however, wrong ones. There's the glaring inequality of capitalism and its apocalyptic horsemen: racism, colonialism, classism, ableism — oh my! There's persistent systematic injustice, and there's the decidedly hegemonic government, amongst countless other evils. And yes, part of leftist theory is pointing out those inequalities in hopes of dismantling them.
But it's not only that. There's no way of knowing exactly what a world beyond our current structures can look like, so the other half of leftist politics is figuring out the possibilities. What comes next, after revolution? What is waiting beyond the horizon, when the revolution comes and the Trump Tower on 5th Avenue collapses into dust? We won't just emerge anew, all suddenly equal and empowered — but how do we get there?
This question is at the center of most leftist work — how do we rebuild, and where do we go? It is also the center of much art and literature and music. Leftist politics have a fundamental emphasis on creativity. And though the scope and stakes of art and politics are distinct, they're all moving towards a shared vision of the future: anything other than this.
Ariana Grande - positions (official video) www.youtube.com
Let's Unpack

The video begins in the Situation Room, where Ariana is sitting at the head of a table surrounded by her inner circle. This group is strikingly diverse, as is the rest of the video, showing Ariana always surrounded by women and BIPOC folks. While this alone isn't especially radical, it does strike a specific chord when thinking about the aggressively male, aggressively white people who populate the real life Oval Office right now.
However, when you look closer, it's clear that this is not a cast of extras picked for diversity's sake. Rather, this is Ariana Grande's real life inner circle. From her frequent collaborators, the writers of the song, and her hairstylist to her mother, Joan Grande, Ariana is surrounded by her closest friends, as she often is in her videos. Though we know the danger of a president who packs his staff with unqualified family members in real life, the symbolism here has a different valence:
In Ariana's world, the focus is community.
Most leftist politics works with community as a central framework. How can we be of service to the people in our immediate circles? How can we expand our circles to include more people to be of service to? Even when the people surrounding Grande are not her closest friends (like Paula Ayotte, a Native Hawaiian competitive pole dancer), the emphasis on restructuring leadership outside of patriarchy and hegemony is clear.

Most telling is the brief scene in which Grande bestows medals onto USPS workers. Who could have predicted at the start of 2020 that the mail would become a political statement, but here we are, and this is one of the clearest, most intentional statements of the video. At this point, it's probably the most overt thing she could have done, short of wearing a "Vote!" sticker.
Again, the emphasis is on service. The deeper emphasis is on democratizing power and validating careers outside of those typically valorized — discourse which has been happening all summer in the movement to Defund the Police and replace them with community based social services.
While maybe all of this wasn't on Ariana's video moodboard, the visuals we get welcome these progressive readings and do demand change. While Ariana is singing in this world, where there is still a president and still a White House, maybe beyond the video's White House gates is a world that looks completely different and is centered around community values. It's up to us to take the invitation to complete the work of imagining.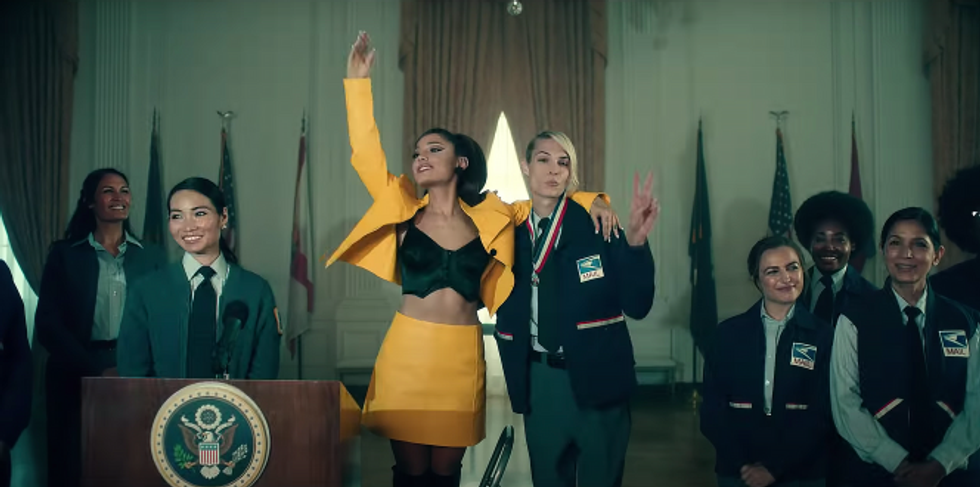 Leftist-Lite … But There's Still Something There
Pop's icons have delivered this summer, especially when it comes to producing visually stunning music videos, despite the raging pandemic. However, with the looming election and a summer defined by racial reckoning, a new theme is emerging in even the most mainstream art: activism.
Some attempts have been more successful than others. Justin Bieber and Chance the Rapper's "Holy" is one of the flops after seriously trivializing literally every issue it attempted to address, but it's no exaggeration to say we're ushering in an age when artists are expected to use their platforms to Say Something.
Even Taylor Swift and Selena Gomez, who just a couple of years ago were notorious for wanting to remain apolitical, have thrown their hats in the Biden ring. And with a reality star in Office and a rapper on the ticket (don't vote for them, though...), artistry and activism are becoming inextricably linked.
So what does this mean? Though some genres are known for making political statements, pure pop hasn't always been one of them. Don't get me wrong: Miss Grande is no Kendrick Lamar in this video. Yet, the subversive subtlety of the "Positions" video follows the trend most famous in her "Thank U, Next" video to new heights: fills the video with hints and references for its audience to decipher.
The difference in "Positions," however, is that these are not references to film or the singer's ex-boyfriends, like Mac Miller or Pete Davidson. They are references which, if relentlessly extrapolated, can reflect the foundations of more radical politics: community-centered leadership and inclusive representation.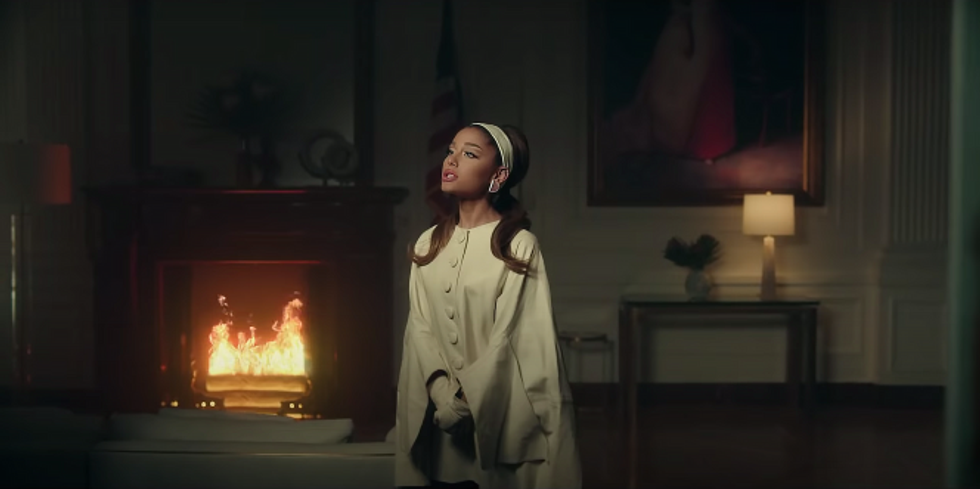 Ariana Grande in "Positions"
A New Generation of Activism Centered Around Creativity and Hope
Here's the truth: The revolution might just be televised. Or at least TikToked, or streamed on Instagram Live, or caught on Snapchat.
For a generation defined by equal parts social media and activism, it's no surprise that its biggest pop stars are following suit. Overall, the video is Left-Lite at best, but it leaves space for more radical readings, which is a good start and sign for where mainstream pop visuals are headed.
What the Grande video does is offer a break from the hellscape coming from the real live White House. A sense of lighthearted whimsy is hard to find from anything resembling the political sphere, so when it comes, we eat it up.
But the actual work is ours: to go beyond the gorgeous visuals towards something deeper. And what we can take into our own imaginings is creativity, hope, and a version of activism that comes from a place of joy.
From Your Site Articles
Related Articles Around the Web