TV
"The Bachelorette" Episode 2 Recap: A Crossover Event for Millennials
The gag-worthy event struck a cord and a nerve for viewers, reminding us how the show is attempting to rebrand as inclusive and modern.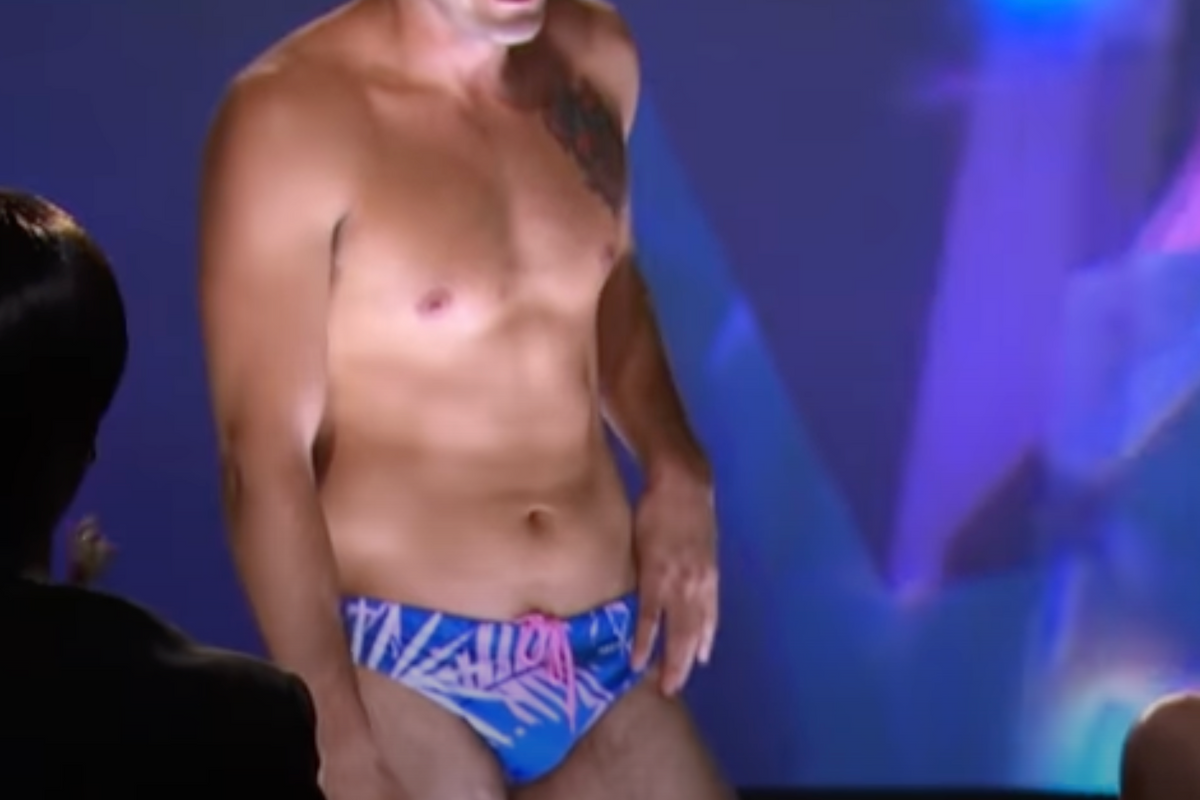 via Youtube.com
The takeaway from Episode 1 was "be honest." For Episode 2, it's "be bold." Take a shot whenever Hannah says, "Be Bold."
The Group Date: Exciting Takeaways

In the best kept "secret" since Kylie Jenner's pregnancy, Alyssa Edwards and Alaska, the Drag Race sensations, were featured on this past episode. Let's not forget Miss J. Alexander, the runway fanatic and America's Next Top Model phenomenon! All three were guest judges on a panel for the first group date of the season: a pageant. The men on the date endured a thong contest and a talent portion to win the title of Mr. Right!
The challenge was to be yourself and, again, be bold. It was their chance to fight hyper-masculinity and show vulnerability in what Hannah called "showing up!"
As an audience, we got to ogle alongside the fabulous guests and Hannah. The men strutted their stuff, some with singles tucked in their thongs—thank goodness for John Paul (fuck yes) Jones.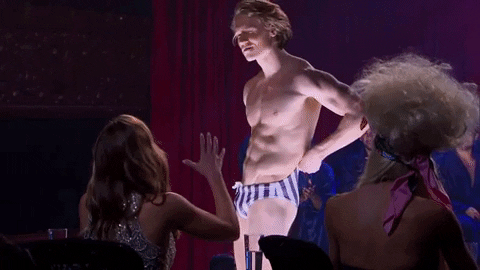 Ass-slapping aside, the free-for-all moment felt like a gross callback to the gender-flipping narrative of last season. If Colton had been a woman, would all the jokes have been acceptable? And if Hannah were in the position of these men, strutting down the runway in a bikini, would it seem more like a Magic Mike showdown or a Playboy Bunny drool-fest?
Although the segment was fantastic fun, the guests this week felt reminiscent of Billy Eichner's appearance, following a pattern of gay guests serving as forms of entertainment, sideshows, and commentators.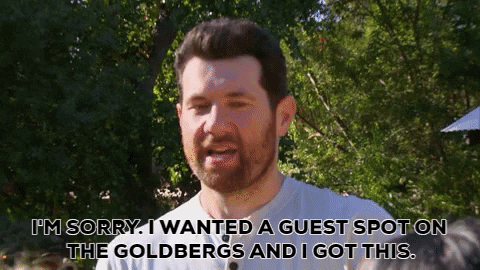 While watching, it's hard not to remember how heteronormative the show continues to be with 20+ seasons. For a show to consider itself a reflection and evolution of American dating since the early 2000s reaffirmed the question: When will other sexualities receive representation beyond fluff?

Many missteps aside, the talent portion fulfilled the fun quota. Watching John Paul Jones on a unicycle and Mike Johnson walk in heels just to "walk in her shoes" ( swoon ) reminded the viewers that this season is about finding a guy that goes all in.
Meanwhile, the narrative arc between Jed and Luke P. was only festering. The heart-throb singer-songwriter from Nashville, Jed, sung his way to what viewers would see as the top until Luke P. "performed." A collective groan was heard nationwide as Luke P. not only did not perform a talent, but annoyingly professed he was in fact already falling in love with Hannah after spending a total of two hours with her!
In the evening, Hannah continued her infatuated mess with Luke P. because, "He's saying everything my heart wants to hear!" The red flag may not be waving in her face yet, but the other men were surely aware of his games. Mike Johnson, the stud, put it best, "You a dog. I don't want her emotions to be rattled." But after a soothing and genuine conversation between Jed and Hannah, Jed won the night and this round.
One-On-One: Snooze
Tyler G., who Hannah described as "Tim Tebow but hotter," got the first one-on-one. They flew in a helicopter and slung some mud (you know, typical date stuff). Tyler G. may seem well-meaning, but nothing was memorable about this date beyond Hannah's strung-out syllables trying to fill the silence. Out of compassion and understanding, Hannah gave him the rose. Next!
Second Group Date: Fine
The season is going to be an active one. The second group date was a roller derby competition between the green team and the orange team. Lots of men fell, but the nose ring guy fell hard and got up to win the whole thing.
Like every season, the injured man gets extra attention. So, Dustin (nose ring guy) had his moment and a smooch with our Bachelorette. It was quite steamy.
Cut-to-Cam (you know, the man whose catchphrase is "ABC: Always Be Cam," but it might as well be what viewers have memed " Anyone But Cam "). The googly-eyed software engineer showed up uninvited, bringing cheap flowers to a shocked and visibly confused Hannah.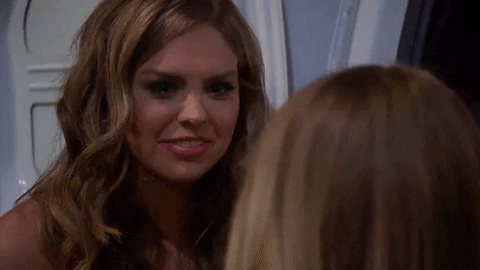 The men did not take kindly to this. Not just one, but three men interrupted Cam's talking head to set him straight.
Some of the best lines:
Tyler C. to Cam, "I'm gonna go back to my girl."
Cam to Garrett, "I respect you coming at me."
Kevin to Cam, "I hope it pans out."
The men, Kevin especially, seemed the utmost frustrated by the distraction of Cam's presence. With Hannah giving the rose to Dustin, the evening ended with a mediocre goodnight.
The Rose Ceremony: Justice for Nugs
The evening began with an anti-climatic speech by a tear-shedding Bachelorette. No one knew what was happening. "I'm just so blessed," she said. Okay?

After an odd start, Kevin finally had his one-on-one time—just to be interrupted by Cam. Ugh, Cam. He invited Hannah AND Kevin to a magical little heart shaped blanket where he goes on to expose his surprise (nuggets) and then the bigger surprise (honey mustard)!
Kevin, obviously frustrated, walked away with the leftover nuggets. The men were pressed enough for Kevin to let off steam just as Cam re-enters the scene. How did Kevin handle his frustration? HE THREW THE NUGGETS AT CAM! Not to say Cam didn't deserve it, but why waste perfectly good food on a fool!
Meanwhile, the real contenders were battling it out. Luke P. took Hannah away to show her he's good with his hands ( eek ). She loved it so much that she took off his shirt. Insert Jed. Not only were the viewers basically watching soft core porn, but so was poor, sweet Jed.
Hannah, noticeably embarrassed, had no idea what to do. One startled twitter user even confused Hannah's f-bombs for an emergency flood warning .

Hannah then slinked out of the mansion to manage the dilemma. Jed, like the class act he is, may have been in an uncomfortable situation, but took the moment to relate to Hannah. Jed knew jealousy gains nothing.
At the rose ceremony, nothing exciting happened, unless you find excitement in pain-staking close-ups on the faces of men we're supposed to care about as they sweat out the inevitable moment when Cam receives the last rose. Obviously, The Bachelorette needed to keep their lesser villain to rattle the other men.
Afterwards, the real villain snuck upstairs to interrupt Hannah's confessional. Luke P. whisked Hannah into his arms to manipulatively assure her that she can trust him. Their undeniable sexual connection left Hannah's chest booming, but what about her heart?
NEXT EPISODE ON THE BACHELORETTE...