Not two hours before curtain of his first Beetlejuice preview at DC's National Theatre, Alex Brightman was at Hamilton – the restaurant, not the show.
Calm, comfortably dressed, Brightman took time to hug familiar faces and meet their dining companions, charming as ever – impressively collected for an actor about to climb into the character of a demon who personifies pure id. At that point, fewer than 200 audience members had witnessed Broadway-bound Beetlejuice – which returns Brightman to his former Dewey Finn dressing room at the Winter Garden next spring, earning him the rare distinction of starring in back-to-back musicals making their Broadway debut in the same theatre. This time, in lieu of teaching ten-year-old Zack Mooneyham to get his workaholic dad to hear him via face-shredding guitar solos in School of Rock, Brightman teaches Lydia to capture her work-focused father's attention through terrorizing people to the point of sh*tting themselves.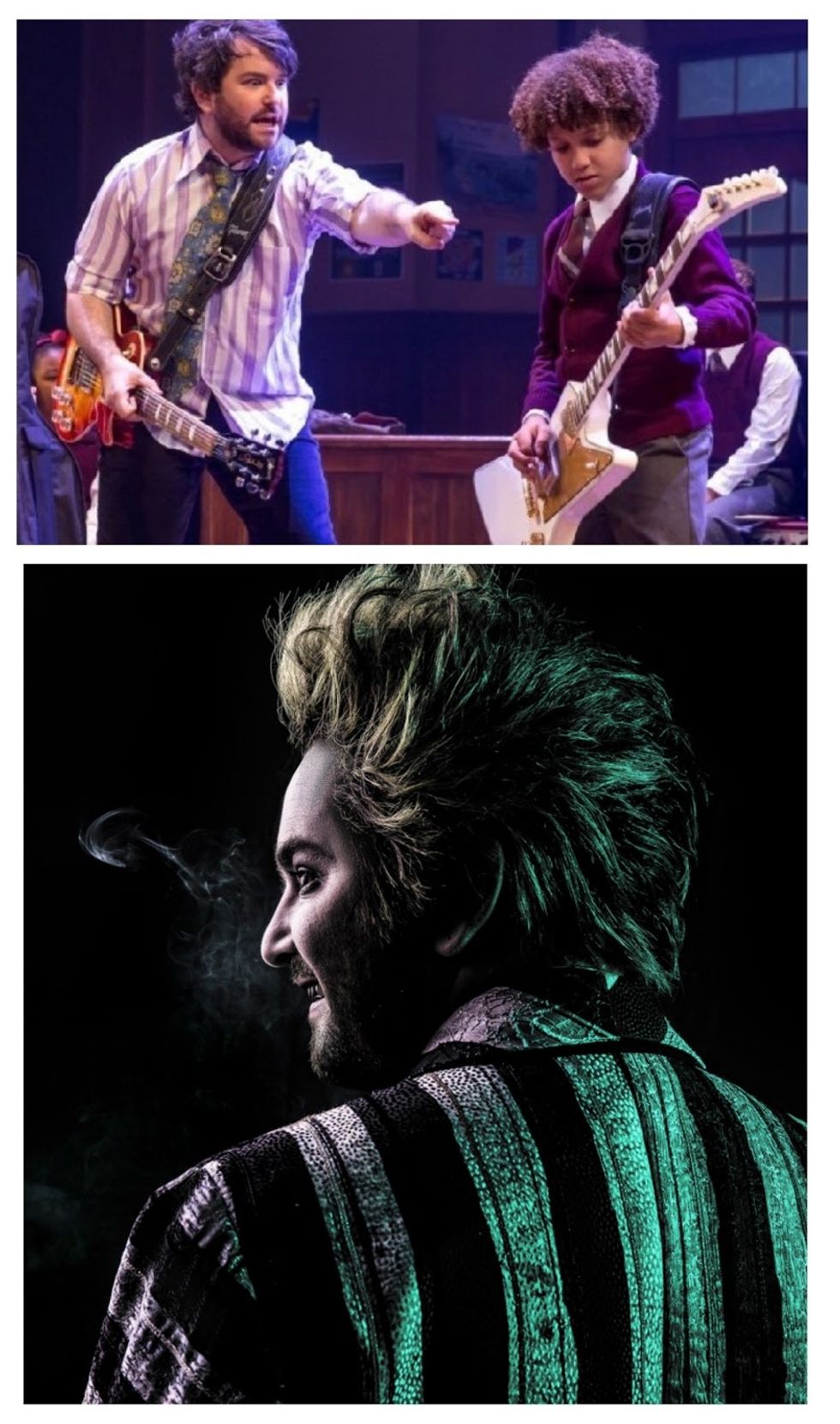 By Matthew Murphy
A raw electricity–accompanied by an infusion of nerve-wracking energy in the case of material headed for Broadway–permeates the first preview of any play. All theatre is ephemeral, here one moment and gone the next, but a first preview offers the possibility to see a show that, in all likelihood, will never appear in that particular form again. For those involved behind-the-scenes, first previews provide proof of the magic that exists inside true theatre folk: ready or not, come curtain time the show goes on. For the character of Beetlejuice, this includes tracking fire and musical instruments tossed up from the pit, riding multiple set-pieces and a number of ad libs Brightman merges effortlessly into Scott Brown and Anthony King's book, as though part of his body's exhalation. From first preview, Brightman breathes as Beetlejuice.

Many theatre-goers avoid attending first previews, knowing the work remains in a state of transition and final tweaking. Some, on the other hand, seek them out: perhaps for the thrill of the unknown, perhaps due to the likelihood of a lower ticket price. Braving Beetlejuice's inaugural public performance offered a unique bonus: be among the first to witness the musical's "REALLY F*$#&*G EXPLICIT" departure from its family friendly source material. The creative team took a risk, exorcising Beetlejuice from his PG-rating and unleashing him into a show that explodes out-the-gate with references to puppet sex, butt stuff, and snorting a hefty forearm's worth of cocaine.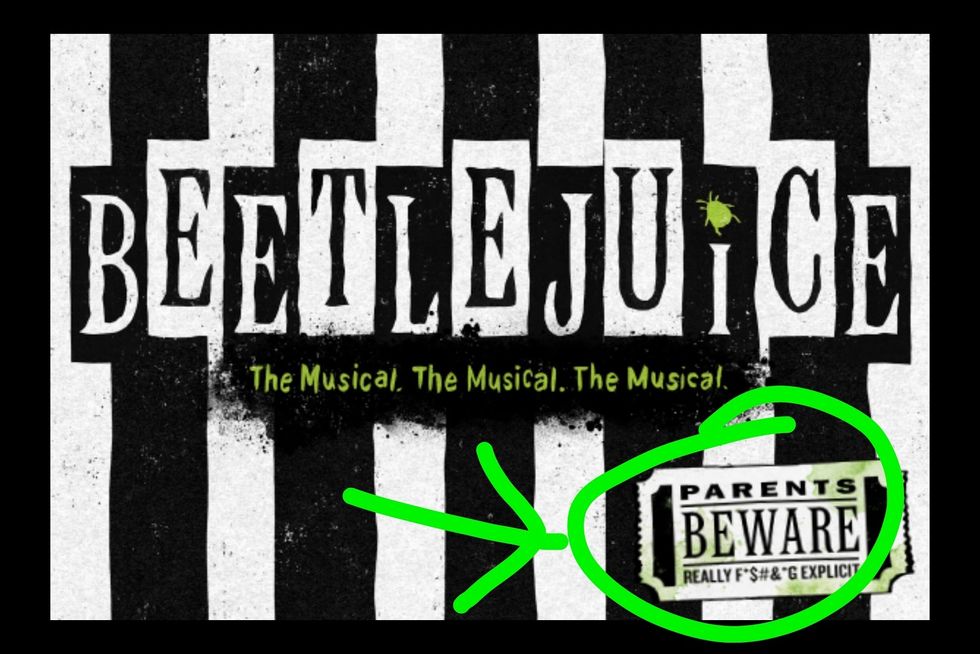 In sharp contrast, audiences meet the show's co-star, Lydia Deetz at the funeral of her mother; new ghosts on the block Adam and Barbara Maitland begin their arc as a waspy couple facing the recent aftermath of a miscarriae, coping through crib polishing and carrot peeling. After their sudden and untimely deaths, the mild-mannered Maitlands scheme to scare Lydia and her businessman father, Charles, out of their home – before Deetz converts it into the model unit of "rural retreats for urban elites" that shoehorn the concept of "family" into a shallow and misguided abstraction of wealth and sophistication.
Lydia and the Maitlands each start their journeys in a state of sincere grief and loss, Charles surrounds himself with the superficial: all the while, Beetlejuice is on-hand to make gibes about guacamole, herpes, and Katharine Hepburn. No subject matter is safe, from boners to Broadway musicals: Brightman's Beetlejuice pokes fun at several classics of The Great White Way, some cleverly concealed Easter eggs for theatre-dorks (which Brightman unabashedly is) – others actual callouts.
Though the show's title belongs to Beetlejuice, its heart belongs to Lydia, played by seventeen-year-old Sophia Anne Caruso.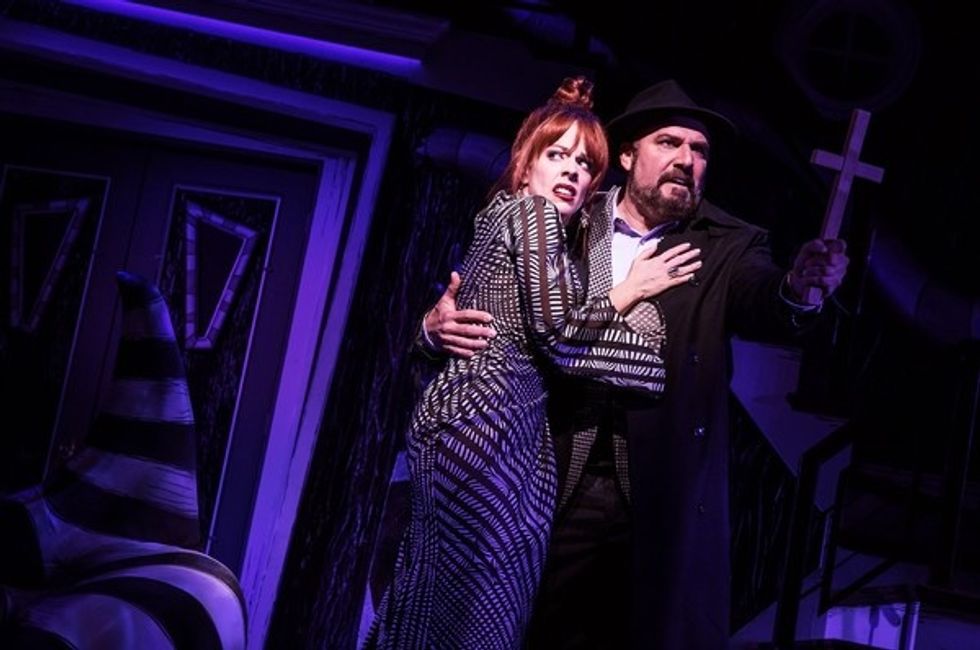 Broadway World
Unleashed by Lydia in a moment of extreme desperation, Beetlejuice is what happens when the root of a problem isn't confronted head-on – a metaphor made painfully real by the production's current proximity to a Trump-run White House.

Navigating adolescence, a move, dead mom, dismissive dad – plus ditzy Life Coach Delia, whom dad hires to heal his daughter's pain, ghosts and demons seem appropriate playmates for a death-obsessed teen who longs to reunite with her mom on the "other side." Much like an extra-angsty Mary Lennox in The Secret Garden, Lydia finds herself isolated "high on a hill [in] a big old house with something wrong inside it," equally intrigued by the idea of invoking spirits – except the insufferable male hidden up in Lydia's attic is an actual demon, not just a whiny brat with a bad back.
Audiences may recall Caruso's brilliant performance as Helen Keller, a role she tackled at age nine, under the direction of Patty Duke (who had originated the role on Broadway in 1959) – or perhaps her heart-stopping appearance alongside Jeff Daniels and Michelle Williams in the 2016 Broadway revival of Blackbird. The point being: Caruso is the real deal when it comes to embodying vulnerable trauma on-stage, and it will be exciting to track the evolution of her journey in this role opposite Brightman's Beetlejuice.
The show's second act deals with an arranged marriage/murder plot between "Creepy Old Guy" (Beetlejuice) and his underage bride (Lydia), played out alongside jokes about pedophilia, dead parents, and pubic hair ("just like Lolita – but fine!"). Recognizing this taboo topic and the dark brand of humor Beetlejuice brings, Director Alex Timbers at one point turns the entire cast to face the audience – Beetlejuice included – to express disbelief that "some cultures think this kind of thing's alright!?" At all times it is clear: the show does not promote this behavior.
A ballad from Barbara Maitland attempts to balance the bawdy darkness, taking a beat to sing about the "mother [she] never got to be." Kerry Butler's performance is sweet and heartfelt, framed overhead by a strip of attic ceiling boards that resemble a white picket fence suspended in mid-air (shout-out to set designer David Korins for this lovely detail).
There is a subtle connection between Brightman's back-to-back Broadway leading roles – one akin to a line from Truman Capote's In Cold Blood, confessing a feeling of connection between the author and his homicidal subject: "it's as if [we] grew up in the same house. And one day he stood up and went out the back door, while I went out the front." Where Dewey Finn wanted to compete in the Battle of the Bands, Beetlejuice wants to "kill lots of people and f*ck sh*t up" – almost as if Dewey Finn never stepped foot into Horace Green Prep and, instead, melted his mind with psychotropic drugs and died horrifically. Lydia's version of a climactic "Teacher's Pet" guitar solo is committing murder, forgivable in context – heart-warming, even – because she did it alongside loved ones and is now "seen" by her dad.
GO SEE BEETLEJUICE:
If for no other reason, to witness Brightman's artistry in taking on another massive leading role – and crushing it with inspiring commitment to character and unbelievable energy, which seems to be his wheelhouse. (Ditto for Caruso: she's certainly one to watch hone her own distinct frequency.)
A dare to parents: consider taking your kids – seriously – especially if they're budding Broadway geeks who caught Brightman's Tony-nominated performance in School of Rock. (There's nothing more extreme here than the more memorable lyrics from Book of Mormon's "Hasa Diga Eebowai" or "Joseph Smith American Moses" – and it's highly unlikely Beetlejuice will get more filthy between its first out-of-town preview and Broadway.)
Have a pre-show discussion about the reasons behind using shock value in art – in this instance as a way of showing the dangers that befall emotional struggles that go unaddressed. Celebrate an actor's artistic range – that the same guy who got them picking up guitars and drum sticks is now tap dancing and making dick jokes and riding a Graboid on the very same stage. (And, two hours before his first preview, took time to make rounds at a nearby restaurant, playfully helping a server hand-off a gluten-free beer – to the author of this piece.)
Beetlejuice
concludes its out-of-town tryout at DC's National Theatre November 18, and begins Broadway previews March 28, 2019:
check it out
.

POP⚡DUST | Read More...
INTERVIEW | Indie-Pop Singer Navakaine Talks Coming-of-Age
Water and Man Release 'Phantasie'