CULTURE
Is It Time to Boycott Billie Eilish?
Billie Eilish has apologized for her Anti-Asian behavior — but is her self-serving statement enough?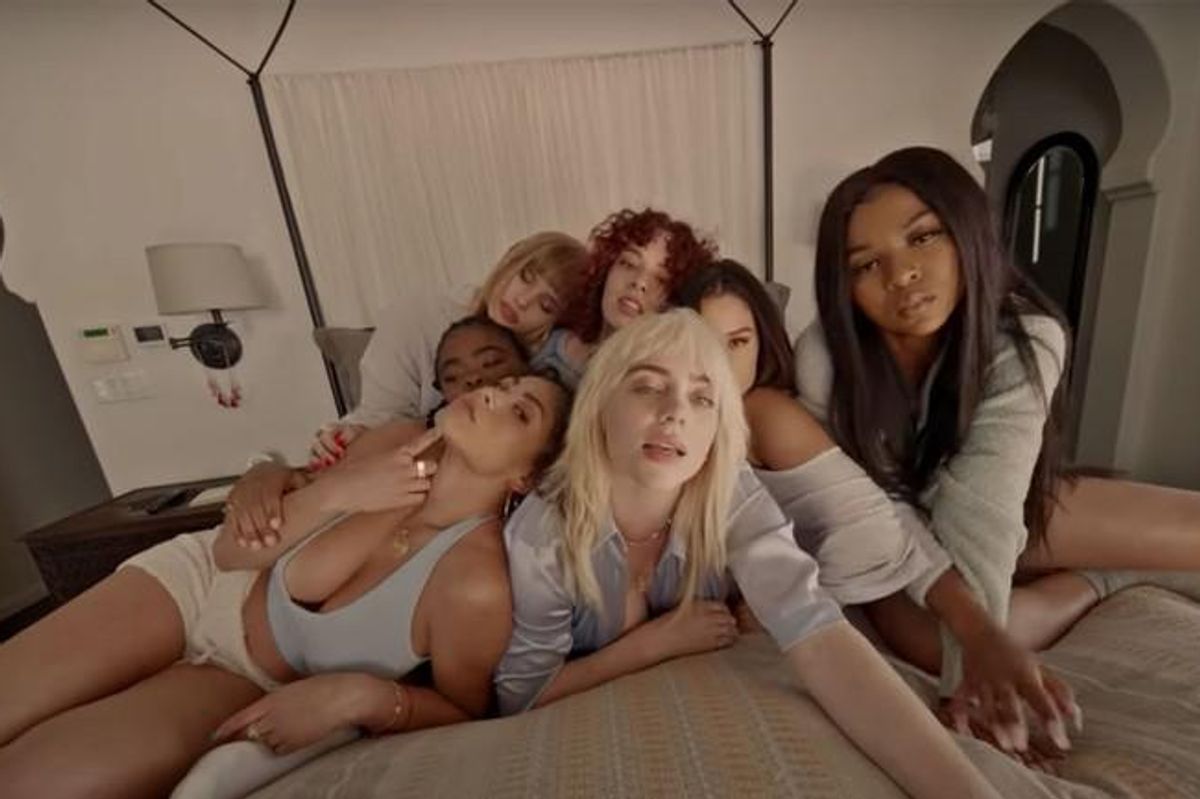 via Billie Eilish on YouTube
UPDATE: JUNE 22
On Monday night, Billie Eilish issued an apology for the anti-Asian behavior she had been exposed for in a video that recently made its rounds on TikTok.
Eilish took to her Instagram story to address the issue, posting a full statement addressing the video and people's reaction to it. She claimed that her statement was not the PR stunt typical of many celebrity apologies responding to viral scandals, saying: "this is something that i WANT to address because i'm being labeled something that i'm not."
---
Eilish then goes on to give context to the videos. The one in which she lip syncs along to the c-slur in a song, she says, was taken when she was 13 or 14 and she blames her ignorance for using the term so flippantly.
"I am appalled and embarrassed and want to barf that I ever mouthed along to that word," Eilish said, explaining that she wasn't aware of the derogatory nature of the word. "Regardless of my ignorance and age at the time, nothing excuses the fact is that it was hurtful. And for that I am sorry."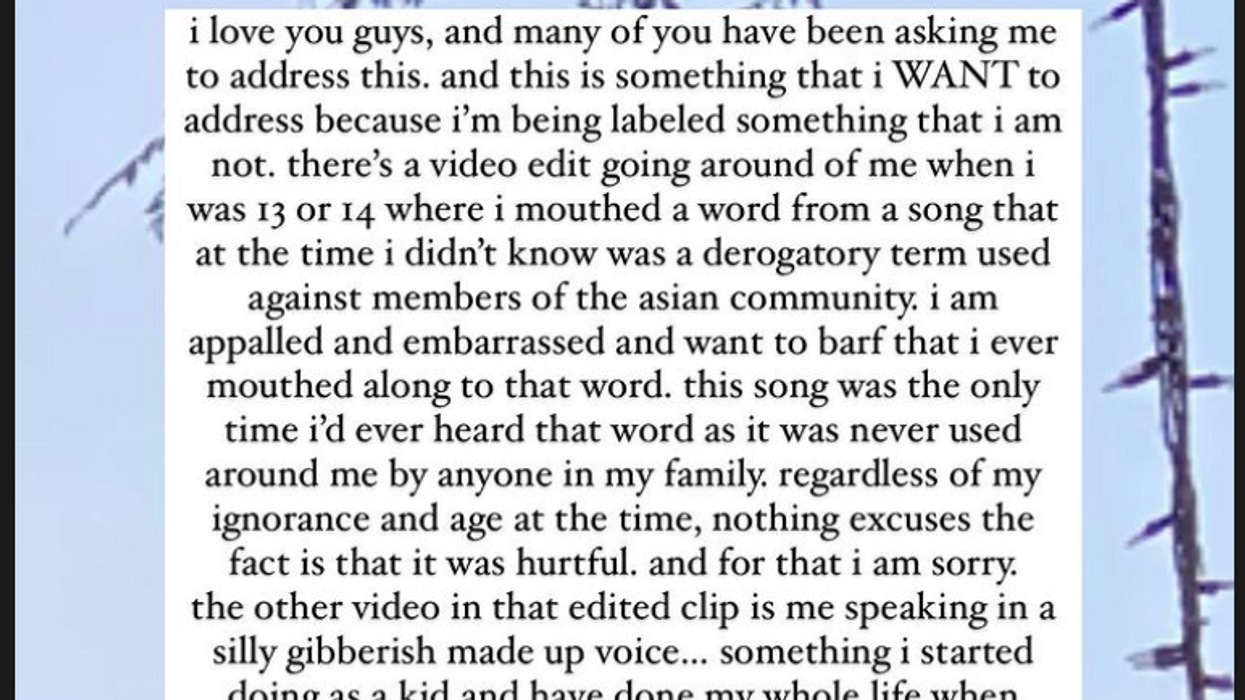 She also explains that the second video in the viral edit was being interpreted in a way that she didn't mean it. While people have taken the clip to be an imitation of a caricatured Asian accent, Eilish says that wasn't her intention. "It is absolute gibberish and just me goofing around, and is in NO way an imitation of anyone or any language, accent, or culture in the SLIGHTEST ... Regardless of how it was interpreted I did not mean for any of my actions to have caused hurt to others and it absolutely breaks my heart that it is being labeled now in a way that might cause pain to people hearing it."
Despite her effusive apology at the offense the video has caused, and her fervent denial of any bad intent, like her response to her purported "homophobia," Eilish doesn't give enough consideration to the context of the videos. In a time of increased violence against AAPI communities due to Covid conspiracies, the video emphasizes how normalized anti-Asian behavior can be — despite Billie's intention.
And given her habit of often using what people interpret as a "blaccent," Eilish might to consider that what she conceited as a "gibberish" accent might be influenced by socialized negative perceptions of non-American accents.
As the mainstream conversation around racism evolves, it's no longer enough to issue a self-serving, surface level apology is not enough. Though she does express her regret at hurting people's feelings, she fails to really interrogate the structures of violence she was perpetuating, therefore making the apology focused on her feelings rather than the marginalized folks she was dehumanizing.
"I not only believe in, but have always worked hard to use my platform to fight for inclusion, kindness, tolerance, equity and equality," Eilish said — but what's all that without a true interrogation of the ways structural oppression manifests?
Despite the emphasis on her good intent, the statement feels like an act of self defense more than compassion, engineered first and foremost to defend her reputation as she gets "labeled something that [she's] not."
But who gets to decide? And will this apology be enough to dampen the fire that was building around the "Boycott Billie" brigade?
*
JUNE 21:
Billie Eilish has been "canceled" before.

Her single "wish u were gay" from her debut album WHEN WE FALL ASLEEP, WHERE DO WE GO? was called homophobic for its, frankly, just weird concept in which Eilish laments that a boy doesn't like her, and in response sings, "I just kinda wish you were gay."
Like … okay? Billie said in interviews that she "tried so hard to not make it in any way offensive." but in a country where anti-LGBTQ legislation is in effect, queer people experience disproprtionate rates of violence, and even a popular fast food chain can be openly homophobic with no repurcussions because their chicken is so good, it's safe to say that homophobia is alive and well. And so the context makes the Eilish lyric less innocent than she would like. (Anyway, stream "Wish You Were Gay" by Claud instead.)
Yet, the popstar and the album have since taken home many awards, including way too many Grammys, so all seemed to have been quickly forgotten on that front. She's also since been criticized for queerbaiting in her latest video for "Lost Cause" and social media posts captioned the vague but suggestive "i love girls," but the jury is still out on whether celebrating femme homosociality is the same as queerbaiting in media.
However, her most recent scandal has former-fans calling to boycott Billie, and the movement is gaining traction.
Every new generation breeds new ways to expose the racist pasts of beloved celebrities — oh, how far we've come from Blackface yearbook photos, KKK affiliated balls, and Twitter screenshots from 2014. This time, however, the conduit of Billie Eilish's cancellation was TikTok.
A recent TikTok compilation unearthed clips of the 19-year old singer allegedly imitating a caricatured Asian accent and using an ethnic slur. The video also seems to reveal that her brother called her out for using a "blaccent."
@lcxvy

Visit TikTok to discover videos!
It's unknown when the video clips are from, and the choppy editing makes some believe that the footage may have been doctored. However, the frequent revelations about the transgressions of even the most beloved celebrities makes this video easy to believe.

Promptly, the video sparked outrage — especially from AAPI fans who felt disrespected by the stereotypical accent and fans of Chinese descent, who felt specifically targeted by the ethnic slur.
In response to their anger, some fans have started a petition to Boycott Billie. The singer has lost the love and respect of many fans — AAPI and otherwise — thanks to the offensive clips, and some even think she should be added to the list of "stigma celebrities" who are not allowed entry into China.
Though Eilish has not responded, some in her fanbase are defending her by saying the video is not clear and the allegations are exaggerated. Eilish seemed to agree when she liked a post responding to the original TikTok that read: "This fandom is so embarrassing sometimes like why would you go in someone's comments and say something that you literally don't even know is true and something y'all LITERALLY MADE UP, sometimes y'all are so dumb. Some of you just need to learn how to mind your business."
A former Eilish fan, Sanni Zhu, spoke to the Global Times to say: "Whether or not this was before she became famous or not, or someone did it on purpose, it happened. The bad impression of her will be there forever. The internet will remember."
Despite Zhu's assertion, the internet's track record is pretty disappointing. Though Eilish has lost some fans and some respect, the controversy will probably be forgotten within weeks. The fickle industry will never give up its golden girl over … racism.
With Billie's new album, Happier Than Ever, upcoming, it stands to reason that even this unflattering video won't dampen its streaming numbers, and the industry will keep hailing Eilish the queen of the youth and the bard of Gen-Z. And par for the course, the grievances of oppressed groups will stay suppressed until they're made trendy by a news cycle — at which point we can expect a teary-eyed apology from Eilish.
But until then, Billie Eilish will most likely be more than okay.