MUSIC
WHEN WE ALL FALL ASLEEP, WHERE DO WE GO?, the 17-year-old pop singer's debut album, is sleekly produced but uncomfortably cursory in its explorations of loneliness and depression.
Kenneth Capello
WHEN WE ALL FALL ASLEEP, WHERE DO WE GO?—the hotly-anticipated debut album from Billie Eilish, the 17-year-old reigning ruler of emo-pop—opens with Eilish laughing with her older brother, Finneas.
It's one of few moments of odd levity strewn throughout the album, along with a reference to an episode of the BBC's Sherlock and a song that samples the Scarn dance from The Office. It brings a level of pointed relatability to Billie Eilish's carefully curated persona, reminding listeners that she's a teenage girl like any other, that she can be as silly as she likes. It's a small island of normalcy and light before the listener dives into the dark, otherworldly album.
Billie Eilish - bad guy www.youtube.com
The album's sound lives in a purposeful, ominous kind of distortion. Sparse melodies spell themselves out against staticky synths while Eilish's vocals screw themselves up and down, expanding and contracting depending on what the song asks for. Finneas, the album's sole producer and co-writer on most of the songs, has a gifted ear and each track's atmosphere and pacing fit well with his sister's voice. Bass-heavy headbangers give way to mournful lullaby-like compositions, giving Eilish breathing room to make each sound her own. "you should see me in a crown" delights in its own moody power, "all the good girls go to hell" has a soulful sharpness to it, and tracks like "8" and "when the party's over" gently line the lyrics with a wistful ukelele or a soft, slurred piano.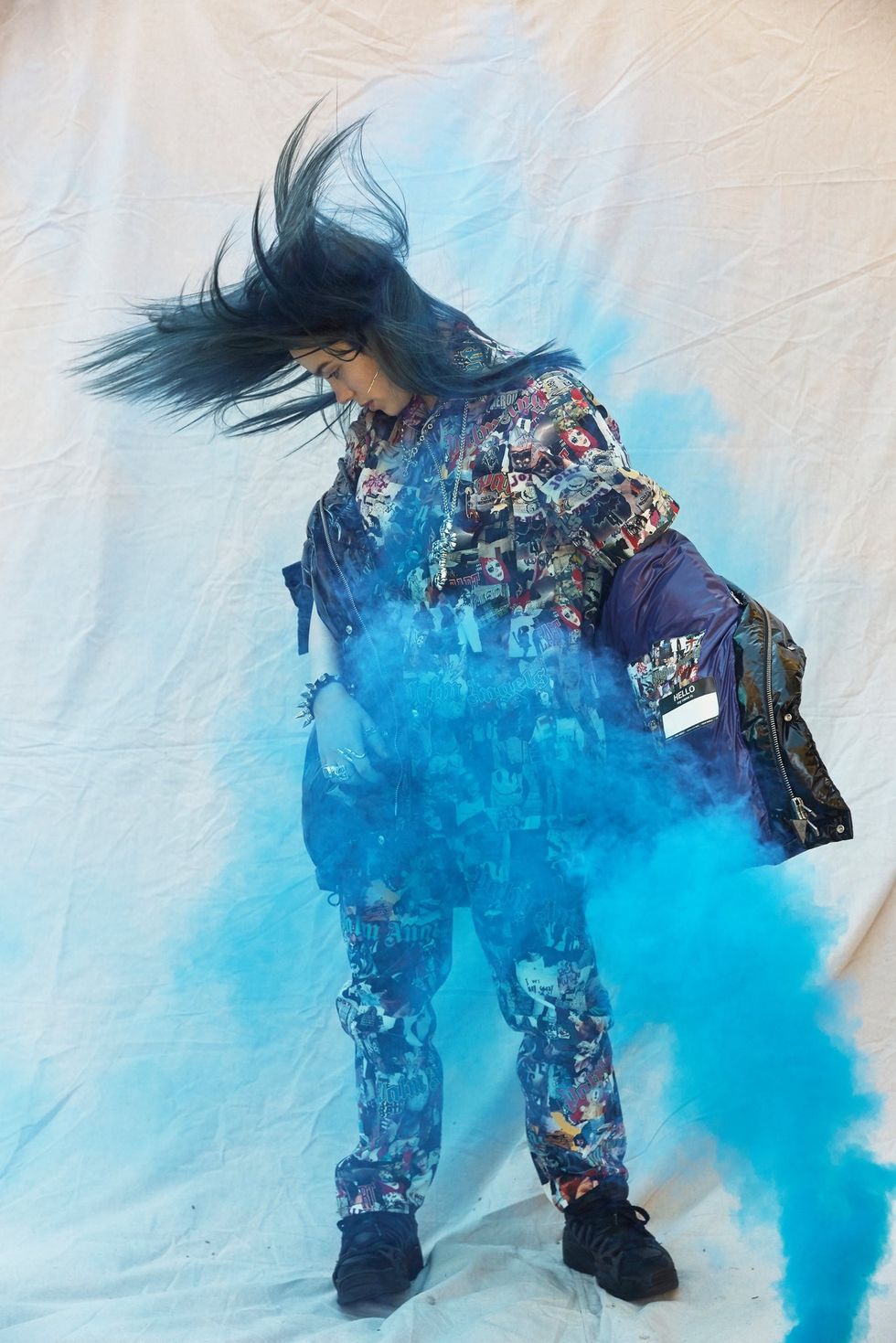 Eilish herself, as the album's sole narrator, embodies the practiced apathy — in her voice and her writing — of someone who's embraced life as a kind of unending misery. The sadness-steeped album occasionally absorbs other faces of misery: alienation on "xanny," loneliness on "when the party's over," bitterness on "wish you were gay." Melancholy isn't a temporary feeling or state of mind here: it's a mode of operation. "bury a friend" is the most direct confrontation with this fixation, manifesting the intrusive thoughts knocking at the door in her darkest moments with disarming clarity. "I wanna end me," Eilish intones over the nightmarish production, and the shock value of that line shouldn't— can't— be brushed over in any understanding of Eilish as an artist.
Billie Eilish is the latest— and one of the biggest—in the recent slew of pop musicians who are injecting darkness into their music. It's strangely invigorating to hear Eilish, and artists like her, push the bounds of what the pop template is capable of, centering it in a specific kind of dejection. WHEN WE ALL FALL ASLEEP, WHERE DO WE GO? is the inevitable crystallization of this moment in pop music, where no dark or depressing thought is off the table. But the way sadness unfolds here reveals a perverse kind of fascination: the songs are submerged in hopeless resignation, assuring whoever's listening that the misery they're hearing is inevitable. Which, unsurprisingly but deeply upsettingly, leads to "listen before i go," a song that is — whatever the production or Eilish's airy lilt might do to it — an explicit suicide note.
"Call my friends and tell them that I love them," Eilish sings, as the sound of police sirens gather in the track's closing moments. "listen before i go" features little more than Eilish and a piano, and is clearly intent on being the emotional hinge on which the album swings. But the next song, "i love you," doesn't carry on in the same world as "listen before i go," or even really acknowledge what just happened: it's shakily-desperate, a song featuring a couple afraid of intimacy. The heavy implications of "listen before i go" are just left in the wind, never acknowledged. This is where Billie Eilish's take on human sadness is forced to remain: nothing is off-limits, everything is sad, lean into the worst and most horrible thoughts that live in your head, and then just walk away when you feel like you're done. Or maybe, the sadness is inauthentic and performative. Regardless, "listen before i go" is a song made by someone who imagines the darkness that lives in people's lives as a switch they can flip whenever they want. The song isn't part of a larger arc in the album, it's the crescendo of the album's callous ornamentation of sadness.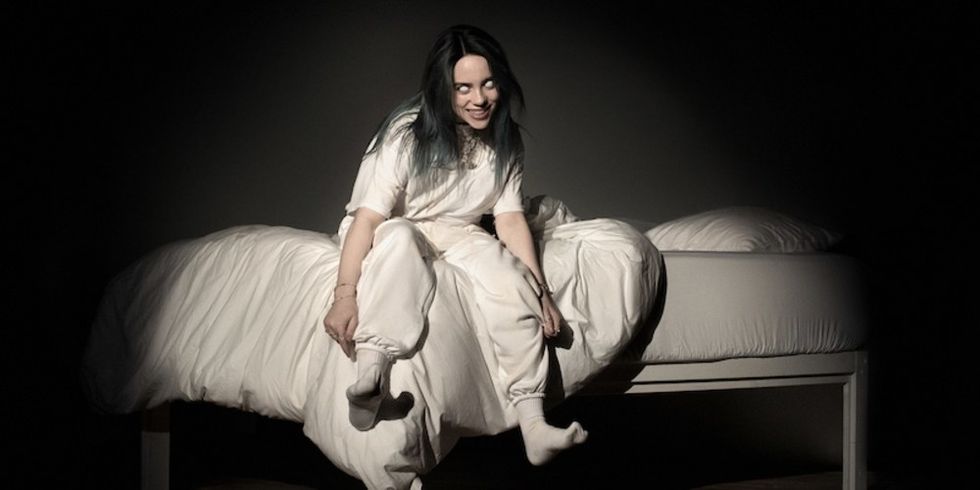 WHEN WE FALL ASLEEP, WHERE DO WE GO? isn't engineered to engender nuanced conversations about loneliness, sadness, and depression, nor does it seem terribly interested in that conversation at all. This is an album about Being Sad in all its myriad forms, capturing that feeling and riding it out for forty-two minutes. Sadness has always traded in a very specific currency in popular music, and ideally always will: it's a powerful equalizer when it's done well, the farthest an artist can reach through an album's sonic wall to touch the listener's hand: See? I know this too. You're not alone. Billie Eilish is extremely good at giving sadness a body, pairing it with anger, frustration, desire, boredom, or love to gift it a familiar pulse. But as a sum of its parts, the album—and Eilish herself—treat sadness like a vibe or an aesthetic to inform a sound. It's careless — even borderline dangerous — to twist depression into a performance. There's no dimension of time, depth, or nuance to temper the sorrow you're listening to. This kind of suffering becomes something the album wears like a cloak, or strings up on the walls like fairy lights. Locating the humanity in these songs, the very real ways that real people get trapped in the feelings Eilish elucidates becomes impossible the longer the album goes on.

It doesn't seem like the listener should be too worried about Billie Eilish, it's unlikely the album's darkness is anything but an aesthetic. WHEN WE FALL ASLEEP, WHERE DO WE GO? will be, in all likelihood, wildly popular. It's a well-produced album, and will probably end up on more than a few end-of-year lists. She's about to embark on a world tour, bringing her gospel of despondency to anyone on the globe who wishes to celebrate it with her. The space she takes up in the pop landscape doesn't show any signs of disappearing anytime soon, and the fanbase she's garnered along the way will probably remain as fiercely loyal to her as they have until now. Billie Eilish will, hopefully, be fine.
But there is, right now, someone listening to this album who loves Billie Eilish with all their heart, who loves her for voicing the darkest thoughts in their heads without fear, who loves her for making them feel a little less alone in their own heads. Someone who is looking for flashes of themselves in the whirlwind of darkness that is this album, and who is about to transition into the opening notes of "listen before i go." Worry about them.
---
Matthew Apadula is a writer and music critic from New York. His work has previously appeared on GIGsoup Music and in Drunk in a Midnight Choir. Find him on Twitter @imdoingmybest.
---
POP⚡DUST | Read More...
Dear Jezebel Writer Who Bashed Alanis Morissette's "Jagged Little Pill": Stop
A Robot Has A Record Deal: How Artificial Intelligence Could Save Music
Allman Brown Drops Stirring New Song "Lonely Hearts, Los Angeles"