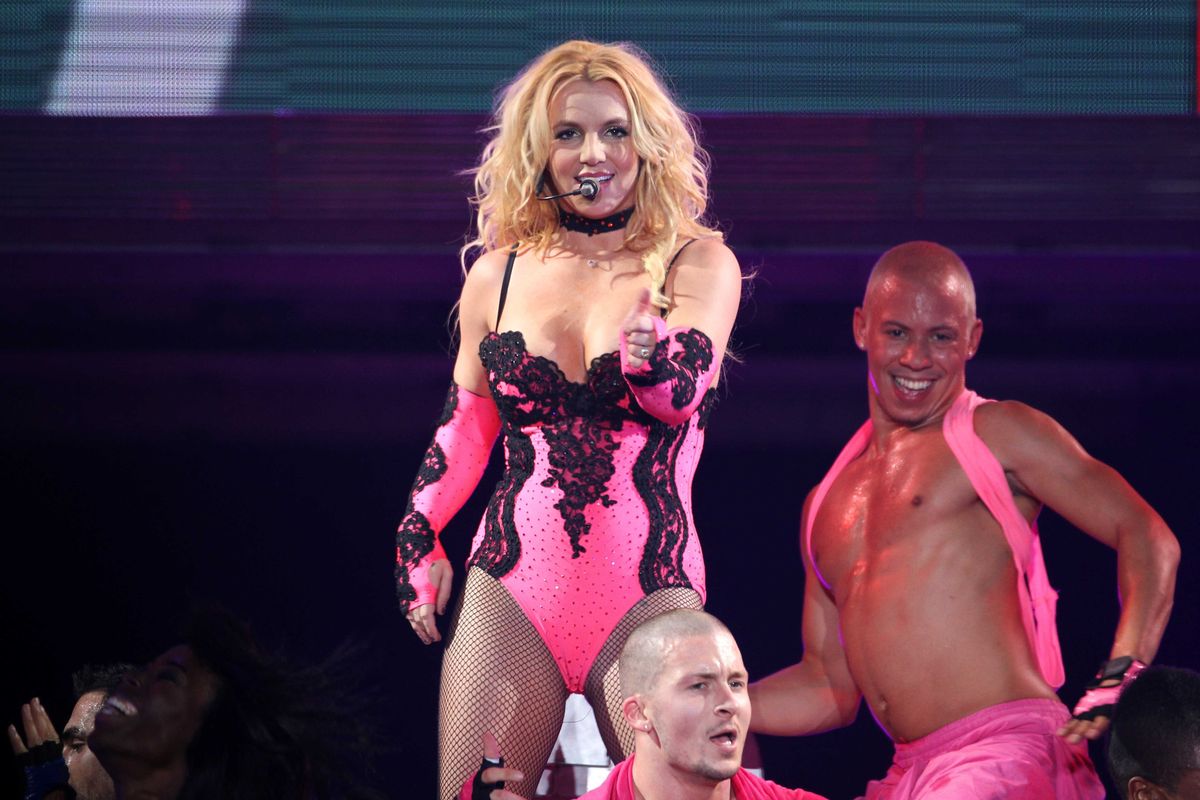 Pariente Jean-Philippe/Sipa/Shutterstock
Full Name: Britney Jean Spears
Date of Birth: December 2, 1981
Born: McComb, Mississippi
Occupation: Singer, dancer, actress
Status: Divorced
Children: 2
---
From teen pop princess to Vegas show-stopper, Britney Spears has been on the radar ever since sexy schoolgirl outfits were her go-to get-up. From her highs to her lows to being back on the ball, Spears is a celeb in every sense of the word, full of fortune, misfortune, and everything in-between. She's a mom of two and an idol to millions, proving life as a popstar has many facets. Here's more about Spears that keeps us interested, intrigued, in awe…and sometimes in shock.

Mickey Mouse Club Cutie
Like Justin Timberlake and Christina Aguilera, Spears entered the entertainment biz on The Mickey Mouse Club. Singing, dancing, and showing off budding young talent made this show family-friendly, and Spears was a standout. For a small town Mississippi girl, being on television must have been a dream come true.

Pop Start
Spears came on the scene as a sweet-sexy songstress, belting out hit after hit with music videos that had us glued to MTV. Songs like "…Baby One More Time," "Oops…I Did it Again," "Crazy," "I'm a Slave 4U," "Piece of Me," and "Womanizer" were on constant radio play and Spears was climbing the charts. Her sound was unique, her presence powerful, and her appeal universal. She was on top of the world…until she wasn't…
A Breakdown
After filing for divorce from the father of her kids, Kevin Federline, it seemed like Spears was swiftly spiraling. From her embarrassing pics in the tabloids to her public displays of sheer chaos, Spears was in trouble and her loved ones saw to it that she got the help she so desperately needed. While we couldn't turn away from Spears' head shaving and car window bashing, the train wreck level of her meltdown was out of hand. Fans rooted for her recovery and her climb back to the top from rock bottom.
What Happens in Vegas…
Spears is back and better than ever. With a residency at the Park Theater at Park MGM, she calls Las Vegas her home base and fans flock to Sin City for a fun night out watching Spears' show. The glitz and glam of Vegas suits the singer to a tee, with her over-the-top performances and highly-choreographed shows. From the outfits to the outrageousness of it all, Vegas and Spears go hand-in-hand. Her Piece of Me show was so successful that a new one is set for 2019 called Domination. Earning a reported $507,000 per show, Spears will be set.
---
Melissa A. Kay is a New York-based writer, editor, and content strategist. Follow her work on Popdust as well as sites including TopDust, Chase Bank, P&G, Understood.org, The Richest, GearBrain, The Journiest, Bella, TrueSelf, Better Homes & Gardens, AMC Daycare, and more.
---
POP⚡DUST | Read More...
Jennifer Lopez - All you need to know

Carrie Underwood - All you need to know