Gaming
It's so hard to find queer games that are not only accurate portrayals of gay teens, but are also hella fun. This is one of them.

Oh man.
Not going to lie guys, I'm kicking myself in the head for not getting to this title sooner. Most of you have probably heard of Brianna Lei's Butterfly Soup, a visual novel that took the gaming world by storm last year. For those that haven't, it's about four queer Asian-American teens attending their first year of high school in California.
It's astounding writing, characters, and overall depiction of Asian American queer teens have led to other sites like Polygon, PC Gamer, and Kotaku calling it a stand out game of the year. And, after playing through most of it, I can see why.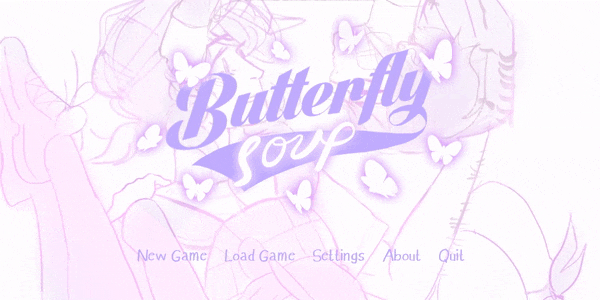 The beautiful title screen!Brianna Lei
Listen. I don't like visual novels half the time. Even something like Dream Daddy, which I loved, gets incredibly boring. I suffer through them, because it's where a lot of queer content gets produced It's not because they're bad, I just have a specific taste and I don't want to spend three or four or ten hours just reading text on a screen. But, I was happy to do it with Butterfly Soup, because it's just so fun.
And that should be a given, right? Dream Daddy was fun, wasn't it? And so was Gone Home (which isn't necessarily a visual novel, but close enough)? And Life is Strange (which also isn't necessarily a visual novel, but again, close enough)? That's true, but I think what separates Butterfly Soup from them is that has a sense of honesty without taking away the humor and light-heartedness at all and making it either super campy or super depressing.
As much as I love Gone Home, it focused a lot on the negative experiences of queer youth. You hear a lot about how it's main character struggled with both her identity and helping her partner. While this is a very honest representation of what a lot of young gay folks through - it's not the only experience that we have.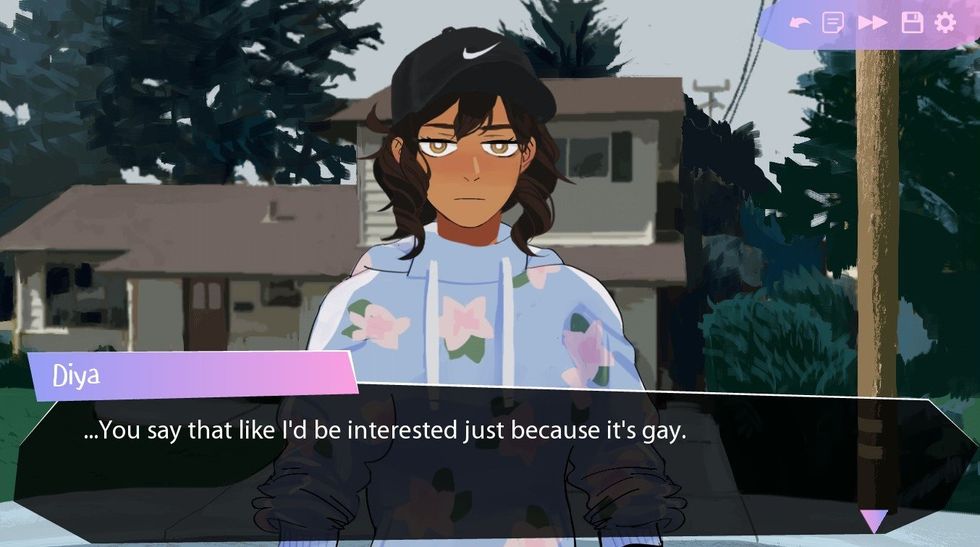 Diya, the main character of the story.Brianna Lei
We have a community and we have a lot of queer friends, and often times we surround ourselves with other queer people. That's what happens during the entirety of this game. You are dropped in on the life of a young queer girl and her other queer friends. You see how they interact, and how they find love - and while it does have moments that can be on the serious side - it never gets sad or weepy. We never see these characters go on long monologues about how they can't accept themselves and how they'll never be happy.
This is accomplished through Lei's decision to give the player no control over the story. You occasionally get a few dialogue options, but in the end, you see what Lei wants you to see. You are on a guided tour of the story - not a participant in it. So, you aren't mired in finding extra stuff here or there (although, there are some extra observations you can make when prompted). So, while I did find myself getting bored, Lei managed to reel me back in with some pretty choice story-telling techniques that even AAA titles can learn from.
Throughout the game, you are treated to flashbacks, which show the four main characters' friendship through the years, instead of just one specific point of time. Each one makes the characters more dynamic and provides and insight that informs previous scenes. It's not disjointed and it's all connected.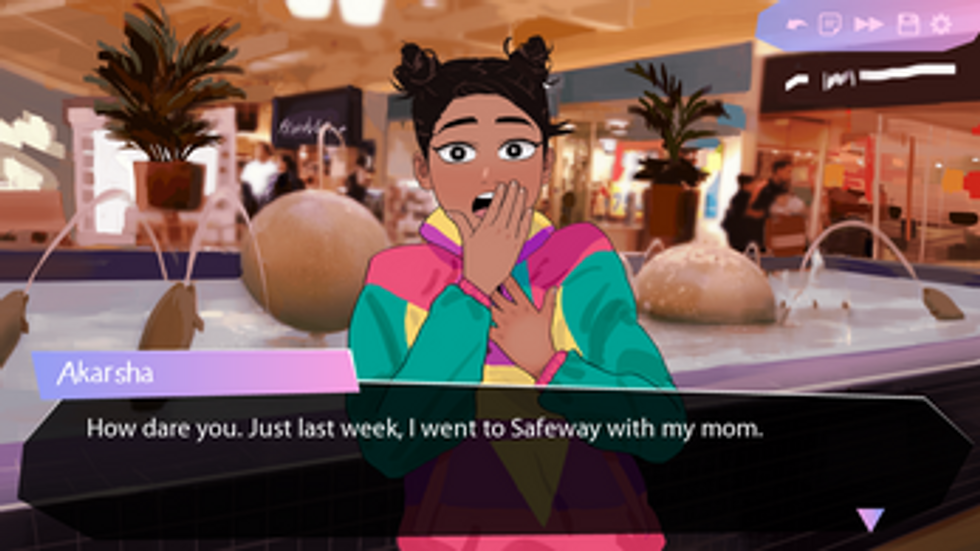 Akarsha, one of the four main cast!Brianna Lei
And aside from the main cast, we are treated to actual diverse characters of different races and sexualities. You have people of color, you have a trans character, bisexual characters - and even if they aren't big, they're still real. Even in a lot of queer-themed visual novels, you usually only get a lesbian or a gay man's story - and while this story does focus mainly on a relationship between two women - we still get a solid cast of fleshed out characters that are not exclusively gay and cisgender.
As I play through - I'm just smiling and relating. I don't feel sad and I don't feel that same sense of, "Man it's so hard being gay," that so much media gives me. That kind of media is important, we should always remember/be reminded of the struggle that people - especially young people - in the community deal with. But it's also important to show that it doesn't always have to be that way. It is possible to be young and happy - even if you're struggling, you can find people who loves and accepts you.
Butterfly Soup is a special game - it uses fun characters and brilliant storytelling to give you an honest and non-sad portrayal of a diverse group of young, queer women in a time where it's very difficult to be a young, queer woman. While it doesn't offer a huge variety in terms of gameplay, it weaves something that leaves you smiling and cheering and laughing.

Please, please, please go play it. You can get it for free right here - and make sure you leave Brianna Lei a damn good review when you're done.
---
Shann Smith is a lover of video games and writer of plays and screenplays, based in NYC. Do you guys have a game that you think is significant to the LGBTQ+ community? Email me, and I'll give it a look!

---
POP⚡ DUST | Read More VIDEO GAY-MER…
VIDEO GAY-MER | Creating An Experience All Your Own
VIDEO GAY-MER | Can you believe Fallout was this ahead of the game?
VIDEO GAY-MER | What games are important to your queerness?
VIDEO GAYMER | The elusiveness of queerbaiting...

---