Afropunk is 200 dollars for a weekend. Burningman will cost you thousands of dollars! You can get the BK WILDLIFE PASS for $50 bucks!
"This is a pass to 10+ events. Over 160 independent bands and performers, no corporate sponsorship. Support independent arts. The normal cost to attend these events would be $65 or more." - Christopher Carr, Brooklyn Wildlife Founder


My favorite time of the year has arrived! Brooklyn Wildlife's annual Summer Festival kicked off today! This is the largest completely independent festival of it's kind in the United States, and as a New Yorker, I think it's the best way to spend the first week of September.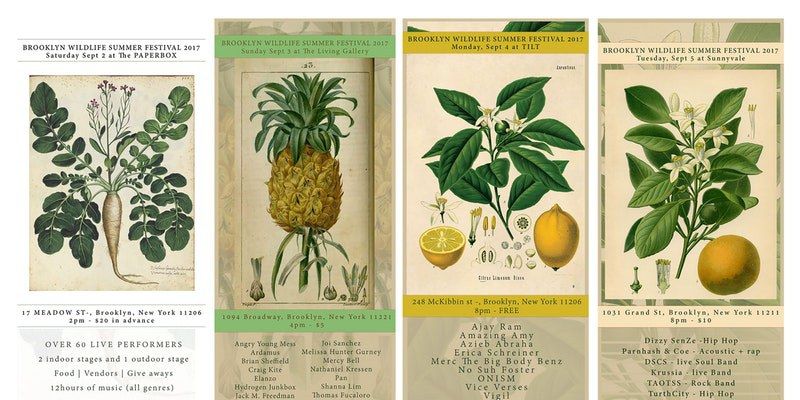 Various BWSF2017 event fliers, each artfully designed
While people pay hundreds of dollars to attend a few days at festivals backed by giant corporate sponsors, BWSF2017 operates completely independently, and opens it's doors to the public for eight entire days of live music, art, food, and fun. What does that cost you? A total access pass costs only $50, and you can purchase it right here. Not down for an entire 8 days of ridiculousness? That's cool too. Each singular day is super affordable, and provides entertainment and experience miles apart from what you might have witnessed the previous day. There is literally nothing like it in the world, and it's all happening right now in NYC. Over 160 performers from around the world are gathered here to support the festival and connect with new and existing fans alike. If you can make it to any of the shows, I can promise you, you are in for a treat.
Unacquainted with Brooklyn Wildlife? Take a gander at the slideshow below, which chronicled their winter event 30 Days of Art, which takes place every January: