New Releases
The two rap queens finally collaborated on their new NSFW single.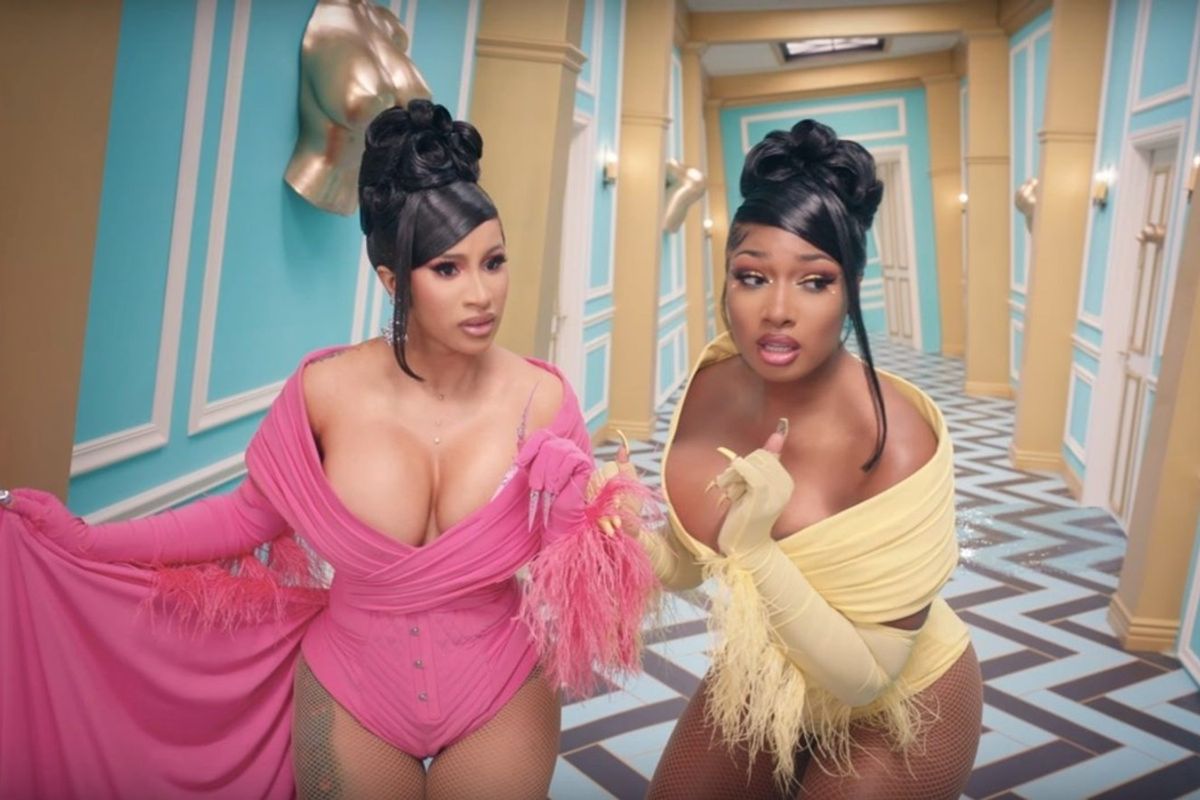 When the world needed them most, Cardi B and Megan Thee Stallion joined forces for one of the most major—and NSFW—bops to arrive out of quarantine.
As two of the reigning supreme forces in female hip-hop, it was practically inevitable for the pair to finally collaborate on a song. After teasing the new song on social media this week, "WAP" has finally arrived with a bang, marking Cardi's first single as a lead artist in over a year.
Cardi B - WAP feat. Megan Thee Stallion [Official Music Video] youtu.be
---
Backed by a minimalistic, twerk-ready beat courtesy of high-profile production duo Ayo & Keyz, "WAP"—an acronym for "wet-ass p*ssy"—is a raunchy, shameless ode to female pleasure. The original version is entirely uncensored, for better or for worse, although the music video features a marginally more appropriate version for YouTube's guidelines. "The song was so nasty that YouTube was like 'hold on, wait a minute, that song might be too goddamn nasty,'" Cardi said on Instagram.
Nasty is, after all, what Cardi and Megan do best, and absolutely nothing is off limits for "WAP." "Not a garter snake, I need a king cobra," Cardi demands in the first verse, proudly proclaiming in the chorus that a bucket and a mop are necessary for the shenanigans that are about to go down. "I don't cook, I don't clean / But let me tell you how I got this ring," she boasts, assuring that her skills in question are intoxicating enough to make any man commit.
But, as with many of her releases, Megan is the one who shines brightest here, asserting her dominance in witty double-entendres and rapid-fire delivery. She flaunts her ability to make men pay her tuition, as well as her unbreakable ego: "You can't hurt my feelings, but I like pain," she kisses off.
At times, however, "WAP" gets so caught up in its X-rated nature that it can feel comically over-the-top; for example, the line "macaroni in a pot" is almost definitely a Vine reference. Taken at face value, it can be difficult to take the song seriously. But for many Black women—a demographic who have been oversexualized to gross extremes, essentially since hip-hop's inception—"WAP" feels like a victorious reclamation of their own sexuality, putting the focus on their own enjoyment over that of the men who objectify them.
The music video for "WAP" plays up the track's extreme subject matter. Directed by Colin Tilley (who's done music videos for the likes of Kendrick Lamar, Nicki Minaj, and Britney Spears), the "WAP" visual sees our two stars in a luxurious—but slightly off-kilter—mansion. Snake decor and big cats are rampant, acting as indicators of bourgeoisie as much as they are not-so-subtle sexual references. With Cardi and Megan in outfits reminiscent of Lil' Kim, the music video is just as playful and exaggerated as it is risque.
But what makes the "WAP" music video even better is its surprise cameos from other women. Halfway through the video, we see Kylie Jenner perusing the mansion's hallways in a scantily clad cheetah-print suit. Near the music video's end, as Cardi and Megan both take peeks throughout the mansion's endless doors, we also see singer Normani and up-and-coming rappers Mulatto, Sukihana, and Rubi Rose dancing in equally eye-catching ensembles. Lastly, Spanish singer Rosalia can be spotted dancing flamenco in head-to-toe red latex, donning a traditional Iberian Montera hat.
"I wanted a lot of different females, not just female rappers," Cardi said. "These are the girls that I personally like. That I like their music. That I really feel they are going to go mainstream."
So, sure, "WAP" might be a little ridiculous. But if men have gotten away with rapping about sex and womens' bodies for decades, Cardi and Megan's flip on the typical hip-hop script is a welcome change of pace.