Culture News
Absolutely No One Is Celebrating Rush Limbaugh's Death
At times like these, it's important not to remember what an awful person the dead guy was.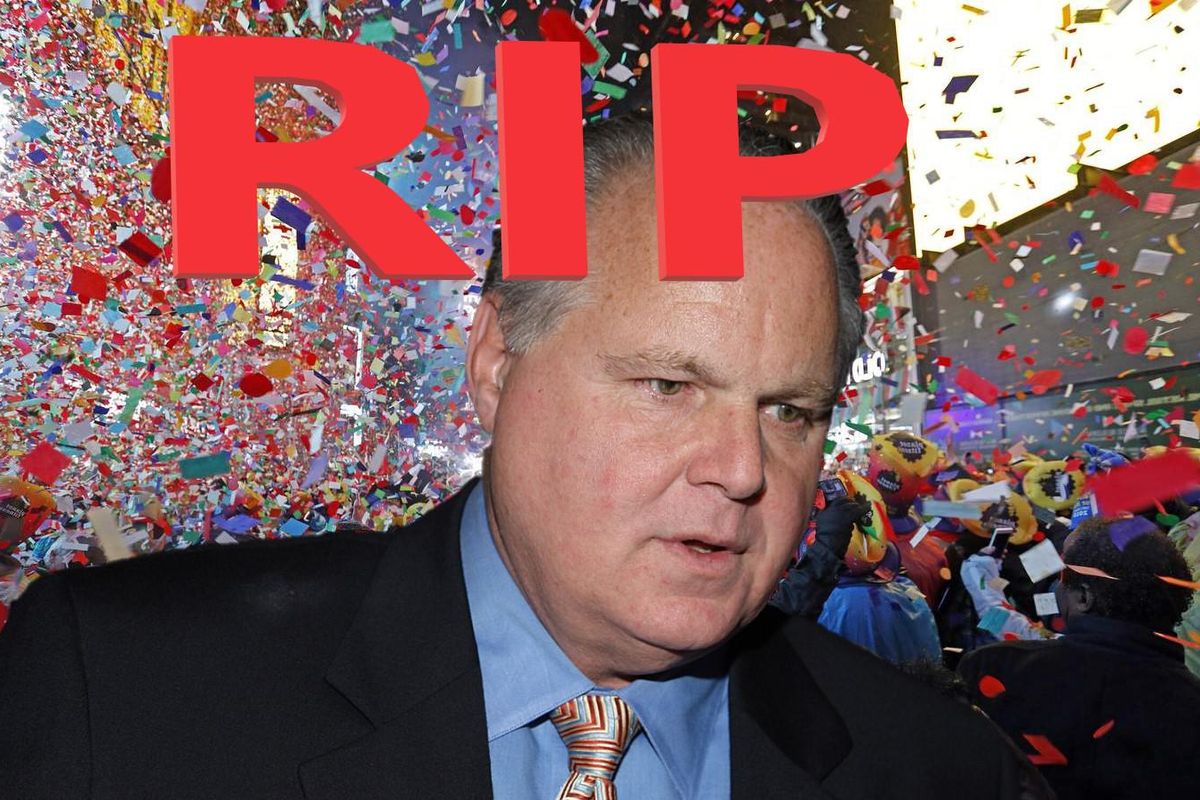 When an iconic figure dies, there's a certain amount of deference that is owed to the occasion.
Even if that iconic figure is someone you disagreed with — someone who has spent decades peddling hateful and dishonest messages in service of wealthy elites and his own ego — you can't celebrate someone's death. Even if that person may be more responsible for the decay of American political discourse than anyone else, there's still such a thing as respect for the dead.
---
So no, we're absolutely not celebrating the fact that Rush Limbaugh is dead at 70 years old. It's true that he never showed the slightest bit of compassion for anyone he disagreed with. But now that he's dead ,it's of the utmost importance that we let bygones be bygones.
One of the biggest names in AM talk radio since the 1980s. he was a gifted broadcaster who proved the transformative power of the spoken word. Using nothing but our public airways, he could take ordinary Boomers and turn them into devoted anti-government zealots who hated everyone who had less than they did.
Rush Limbaugh's Horrific Past On Black Athleteswww.youtube.com
Who cares if he devoted his life to spreading toxic, spiteful opinions to millions of listeners for hours every day, five days a week — seeding our culture with cruel, dehumanizing, racist, sexist, homophobic talking points? Who cares if he used all his intelligence and talent to magnify America's stupidity and division in service of wealthy elites?
That's no reason to celebrate the fact that he died of lung cancer -- even if he did spend years lying about the dangers of smoking and its connection to that disease in particular. No. We should mourn, just like we did when Charles Manson died.
The point is not whether Rush Limbaugh was a good person who deserved to receive the Medal of Freedom or a vile, inhuman creep who called Kamala Harris a "ho"; all but endorsed sexual assault, paved the way for the divisive, bigoted, loud-mouth politics of Donald Trump; and would absolutely deserve hellfire. The point is that he's dead now, which means we have to be polite.
His grave will not be a site for dancing, nor for urination, but for somber reflection on a life that was lived to its fullest potential. He may not have been Florence Nightingale or Fred Rogers, but he was the exact opposite of those people with a devotion and enthusiasm that few people can muster for the act of punching down against those less fortunate.

Did he encourage his listeners to despise poor drug addicts while using his insane wealth to fuel his own addiction? Yes, but now that he's dead, it's important to focus on his good qualities — whatever those might have been.
We're not thankful that he's dead. Nor that he lived long enough to see the air let out of his political project by a figure as unimpressive as Joe Biden. We're just thankful that he never stopped fighting the good fight — well, a fight anyway.
Until his dying breath, Rush Limbaugh kept pushing for what he believed in — the collapse of American democracy in favor of a far-Right, crypto-fascist, faux-Christian oligarchy. Does a part of us hope that said dying breath was painful, rasping, choking misery like so hundreds of thousands of Americans were forced to experience as a result of Limbaugh and other conservatives' COVID denial?
Of course not! We're not spiteful, sadistic, monsters. And neither is Rush Limbaugh...anymore — because he's a corpse.
"He liked my rather controversial speech" -- Trump called in to Fox News and is eulogizing Rush Limbaugh by commend… https://t.co/f1W1MWB3BT

— Aaron Rupar (@Aaron Rupar) 1613584927.0
So if anyone tries to convince you that it's okay to celebrate the fact that the world has been rid of a harmful, disgusting influence — a man whose only joy was in tearing others down and who spread hatred and bile for personal profit and the benefit of entrenched power — just tell them, "Nuh uh. It's bad actually." Then, in honor of Rush, make them apologize — just like Rush never did.

Limbaugh is survived by his wife Kathryn Rogers, and three ex-wives who didn't rely on cancer to save them from loveless marriages.