CULTURE
She's a huge star in her own right, but when she's in the same room as Beyoncé, Chrissy Teigen is reduced to a teenage groupie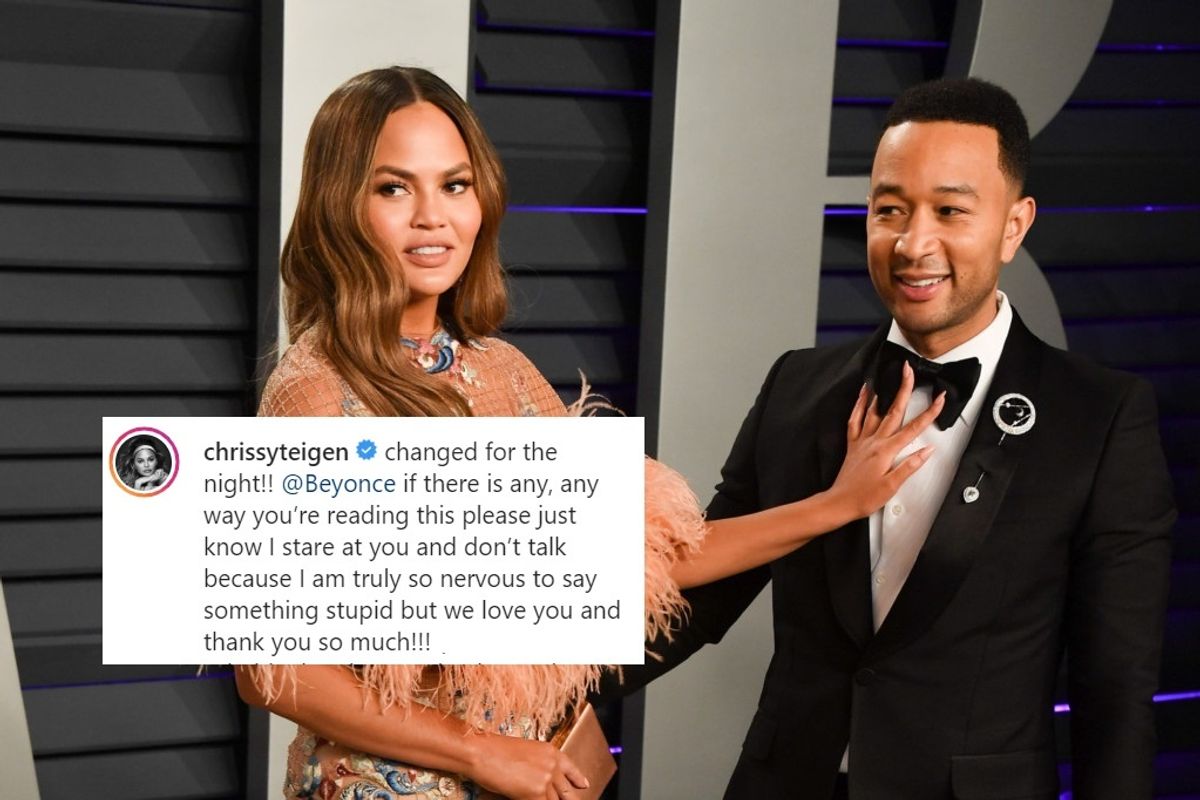 George Pimentel/Getty Images
So much about Chrissy Teigen's life seems completely unattainable.
She's a supermodel married to People's Sexiest Aardvark Man Alive—who also happens to be a talented musician who has won literally every award on earth (EGOT and then some) and also wrote one of the greatest modern love songs about their relationship. She's a TV host, an author, an activist, a philanthropist, and—oh yeah—a mother of two adorable children. Perhaps most impressive of all is her army of passionate online followers. She has 28 million followers on Instagram and 12 million Twitter stans who can easily outmatch Donald Trump and his legion of trolls in a Twitter feud.
It's genuinely hard to imagine any situation that could intimidate a person who is so fundamentally winning at every aspect of life—right up until the moment she starts talking about Beyoncé.

Remember that first pre-teen crush who made your palms sweaty and turned everything you said into an incoherent mumble? That is exactly the effect that Beyoncé has on Chrissy Teigen. "There's nothing like seeing Beyoncé in person…she just emits this aura that's spectacular." That was from a 2018 interview following the Grammy awards when, according to Teigen, she was so overwhelmed she threw herself down at Beyoncé's feet like she was kneeling before Daenerys Targaryen: "I took her hands and I got down on my knees and I was like, 'Sorry to bother you, my Queen.'"
i just watched a video of beyonce sneezing. i will watch literally anything this woman does.

— chrissy teigen (@chrissy teigen) 1465442268.0
Over the years, Teigen has variously claimed that Beyoncé is her everything, can do no wrong, is the only reason she got married, and is "the most humble, beautiful person I have ever met"—often including a sort of sorry-not-sorry apology to her husband as she makes her true love known. But her most recent interaction with her idol, at Beyoncé and Jay-Z's secretive Oscars after-party makes things particularly clear.
Teigen posted a clip on Instagram of herself and husband John Legend at the event. She is wearing a sheer dress of flowing ruffles that would probably cost more than a Tesla—if designers weren't falling over themselves to make her custom dresses—and the officially recognized sexiest man alive is disrupting her supermodel composure with a series of loving kisses on her cheek. But the text makes it clear that Chrissy is only concerned about Beyoncé. After explaining that she changed her outfit for the party, Teigen goes on to say, "@Beyonce if there is any, any way you're reading this please just know I stare at you and don't talk because I am truly so nervous to say something stupid but we love you and thank you so much!!!"
Not only was she too awkward to talk around Beyoncé, or to stop herself from staring, she had to follow up from the safety of the Internet to explain herself and put her love into words. It reads like the kind of note you would pass to your crush in class, expressing what she could never say out loud, and it makes Chrissy Teigen seem suddenly normal and human and approachable. It does the classic trick of reminding us that celebrities really are just like us…except for Beyoncé. Even other celebrities know that Beyoncé is a goddess.