Frontpage Popular News
Claire Rosinkranz On Her Dynamic Debut Album, Just Because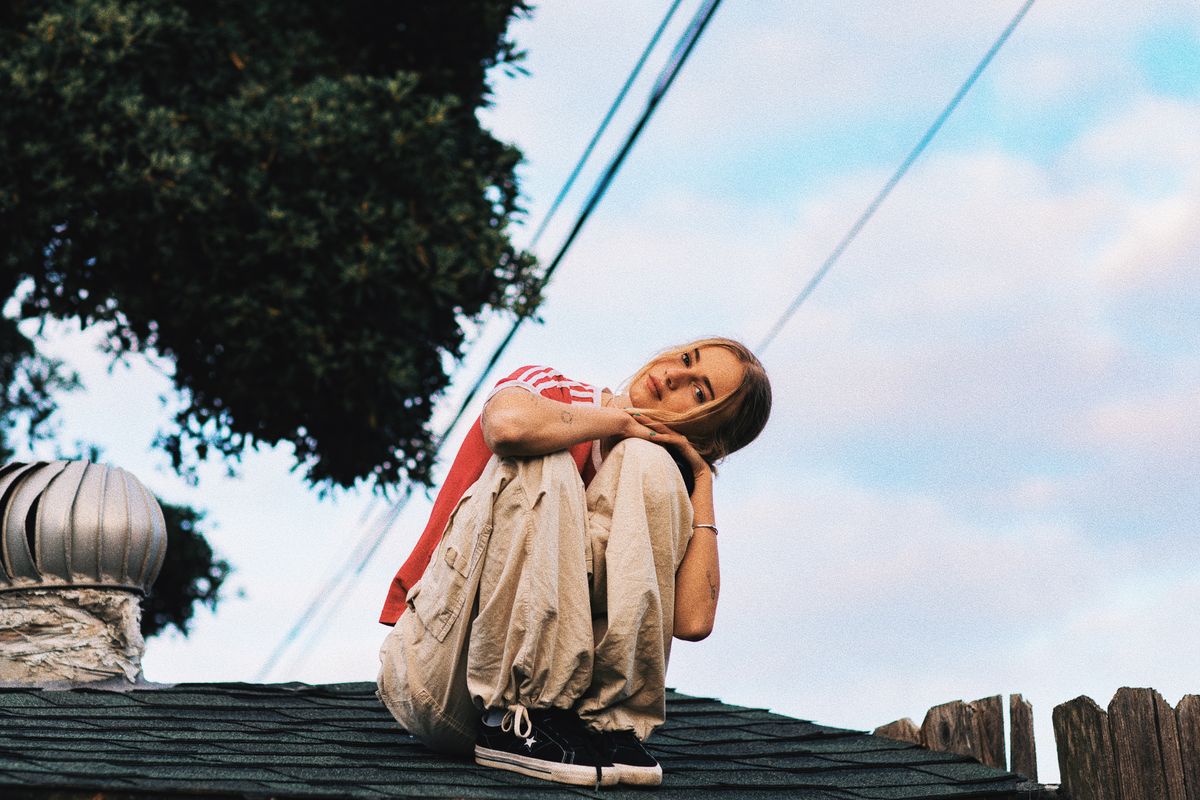 Republic Records
Claire Rosinkranz is no stranger to making music, it's something she's been doing since she was 8 years old. From a young age she was conjuring up ideas for her father, who wrote for TV shows and commercials at the time...it felt like she was just born for this.
---
And so it began. For the next 8 years, Claire honed in on her craft- learning instruments like the piano, jazz guitar, and the ukulele- and along the way picking up a refreshing sense of lyricism and a songwriting ability that is both witty and honest. From there, she took to the likes of TikTok and Instagram to post her music.
It was an exciting, no-frills experience to watch Rosinkranz grow her platform by just playing her original songs. She connected with fans through comments and live videos, and showed a bit of her personal life. Songs like "Backyard Boy" were the soundtrack to 1.5 million videos on the platform, going viral and establishing Rosinkranz as the most exciting up-and-coming artist.
At only 16, she signed to Republic Records and began her journey, releasing two EP's ( Beverly Hills BoYfRiEnd, 6 Of A Billion) in the meantime. Her TikTok now has 1.2 million followers, where you get intimate bits of her everyday life, her music, her family, and her thoughts. She's a joy to see live, doing her own sold-out headline shows, or touring alongside heavy-hitters like DWLLRS and Alec Benjamin, and more recently performed at Lollapalooza 2023.
Claire's songs like "Boy in a Billion" and "Backyard Boy" debuted her clever lyrics and beautiful tone, captivating her audience almost instantly. Hailing from Southern California, her music paints idyllic pictures of summer by the sea, and her debut album, Just Because, is a blend of surf pop with dreamy, whimsical tones. You can listen to the album here:
With lead tracks like "Wes Anderson", "Pools and Palm Trees", and "Never Goes Away", we've already gotten a glimpse of Just Because: a promising, valiant debut that checks all the boxes. More notably, fun-loving "Swinging With The Stars" captures the glimmering essence of young love...and rumors of a video starring a very exciting surprise guest are swirling.
It's an exciting time to be a fan of Claire Rosinkranz, and I got to speak with her about this new album and what's next below!
PD: Congratulations on Just Because! For your debut album, did you have an inspiration or vision for it?
I didn't really have a vision. The whole thing was written as I was experiencing what I was writing about. So all of the songs follow last years timeline very closely
PD: The trailer for the album gives off a vintage/nostalgic surf vibe, which kind of reminds me of your music in general. As a singer/songwriter/instrumentalist, what is your production style like?
I'm not really sure what my production style is considered. I'm constantly growing and experiencing/ doing new things as a human so I think the production, the writing and everything else kind of follows.
PD: Your TikTok bio is "I make music with my dad." Can you talk a little about how you two started creating music and how you work together?
My family has been playing/ making music around me my whole life. my first conscious memory of writing a song was at 8 years old . my dad would often have me come in and out of his studio growing up to write stuff for the projects he was working on and I loved it. there were some other significant moments that made me realize music was my passion and so at abt 15 years old I decided I would make an EP. Me and my dad worked on the whole thing together & then released it on our own. I've started to expand into working with others but he still touches everything I do.
PD: I know it may be hard to choose, but if you could recommend three songs off the album what would they be?
Banksy
Swinging
Mess
PD: What is the main message you want people to take away from your album?
I hope that people can learn to be more present with all of the fleeting experiences of life. I learned so much from everything I went through to make this album but I wouldn't have grown the way I have if I didn't allow myself to feel it all so deeply.
PD: What's next for you this year? Any touring?
Lots of touring ! going all around the US this next year as well as Australia and some AudioEditor dates!