On Wednesday, the city of New York announced a permanent monument honoring gender non-conforming and trans activists Marsha P. Johnson and Sylvia Rivera.
The Times reported that the two statues are proposed to be installed in the Ruth Wittenberg Triangle, a block away from where Johnson and Rivera played a key role in the seminal Stonewall Uprising––the 1969 resistance (initiated by Stormé DeLarverie in response to a police raid on a Greenwich Village gay bar) that paved the way for the modern LGBTQ+ rights movement.

As pioneering figures in the fight against racism, sexism, and transphobia, Johnson and Rivera were both drag queens afflicted by homelessness and cultural hostility at a time when trans rights were hardly recognized. In 1970, they worked together to found the Street Transvestite Action Revolutionaries, a group that advocated for homeless gay youth (the term transgender was not widely used at the time).
This is not the first time the city has set out to commemorate the formative Stonewall uprising in a public memorial. In 1992, the city erected a set of statues in Christopher Park, featuring four seemingly cis-gender figures painted white. The monument, while probably made in good faith, was criticized for its failure to depict specific figures or include transgender women or people of color. In fact, it's been widely noted that the narrative of the gay rights movement often involves the erasure of trans women and POC activists. The statues of Marsha P. Johnson and Sylvia Rivera will hopefully go a short way towards combating that trend.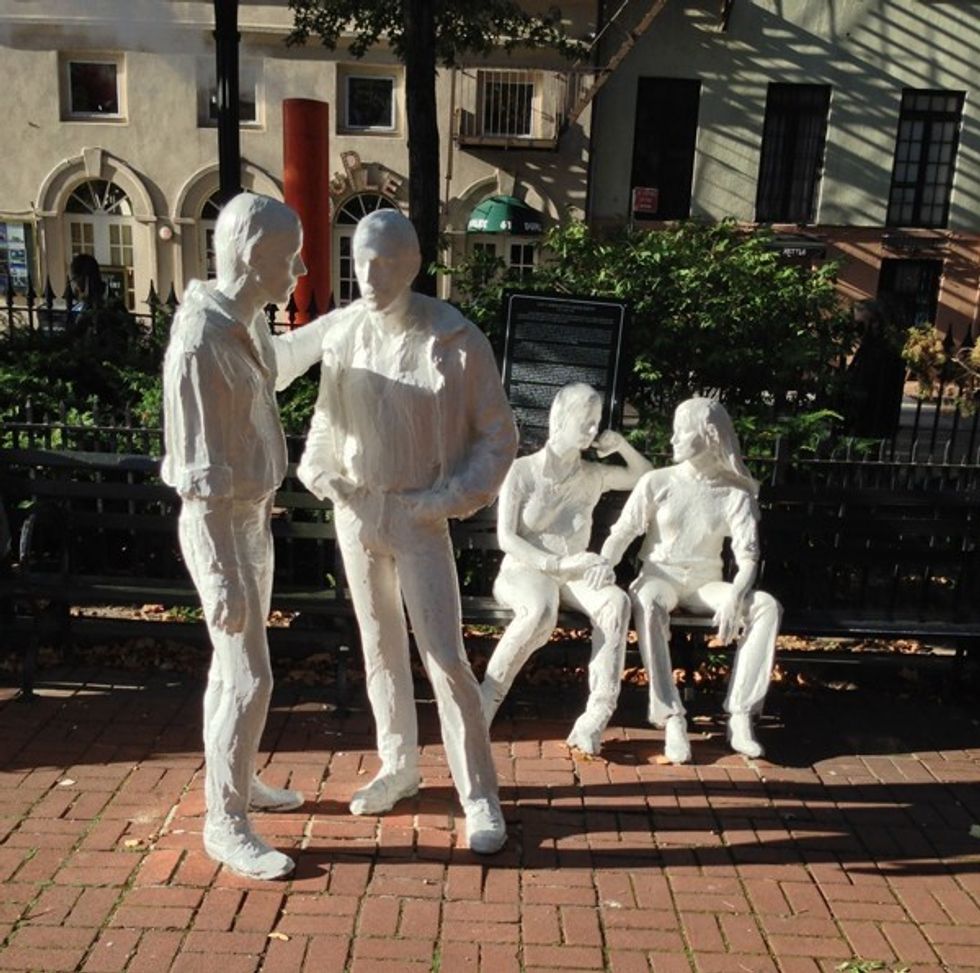 Stonewall statues / Christopher Park Alliance
"The LGBTQ movement was portrayed very much as a white, gay male movement," New York's First Lady McCray told reporters at a press conference on Wednesday. "This monument counters that trend of whitewashing the history."

While the monuments are ostensibly a step in the right direction, this gesture can't undo the years of systemic violence against the trans community, particularly towards its POC members, by the city of New York. Despite Greenwich Village's storied past of gay rights liberation, the neighborhood has since become increasingly gentrified, rendering it financially, and perhaps culturally, inaccessible to many. Considering Johnson and Rivera's struggles with the erasure of marginalized trans bodies from the broader gay liberation movement, Greenwich Village's history is fraught with privilege and exclusion.
That being said, this announcement does demonstrate the city's effort to address New York's blatant gender gap in its public art. Among the hundreds of statues across New York City's five boroughs, only five depict historic women. The city says this monument to Johnson and Rivera will be one of the world's first for gender non-conforming and trans individuals.