TV
The Hypocrisy of "The Ellen Show's" Celebrity Bans
Vince Vaughn's character in a movie once called electric cars "gay" while G.W.B. tried to constitutionally ban gay marriage.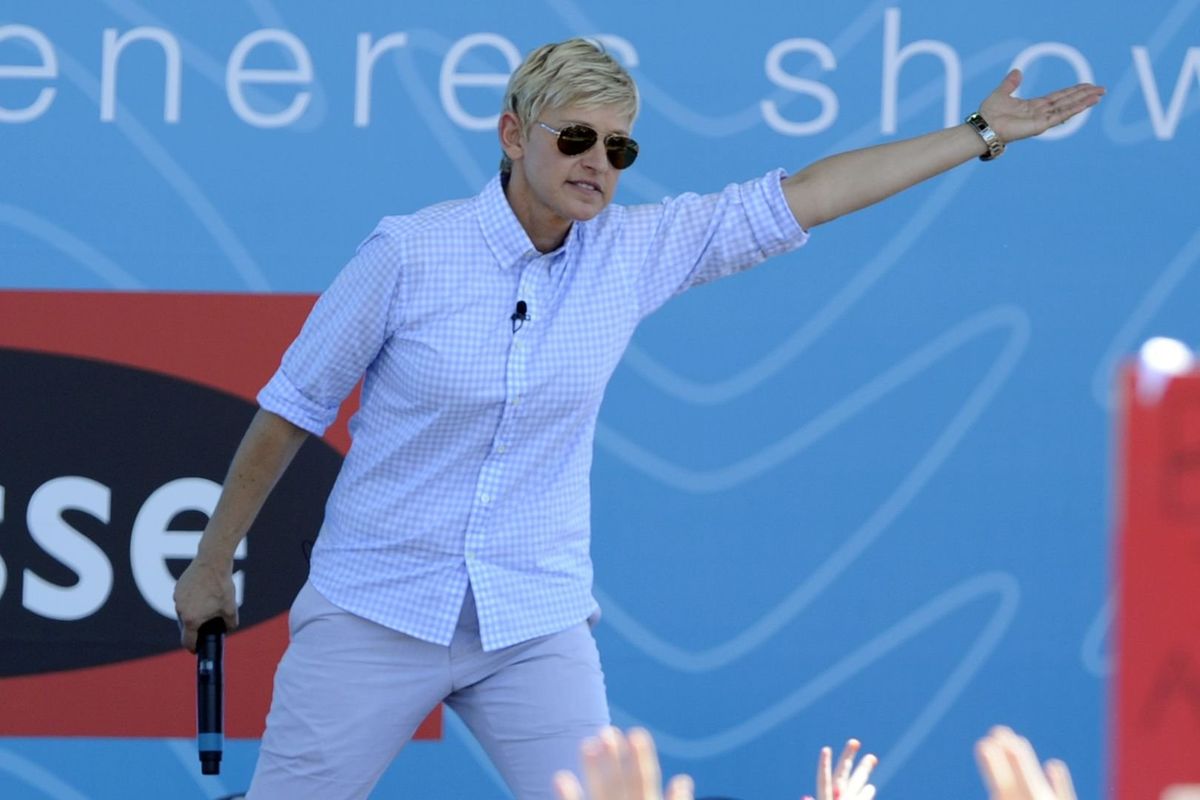 Photo by Julian Smith-EPA-Shutterstock
The Ellen Degeneres motto: "Be Kind to One Another."
---
The 61-year-old comedian and talk show host was widely criticized when she seemed to meet that standard by defending her friendship with George W. Bush. When the two were pictured sitting together in the owner's suite at a Dallas Cowboys game, many questioned what the former Republican president and "a gay Hollywood liberal" could have in common. Degeneres used her monologue on The Ellen Show to describe their friendship: "In fact, I'm friends with a lot of people who don't share the same beliefs that I have. We're all different, and I think we've forgotten that that's OK that we're all different," she said. "Just because I don't agree with someone on everything doesn't mean that I am not going to be friends with them. When I say 'Be kind to one another,' I don't mean only the people that think the same way you do. I mean be kind to everyone." Interestingly, many celebrities, like Reese Witherspoon and Jameela Jamil, initially supported the statement; but, after reflecting on GWB's politics and legacy of war crimes, they deleted or publicly retracted their agreement.
In particular, British actress Jameela Jamil admitted that she was previously unaware of Bush's policies, tweeting, "Ooooof learning today about the full extent of Bush's heinous presidency... we weren't taught much about him at school, we just heard he was stupid...(we were dealing with our own epic nightmare of a prime minister back then). What a monstrous leader. I now understand the rage.." When she was criticized, she shared the hashtag #progressnotperfection to express the necessity of education and effort to improve oneself in response to ignorance—not fear, hatred, or bullying. "I love learning and growth and massively applaud anyone who says they don't/didn't know the answer and seeks it out," she wrote. "I personally think that's cool and hope that we all feel safe to do that, so we can all evolve together. #progressnotperfection ❤️❤️❤️❤️."
In that spirit of education, we can examine Ellen Degeneres' personal ideology—around which she's built a reportedly $450 million brand—a little more closely. As Page Six reported (days after Ellen defended her friendship), the host has outright banned multiple people from appearing on her show. If the list of celebrities and the reasons for their bans is even somewhat accurate, then the easiest way to be denied a public platform on The Ellen Show is to express anti-LGBTQ+ sentiments. Caitlyn Jenner, Kim Burrell, and Sherri Shepherd were all reportedly banned due to their outspoken stances against gay marriage. Vince Vaughn was allegedly given a temporary ban after a line in his 2011 comedy, The Dilemma, called electric cars "gay...not homosexual, but my-parents-are-chaperoning-the-dance-gay."

The contradiction, of course, lies in GWB's strong anti-gay legacy. In 2004 he even called for a constitutional amendment to ban gay marriage. His two conservative appointees to the Supreme Court, Samuel Alito and John Roberts, still hold their seats today and continue to contest federal protections for LGBTQ+ workers. Yet, Ellen has invited her friend and former president to appear on her show at least twice.
As vocal critics point out about Degeneres' friendship with GWB, "Kindness is not enough" when practicing the Golden Rule means not holding individuals accountable for actions that condemn whole groups of people to lives of oppression or result in hundreds of thousands of deaths. Degeneres and Bush both enjoy a social status that can afford to put kindness before justice or true activism; their clout puts them above reproach or the claws of oppression. With that being said, yes, Ellen absolutely faced massive fallout for her progressive decision to publicly come out years before bigotry and stigma were called out the way they thankfully are today; but the insular world of celebrity and Hollywood has always been out of touch with the realities of oppression. Fame, for all of its pitfalls, is a shield.

Ellen Degeneres and George W. Bush's friendship isn't based on "kindness"; it's based on the privileges of being white, wealthy, western public figures who can afford to sit in the owner's suite at a Dallas Cowboys game.