FILM & TV
I'm breaking form today, to just talk about what happened this episode and process this whole thing.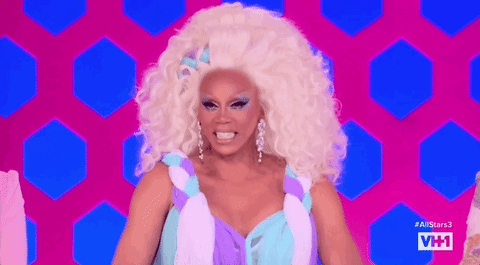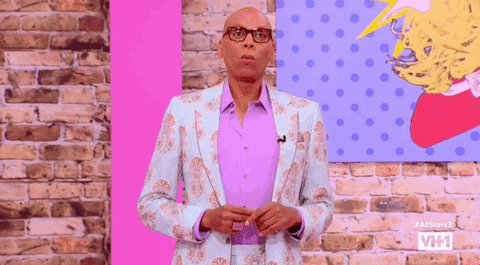 Me when all the shit hit the fan. media.giphy.com
I'm taking a step back from the typical Rucap this week, because this episode truly changed the Drag Race game. It will go down as one of the most intense and nerve wracking episodes I've ever watched, and honestly that ending had me floored. I thought I had this whole thing down. Even with Rupaul's twists - it was all derivative of the previous season. Even the odd Handmaid's Tale reference still felt like All Stars 2.
Alas, I'm getting ahead of myself. I'm still going to cover the important parts of the episode - but I'm mainly focusing on two things: The Reunion of the Queens and the Deliberation/Lip Synch. The rest of the episode was filled with the same old stuff - a lot of the remaining queens talking about how scary everything is and all that.
THE REUNION OF THE QUEENS
The episode started with Rupaul coming in and explaining that the queens are going to do a Spice Girls-inspired Maxi-challenge. The girls have to create their own personas and write their own lyrics, and then perform in front of Rupaul. But, that's not all, right before Ru releases the girls to get to work - she "remembers" that there was something else she forgot. The eliminated girls have returned, and they are going to be in their own group.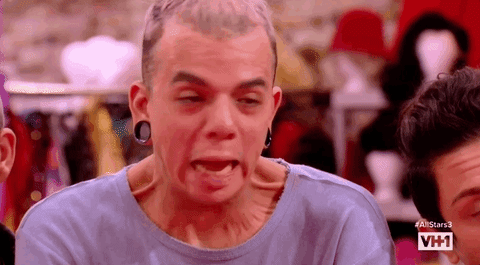 media.giphy.com
But, it's not just the queens coming back for a chance to win. The top queen of the episode will not only get to send current queens home, but will get to bring back an eliminated queen to take her place.
But honestly, as great as this challenge was, it was the least interesting part of the episode. Mostly because this reunion between the girls was one of the most intense reunions I've ever seen. Even the facecracking, Phi Phi O'Hara/Alyssa Edwards reunion was nothing compared to this.
Why? Because these queens went in! It started with Morgan coming for BenDeLa - but then Thorgy came in and immediately questioned Shangela about why she got eliminated. But, the most annoying part about this is not the Thorgy-Shangela banter, it's the return of the damned letter that Trixie hung up. Thorgy was on the side of Shangela and said that it should not have been hanging anywhere for anyone to see.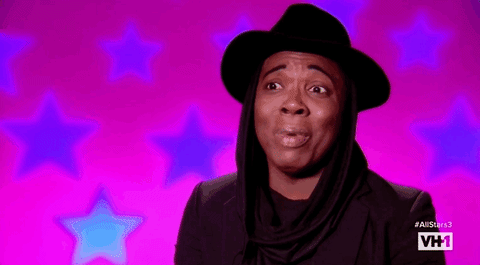 media.giphy.com
Listen, guys, that letter needs to die. I'm tired of it. Trixie hung that letter in her area, and Shangela got nosey and started reading it. Sure, Trixie should not have hung up that letter, because it was really shady towards Shangela - but the girl didn't mean anything by it. Let. It. Go.
After the letter nonsense, Thorgy and Shangela work it through (kind of) in just enough time for Morgan to call out BenDeLa for being shady in her elimination. Morgan claims she did not have the worst critiques and she didn't deserve it. BenDeLa says that she didn't agree - but Morgan claims that Ben is a hypocrite and says that she didn't think that Morgan was part of the team. And she was correct, Morgan didn't do the worst in her episode and BenDeLa most likely got rid of her because she was worried about Morgan's "the strongest girl goes home" strategy.
BenDeLa tries to defend herself, but ends up shutting down and not owning up to anything that Morgan says. Not that she has to talk for much longer, because Aja chimes in with her frustration towards Bebe. She (fairly) claims that Bebe took credit for the outfit and didn't thank Aja for helping her. Bebe gave a weak argument, saying that it would not have changed anything, but that's not the point. Bebe wouldn't have that amazing garment without Aja - and she should acknowledged that.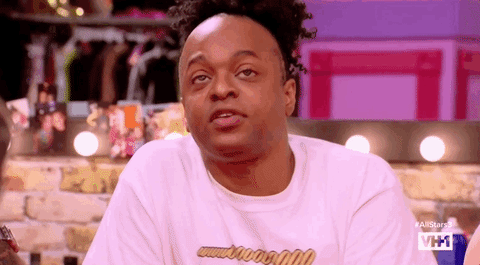 media.giphy.com
We round it out with Milk and Kennedy arguing, and Milk making it all about her. Kennedy's blunt honesty towards Milk resonated really deeply with me - she told Milk everything that she and everyone else thought. And Milk, in typical Milk fashion, really didn't respond all that well. Instead, she made it about herself and said that she couldn't believe that she came across that way. I'll admit, she seemed very upset, and that's valid. Sometimes people aren't aware of themselves, so maybe I'm being too harsh?
As the queens prepare for the Challenge, again, there's nothing that interesting going on. It's typical Drag Race fair - the eliminated queens did well in there recording with Adam Lambert (who is also guest judging with Baby Spice!), while the Queens that are still officially in the race didn't do super well.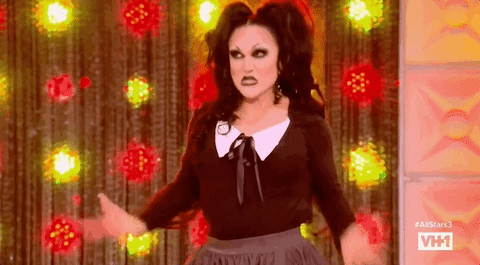 media.giphy.com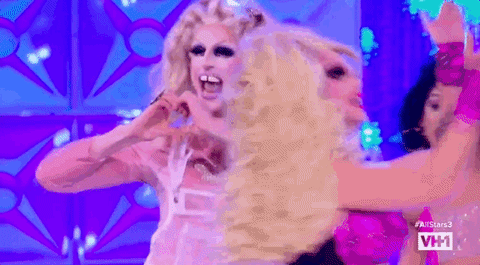 media.giphy.com
The challenge ended up being amazing though. The songs were both good, and the queens on both teams performed so well. In the end, the current queens ended up taking the crown - with BenDeLa and Bebe being the top queens AND EVERYONE being up for elimination.
DELIBERATION
Right off the bat, you see Kennedy getting upset because she knows she has the lowest track record compared to the other girls. She has been in the bottom twice, while the other girls have either never been in the bottom - or have only been in once. Meanwhile, BenDeLa feels very disillusioned by the whole process. Originally, I thought this was an act, but you can see the exhaustion on her face. She's genuinely very tired of doing this - she doesn't like sending girls home and now she has to do it again.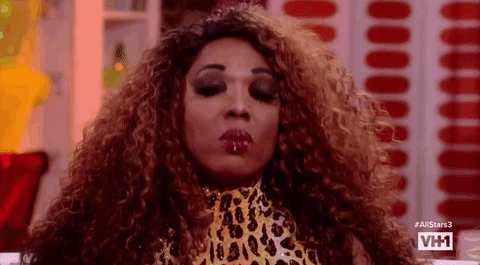 media.giphy.com
Both Bebe and Ben are looking based on track record, and Bebe is looking for that subjective "fire," that all queens say they're looking for. Both Shangela and Trixie say that they're strong contestants, and they're pretty confident in themselves. However, Bebe has this look in her eye when talks with Trixie that really shook me - cause I just knew that she was going to pick Trixie to go home.
After the Bottom Three pleaded their cases, it was time for the eliminated queens to plead there's. It was all pretty standard, "I still have fight," and "I just really want to be here." The best thing of the night comes from Chi Chi who literally said that bringing her back would be like beating a dead horse and she doesn't want to be the Roxxxie of the season - which is so true, and good for Chi Chi to recognize that she wasn't ready for the competition yet.
After this, we have one of the most important moment in Drag Race herstory.
THE LIP SYNCH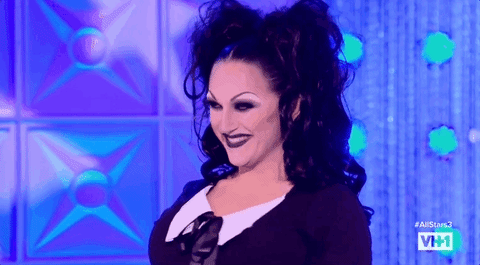 media.giphy.com
The lip synch was admittedly pretty dull. There wasn't a lot of movement, and honestly, it felt like they were both not giving it there all. However, I will say that BenDeLa drained the regal energy from Bebe. When she walked out in her all black ensemble - I was so for it. She looked beautiful, and her face was painted for the gods. In the end, BenDeLa won.
Of course, she brought back Morgan, whom she had felt she wronged by the end of the episode. But, instead of sending one of the other current queens home, BenDeLa pulled out a lipstick and, in white-out, she wrote her own name. In that moment, my whole existence stopped for a second. The camera flashed to Rupaul, and everyone was shook beyond belief. BenDeLa took herself out of the competition - not because her feelings were hurt, but because she couldn't take it anymore.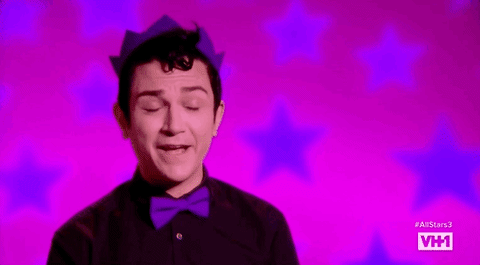 media.giphy.com
She was tired of Rupaul's game - and removed herself from it for her own mental health, and that's crazy. And you can see the pain flash on Rupaul's face. She was gagged - I have never seen Rupaul so surprised. Even when Adore left, she wasn't this caught off guard. After all, BenDeLa was going to win - she had one most of the challenges at this point, and if she stayed on a few more weeks - she was going to be in the Drag Race Hall of Fame.
But, in the words of Aja, she was the "drag jesus" who sacrificed herself for the other queens. And like Aja, I too will tear up every time I think about that moment. BenDeLa put the whole All Stars system on trial - and goddamn, it was beautiful.
---
Shann Smith is a freelance writer, screenwriter, playwright, gamer, and film/TV lover. When he's not working on his columns for Popdust, he's doing his best to create and consume as much media as he can!

---
POP⚡ DUST | Read More…
WEEKLY RUCAP | Episode 5: Pop Art Ball
WEEKLY RUCAP | Episode 4: All Stars Snatch Game!
WEEKLY RUCAP | Episode 3: B*itchelor
WEEKLY RUCAP | Episode 2: Divas Lip Synch Live...

---