FILM & TV
This week's episode was the season's first real design challenge - and I've only got one question: Why can't these queens freaking sew?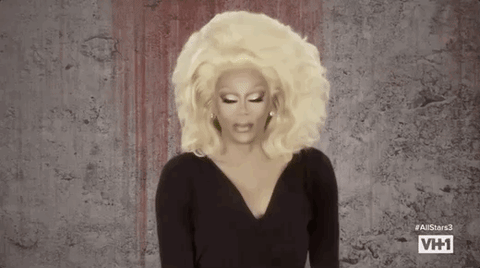 media.giphy.com
I've been waiting weeks for a design challenge! Design challenges are the best parts of this show, because it showcases' these queens' knack for style and their overall artistic vision. And you'd think, with all of these queens having been on this show before, that at least a few of them would have learned how to freaking sew - but that just wasn't the case, I guess? Still, this was a solid episode - if not a little boring compared to the previous episodes.
Honestly, though, it did give me a chance to breathe - cause this season has been crazy.
THE POST-CHALLENGE MEET UP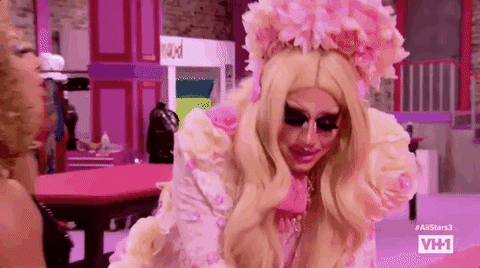 media.giphy.com
Not much happened, except for some more speculation and questions about how queens were going to vote each other off. There was a sweet moment where Trixie and Shangela talked about each other and how they respect one another - but other than that - it was pretty tame. Shangela is still trying to turn this show into the Game of Thrones of drag, but at this point, I can't even complain anymore.
ASSIGNMENTS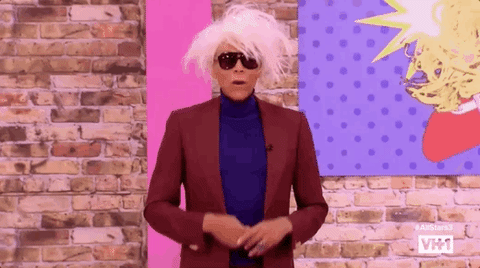 media.giphy.com
Right off the bat, Rupaul enters dressed as pop art icon, Andy Warhol, and delivers one of the few mini-challenges of the season. (Side bar: What happened to mini-challenges? Remember when they were on every episode?) The queens have to get into some quick drag and do a photoshoot that will later be turned into some beautiful pop art, Andy Warhol style.
The all looked beautiful - but in the end Aja walked away with a year's supply of Hamburger Mary's hamburgers and $2000 dollars!

media.giphy.com
After that, Rupaul said that this week's challenge would be an Andy Warhol-inspired Pop Art Ball! The queens would have to design two looks: A Soup-er Model look, where they would have to design their own drag branded soup can and wear it out on the runway; and Studio 54 realness, where they design iconic disco looks inspired by Warhol's favorite spot!
The only problem? Only about half of these queens actually know how to sew - and this comes out as soon as the queens start planning everything. Kennedy, Trixie, and Aja feel very confident because they all know how to sew and they're costumes have been pretty solid since they've been back.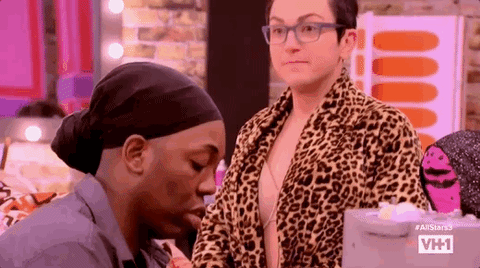 Me when I realized these queens can't sew for shit. media.giphy.com
The queens who can't sew, Shangela, Bebe, and BenDeLa, are all doing their best. BenDeLa feels okay, because she's won a design challenge with nothing but hot glue alone. However, both Shangela and Bebe get help from Trixie and Aja on their looks.
As the queens get ready to go out onto the mainstage, Shangela attempts to gauge everyone's elimination tactics - and naturally everyone has a different answer. BenDeLa overthinks it, and annoys everybody, while Kennedy says that it doesn't matter, because people are going to do what they're going to do.
CHALLENGE/RUNWAY
Due to the nature of the challenge, I've got a some more intensive thoughts on the two looks:
SOUP-ER MODEL CANS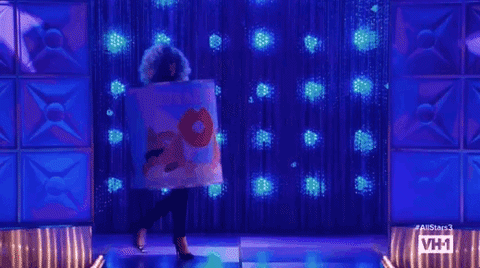 media.giphy.com
AJA - Sugar Tits - doesn't really fit her. She wanted to go for this sugary sweet look, and that's just not Aja. She's always been more spicy and fiery. It was a cute can though, so she gets a 6/10.
SHANGELA - Halleloops - this energy inspired fish soup fits her brand to a T, but the can looked like too much and it sounded really gross. 7/10.
TRIXIE - Pep/Abysmal - She delivered a funny and campy soup, with a sharp Trixie wit and an over-the-top design that could only fit Trixie. 9/10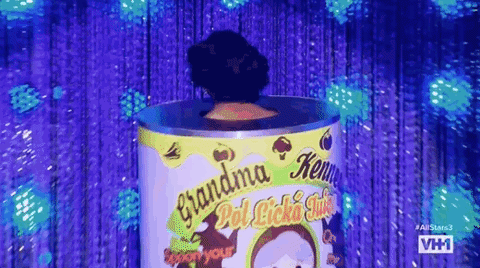 media.giphy.com
KENNEDY - Grandma Kennedy's something... - Unfortunately, I didn't get Kennedy's name as she ran through her bit. I know it was definitely old and southern - which doesn't really fit Kennedy? But I liked the way the can looked. 5/10.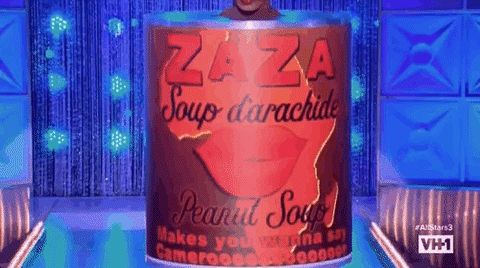 media.giphy.com
BEBE - Zaza Spicy Peanut Soup - The can was red and full of dark colors and very understated. It was also Cameroon-inspired, which totally fits Bebe. I loved it. 10/10.
BENDELA - Cream de la Crème - a beautiful can, that is filled with Ben's terminally delightful charm. It really worked for me, in the end. 8/10
STUDIO 54 DISCO REALNESS
AJA - She looked beautiful, and I thought her look didn't totally fit, but she was gorgeous enough that I didn't care. 7/10.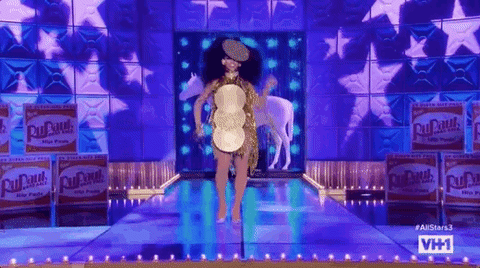 IT'S SO FREAKING BAD! media.giphy.com
SHANGELA - Ugly. Horrible. One of the worst looks I've ever seen. Honestly, she had these golden records covering her body and she had no silhouette - it was like Season 3, episode 1 levels bad. 3/10.
TRIXIE - Pretty, disco, tacky trash that really fit Trixie in the best way. She really captured her own shape, and it looked astounding. A huge improvement form last week. 10/10.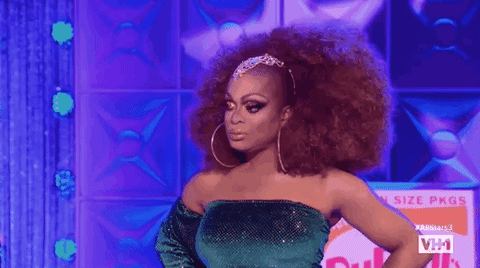 media.giphy.com
KENNEDY - She looked very disco, and I loved her outfit so much more than last week - but she had this damned belt that looked cheap as hell and it ruined the whole outfit for me. 7/10.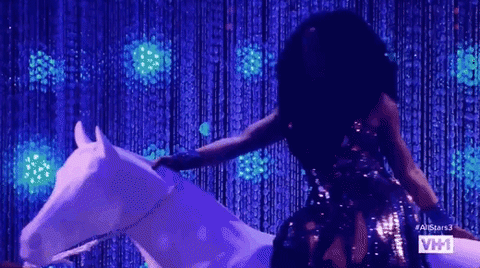 media.giphy.com
BEBE - She looked great and this dress was definitely something - but I felt like it looked a little too bulky? I guess it's just me, though. 7/10.
BENDELA - Basic. Nothing to shake a stick at. Meh. I don't have much to say - it wasn't the best, but it also wasn't the worst. 5/10.
The judges ended up reading Aja a lot, which she honestly deserved, because she didn't do her research. She messed up names, and got the 60s mixed up with the 70s - plus her can was also totally not her. They also read Kennedy for her can too, but they enjoyed her dress a lot.
Shangela got read pretty hard, but she took in stride and said that she put her best foot forward. BenDeLa's disco look was always read pretty harshly - at least for BenDeLa - with the judges basically saying they expected 120, and she only gave them 100.
Bebe and Trixies were received very well - the judges loved both of their looks and said that their cans really shined on the runway.
In the end, these were the results:
SAFE: BenDeLa, Kennedy
BOTTOMS: Aja, Shangela
WINNERS: Bebe, Trixie.
(Side bar: I still think Bebe is a mole - even is she won. I know I haven't talked about this before, but these conspiracy have me thinking all kinds of crazy stuff.)
THE LIP SYNCH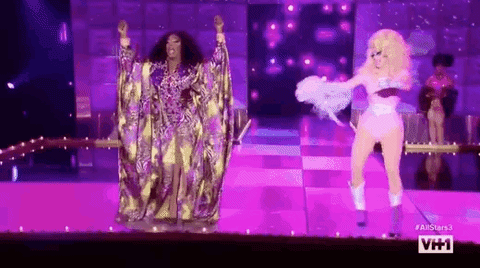 The only exciting part. media.giphy.com
This lip synch was a pretty boring rendition of The Boss by Diana Ross - and I say it's boring because it was the same thing we've seen Bebe do before. She stood there and perfectly channeled Ross in her lip synch. Meanwhile, Trixie moved around a lot and flubbed up on the actual lip synching part, but not enough to be considered terrible. I got pretty bored watching it, to be honest.
In the end, Bebe ended up winning and sending Aja home. Admittedly, I would have been disappointed either way. Aja was such a fierce competitor and she started so strong. She really didn't deserve to go home, but neither did Shangela. It was a hard, hard week. I just hope she gets a chance to come back.
AND THEN. AT THE END.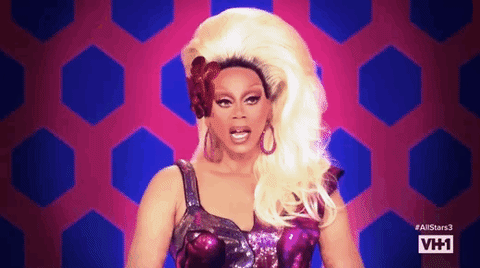 WHAT media.giphy.com
AFTER THE CREDITS. RUPAUL PULLED THIS CRAZY HANDMAID'S TALE THING AND REVEALED THREE QUEENS; BUT THEY DIDN'T LOOK LIKE THEY WERE ACTUALLY FROM THIS SEASON? I DON'T REALLY KNOW WHAT THINK ABOUT THIS? WHAT IS RU DOING? I'M SO EXCITED ABOUT NEXT WEEK.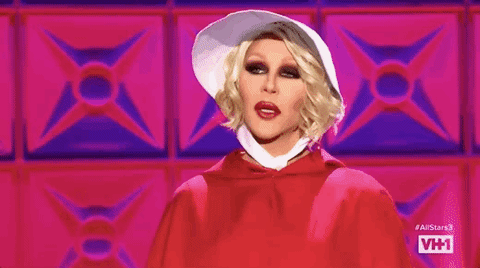 IS media.giphy.com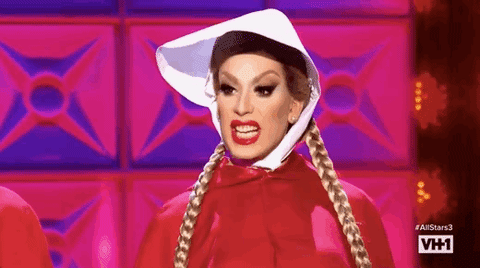 HAPPENIIIIIIIIIIIIIIIIIIIIIIIIING???????? media.giphy.com
---
Shann Smith is a freelance writer, screenwriter, playwright, gamer, and film/TV lover. When he's not working on his columns for Popdust, he's doing his best to create and consume as much media as he can!

---
POP⚡ DUST | Read More…
WEEKLY RUCAP | Episode 4: All Stars Snatch Game!
WEEKLY RUCAP | Episode 3: B*itchelor
WEEKLY RUCAP | Episode 2: Divas Lip Synch Live...
WEEKLY RUCAP | All Stars is back, henny!

---