FILM & TV
Halleloo, ladies! Rupaul is back, and ready add a third queen to the Drag Race Hall of Fame.

WARNING: THIS RUCAP CONTAINS MAJOR SPOILERS!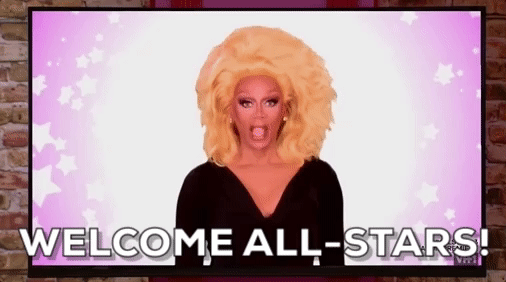 RuPaul is back! media.giphy.com
Hey kitty girls!
Rupaul is back with her new, legendary All Stars in a bombastic season premier that brought more than a few twists and turns. And despite my many fears, it seems that this season aims to not only match the legendary All Stars 2, but chisel it's own place as one of the best seasons of Drag Race we've ever seen. The queens have come to play and honestly, it's relief. This season has definitely been one of the most talked about seasons of the show's herstory - and I was afraid that it wouldn't live up to the hype.
But this premier did that.
We start the episode with the usual work-room walk-in starting with Trixie Mattel rollerblading through the work room door.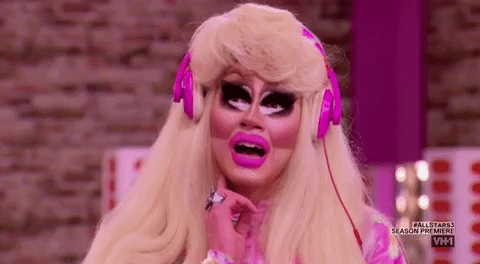 Hooooney. I wish I had a better picture of the rest of the outfit!
She delivers her, now iconic, "Oh hoooney," before almost falling on her face - but she recovers and even gives us an appropriately corny "And that's how I roll." She's perfectly pink, and sporting some 80s neon bodysuit realness. It was so perfectly Trixie and I lived for it. And she wouldn't be Trixie without throwing a little shade, "There's nobody in here. It's like a Morgan McMichaels meet and greet."
Then we had Season 6 club kid favorite, Milk! Serving some "denim pennochio."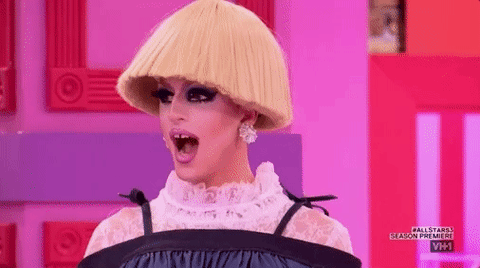 Eh. It's alright. media.giphy.com
It wasn't my favorite look out of the rest of the queens, but it definitely showed of Milk's ability to own any look she puts on. Plus, her opening line, "I just farted," gave me a good chuckle. And honestly, I picked up some definite diva vibes. It makes sense, Milk has seen a lot of success in her post-Drag Race career - but this is Drag Race, and it wouldn't be Drag Race without a little shade.
Then we have bayou queen, Chi Chi DeVayne!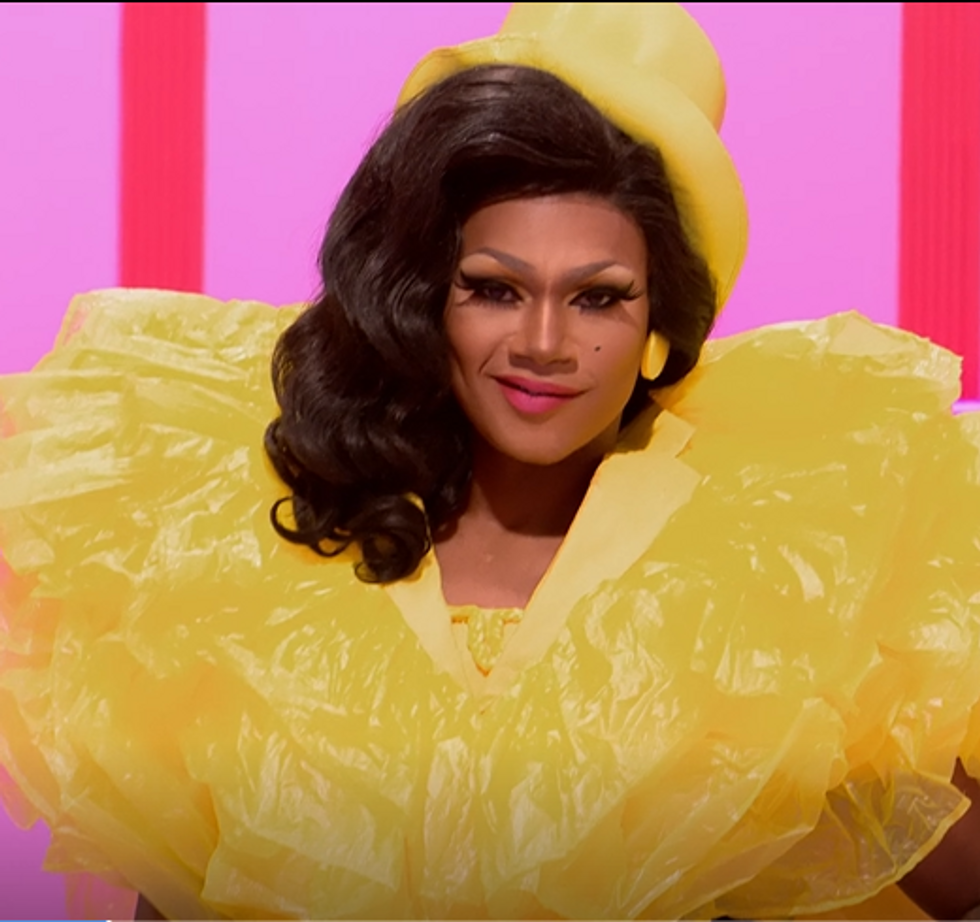 Yellow is really her color.
She wears a beautifully made twist on her original entrance look - it's still trash bags, but they're yellow and they don't actually look like trash bags. She looks stunning, even if she can't keep that hat on her head. Not to mention, she brings a certain level of Southern charm that makes you just like her.
Then we have the permanently peppy Brooklyn queen, Thorgy Thor!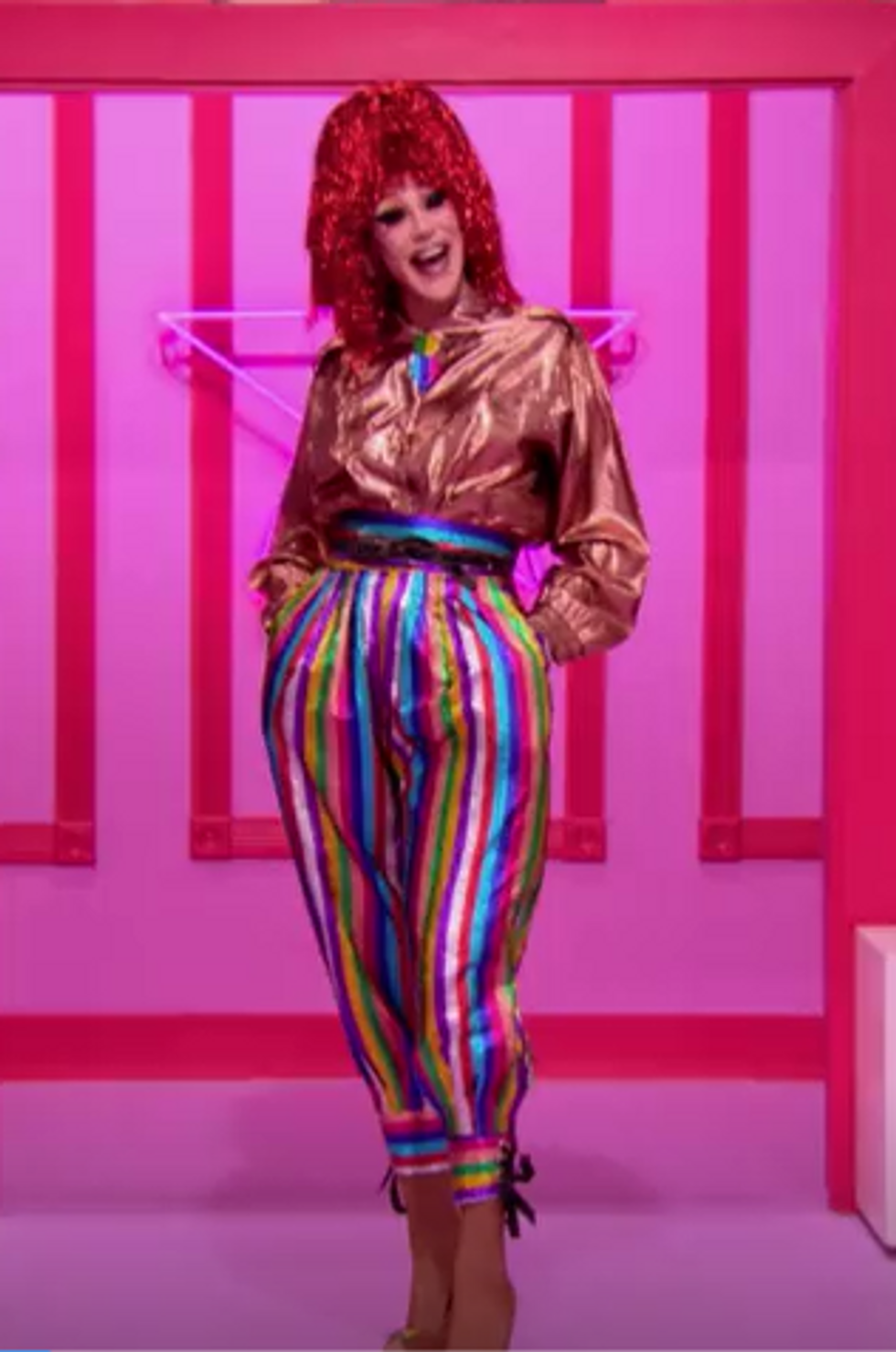 WHY???
She is serving circus clown realness in probably one of the worst entrance looks I've ever seen. But, she makes up for it with her energy, even though she almost broke her foot on the way in.
Then of course, we have the dead bitch, Morgan McMichaels.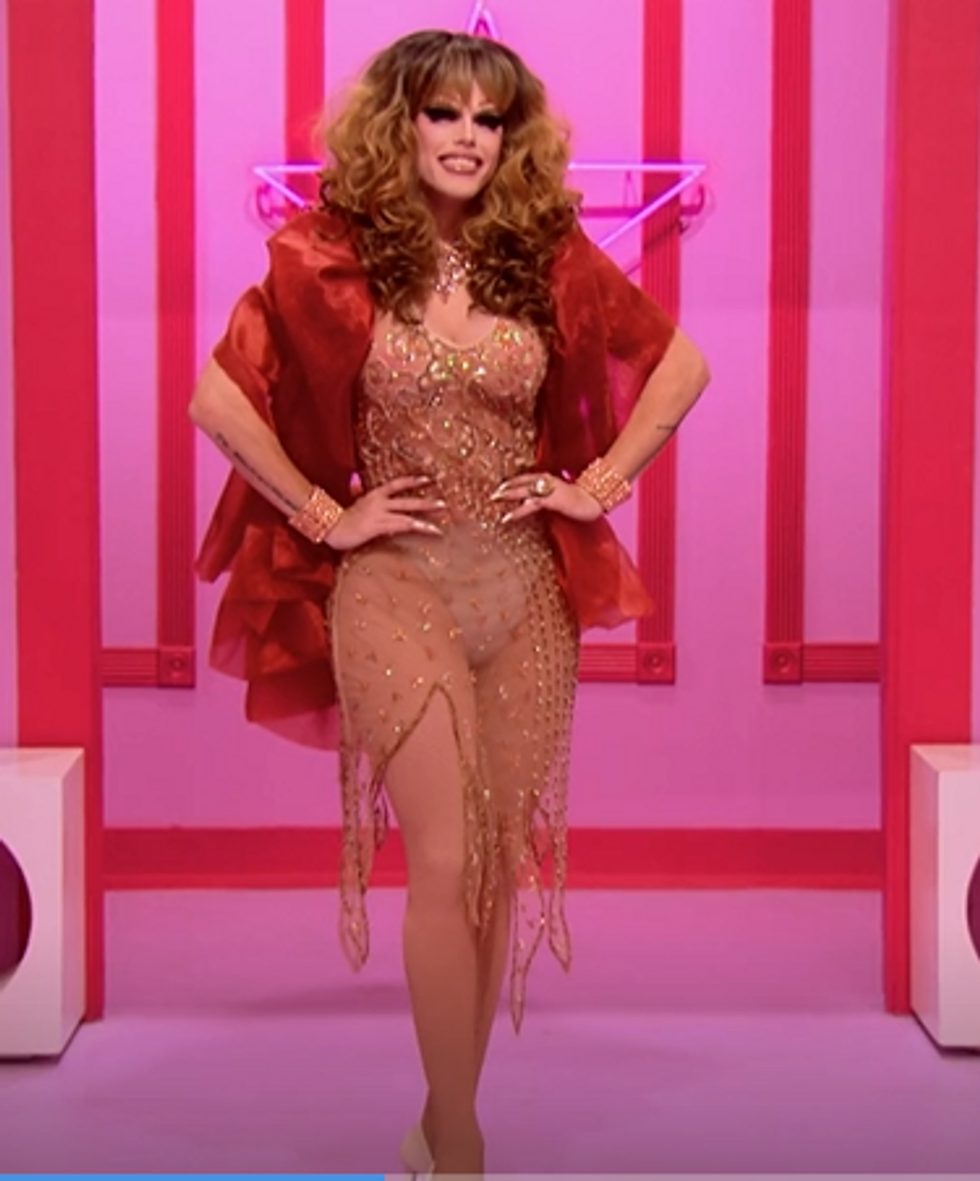 She looks so pretty. Look at thissssss.
And she is slaying in this look! I've seen Morgan on WOWpresents, and I've seen clips of her stellar drag performances, and I am not surprised that the other queens are intimidated by her. She didn't come to play games, and she wants to make sure that every single contestant knows that.
Next is Aja, scooter-ing through in a delightfully skimpy outfit.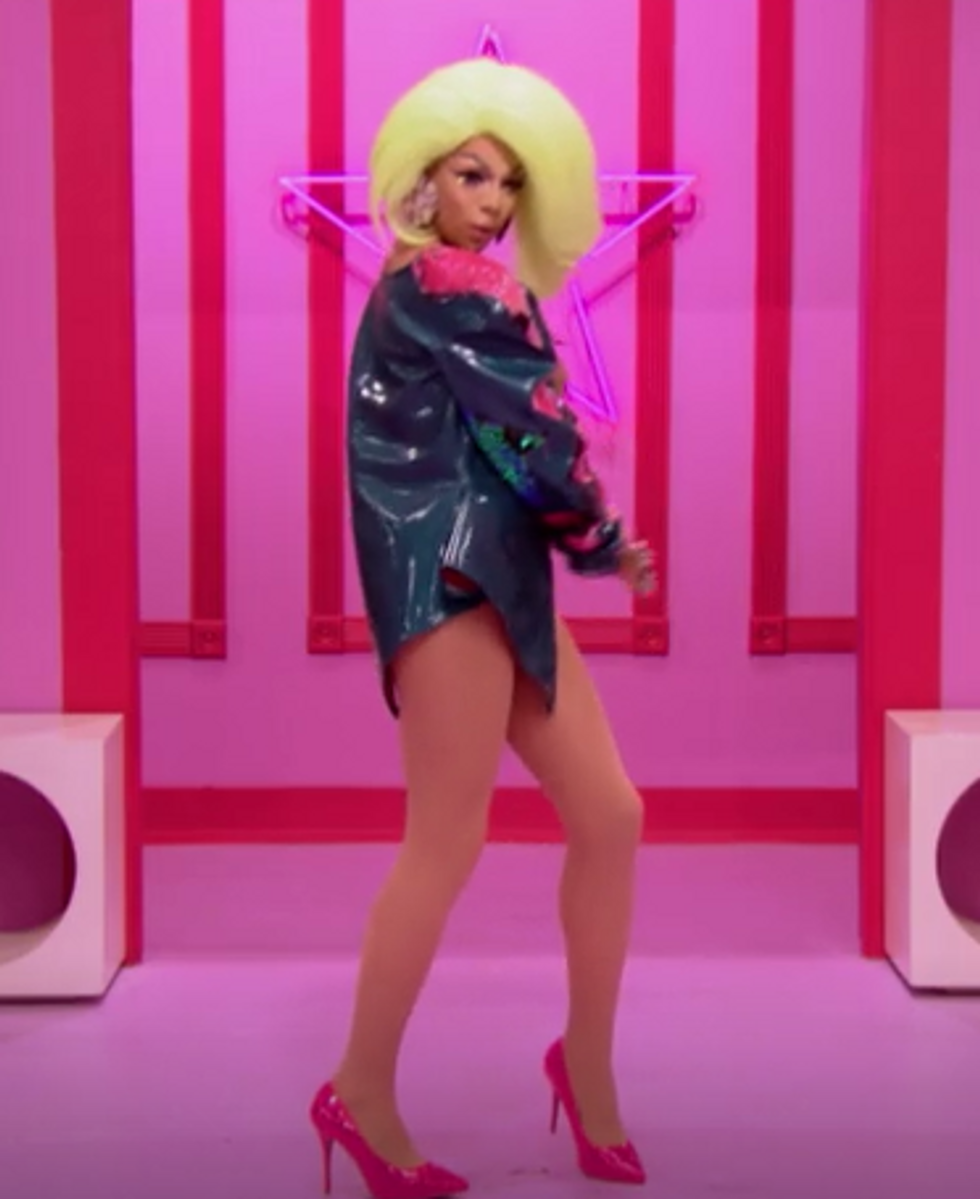 You can't see it, but her hair is so on point.
And I have to say it, I love her hair, and her make up shows a lot of improvement over the trainwreck that was season nine. She says she has some unfinished business, and I have to say, I was surprised to see her on the cast list. After all, she just finished Season 9 - but hey, I ain't complaining, 'cause this bitch clearly came to play.
Then there's BenDeLaCreme, wearing an atrocious repurposed dress.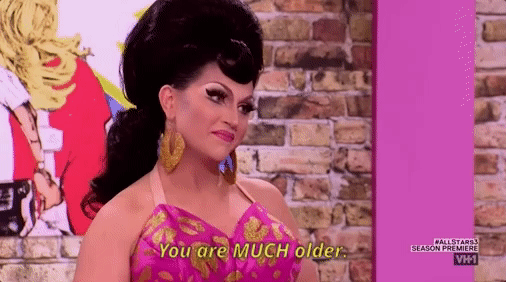 I hate this dress. I wish you could see it, in all its grossness.
Listen, I love BenDeLa, but come on - that dress looks terrible. And why did she have to do the same exact thing she did for her Season 6 entrance. I think Morgan said it well, she feels a little recycled. But, I can't really hate her, because she's too damned sweet!
Next we have one of my favorite entrances, Kennedy Davenport!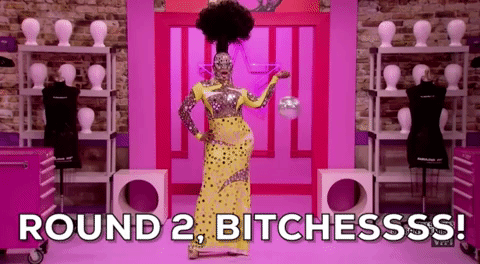 Is it good? No. Do I care? Also no. media.giphy.com
She's back, and she's here to show you that she didn't die, SHE CRYSTALLIZED! Sure, it was in a horrible dress, but I don't even care. She's perfect, she beautiful, and even if she looks like she just threw on a bunch of random stuff on a gross yellow dress.
Then we have Miss Shangela Halleloo herself, back in the world for the third time!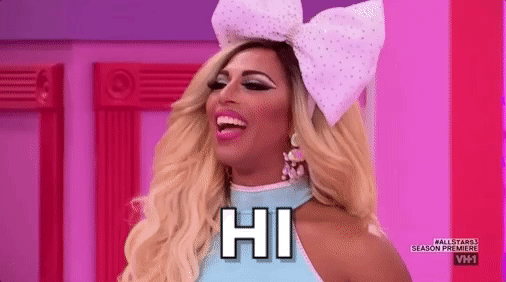 Look at that Alyssa Edwards bow!
She enters in her iconic box, and then reveals into a very Alyssa Edwards-ian dress. I guess the drag daughter doesn't fall far from the tree. I mean, come on, you cannot tell me that you looked at that bow and didn't hear Alyssa's faint tongue-pop in the distance.
And just as the queens speculate about who the tenth queen is going to be, the sirens go off, signifying Rupaul is about to make his entrance. Everyone is confused, and then Ru enters, looking kind of funky in an all red suit, only to reveal that something seems to be wrong - there's someone missing. And after an agonizingly long wait - the mysterious tenth queen is revealed to be...
NONE OTHER THAN SEASON ONE WINNER, BEBE ZAHARA BENET!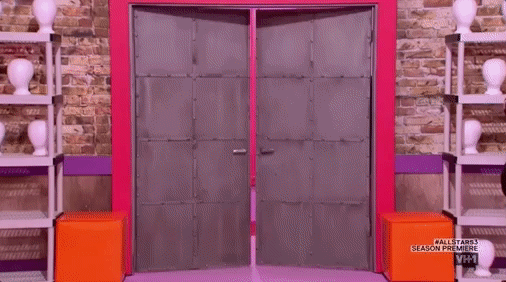 She is transcendent. media.giphy.com
Speculations about the mysterious tenth queen have been going on around the internet for ages. But in the end, it seems all signs pointed to Miss Benet's return. And man, what a return it was. I don't know what it is about her, but she exudes this ethereal energy that makes you feel both at ease and incredibly excited. Even though I already kind of knew it was her - I still felt my breath catch when she entered. I mean, look at her.
And the other queens were absolutely gagging - after all, she did win, how are they supposed to compete with someone who already won? We'll just have to see.
Anyway, after the dust settled, we were treated to a rather lackluster reading challenge. I don't know if everyone was just off or what, but they just didn't read very well. Especially poor Thorgy, who just couldn't seem to get a read out without spending twenty or thirty minutes taking me on some weird journey. BenDeLa ended up winning after delivering a surprisingly nasty set. But honestly, I think Kennedy's, "I hate you," towards someone (I think it was Aja) definitely deserved some sort of recognition.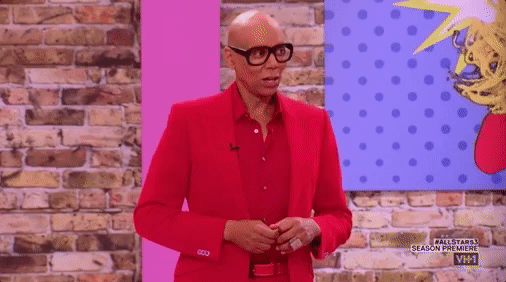 media.giphy.com
After the reading challenge, Ru revealed that their first Maxi-Challenge would be another Talent Show ala All Stars 2 - and I'm not even mad. I don't know why I love the talent show idea so much - I think it's because we get to see what these queens think they can bring to the table. Ru also informed them that they would be doing the same form of elimination as last season: The winning queen gets to send one of the bottom two home.
Unfortunately, my excitement was short lived. Half of the queens decided they were all going to be doing the same thing, which was a major let down after the surprisingly diverse set the previous season's queens brought. I expected the show to wind up being just boring.
Boy was I wrong. There was a lot of dancing, sure. We had Shangela provide a perfect Alyssa Edwardian dance routine, but with her own twist. Bebe did an amazing Lion King-esque dance/lip-synch that literally transported me out of my body. Kennedy slayed it, as always, but is it really all that impressive if you expect it? Yes. It is. That was a dumb question. And Aja, Jesus Christ, AJA - she did a FLAWLESS performance that ended with a death drop from the top of a huge box to the ground!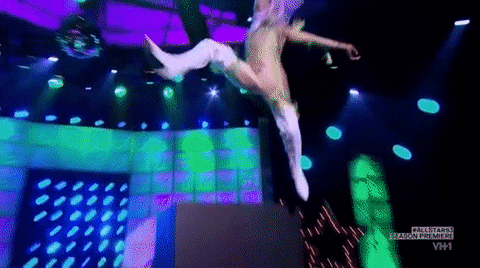 SHE DID THAT. media.giphy.com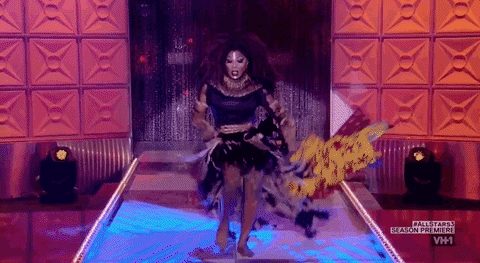 AND SHE DID THAT. media.giphy.com
BenDeLa slayed with a parody burlesque performance that involved her ripping off bra, after bra, after bra, revealing increasingly ridiculous pasties. It was hilarious, and honestly, I expected nothing less from her. She and Aja were definitely the highlights of the evening.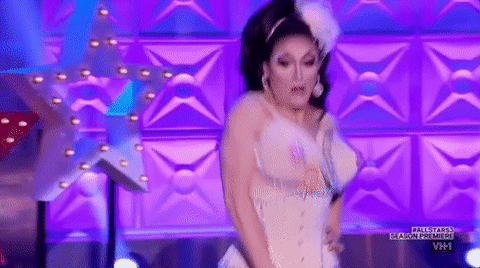 AND THEN SHE DID THIS! media.giphy.com
Thorgy and Trixie both stood out from the crowd, with Trixie doing a beautiful song with an instrument that I cannot identify. And Thorgy blending drag and violin in a fun little performance. They were different, but unfortunately, they both fell a little flat in terms of energy - especially after Aja.
Then we have the lower end of the spectrum. Morgan tried to perform one of her own mixes, but fell flat - it wasn't that it was bad - it was just boring. Chi Chi decided she wanted to look completely busted, and decided to go out with no heels, no pads, and a wig she got from Party City. And then there was Milk, who delivered a weird and dull performance to one his own mixes that basically included him strapping cardboard dresses to himself.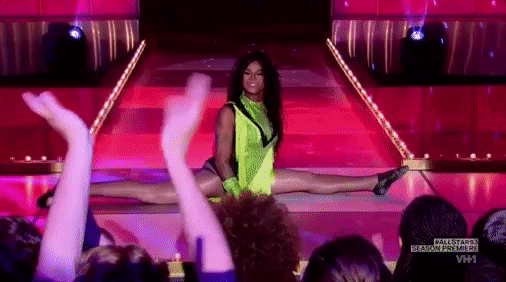 Oh girl... media.giphy.com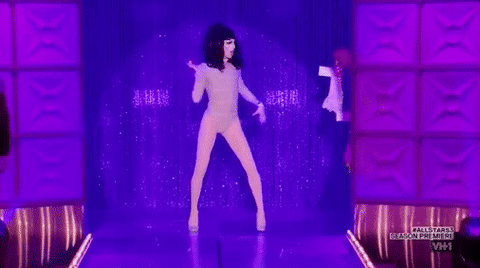 >.> media.giphy.com
I wasn't surprised to see Aja and Ben take the top, and Morgan and Chi Chi end up on the bottom. The deliberations were definitely different from the last season, with most of the cast (excluding BenDeLa) agreeing that a "group consensus" wasn't going to work.
They each come out and deliver a fun lip synch to Nicki Minaj's "Anaconda," with Aja doing a more poppy-sexy kind of move, and BenDeLa doing a perfectly shtick-y, fun routine. BenDeLa ends up taking the win and (falsely) stating that the group has come to a consensus and that means that she's going to send... Morgan home!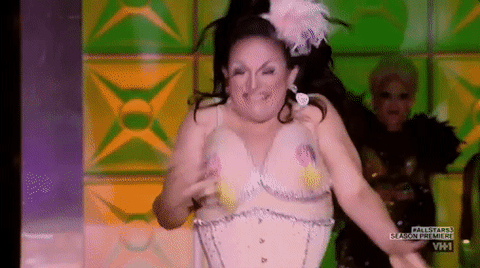 Oh BenDeLa. media.giphy.com
But, much like last season, I doubt this is the last we'll see of Morgan. After all, Rupaul has her back.
---
Shann Smith is a freelance writer, screenwriter, playwright, gamer, and film/TV lover. When he's not working on his columns for Popdust, he's doing his best to create and consume as much media as he can!

---
POP⚡ DUST | Read More…
Honoring RICK HALL, founder of FAME Studios, with a birthday tribute during Grammy's Week
BOX OFFICE BREAKDOWN | What's coming to theaters this weekend?
VIDEO GAY-MER | Creating An Experience All Your Own
TROMA unleashes Victor Goodview on the world

---