Film Reviews
'Eric LaRue' Review: After Soaring in Succession, Skarsgard Transforms in 'Eric LaRue'
Judy Greer and Alexander Skarsgård star as parents trying to make sense of tragedy in Michael Shannon's directorial debut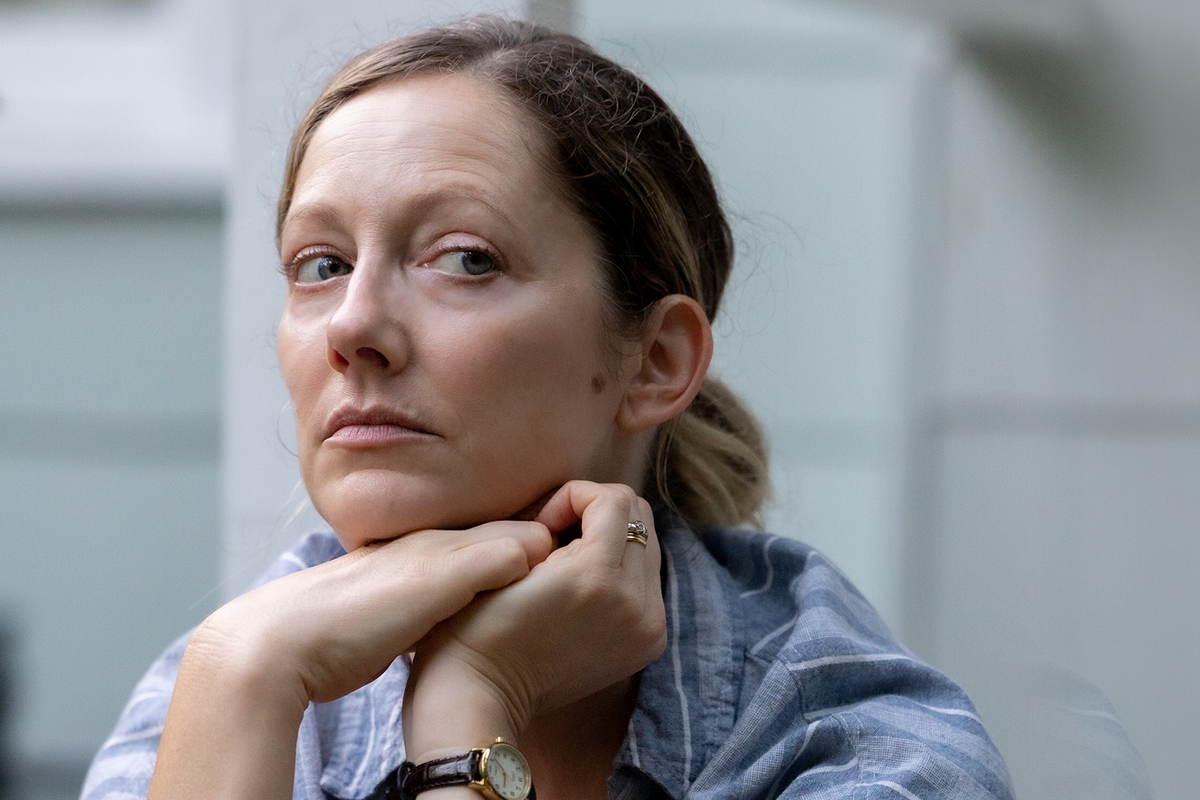 via Falco Ink
There's a lot to be said about Eric LaRue. It's Michael Shannon's directorial debut. It's a meditative adaptation of Brett Neveu's 2002 play. And it stars Judy Greer, Alison Pill, Tracy Letts, Paul Sparks, and a just about unrecognizable Alexander Skarsgård. The latter is what the film will undoubtedly be remembered for, but let's start from the top.
Eric LaRue premiered on June 10th at Tribeca Film Festival. This highly anticipated drama is a fresh perspective on a timely and important topic: gun violence. The film follows two parents (Greer and Skarsgård) whose son commits a school shooting. After murdering three of his high school peers, the title character Eric LaRue is sent to prison. In the aftermath, his parents struggle to repair and adjust to life without their son and as pariahs in their cookie-cutter suburban town.
The film poses a number of questions. Whose to "blame" when such a shocking tragedy occurs? Who takes responsibility? How does a community heal? And what is our responsibility to ourselves?
---
However, while the film provokes and prods, it doesn't build avenues toward solutions. With nebulous questions that have no right answers, a film like this leans on its characters to raise and elaborate on the issues. Although the characters are compelling and entertaining — and well rendered by the actors — they aren't complex enough to lead us toward an honest conversation about the film's themes.
Within the film itself, the characters attempt to have conversations among themselves. Most of these attempts are just that, with no results. And while this is intentional, when problems are repeatedly introduced nothing moves forward — the action is inert. For the viewer, Eric LaRue feel repetitive and monotonous. A shame, considering the astonishing direction, the striking cinematography, and powerhouse performances.
As Michael Shannon's directorial debut, this is a triumph. The actors interact with each other seamlessly. And the establishing shots of suburbia clue the viewer into this community's rules and the enormity of the coming transgression. It's also a career-defining role for Judy Greer — who plays the devastated mother, Janice LaRue. Her quest for answers and healing is portrayed with a brilliant blend of melancholy, torment, and messiness.
However, the most memorable performance is by Skarsgård. It's always a treat to see one of your favorite actors in a role where you barely recognize them. Skarsgård achieves this with phenomenal results.
Fresh off a scene-stealing appearance in Succession as the eccentric — and often-shoeless — tech founder, Alexander Matsson, Skarsgård chalks up yet one more title to his already stacked filmography. This film, I think, will live on largely as an example of the actor's extensive range.
Rather than the charming, authoritative figures he often plays, Skarsgård transforms into Ron LaRue — an awkward and aimless father. Somehow he wrangles his giant Viking frame into khakis and flannel to bumble around the house. Skarsgård balances power and heartbreak — searching for himself as much as he's searching for answers. We view him as Janice LaRue sees him: as lacking. And Skarsgard's complete immersion in his role truly convinces us.
Overall, Eric LaRue is a half-realized execution of a dynamic concept. Although the pacing is slow and stilted, those moments between characters are so riveting, you can't look away.