FILM & TV
Michael B. Jordan is the Only Steamy Reason to Watch HBO's New TV Adaptation.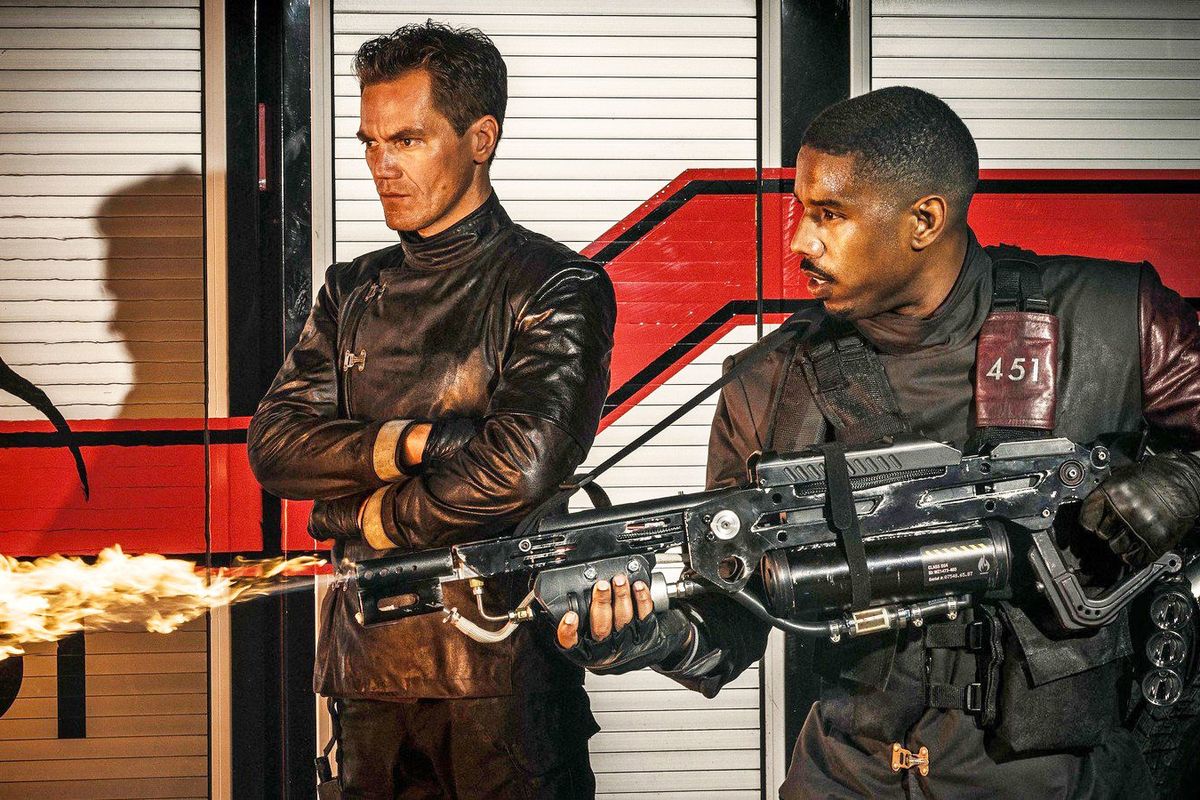 HBO
HBO's adaptation wants to be canonical like its source material; instead, it feels like a hodgepodge of social indictments.

HBO has finally given you the privilege to watch Michael B. Jordan's pretty boy brand of bravado run around and destroy your mom's eBook library while delivering lines like, "They call me a walking incinerator for happiness." Fahrenheit 451, adapted from Ray Bradbury's 1953 novel of the same name—yes, the one you read in high school—is about book burning, but it's also about the ethics of censorship.
The TV film condenses Bradbury's ideological criticism into a measly 1-hour-long bloodbath where books and people are burned because race is—spoiler alert—a tricky problem in America.
I suppose I understand the symbolism of burning a pile of HP computers, but the logic seems a bit skewed. Data can't be burned, right? Surely, Montag wants to bump an audible book before becoming the world's ex-douchiest human blowtorch. The film is responding to our current age of social media where we willingly offer our private information online, performing a digital copy of ourselves—not often do we think of "sharing" as an actual transaction. It's also a critique of how information is processed in a social manner, specifically on platforms where bigotry is frontline, clickable, and ratable with the possibility for anyone to say anything.
Staying true to the novel, Montag's job, along with all "firemen," is to prevent the spread of graffiti AKA art, books, film, or any media outside of three approved novels—one of which is Herman Melville's painfully dry Moby Dick (another novel you totally used SparkNotes on in high school). All forbidden media must be manually kept from being uploaded on the "9," which I'm assuming is comparable to our modern day Cloud. The kick here, and one of the ways director/writer Ramin Bahrani incorporates Bradbury's original text, is how the movie critiques the general public's consumption of information: fake news, clickbait, the excess of misinformation and the excess of opinions make for a very unstable internet. Managing this information, according to Beatty (Michael Shannon), is a sociopolitical equalizer: If everyone is ignorant, there is no reason to be mad, divided, conflicted, or disorderly. Opinions, according to Fahrenheit 451, are an evil currency.

Watching Montag open a book as if he's seeing a dinosaur for the first time, then, is probably the most endearing moment in the film; the fire imagery, on the other hand, gets old fast. You'd think by the title alone, most people unfamiliar with the novel would at least assume fire's involved or referenced—the constant imagery of matches and blue flames growing from the base quickly become reductive.
Sofia Boutella (Clarisse) is perfect as a mousy revolutionary with a heart of gold, but her love story with Montag feels rushed and underdeveloped. And for those familiar with YouTube's mainstream lineup, Lilly Singh (known as Superwoman), stars in her first major acting role as Raven, a news reporter.
There's a kinetic friction in the film similar to Blade Runner and Blade Runner 2049; a feeling of listlessness, it appears, is a common symptom of dystopian worlds. Even in 2018, Fahrenheit 451 is a piece of art that challenges how we limit our freedoms through the technologies we inherit. Critiquing everything from society's disenchantment with literature and the written word, identity politics, freedom of speech, and police violence, HBO's adaptation wants to be canonical like its source material; instead, it feels like a hodgepodge of social indictments. The takeaway: get off your phone and read a book, lest you meet a sexy revolutionary currently memorizing Zadie Smith's White Teeth.