CULTURE
Sony just greenlighted a new musical-movie based on her songs, but fans are more concerned that their beloved icon is being trapped by her manager.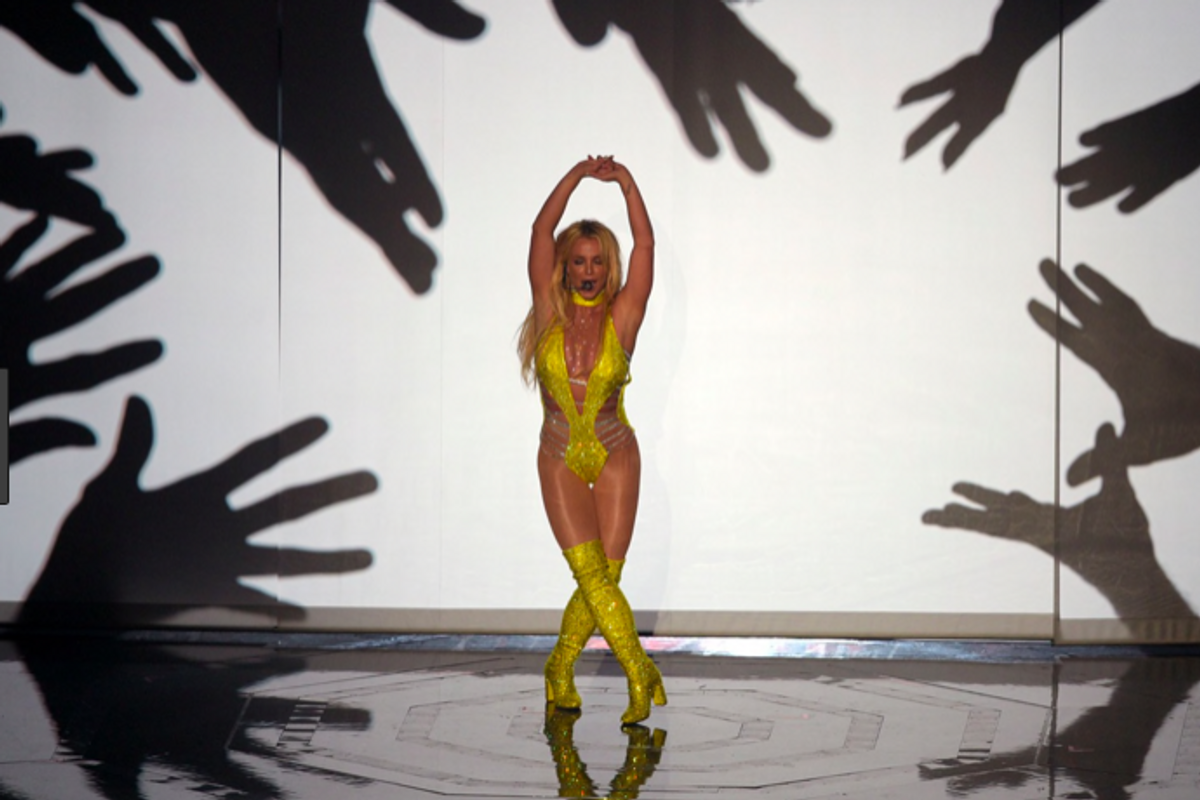 Is Britney Spears being held against her will at a mental hospital?
Even though the star herself has requested privacy, many fans still insist that Britney has been imprisoned and needs our help. Playing out like an eerie distortion of the Women's March, inspired by an ethos as absurd and unfocused as our president's tweets, their movement may be a telling encapsulation of our current socio-political moment.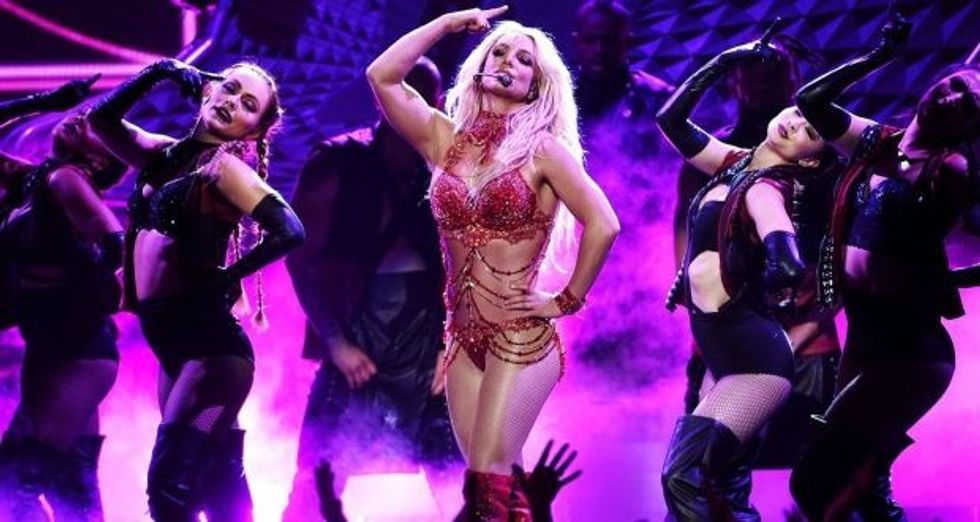 Image via the Irish Times
The concept that Britney might be trapped with no hope of release was first proposed in a podcast called Britney's Gram, released on April 3. The hour-long episode featured a voicemail from an anonymous member of Britney's team, claiming that the icon has been held against her will since early January.

Britney's fans—fiercely loyal through it all—immediately began to protest, holding rallies in Los Angeles and spreading the hashtag #FreeBritney across the Internet. At the protest outside of West Hollywood City Hall on Monday, they carried signs reading "Truth will set her free" and chanted "Hey, ho, Larry Rudolph has got to go!" (Rudolph is Britney's manager, who many fans blame for her purported imprisonment).
Image via Music Crowns
All this comes after Britney announced an indefinite professional hiatus and the end of her Las Vegas residency, which she left in order to take care of her ill father. Then in March, she checked herself into a 30-day health and wellness program. Somewhere along the way, fans began to grow suspicious, and thus the modern Britney Liberation movement was born.
Britney Spears' fans have gathered outside West Hollywood City Hall demanding #FreeBritney. The #FreeBritney hashta… https://t.co/haauWSwur6

— Brendon Geoffrion (@Brendon Geoffrion) 1555975906.0
Unfortunately, some stans took things way too far, forcing Spears herself to address the concerns on Instagram. "I wanted to say hi," she wrote, "because things that are being said have just gotten out of control. There's rumors, death threats to my family and my team, and just so many things crazy things being said. I am trying to take a moment for myself, but everything that's happening is just making it harder for me." She continued, "You may not know this about me, but I am strong, and stand up for what I want! Your love and dedication is amazing, but what I need right now is a little bit of privacy to deal with all the hard things that life is throwing my way."

In this era of constant protests, fabricated news, and endless lies from people in positions of power, it's hard to know what truth means or what the merits of anger might be. Perhaps the #FreeBritney movement is a mutated offshoot of the paranoid, social-media-driven panic and (usually merited) distrust of authority that is defining our modern era. Perhaps it's a subconscious transmutation of women's fears of their own erasure, a phenomenon that is not new but has been brought to the fore by events like the dismissal of Christine Blasey Ford's testimony in favor of Brett Kavanaugh's calendars ( of course, this erasure is far more pronounced for women of color). Perhaps it's the child of nostalgia for Britney's famous, ever-more-relatable 2008 breakdown.
Regardless, Britney has requested privacy, so here all speculation must be laid to rest. Now, the best we can do for her is stream "Toxic" as many times as possible and get excited for the musical featuring her songs, Once Upon a One More Time, which premieres in Chicago this fall and is coming to Broadway in 2020. Plus, Sony just secured film rights to the musical, so we can all look forward to watching Britney's songs belted out by feminist Disney princesses on the big screen sometime in the near future.
---
Eden Arielle Gordon is a writer and musician from New York City. Follow her on Twitter @edenarielmusic.

---
POP⚡DUST | Read More...
Watch AOC Battle Her Way to Victory in Netflix's New "Knock Down The House" Trailer
RELEASE RADAR: April Showers Bring New Tracks, EPs, and Albums