MUSIC
New singles, EPs, and albums to welcome in the energy of Taurus season.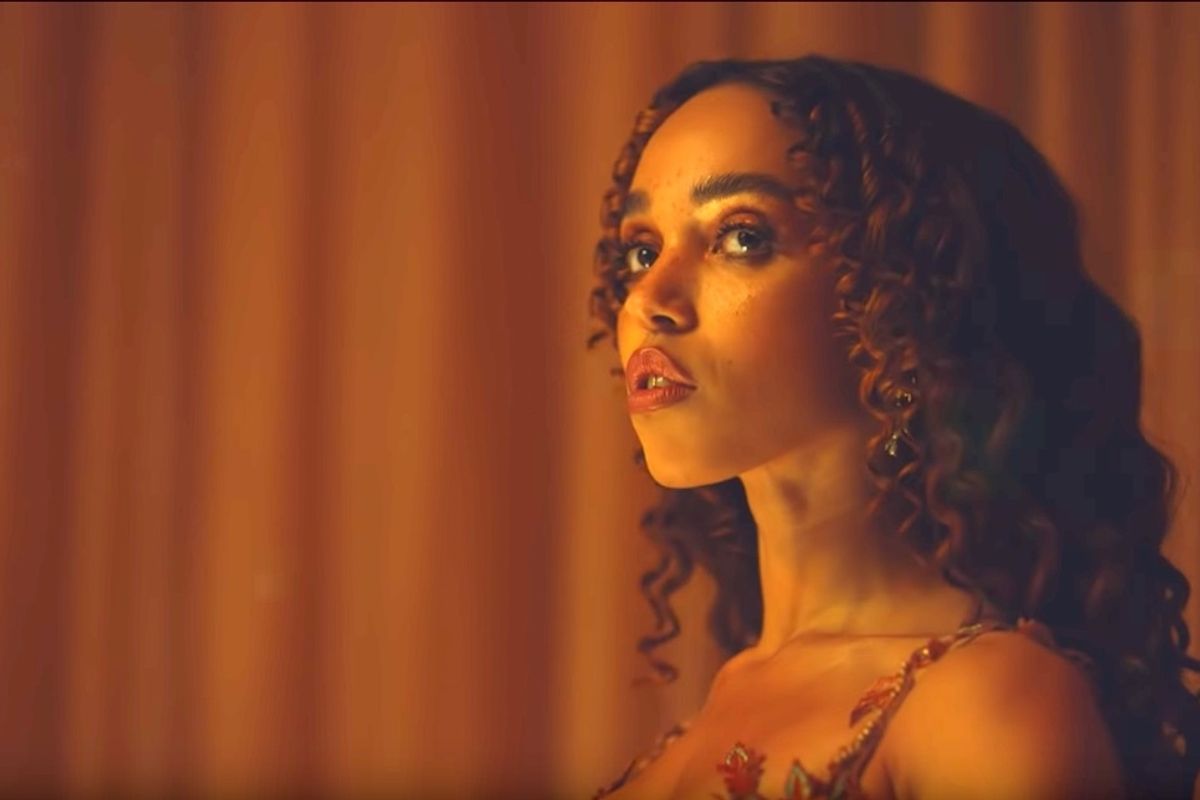 Now that the dust from the chaotic energy of Aries season has settled, it's time to tap into a steadier rhythm and ease our way into Taurus season—a period marked by restoring structure, welcoming new changes, and embracing earthy bliss.
It's a gentle prod towards the spring months, a time to slow things down a bit and tap into your feelings, and what better way to breathe new life into your routine than listening to new music? This week has brought highly-anticipated returns from the likes of FKA twigs and the Black Keys, in addition to exciting drops from Kevin Abstract and Rico Nasty + Kenny Beats. Plus, a whole slew of new gems from artists like Lucy Dacus, Mannequin Pussy, and Jackie Mendoza.
Singles
1. FKA twigs — "Cellophane"
"Didn't I do it for you? Why don't I do it for you? Why won't you do it for me? When all I do is for you?" asks FKA Twigs in her latest single "Cellophane." On it, twigs' voice moves unvarnished over a sparse piano pattern, her words stretched out and raw, sporadically punctuated by little ripples of synth. The accompanying video features FKA Twigs entering the metaphysical world as she contorts and lifts her body through an elaborate pole dancing routine, climbing towards the sky. Once she ascends, twigs meets a robotic, mythic creature and before she can bask in being high up, she plummets through a murky green limbo and lands in the depths of a terracotta cavern.


2. The Black Keys — "Eagle Birds"
The Black Keys are gearing up to release their new album, Let's Rock, later in June, and this week they've shared a new song called "Eagle Birds." The song isn't as rough around the edges as the tracks on Brothers, but it's still got the same blues-infused riff-heavy guitar work that made their sound so infectious in the first place. It's the kind of straightforward rock song that will make you romanticize the idea of keeping one hand tucked in your jeans pocket and the other wrapped around a whiskey as you stomp your foot along to the chorus in a dive bar. Let's Rock is out 6/28 via Easy Eye Sound/Nonesuch Records.
3. Lucy Dacus — "My Mother & I"
In her latest song, "My Mother & I" Lucy Dacus grapples with body image, and the complexities inherent to a mother/daughter relationship. In quintessential Taurus fashion, Dacus finds herself as an observer, remaining patient and understanding despite the painful subject matter she's excavating. Singing in a soft lilt over acoustic fingerpicking, Dacus searches for meaning in her shared astrological sign with her mother: "The stars have a lot to say/About babies born in the month of May." She draws from her experience growing up adopted, and tries to untangle which parts of herself are inherited from her biological mother, and which parts have been learned. Dacus ends on a note of resolve "All she has given/ All I have taken / All is forgiven / All is forsaken."
4. Connan Mockasin and Andrew VanWyngarden — "Bad Boys"
Connan Mockasin and MGMT's Andrew VanWyngarden have teamed up to create a surrealist trip of a song called "Bad Boys." The new composition was written for the collaborative film Self Discovery for Social Survival, from record label Mexican Summer and surf brand Pilgrim Surf + Supply. In nearly seven minutes, they wade through ebbs and flows of experimental instrumentation while repeating the central conceit, "Bad Boys," over and over again until it morphs into something alien-sounding. Self Discovery For Social Survival is out 6/14.
5. Mannequin Pussy — "Drunk II"
Mannequin Pussy is back, thank god. The Philly-based punk band reign supreme when it comes to crafting brutal, gut-wrenching songs that tackle the emotional tangles of a relationship. The band's getting ready to release their third LP and Epitaph debut, Patience, and this week they've shared a new single called "Drunk II." This is their first release since 2016's LP, Romantic. On "Drunk II," the band departs from their volatile tendencies in favor of a sound that's a little more toned down, while still keeping their raucous energy intact. There's no vocalist quite like Marisa Dabice when it comes to cutting through the noise and singing lyrics that shoot an arrow right to your core, like when she declares "I still love you, you stupid f**k" and later confesses "And everyone says to me 'Missy, you're so strong' / But what if I don't want to be?" before sinking into the bittersweet realization "I drink to drown / I am alone." "Drunk II" is agonizing and messy, exciting and urgent––like falling in and out of love. You can pre-order Patience here.
6. Gringo Star — "Get Closer"
Atlanta garage/psych band, Gringo Star, are celebrating ten years since their debut album All Y'all came out by releasing a new live album entitled Controlled Burn (Live in Atlanta) via Baby Robot Records. Today, they're back with a new song. The live version of "Get Closer" finds Gringo Star at their maximum, reverb-drenched potential, hitting the sweet spot between sounding heavy and easygoing, with a hooky chorus to match. You can pre-order the album here.
EPs
7. Jackie Mendoza — LuzHz
Inspired by Latin pop and folk textures, Jackie Mendoza crafts enchanting compositions that reimagine what electronica/synthpop can sound like. The San Diego native started off melding ukelele pop songs with electronica on entrancing songs like "La Luz," before venturing deeper into the experimental realm. Mendoza often slips between Spanish and English as her songs delve into dream-pop territory. After putting out two singles, "Seahorse" and "Mucho Mas," earlier this year, she's now sharing her debut EP, LuvHz, via Luminelle Records.
8. Thin Lips — Carrot Milk
Philadelphia rock trio, Thin Lips, are back with a new EP titled "Carrot Milk," out via Lame-O Records, that's currently available on Bandcamp for a pay-what-you-wish price. The band put out the three-track release after they ran into issues when their van broke down in the midst of touring with Camp Cope. The EP is meant to help raise funds for the repairs. Written and recorded by Chrissy Tashjian, "Carrot Milk" is a collection of songs that reflect on feelings of grief and alienation. The EP is made up of three riff-y tracks, "Butterfield Road," "Dear Beautiful," and "Laugh At Me," that upholds their sensitive, punk sound.
LPs
9. Kevin Abstract — ARIZONA baby
After a piece-meal rollout, Kevin Abstract's new solo album, ARIZONA BABY, is finally here and it's seriously exceeding all expectations. While some of the songs were initially released in 3-track EPs, it's a completely different listening experience to hear them all together from start to finish. Co-produced by pop aficionado, Jack Antonoff, and Brockhampton member, Romil Hemnani, ARIZONA BABY blends jazz, experimental rap, and R&B and tops it off with a pop sheen. Abstract plays with new soundscapes, from the marching band horns on "Joyride" to the spacey breakdown on "Baby Boy" to the samples and field recordings used on "Use Me," it's one of the most diverse pallets from the pop rapper who's prided himself on defying genre.
10. Rico Nasty + Kenny Beats — Anger Management
Rico Nasty is pissed. She brings the heat on her collab with producer Kenny Beats in a new album called "Anger Management." Nasty doesn't hold anything back; as soon as the album starts, she lets her rapid-fire verses loose in bursts of unbridled, genre-bending fury. It's a cathartic listen that feels like you're vicariously exploding with anger that's been building in the pit of your stomach. Helped along by Beats' production, Nasty speeds through her raps and fills every corner of the mix with her clever but vitriolic turns of phrase. Whether you're working out or pregaming, this album is sure to be your next hype up playlist.
---
Sara is a Brooklyn-based music and culture writer. Her work has previously appeared in PAPER magazine and Stereogum.
---
POP⚡DUST | Read More...
Release Radar: 10 Hidden Gems For Spring
#FreeBritney: A Movement for the Era of Fake News and Female Erasure
Lady Gaga's Producer Describes his New Song and Deep Kinship with Armin Van Buuren