MUSIC
New music from DEHD, Porridge Radio, Barrie, Big Thief, Emily Reo, Bad Bad Hats, Caural, Fennesz, Kiwi jr., and Laura Stevenson!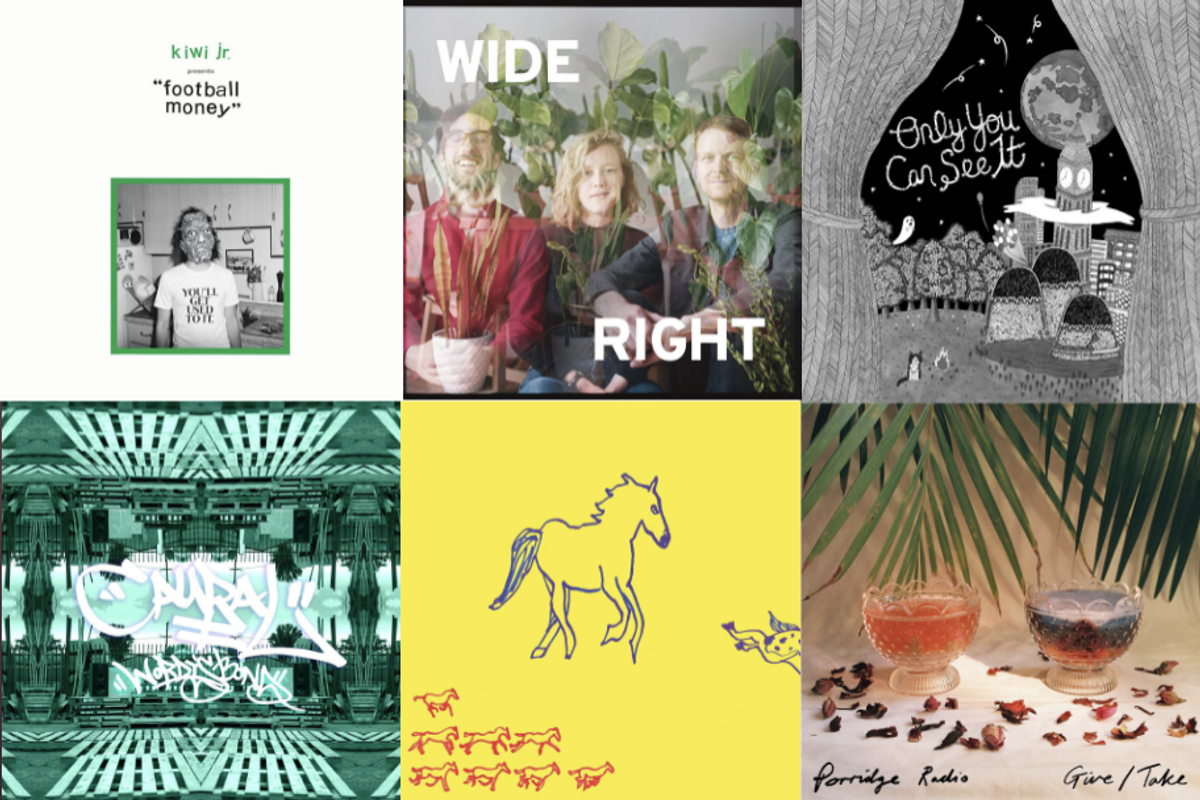 Spring is here, our windows are open, and there's a ton of great new music out! With the last of the cold hopefully filtering out for good, it's time to welcome the warmer weather with 10 new releases that you may not have heard yet but definitely should check out.
Singles
DEHD - "On My Side"
Chicago indie rock trio, DEHD, are back with a new single from their forthcoming debut album Water. "On My Side" chugs forward with rugged guitar riffs punctuated by warbling vocals. It sounds a lot like the way it feels to be driving steadily on a long road trip, which suits their golden-hour-lit music video for the song that they shot on their way back from SXSW on a gravelly patch of highway.
Water is out 5/10 via Fire Talk.

Porridge Radio - "Give/Take"
Porridge Radio initially started off as Dana Margolin's bedroom project but later bloomed into a full 4-piece band. The Brighton-based group's driving, new single "Give/Take" looks at the ever-shifting emotional landscape of desire and the song highlights the band's fully-fleshed out sound on this bass-heavy track. Margolin's rich vocal delivery floats over new wave synths as a heavy bass-line helps push the track forward; "Give/Take" sounds like it could fit right in on the 4AD catalog. This is their first release since 2016's debut LP, Rice, Pasta and Other Fillers.
"Give/Take" is out now via Memorials of Distinction.
Barrie - "Saturated"
Dream-pop five-piece Barrie continues to throw a fresh spin on retro synth-pop sounds with their new song "Saturated" off their highly anticipated debut Happy To Be Here. Earlier this year, they put out singles "Darjeeling" and "Clovers." This time around, Barrie looks inward and taps into their feelings on "Saturated," a stripped-down track that shimmers in a cool-toned glow.
Happy To Be Here is out 5/3 via Winspear.
Big Thief - "Cattails"
Listening to Big Thief's folksy new track is like feeling the first warm breeze of the season. In February, the indie rock four-piece put out "UFOF," the title track from their upcoming album. On their new song, "Cattails," Adrianne Lenker's soft, spiderwebby vocals sway over acoustic fingerpicking––the result is expectedly gorgeous and mellow.
U.F.O.F. is out 5/3 via 4AD.
Emily Reo - "Balloon"
Emily Reo's new single "Balloon" off of her forthcoming album Only You Can See It, is a bubbly exploration of technicolored electronica and bright, poppy hooks. Reo's voice, layered and modulated, dazzles over a series of intricate, shifting rhythms. Aptly titled, the song soars higher and higher as it goes along––like a drifting balloon. Only You Can See It is streaming in full over at NPR.
Only You Can See It is out 4/12 via Carpark.
EPs

Bad Bad Hats - Wide Right
Bad Bad Hats' indie-rock stays consistently infectious on their newest EP, Wide Right. It's made up of three songs: "Liz Phair," "Dunno Why," and a title track. Last year, they put out a folksy indie-pop album called Lightning Round. With sporadic hand claps, shredding guitar solos, and relatable lyrics, their new EP is just as hard-hitting as ever.
Wide Right is out now on Bandcamp.
Caural - Word is Bond (Original Motion Picture Soundtrack)
This soundtrack is the first new work from vet beat-maker Caural (real name Zachary Mastoon) in nearly ten years. Over six tracks, Caural creates a sonic collage out of bits and pieces of experimental beats, hip-hop samples, and fragments of jazz. The soundtrack was written for "Word is Bond," the debut film from Alex Mastoon (Caural's wife) that explores the LGBTQ experience in hip-hop.
Word is Bond (Original Motion Picture Soundtrack) is out now on Bandcamp.
LPs
Fennesz - Agora
Austrian electronic musician, Christian Fennesz, recorded his latest offering Agora in his apartment with just headphones and a computer. Fennesz' deeply ambient, experimental album is made up 4 tracks that are each between 10-12 minutes long. Listening to Agora is an exercise of meditation among swaths of distortion. It's truly an ineffable listening experience.
Agora is out now via Touch on CD and DL. You can listen to a medley of all four songs called "Umbrella" on Fennesz' bandcamp.
Kiwi jr. - Football Money
After signing to Mint Records, Kiwi jr. have put out their seriously great debut full-length, Football Money. Over ten energetic tracks, Frontman Jeremy Gaudet delivers his vocals in a Stephen Malkmus deadpan as he tackles the anxiety and ennui of living in a city (Toronto). Filled with catchy hooks, jangly guitars, and twangy riffs, Football Money tempers the lackadaisical sound of '90 slacker rock with the terse, chaotic energy of a band like Parquet Courts. Football Money showcases Kiwi jr.'s sharp songwriting skills and their ability to hit the sweet spot between earnest and sardonic lyrics. Their debut crystallizes the band's years of playing around the Toronto music scene into ten tight tracks, leaving just enough space for the band to goof off and not take themselves too seriously.
Football Money is out now via Mint Records.
Laura Stevenson - The Big Freeze
The Big Freeze is Laura Stevenson's fifth solo record, and it shows off the singer's fully realized sound. Quiet, minimal, and intricately arranged, the new record's measured pace allows Stevenson's control over her celestial voice and guitar to shine extra bright. As gorgeous as the songs appear to sound on the surface, the record as a whole explores the difficulties surrounding loneliness, depression, and self-harm. As the album resolves, it brings a real sense of catharsis. It's a healing album that delves into painful topics but instead of alienating the listener, The Big Freeze welcomes you into Stevenson's vulnerable world with open arms and soft tones.
The Big Freeze is out now via Don Giovanni Records.Bio
<hr color="red">
Sara is a music and culture writer who lives in Brooklyn. Her work has previously appeared in PAPER magazine and Stereogum.
<hr color="red">
POP⚡DUST | Read More...
Blood Orange Releases Gorgeous, Atmospheric New Video for "Hope
Gabrielle Aplin Returns with Another Hit Poised to Top the Charts