MUSIC
New singles from Kim Petras, Lauv, Shawn Mendes, The National, Faye Webster. Plus, new releases from Still Woozy, ALASKALASKA, and Big Thief!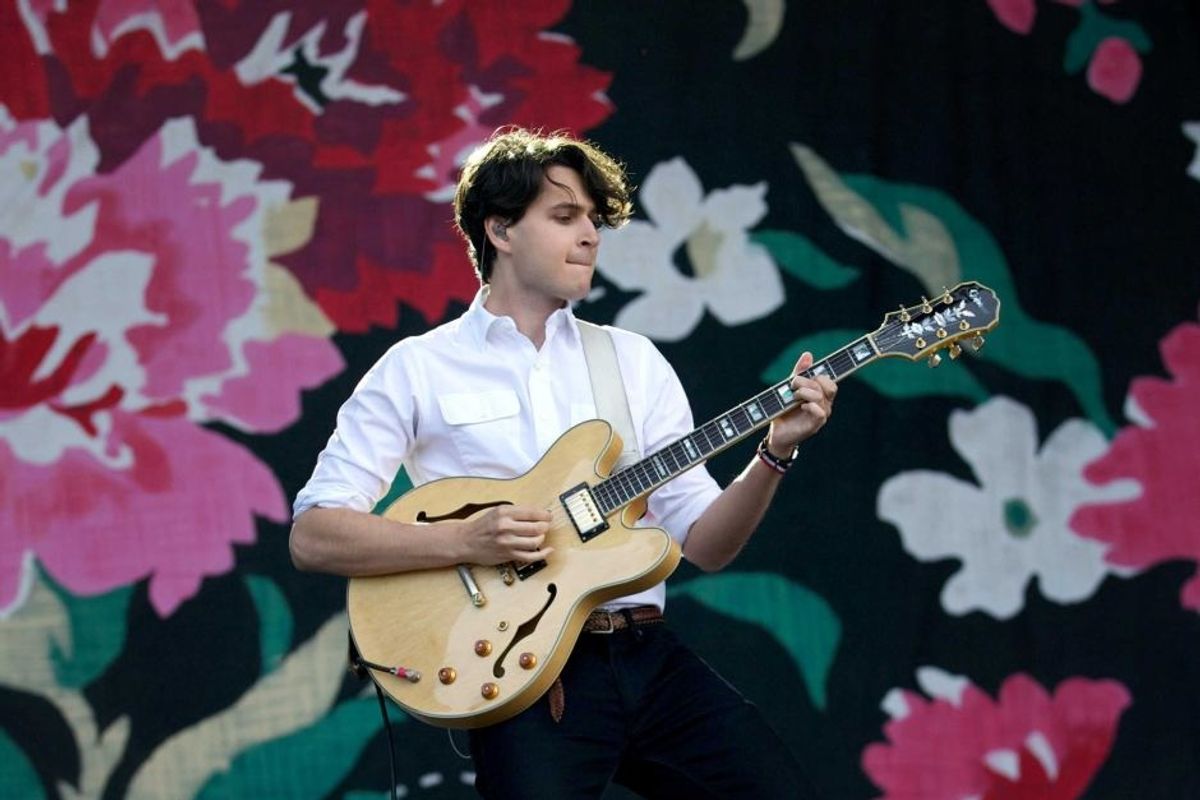 abc.net.au / Ezra Koenig at Glastonbury
May is a month known for celebrating workers' rights, cherry blossoms, and new music.
This week brought new singles from the likes of Kim Petras, Shawn Mendes, Lauv, The National, and Faye Webster; debut releases from Still Woozy and ALASKALASKA, and the long-awaited albums of YG, Big Thief, and Vampire Weekend.
Singles
1. Kim Petras — "Got My Number"
Pop savior Kim Petras has blessed us with a new, boppy single called "Got My Number." It's a definite upward mood swing from last week's confessional breakup cut "Broken." On "Got My Number," Petras sings of moving on (and the debauchery that might accompany that) over a glossy beat: "Don't wanna be a good girl tonight / I just wanna be a bad girl alright."
2. Lauv — "Drugs & The Internet"
Lauv is back with a bittersweet new single called "Drugs & the Internet" accompanied by a surrealist video. The "I Like Me Better" singer explores technology-induced-depression in a track that starts off as a piano ballad but soon evolves into something much bouncier. "And I don't wanna hit delete/ On all the parts of me that they might hate/ So now I'm laying in my bed/ And I can't get out my head."
3. Shawn Mendes — "If I Can't Have You"
Shawn Mendes announced on Instagram that he would be dropping a surprise single this week called "If I Can't Have You." The teaser image features a rainbow-sherbert swirl of water-color tones coming together to form a silhouette of the singer's head.
Shawn Mendes - If I Can't Have You www.youtube.com
4. The National — "Hairpin Turns"
Gearing up to release their forthcoming album, I Am Easy To Find, The National shared a lovely new single this week called "Hairpin Turns." The full album is due out May 17th on 4AD records.


5. Faye Webster — "Right Side Of My Neck"
Faye Webster put out a daydream of a new song called "Right Side of My Neck," that sounds like how having butterflies on a first date feels. The Atlanta-based songwriter's forthcoming album, Atlanta Millionaires Club, is due out May 24th via Secretly Canadian.
EPs
6. Still Woozy — Lately EP
Still Woozy, the project of Sven Gamsky, is putting out his anticipated EP, Lately. Based out of Oakland, Still Woozy puts an R&B spin on the laidback, wavy synths and geometric textures that have come to be associated with the nebulous 'bedroom pop' genre. This self-released EP is the long-awaited showcase of Still Woozy's immense talent, and it does not disappoint.
LPs
7. ALASKALASKA — The Dots
The South London-based group have crystallized their idiosyncratic, freeform sound into an excellent debut album called The Dots, which melds together experimental pop and jazz.
8. Big Thief — U.F.O.F
Big Thief continues to prove themselves as one of the most skilled folk bands in the game on their new album, U.F.O.F., out today on 4AD. On the new record, the indie-folk four-piece gazes through the lens of the supernatural, while grounding their spectral songs in lived experiences, creating a sound that's as haunted and airy as it is immaculately constructed. It feels special to be alive at the same time that Big Thief is putting out music.


9. YG — 4REAL 4REAL
The Compton rap heavyweight delayed the release of his album after the passing of his close friend Nipsey Hussle. YG's last album entitled Stay Dangerous came out in 2018. This year at Coachella, YG unveiled a new single called "Stop Snitchin'" and today his full-length is here in all of its glory. On 4REAL 4REAL, YG doesn't hold back as he flexes his gift for dexterous, melodic rap.
10. Vampire Weekend — Father of the Bride
Vampire Weekend's Father of the Bride is finally here! After months of anticipation and cryptic clues, the new 18-track record is being hailed by some as Vampire Weekend's magnum opus. It's a definite shift in direction from 2013's Modern Vampires of The City. Fans are not just clocking it as Dad Rock because of Ezra's newfound fatherhood, though that definitely might have something to do with the band's change of tone. As the singles have indicated, their new sound sinks into jammier, even deadhead-esque territory. Underneath it all, FOTB is still quintessential VW — packed with dense, heady references and irresistible, evergreen choruses. Although the album art might not be the best they've ever had, it's safe to say this new LP exceeds all expectations and solidifies Vampire Weekend as one of the most important and influential indie rock bands of our generation.
---
Sara is a music and culture writer. Her work has previously appeared in PAPER magazine and Stereogum.
---
POP⚡DUST | Read More...

Cynister Declares Independence in Their Latest Single "No Man"
Release Radar: New Music to Ring In Taurus Season