FILM
The first live-action Pokémon movie finally hits theaters with Detective Pikachu.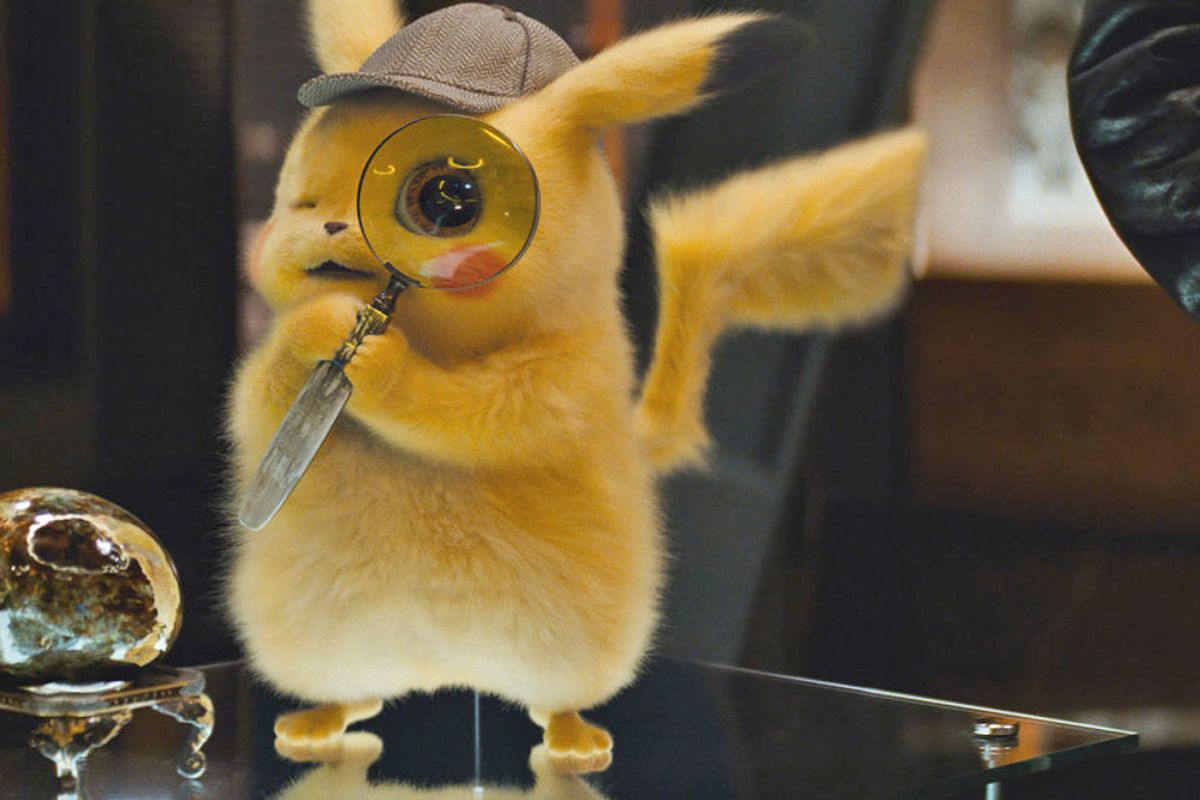 Welcome back to "Now in Theaters: 5 New Movies for the Weekend."
This weekend we want to be the very best, like no one ever was. Because Pokémon.
WIDE RELEASE:
Pokémon Detective Pikachu
POKÉMON Detective Pikachu - Official Trailer 2 www.youtube.com
Pokémon: The First Movie came out in 1999, right at the height of Pokémon fever. For 90s kids, it was the event of the decade. Everyone and their mother (literally, we were too young to go to the movies unattended) went on opening day, not just to see Mewtwo duke it out with Mew, but to get the promo card included with every ticket. Two decades later and there still hasn't been a single good live-action video game movie. Enter Pokémon Detective Pikachu to break the trend. Featuring a fuzzy, realistic Pikachu voiced by Ryan Reynolds and a brand new promo card with every ticket, I expect to see every fellow trainer at the movies this weekend.

Oh, and here's the full movie in its entirety, leaked by Ryan Reynolds himself:
POKÉMON Detective Pikachu: Full Picture www.youtube.com
The Hustle
THE HUSTLE | Official Trailer | MGM www.youtube.com
In The Hustle, Anne Hathaway and Rebel Wilson star as a pair of scam artists. Anne Hathaway, coming off her similarly scammy role in Ocean's 8, plays a master trickster, expertly ripping wealthy men off for everything they're worth. Rebel Wilson, on the other hand, is a low-level criminal who steps into the role of protege. I love a good female-oriented comedy, and the two leads here are both fully capable of carrying a movie on their own. The Hustle probably won't be groundbreaking, but it looks fun.

Poms
Poms | Official Trailer [HD] | In Theaters Friday www.youtube.com
Every year, without fail, we get like three old people movies. Old people movies are always about Dame Judy Dench or Diane Keaton doing old people stuff but with a spicy twist––things like going to an old people resort and smooching (The Best Exotic Marigold Hotel) or having a book club where they read erotica (Book Club). This presumably makes viewers, all of whom are also old people, feel like there's still more to their lives than watching FOX News and soiling their pants. Anyways, if you're an old person who wants to vicariously pretend you could still be a cheerleader, Poms is for you.

Tolkien
TOLKIEN | Official Trailer | FOX Searchlight www.youtube.com
J.R.R. Tolkien is easily one of the most defining figures of Western literature. His imaginative tales about a men's walking club have captivated readers for generations and established much of the groundwork for the entire fantasy genre. The biopic, however, appears unimpressive. On top of sporting a pretty boring trailer, Tolkien's estate has publicly stated they had no connection with and do not endorse the movie. Early reviews suggest Nicholas Hoult does a fine job as the famous author, but otherwise, the narrative seems to fall short.

LIMITED RELEASE:
Wine Country
Wine Country | Official Trailer [HD] | Netflix www.youtube.com
Directed by Amy Poehler and starring a slew of SNL alums including Maya Rudolph and Tina Fey, Wine Country is a comedy about female friendship and alcohol. It looks like the kind of movie that might really speak to middle-aged people wrestling with doubts about their lives and relationships, but I'm not the target audience for that so what do I know? Luckily, this one will be debuting on Netflix, so if you don't feel like going out this weekend, you can watch it at home.

---
Dan Kahan is a writer & screenwriter from Brooklyn, usually rocking a man bun. Find more at dankahanwriter.com

---
POP⚡DUST | Read More...

The Fetishization of Space Jam: How Lola Bunny Led to Furries
The New John Wick: Chapter 3 – Parabellum Trailer is Literally the Second Coming