Staff Picks
Live at Lorem: Remi Wolf on Frank Ocean, 70's Funk, Going on Tour, and Gen Z's Favorite Spotify Playlist
We spoke to Remi Wolf at Spotify's Lorem & Friends event in Los Angeles. TL;DR: Remi really is the coolest in the game and if you're not listening to Lorem, you should be.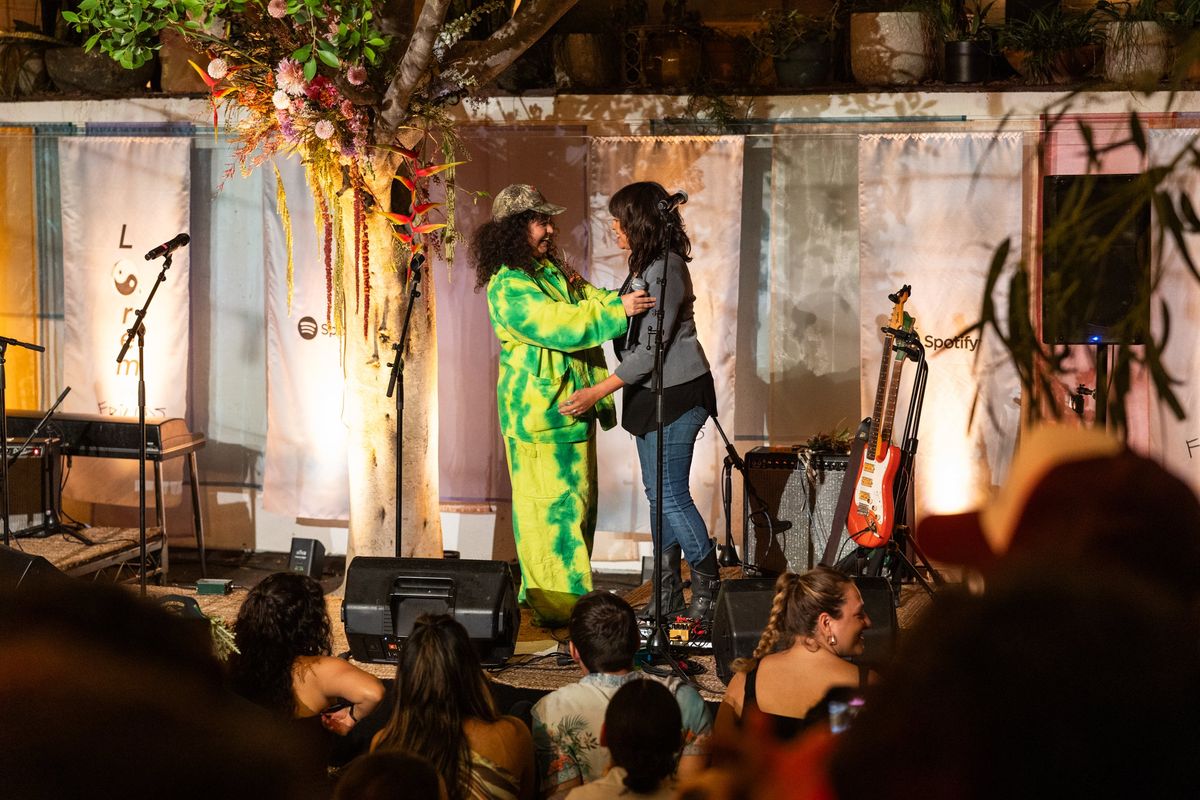 Courtesy of Spotify
If you know, you know.

There's nothing like the feeling of being in the know, in the club. Especially when there's no barrier to entry but good taste. And as Gen Z carves out their identity, both individually and as a generation, they're creating digital communities by the minute.
---
There are small monuments: a microtrend that perfectly captures one part of your aesthetic, a viral video that captivates the world like a flash in the pan, or a show/movie that dominates pop culture for its brief moment in the sun.
Some cultural artifacts persist. From celebrity icons to slang terms, what is a generation but the ephemera they cling to? And for Gen Z, the things that define them are reflective of their resistance to being defined at all.
Therefore, their cultural landmarks have to be as fluid, expansive, and even as chaotic as they are. That's why their social media of choice is TikTok. Why their most successful celebrities are messy oversharers (in the best way) like Olivia Rodrigo. And why Spotify's Lorem playlist is their soundtrack.
What exactly is Lorem?
Eclectic and esoteric, Spotify's Lorem playlist manages to be wildly popular (it currently has over 1.1 Million likes) while still feeling deeply personal.
Spotify is Gen Z's music streaming service of choice. Spotify's 2022 Culture Next Report showed that 18-24-year-olds played more than 578bn minutes of music on Spotify in 2021 — 16 billion more minutes than Millennials. Most of them didn't grow up paying for music (or illegally downloading it from Limewire) and so the entire history of their music taste is cataloged on Spotify.
One thing that draws them in and keeps them hooked? The ability to discover new music through the carefully curated, constantly updated playlists. Popular playlists include: Rap Caviar for Hip Hop fans, B.A.E for R&B listeners, and even the recent Tailgate Party playlist inspired by Taylor Swift's sudden love of the Kansas City Chiefs.
And since its inception in 2019, Spotify's Lorem playlist has become Gen Z canon.
What kind of music is on the Lorem playlist?
Lorem blends bedroom pop, mainstream pop, and up-and-coming indie into one of Spotify's most popular "genreless" playlists. Instead of compiling the top tracks of a specific genre, Lorem embraces Gen Z's resistance to genre as a concept.
Lorem isn't one particular sound, it's a feeling. A really good vibe. It's made for playing in the car and at parties just as much as plugging in your headphones. Its genius curation blends familiar songs from mainstream artists — think, Olivia Rodrigo's GUTS — with less ubiquitous artists who often end up skyrocketing in popularity. It's no wonder many artists featured on Lorem have become Gen Z icons.
How many times have I heard someone say they discovered an artist on Lorem? Oh, if I had a nickel for each one. That feeling of community makes the Lorem playlist feel like a digital third space. And last night in Los Angeles, many of the artists featured on Lorem made that community literal at an intimate Spotify event featuring a performance by Remi Wolf and a special appearance by Norah Jones.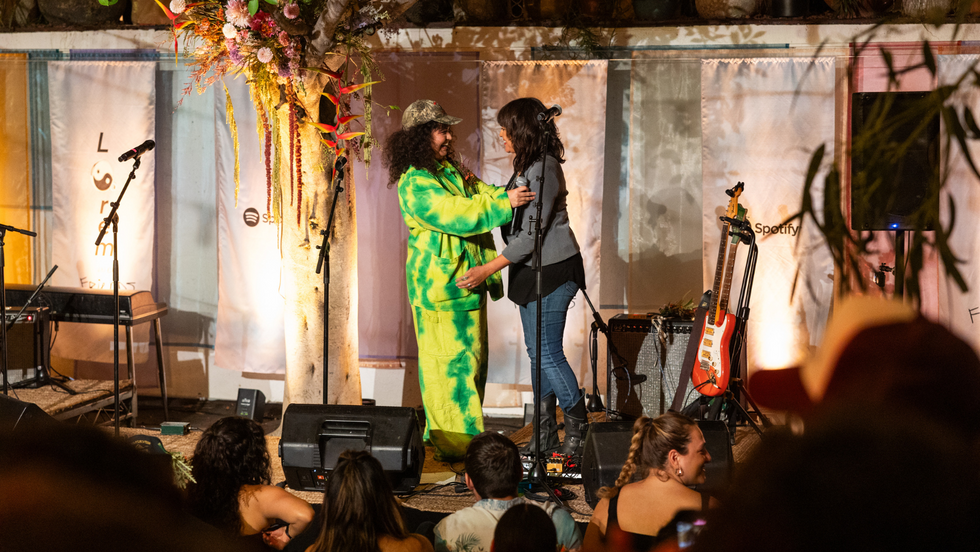 Remi Wolf and Norah Jones at Spotify's Lorem & Friends event in LACourtesy of Spotify
Inside the Lorem & Friends Party:
In a house in West Hollywood, some of the most exciting musicians and creators gathered for a night of good music, good company, and good vibes curated by Spotify. The Lorem & Friends event featured a performance by Remi Wolf, who was joined on stage by special guest, Norah Jones.
Remi, who's currently the cover star of the Lorem playlist, sang hits such as "Liquor Store," and "Liz," as well as new songs like "Shawty," "Soup," and even a cover of Frank Ocean's "Pink + White" (which she had previously recorded a version of at the legendary Electric Lady).
She even serenaded the crowd with a duet version of "Don't Know Why" with Norah Jones.
"Lorem & Friends is not only a celebration of the playlist, but of the incredible community of creatives that it's attracted," said Lisa Ritchey, Pop, Dance, Indie, Artist Partnerships at Spotify. "We wanted to bring everyone together in person to showcase the level of love and respect that these fans and artists have for each other. Watching Remi Wolf and Norah Jones collaborate in front of our eyes is the biggest proof point — music brings people together, and Lorem is a special place both on and off our platform."
Remi Wolf was the perfect artist to showcase the cultural truth at the heart of Lorem: the kids aren't just alright. They have really good taste.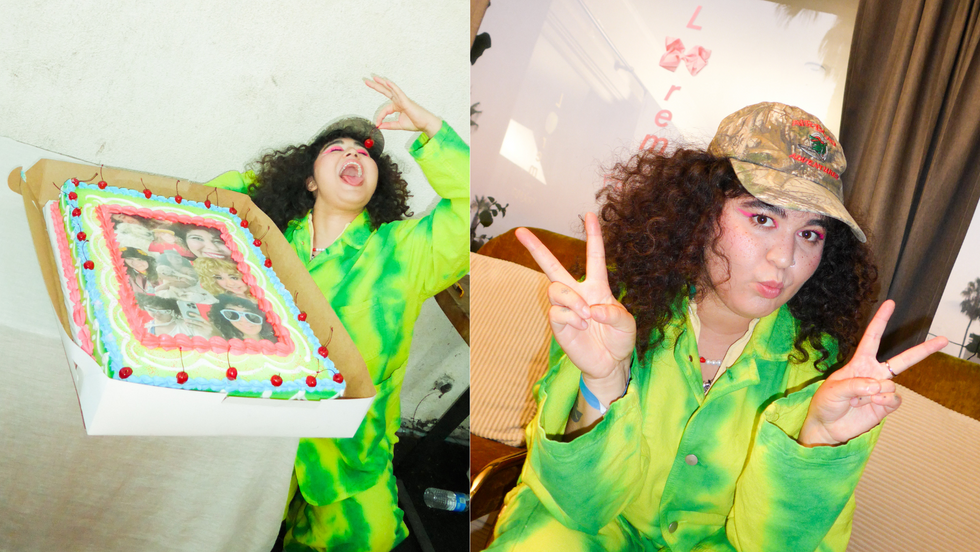 Remi Wolf behind the scenes at Spotify's Lorem & Friends event in LA (featuring a Cake with marachino cherries ... IYKYK)Courtesy of Spotify
We got a chance to talk to Remi about cultivating her own sound, trusting her taste, and trusting her audience. Check it out below!

POPDUST: You have such a distinct sound. How have you managed to stay true to your own vision throughout your journey, within collaborations, and in the industry?
Remi Wolf: Big question. I think that I as a person have always been very decisive. I know what I like. And I know what I don't when I see it. And I think that I carry that around with me in every kind of sense of my life. And in crafting my musical identity, I'm just always following the sounds that I like. It's a lot of gut intuition. I can't necessarily tell you why or what, but I know it when I hear it.
And I have enough musical vocabulary to describe the feeling I want to go for and I'm lucky to have people around me whose taste and intuition I also trust. I like to surround myself with people who also have a strong sense of taste. And that generally makes the art better and the experience better and more fun. Like, less second-guessing, and more just like, let's do this thing because we liked it.
POPDUST: Have you always been like that? So trusting of your taste?
Remi Wolf: Yeah, I think so. I can't really remember a time when I wasn't, except for maybe in middle school. When everybody's wearing Abercrombie and at a certain point, you're like, Well, fuck, I have to get some Abercrombie. So that's just confusing, right? But once I was around 15, or 16 I think that's when something really clicked inside of me, and I was kind of just on my own little wave.
POPDUST: What albums do you think helped hone your taste?
Remi Wolf: When I was in high school, I think one really enlightening album for me was 2 by Mac DeMarco. For people my age, that felt very revolutionary. Like, fuck, we're smoking weed in the park and this is so trippy or whatever, and you kind of start having psychedelic thoughts. He's amazing. He's such a free musician and so singular in the sense that I don't think he pays attention to anything that's really going on in the rest of the industry. And because of that, I like it. And of course, Frank Ocean. Channel Orange.
POPDUST: Channel Orange more than Blonde?
Remi Wolf: Definitely. Great fucking album. I love Blonde too. But Channel Orange is so soulful with a lot of jazz influences. And he's just an incredible songwriter, incredible lyricist. So creative. And then I also fuck with The Beatles. I fuck with Stevie Wonder. Michael Jackson. Lots of funk. Red Hot Chili Peppers were huge.
So kind of a mishmash of a lot of different things. I started playing music and in bands when I was 15. So all of that music that I was playing — which was a lot of just like classics, right? — just sunk in totally and created a monster.
POPDUST: Thank god for that monster. What about now? Is there that's been inspiring you lately?
Remi Wolf: I've been listening to a lot of Solange. I love her. A Seat At The Table and When I Get Home are both kind of in constant rotation for me. I have also been listening to a lot of 70s funk stuff. And I can't tell you really exactly what, but I've just been consuming a lot of it. There's just one song called "Love Come Down" by Evelyn "Champagne" King. So fucking good. Also, Wings, which is like Paul McCartney's band. I mean, Paul McCartney is an amazing songwriter. So, so good. Current things, I love Big Thief. And I did listen to the Olivia Rodrigo album. And it's great.
POPDUST: When you're writing, how much are you thinking about audience? Does that influence you at all?
Remi Wolf: Oh, that's an interesting question. I feel like I think about audience through my own lens of like, do I want to play this at a show, right? And would this translate to a crowd? Because like I performing is like one of my main my main shebang. So I always have that in my mind. But it's less so about like, oh no, what are they gonna think? Because you can never figure that out. All you can do is make sure that you like it. And I think I trusted myself enough to know that, hopefully, if I like it, somebody else will like it, too. So that's more of my barometer, right? And I think about the show but not really from their perspective, more from like, is this something I want to perform? Or would this be something that would make me happy to say? And just trusting that's enough.
POPDUST: Has your relationship with any songs changed after performing them?
Remi Wolf: [Laughter] I mean, yeah. You get so tired of your own songs. I'm certain I've sung "Photo ID" probably over 1000 times. And I would probably be happy not performing that song for like a year or two.
POPDUST: Do you ever change it up?
Remi Wolf: I do, yeah. I change the setlist pretty frequently, actually. But there are certain staples you gotta hit, right? But, new music soon. New Shows.
POPDUST: New songs to get tired of.
Remi Wolf: Exactly. That's the beautiful thing about an album cycle. That it just keeps going.
Listen to Remi and friends on the Spotify Lorem playlist here: