MUSIC
The pop star's new music video for "Lost in Japan" parodies Sofia Coppola's 2003 film "Lost in Translation."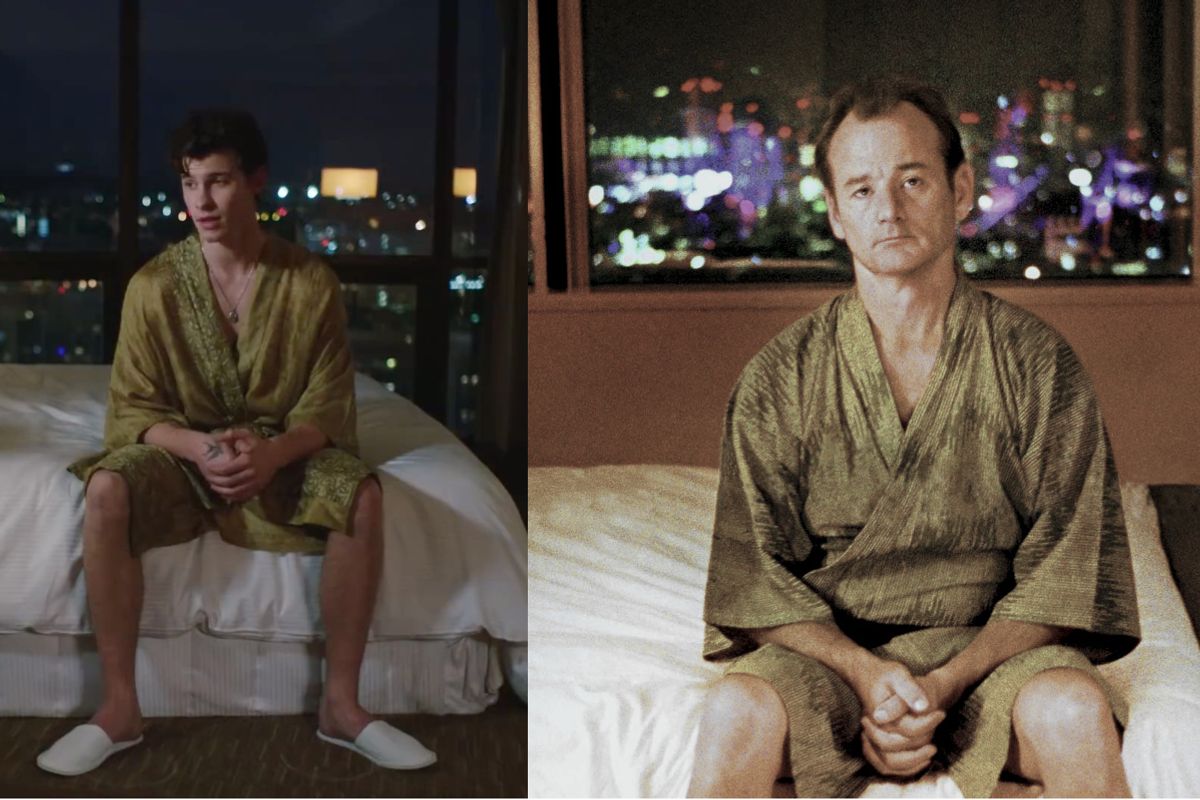 Vevo & Universal
"Let's never come here again because it would never be as much fun," a 17-year-old Scarlett Johansson says to a man three times her age, and I was thinking the same thing, except maybe only the first part.
Released late last night, Shawn Mendes's new music video for "Lost in Japan" takes its plot from the 2003 romantic-comedy film Lost in Translation starring Bill Murray and Scarlett Johansson, where a lonely, aging movie star has a foreign love affair with a conflicted newlywed. The prolific Canadian singer-songwriter is the stand in for Murray, which makes the situation less creepy, but doesn't make it less tired.
We start off the video with Mendes driving through the neon-bright streets of Tokyo, where he sees himself on a billboard selling whiskey. Same as the film, he's in town to film a whiskey commercial Dos Equis-style. But while Mendes is many things (wink), he's definitely not the gritty masculine type who drinks scotch, as evidenced by the later scene where he "shaves" his perfectly hairless face.
Shawn Mendes, Zedd - Lost In Japan (Original + Remix)www.youtube.com
The video skims along, featuring most of the iconic shots from the movie, including the oft-parodied picture of Murray in an ugly-but-silky-looking yellow bathrobe. He eyes his love interest in an elevator, played by 13 Reasons Why actress Alisha Boe, and pursues her karaoke-style (as you do in Japan). We are at least treated to a steamy shower scene, however that doesn't last long enough.
"Lost in Japan" is the second official single off Mendes' 2018 self-titled album, and at the end of the day is still fun and catchy. It has Mendes' usual boyhood romantic charm, leaving the tweens screaming and the gays speechless. The video smartly mixes both the original version of the song and the popular remixed version featuring Zedd.
Still, if the shower scene were extended and all the other scenes were taken out, it wouldn't have hurt the video. It may actually have improved it.
---
Joshua Smalley is a New York-based writer, editor, and playwright. Find Josh at his website and on Twitter: @smalleywrites.
---
POP⚡DUST | Read More...
VOLK Drops Music Video for 'Honeybee'
PREMIERE | Terry Emm Drops 'Sophia'