MUSIC
VOLK Drops Music Video for 'Honeybee'
Muscle-bound glam rock and roll from Nashville.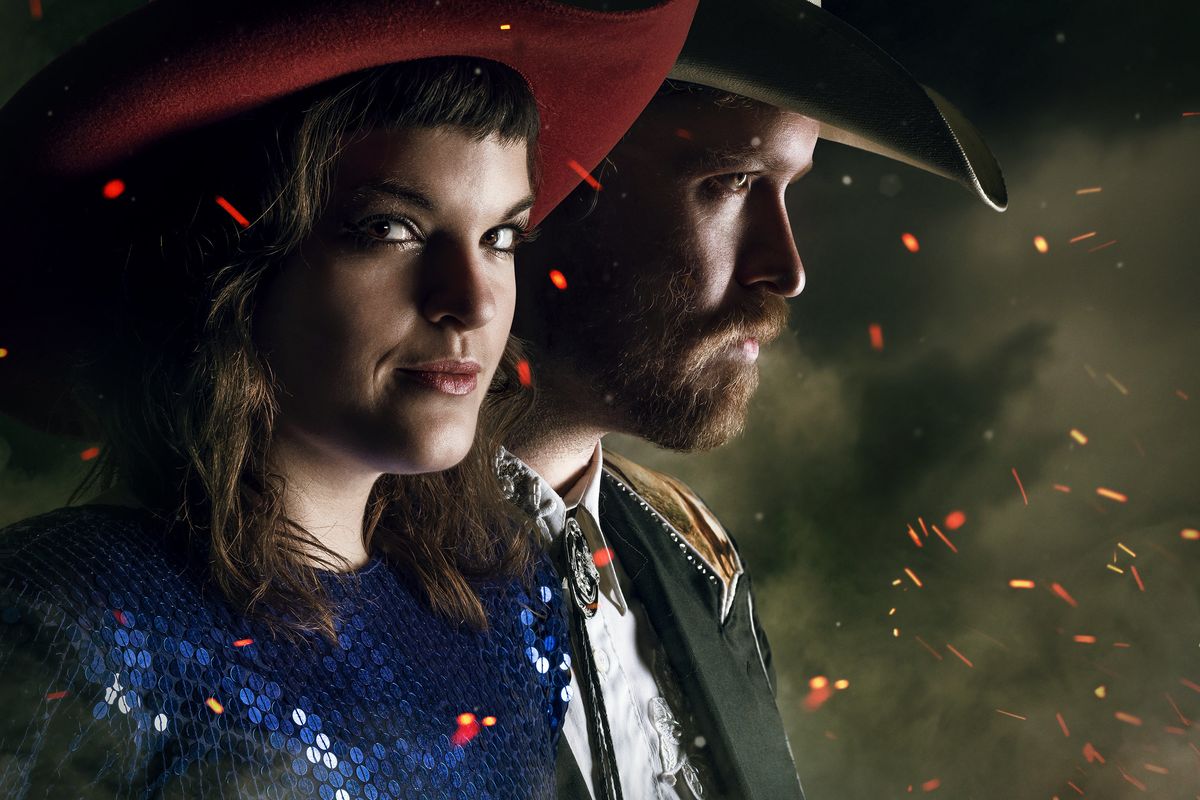 Photo Credit: Casey Moore
Nashville's power duo VOLK pumps out raw, pulverizing rock and roll.
---
VOLK is made up of Chris Lowe (vocals, guitar) and Eleot Reich (vocals, drums). Lowe is a good old boy from Texas, while Reich hails from sunny California. Together, they blend nuclear-powered rock with country flamboyance and infusions of gut-wrenching soul.
In a gleaming suit, Lowe macerates the atmosphere with his guitar, as Reich, togged up in a glittering sequined dress hammers the heck out of an even shinier drum set.
VOLK - Honey Bee (Music Video)youtu.be
Since taking up residence in Nashville, VOLK has shared the stage with Left Lane Cruiser, Royal Thunder, Diarrhea Planet, Shooter Jennings, Mayeux and Broussard, The Ghost Wolves, Brother O' Brother, CATL, and John Evans. The band dropped their sophomore EP, Average American Band, at the end of September.
"Honeybee" opens with a squealing guitar putting out massive levels of feedback and rumbling drums segueing into a visceral, rough, and ready rock tune. Without a bass line, the burden of rhythm falls on Reich's drums, and she's up to the task, providing a potent pulse on her snare and a bass drum.
Lowe's dirty, fuzzed-out to the max guitar grinds, groans, and shrieks with muscular sonic tones à la The White Stripes, only thicker and more undercooked.
Reich's voice, tight and reckless, radiates pure unbridled tones. Its buff piercing timbres rip, ' n slice-n-dice.
"Honeybee" delivers steroid-monkey muscularity, crushing resonance, and unadulterated energy. VOLK knows how to rock!
Randy Radic is a Left Coast author and writer. Author of numerous true crime books written under the pen-name of John Lee Brook. Former music contributor at Huff Post.
POP⚡DUST | Read More...
RISING STAR | Dangermaker Drops 'Run' LP October 5
PREMIERE | Terry Emm Drops 'Sophia'