Music Lists
Six Songs You Should Hear This Week: Musical Acid Trips
New tracks from Valerie June, Kevin Abstract, Norah Jones, AURORA, and more.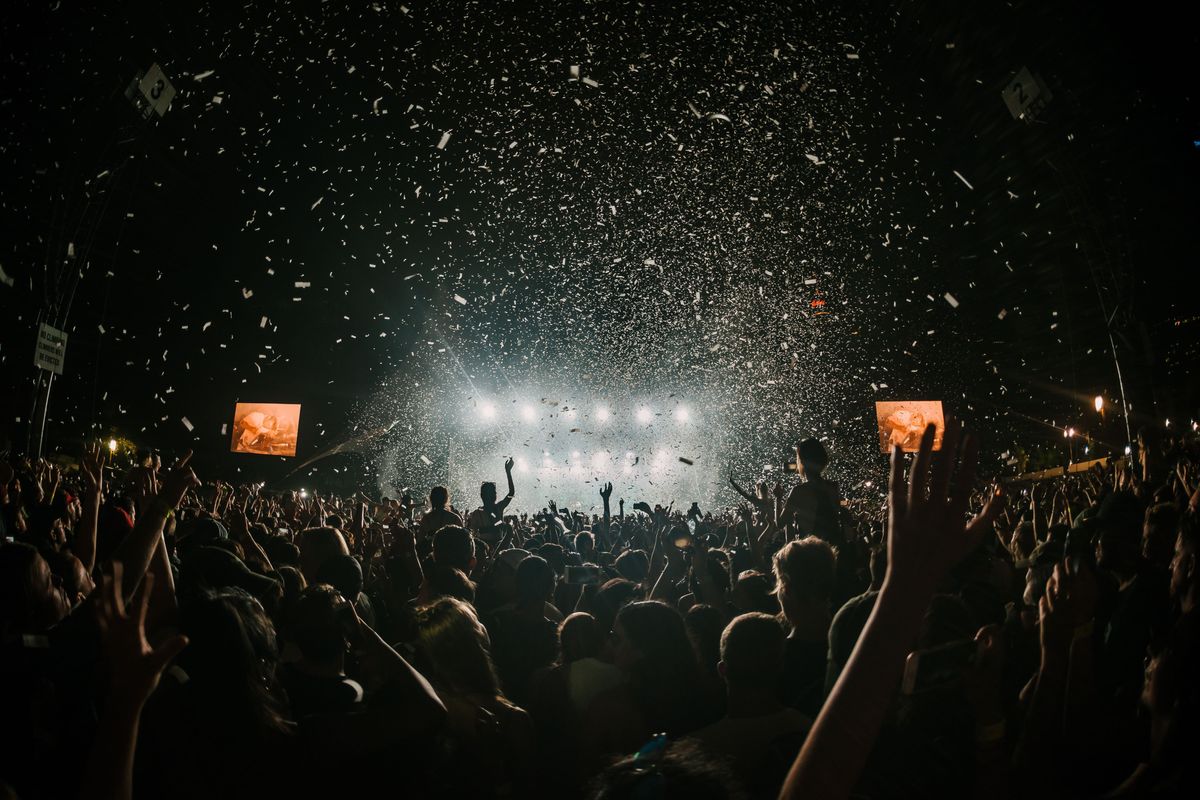 Each one of this week's best new songs is a miniature revelation in itself, trippy enough to open your mind to new worlds.

For the record, the creator of this list has never taken acid; but these songs are what she imagines it would feel like, and truly, who needs drugs when you have songs like these? Transcendence, peace, revelations, a feeling of interconnectedness, swirly imagery—it's all here for your listening pleasure.

1. Drinker: Wave
Bicoastal NY/LA duo Aaron Mendelsohn and Ariel Loh (aka Drinker) have gifted the world with a gorgeous piece of pop psychedelia in the form of their new single, "Wave," released on Wednesday. The haunting track starts slow and ethereal, building up to a climactic tower of synths punctuated by bell-like guitar tones. A slow burn that's rewarding the whole way through, it's the kind of song meant for lying on a dock at sunset, sifting through memories and feeling the first hints of evening chill. Lyrically, it's a testament to the strangeness of time—the way it continues to move forward, but the past always seems to surge into the present. "Who is this? I'm stuck inside a wave," goes the refrain, a line that could be about dissociation, or fear of the future, or déja vu. "I feel like we've been here before," sings Mendelsohn, "but it wasn't you that I was here with." Hypnotic in its spaciousness, disconcerting in its dissociative leanings, this is an immersive sonic experience that bodes well for the duo's upcoming EP release on May 3.

2. Valerie June: Little Wing
Valerie June - Little Wingwww.youtube.com
Valerie June has returned with a cover of Jimi Hendrix's "Little Wing," and it's absolutely breathtaking. Mystical and pure, raw and electric, it's a compilation of whirling guitars, whistling strings, distant organs, and eventually a horn section to drive it all home. June sounds a bit like Stevie Nicks, but perhaps even more weather-worn, her voice is ageless, meant for staticky radios. She proved her songwriting abilities on 2017's The Order of Time, but this cover is a testament to her aptitude as an arranger and a conveyer of raw emotion. In a way, it seems to come straight from a timeless dimension where there are only peace and starlight, and yet, at the same time, it cuts through to the core of something distinctly of this world, some pain known only to humankind. If you listen to one song this week, listen to this one.

3. Novo Amor: I Make Sparks
Novo Amor - I Make Sparks (official audio)www.youtube.com
Nobody is better at making soupy lullabies than Novo Amor, but he's made a particularly beautiful one with "I Make Sparks," a title that—despite its swaggering implications—moves beyond the realm of woodsy folk. Ideal for the ending frames of a film, the song is a miniature vacation in itself. Light strings cast flickering lights over Amor's frail, breathy vocals, and though his voice never grows to anything more than a whisper, the music swells and grows throughout, reaching a satisfyingly disorienting conclusion.

4. Aurora: The Seed
For a slightly more energized but equally intense listening experience, AURORA's newest release, "The Seed," will do the trick. It sounds perfect for, say, the finale of a show like Game of Thrones—hopeful and dramatic, full of rhythmic humming and intense violins, designed for scenes of armies charging over snowy hills.
In essence, this is a song about environmental destruction—one of many, certainly, as we approach the end times. "When the last tree has fallen and the rivers are poisoned, you cannot eat money, oh no," she sings. Ominous, indeed; maybe avoid this if you're actually going to take acid because it could potentially send you on a bad trip.
5. Kevin Abstract: Georgia
Kevin Abstract announced his newest project, ARIZONA baby, in a cryptic Instagram post a few days ago. But the first single, "Georgia," is transparent and honest, a welcome return to Abstract's distinct solo work. On this song, he draws lyrical inspiration from the old classic "Georgia On My Mind" and spins it into a web of bells, swirling electric guitar, and gritty basslines. At heart, it's a love song, a tribute to the free-fall of true emotion, communicated through rapidly panned vocals and electronic vocal effects layered over a slow beat. Abstract is a master of his craft, and with the release of ARIZONA baby, he's continued his tradition of making some of the best atmospheric rap out there. (For better or worse, it was produced by Jack Antonoff, which may explain its sonic similarities to Lana Del Rey's "Venice Bitch"—the high-pitched synth is definitely the same—but that's another story).

6. Norah Jones: A Song With No Name
This song is the sonic embodiment of a tall glass of water, a breath of fresh air, a drive upstate in the midst of a New York City summer, a comedown after a wild night. In classic Norah tradition, it's easy on the ears and heart, just ambiguous enough to feel applicable to almost any kind of subdued situation, but has enough nuance to merit multiple listens. Striking lyrics cut harshly against soft acoustic guitar and not much else—"If I had a gun, if I had a knife, if I had your love if I was your wife," she sings, as gentle piano twinkles in the background.

Special Mention: LSD
This list wouldn't be complete without mentioning LSD, the project of Sia, Diplo, and Labrinth, whose debut LP dropped this Friday. But unless you have a taste for poorly crafted, shamelessly algorithmic, and lyrically embarrassing pop music, spare yourself the pain and skip this one.

---
Eden Arielle Gordon is a writer and musician from New York City. Follow her on Twitter @edenarielmusic.

---
POP⚡DUST | Read More...

BTS' New Album "Map of the Soul: Persona" is Algorithm-Friendly Nothingness
Anderson .Paak's "Ventura" is Scripture in the Age of Anxiety