MUSIC
The Black Keys' newest album is a return to their roots, but it feels designed for our modern times.
The Black Keys should be an unremarkable rock band. Their arrangements are somewhat formulaic, and their genre is a form of rock and roll that's all but gone extinct in the mainstream sphere.
However, their songs have always possessed a certain underlying tension that sets them apart from the majority of wannabe Strokes impersonators and garage rock bands. That tension is an electric breathlessness that stems from somewhere between the hyperactive drum beats, the gritty wail of the electric guitar, and Dan Auerbach's grainy vocals. It's an invisible X-factor, and it gives "Let's Rock" an internal life that makes even the more laid-back tracks feel threatening, more apropos for a Hollywood car chase scene—or perhaps for the instability of our current moment in time—than for fulfilling any sort of nostalgia for rock and roll bands of the past.
Despite the feeling of anxiety that haunts each of the album's short, concise songs, "Let's Rock" marked a definitive return to the simplicity of the past. It's the band's first album in five years; since the release of Turn Blue, drummer Patrick Carney composed the BoJack Horseman theme and produced several albums, including one for his wife Michelle Branch, and Auerbach founded his label, Easy Eye Sound, and released his second solo album.

Still, there's something uniquely magical about the union of their talents. According to Auerbach, he and Carney both unconsciously decided to return to their roots on their new album, foregoing experimentation for the garage rock that they cut their teeth on as kids. "We got together in the studio and it was like it was already agreed upon, but we hadn't even spoken about it: It was just going to be a guitar and drums record," Auerbach said. "There's no keyboards, no other musicians, no outside producers, just the two of us. After so many years apart, that was the way that it had to be."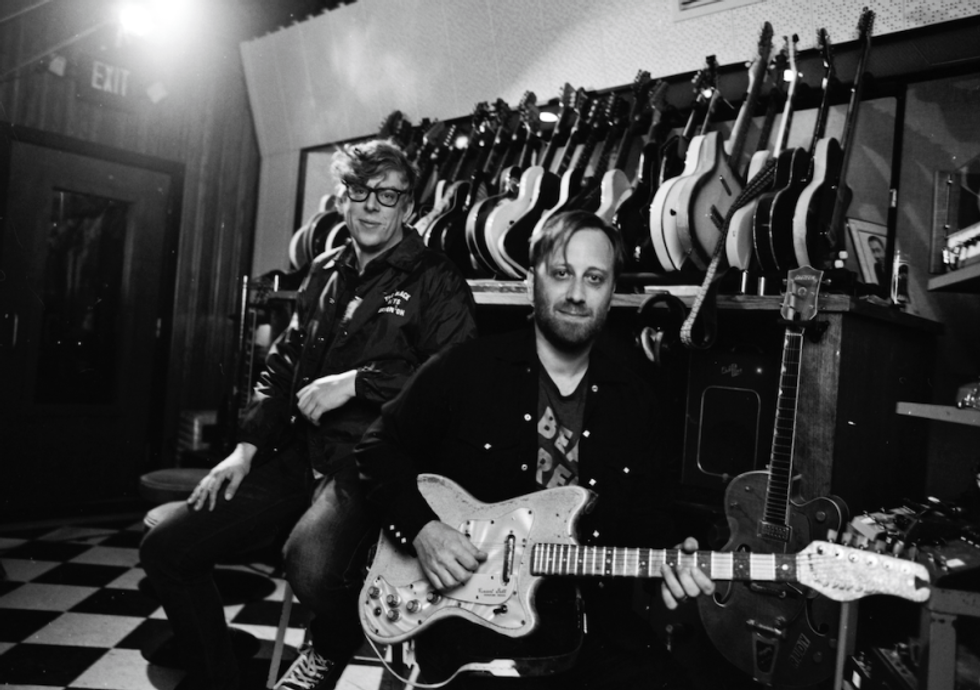 Image via Consequence of Sound
You can sense the duo's automatic, effortlessly synchronized relationship throughout the album. One of the tracks that best highlights this is "Walk Across the Water," a song that could almost pass for an '80s Tom Petty single if it weren't for the impeccable production that makes it feel distinctly modern. Auerbach's guitar sounds like a human voice as it wails out the solo; and each chord feels purposefully placed, hit with the desperation of someone trying to work out old demons with a little thrashing on the six-string.

Sometimes the tracks let a bit of psychedelia creep in via unexpected peals of guitar and layered vocals, as in "Tell Me Lies," or especially on "Fire Walk With Me," a tribute to the David Lynch film of the same name. The album's title may also be a Twin Peaks nod, as "let's rock" is the catchphrase of one of the show's resident demons. Like the show, "Let's Rock" is an album that implies that nothing is as it seems. That the title is in quotes indicates that there's something purposefully artificial about this album, something intentionally transplanted from another place and time. If rock is dead, then "Let's Rock" might just be its zombie, come back from the grave with a sharp, desperate hunger at its core.
Despite its surrealistic leanings, Patrick Carney's brisk, clean drumming keeps everything in check. Carney drums with the urgency of a racing heartbeat, crunching Auerbach's already tightly wound melodies into songs that are perpetually in motion, surging towards an unknown vanishing point in the distance.
Ultimately, "Let's Rock" is dark and tenacious, a cynical and embittered return to traditional rock and roll that feels anything but stuck in the past. If anything, it feels like holding on tight as the rollercoaster of time lurches towards an ever-stranger future.