MUSIC
New singles from Kim Petras, Sleater-Kinney, Mark Ronson, and Camila Cabello. Plus new videos from Charli XCX & Diplo and Rosalia.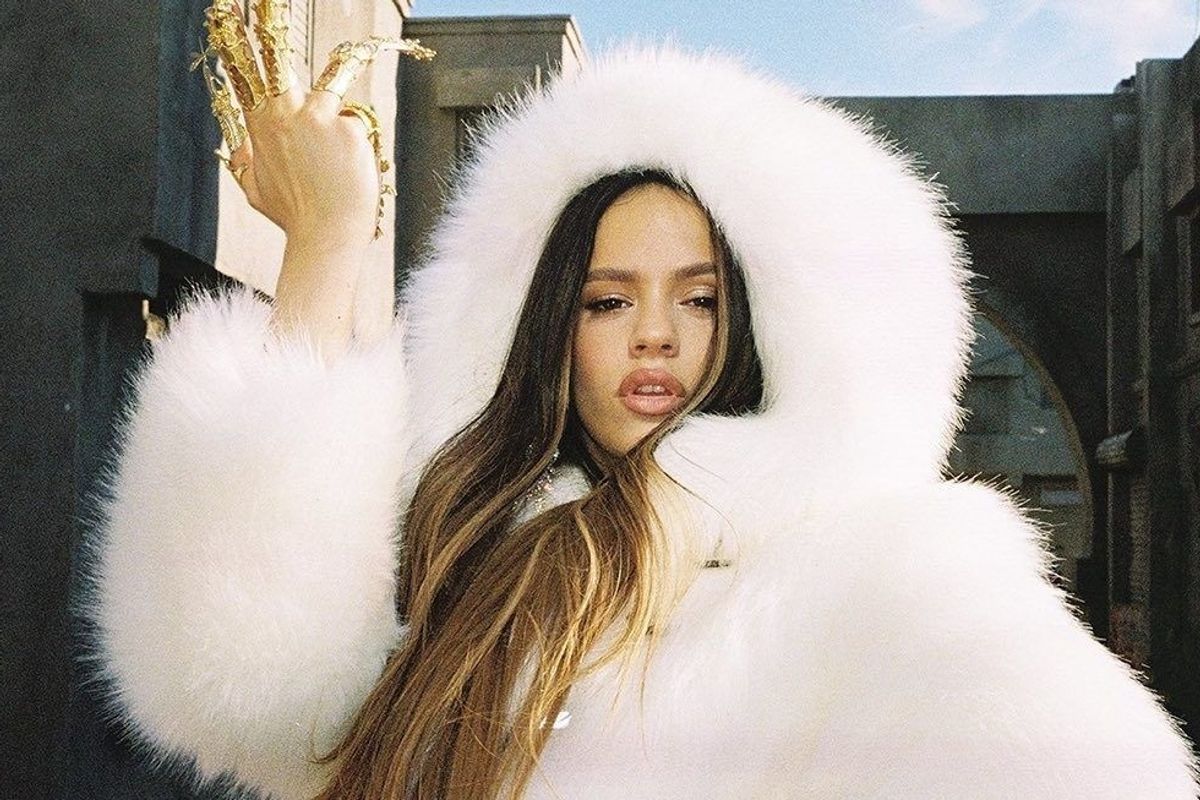 We didn't deserve all the new music we got this week.
The last seven days were full of gems from this generation's pop royalty: Kim Petras put out her sixth single in a matter of weeks; Rosalía continued to one-up her music video game; Mark Ronson teamed up with Camila Cabello on a song written by Tame Impala; and Charli XCX met up with Diplo to ride psychedelic dolphins into the cosmos on their reimagined version of a Spice Girls track.
As if that wasn't enough, Sleater-Kinney joined forces with St. Vincent to release their first new music in four years. Plus, Palehound shared the new title track from their upcoming album, Black Friday. Nots and Deb Never put out surreal new visuals for their respective songs, "Persona" and "Ugly." And finally, emerging artists like Miss June and EVRWNDR released promising new tracks. Are you out of breath yet?
Fresh Music Friday is here to give you a breakdown of new singles, EPs, and albums to check out as you make your way into the weekend. Get ready to jam out with some of our favorite up-and-coming artists, plus celebrate new releases from those you already know and love.
Singles
1. Mark Ronson — "Find U Again" (feat. Camila Cabello)
Mark Ronson teamed up with Camila Cabello on a new crying-in-the-club-meets-a-vocoder-type single called "Find U Again," built around a melody written by Tame Impala's Kevin Parker.
2. Sleater-Kinney — "Hurry on Home"
Sleater-Kinney just released their first single in four years, and it's a sonic embodiment of "chaotic good." For some background, S-K recently joined forces with St. Vincent's Annie Clark, who is going to produce the band's forthcoming record (out sometime next year). "Hurry on Home" is the first glimpse of the new album, and it's about as big, brash, urgent, and wholly awesome as what you'd expect from a St. Vincent and Sleater-Kinney crossover. Oh, and the lyric video for "Hurry on Home" is directed by Miranda July, because: of course.
3. Kim Petras — "Do Me"
Kim Petras cannot and will not stop. The reigning pop queen maintains her sparkly status with her SIXTH single in a matter of weeks. "Do Me" is a racy, energetic track that maintains all the poppy glitter and gloss showcased in the bevy of singles she's put out recently: "All I Do Is Cry," "Sweet Spot," "Blow It All," "Got My Number," and "Broken." I'm sweating.

4. Palehound — "Black Friday"
Palehound writes songs that will wreck you, very softly. This week, Ellen Kempner's Boston-based band shared the title track from their upcoming record, Black Friday (due out next week on Polyvinyl). Following the release of the western-tinged single "Killer," Kempner explored a touching story of partnership on "Aaron" and confronted struggles around body image on "Worthy." This fourth single, "Black Friday," is mellow and sincere, but tempered by the tension felt from an unbalanced friendship.
5. Miss June — "Best Girl"
Auckland's punk four-piece, Miss June, have just signed to NYC imprint FrenchKiss records, and they're bringing much of their signature unbridled energy on their raucous new single "Best Girl." On "Best Girl," Miss June channels their post punk/noise-punk roots by pairing a weighty baseline with fast, jagged guitar riffs that erupt into a catchy-as-hell chorus.
6. Kid Bloom —"EVRWNDR"
LA's Kid Bloom makes us long for the glory days of chill wave on his latest psych-tinged single. On "EVRWNDR," Lennon Koser's rich vocals swirl into mellow synths while layers of psych-y instrumentation ripple outwards. Towards the end of the song there's a spacey guitar breakdown. "EVRWNDR" finds Kid Bloom tapping into their lushest, dreamiest potential, to create a track that practically brims over the surface with prismatic color and sound.
EVRWNDR
Videos
7. Rosalía — "Aute Cuture"
In a stunning display of intricate nail art, hand claps, and Tarantino-approved imagery, Rosalia intoxicates us again in her latest video for new song "Aute Cuture." Rosalia continues to reshape the pop landscape and the standards for music videos with each and every staggering visual she drops, somehow one-upping herself every time. In typical Rosalia fashion, the video for the brassy, headrush of a song features the 25-year-old sensation sporting a series of jaw-dropping outfits that should all be featured in the Met one day.
8. Herve Pagez, Diplo, Charli XCX — "Spicy"
Watch out Kacey Musgraves, there's a new
hallucinogenic animated dolphin
in the cosmos. Diplo, Charli XCX, and French producer Herve Pagez teamed up to reimagine the Spice Girls' hit "Wannabe" into a psychedelic trip in the video for their new song "Spicy." Literally no one asked for this, but upon watching, it's clear that we all needed to see Charli XCX and Diplo ride dolphins into the space-time continuum.
9. Nots - "Persona"
Memphis powerhouse Nots unveils how easily the fabric of our social perception is frayed through the visuals of their spacey, punky song "Person." Much like the song itself, the video for "Person" (a collaboration with Memphis-based arts collective WWW) has a hallucinatory effect–layering faraway vocals over nervy bass-lines and distorted, post-punk textures.
10. Deb Never - "Ugly"
Deb Never's "Ugly" may be a melancholic look into the end of a relationship, but you wouldn't be able to tell that from the look of her goofy music video. In "Ugly," the L.A.-based artist sports a fuzzy dog onesie as she wistfully sings "You don't want me, I don't want you / You don't want me, but I need you." Along the way, she encounters a whole motley crew of skaters and weird neighbors clad in splashy yellow bathrobes. The video features her group of friends dressed in the same furry attire, including her pal Matt Champion of Brockhampton.
From Your Site Articles
Related Articles Around the Web