Film News
Gabrielle Union is stoking Twitter fires asking for a movie starring her and John Cho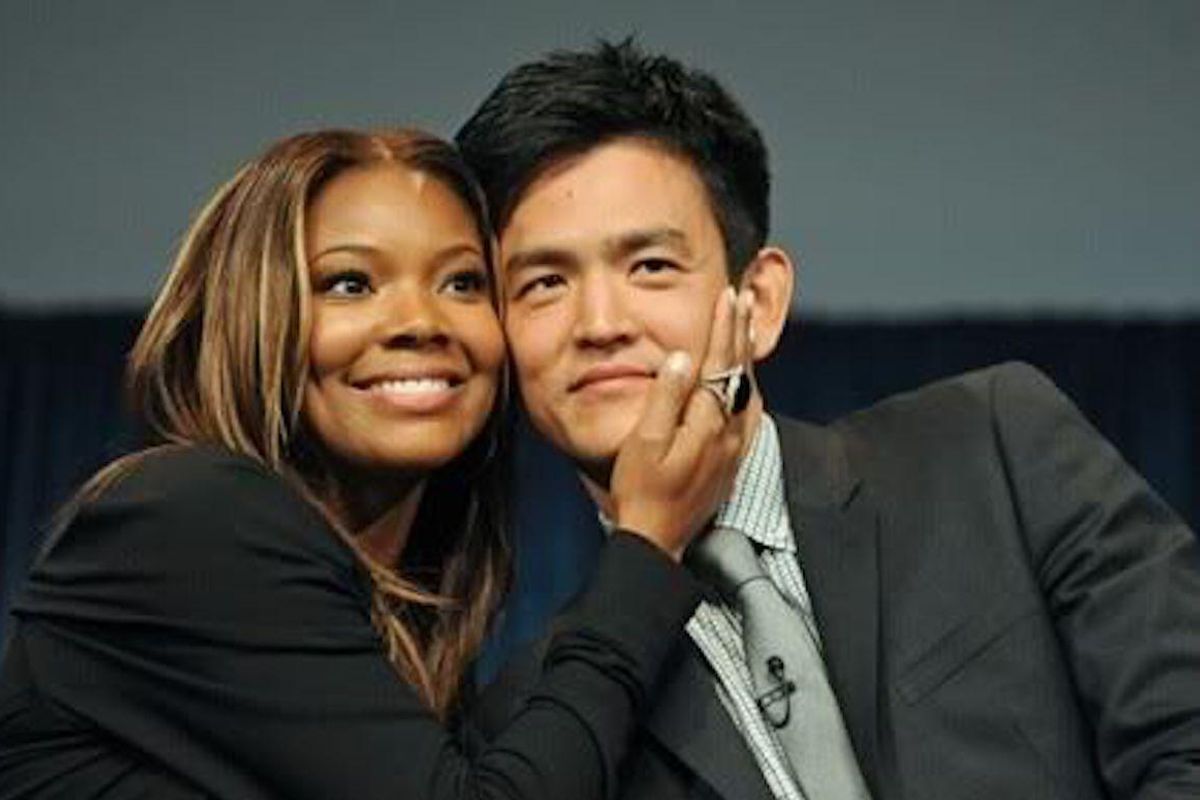 Every few months, Twitter users become screenwriters and use the TL to concoct elaborate concepts of films they want to see and actors they want to cast, and every so often these pseudo-storyboard threads go viral.

---
Despite whatever fan excitement is generated through these collective daydreams, it's very rare for anything to actually come to fruition — we're still waiting for the Rihanna x Lupita Nyong'o heist movie we were promised in 2017.
However, a Twitter thread begging Gabrielle Union to star in a movie with John Cho has recently received the attention of the actors themselves and, not to jinx it, but it seems like it could actually happen.
It all started on June 21, 2021 when a Twitter user sent out the first call in response to Gabrielle Union's tweet about her upcoming Netflix rom-com, The Perfect Find, which co-stars Gina Torres, La La Anthony, Keith Powers, and more in an all-star cast.
@itsgabrielleu I am once again asking, nay pleading, for @itsgabrielleu and @JohnTheCho to star in a RomCom togethe… https://t.co/rTDyJGFTUN

— Evie Long (@Evie Long) 1624318324.0
And while The Perfect Find will assuredly be a feast of fan-favorite actors, this Twitter user had their sights set on somthing specific: a John Cho and Gabrielle Union romance.

Complete with the viral Bernie meme, they expressed that they were "once again asking, nay pleading" for the pairing … and Gabrielle Union agreed.
Here's the backstory: Gabrielle Union and John Cho briefly acted together in the show FlashForward over a decade ago. The show lasted one season, but that was enough to stoke the fan fires for the pair's reunion. Since its cancellation in 2010, fans have been begging ("nay pleading") to see Cho and Union together again on the big screen, this time in starring roles.
It seems Gabrielle Union has been hoping for the same thing.
While Union is a jack of all trades and master of them all, she particularly shines in classic rom coms. Despite her most recent projects, like the action packed L.A's Finest, and her voiceover work for Fearless and The Lion Guard, she is a romantic comedy veteran, and fans never leave her movies unsatisfied.
From her early, iconic roles in some of the best high school romance films like 10 Things I Hate About You, She's All That, and Love and Basketball to her starring roles in Daddy's Little Girls, Think Like a Man and more, it's always a good film if Gabrielle Union is in it — so imagine adding John Cho to the mix?
Cho is also a versatile actor who has done literally everything from Star Trek to Harold & Kumar. His leading man looks and his proven comedic talent would make him the perfect actor to star opposite Union in a romantic comedy that would soothe the sting of recent flops and upcoming travesties like Addison Rae's He's All That.
According to Union, she has been "trying" — which a tweet from 2016 confirms. Per writer Bim Adewunmi, who conducted an interview with Union in 2016, Union has in fact been rooting for Cho and for their reunion.
Asked Gabrielle Union about her working with John Cho again cos I'm a Demetri/Zoeyshipper for life. She said this: https://t.co/aaIv1DQ3Yp

— Bim Adewunmi (@Bim Adewunmi) 1473289951.0
"He should be in everything," Union said of her former co-star, "He's the perfect leading man. I've been trying to make that happen."

Union also responded to a tweet in 2019 which expressed fan urgency for her pairing with Cho after it was announced she would be starring in a semi-autobiographical rendition of director Chester Tam's love life. The film was described as a story about "a newly single African-American woman who begins dating a recently divorced Asian-American man."
https://twitter.com/bimadew/status/1162069568615079938
Though there has seemingly been little movement on the film, fans are holding out hope for Cho to take the leading role.
Union urged Cho to "say the word." His response? A fist bump emoji. So with the potential leads on board, fans are already buzzing, hoping the wheels on this burgeoning film concept will keep rolling.
Related Articles Around the Web