Music Features
The complicated connotations of a well-intended nickname, brought to you by "Watermelon Sugar."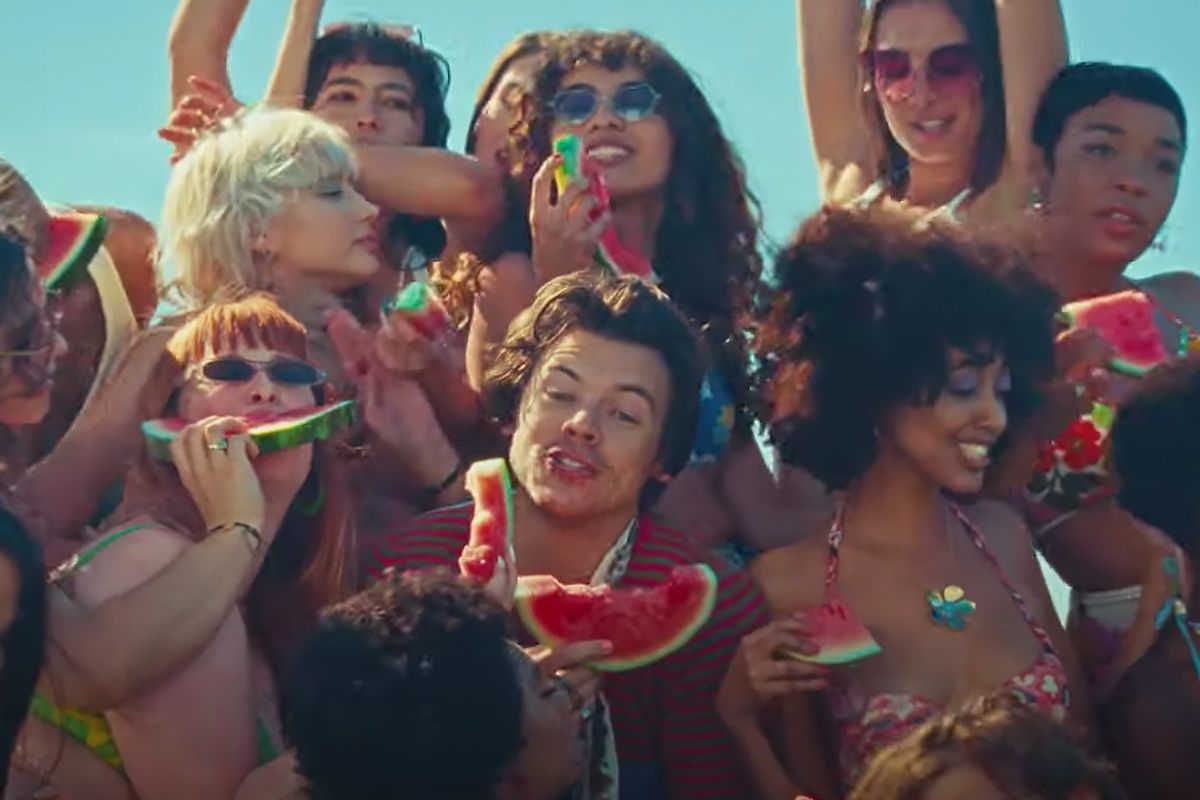 This week, Harry Styles gifted us with the closest thing we'll get to human contact and summer shindigs for the foreseeable future: his long-awaited music video for "Watermelon Sugar."
Hardly the first sexed-up video to come from Styles, "Watermelon Sugar" shows the former One Direction heartthrob on the beach among a crew of beautiful women as they enjoy the titular fruit, the sunshine, and each other's close company. A song full of sexual innuendos deserves an equally steamy video to match, of course, and Styles has gone so far as to dedicate the "Watermelon Sugar" video to touching.
---
Harry Styles - Watermelon Sugar (Official Video) www.youtube.com
But to be a woman in a provocative music video as such can be an intimidating task. Music videos too often objectify women and tend to erase their autonomy—so much so that a Google search for "sexist music videos" autocorrects to "sexiest music videos." As model Ephrata tells it, though, Styles made all of the women in "Watermelon Sugar" feel incredibly comfortable: "Nothing felt forced," she explained in an Instagram livestream, noting how Styles asked for permission to touch her hair while filming. She referenced an inside joke from the set where the models called Styles the "consent king."
the director told harry to play with her hair but he asked her if that was ok first and then they kept calling him… https://t.co/bUJmwpdzP2

— dani (@dani) 1589840421.0
I don't doubt that Styles made sure the hands-on nature of "Watermelon Sugar" was entirely consensual; he has a good reputation among his fans, his touring crew, and his ex-girlfriends alike. Calling him "consent king" is a perfectly innocuous gesture, but something about the way Styles stans have latched onto the label is disconcerting. Are our expectations and standards really so low that we feel the need to reward a man with a cutesy, regal title just for being a decent human being?
Let me be clear: I do think it's a very good thing that Styles fostered a respectful environment while on set, and the models who gave him the "consent king" nickname absolutely meant no harm. But Styles' fanbase is largely comprised of impressionable girls and young women. Yes, Styles might be leaving a positive impact on younger generations and showing them how easy it is for men to be feminists, too, and that's fantastic. But to reward Styles so vehemently for making sure his peers were comfortable feels overly congratulatory, as if to imply that Styles' decency is a great feat for mankind–when it should be a standard that we, as women, expect. After all, if we don't expect that minimum standard of respect, then how do we positively reinforce feminism and an understanding of consent in the average man without setting up an expectation for a reward? It's not like you get extra credit in class for being polite to your teacher.
Another dark side of uplifting Styles as a "consent king"is the sheer fact that celebrities, especially those who are white men, can deceive and disappoint us—no matter how highly we think of them or how squeaky-clean their track record is. A simple scroll through Vox's massive list of well-known men accused of sexual misconduct shows just how often we can be let down by the famous men we idolize. This isn't to say I'm waiting for the day Styles gets accused of harassment—he probably won't, and I'd be devastated if he did—but celebrity idolization can be dangerous. It's best we not get into the habit of thinking these humans we don't personally know have no flaws. I hate to be the one to tell you this, but even Harry Styles isn't perfect (although he is seemingly quite close.)
I don't want to discredit the "Watermelon Sugar" actresses for how happy they are to have felt safe while on set with Styles. I just hope that his fans—of all ages and genders—don't come to associate consent with something that is valuable because it is scarce. Consent can and should be expected in all of your physical relationships. I encourage everyone to follow Styles' example—even Ephrata added that she felt compelled to ask for his consent before kissing his cheek. That's wonderful, but don't expect a crown for doing it.