FILM
Pennywise's Suicidal Tendencies: A Talk with "It: Chapter Two" Star Bill Skarsgard and Director Andy Muschietti
Does Pennywise really want the kids to win?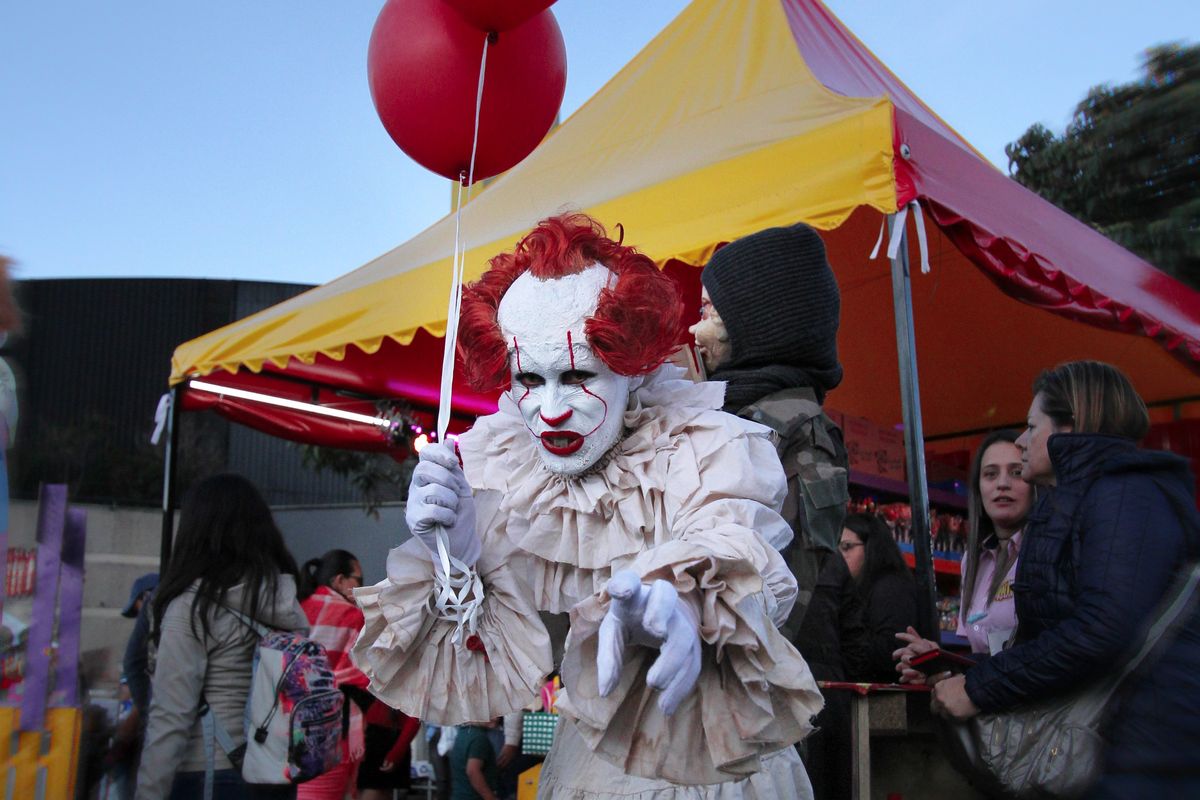 Photo by Andres Gomez - Unsplash
In It: Chapter One , "The Losers Club," a group of outcast children banded together to defeat It, an evil force that plagues their town of Derry, Maine every 27 years.
---
In It: Chapter Two , the kids are grown up and It wants a rematch.
Taking the form of an evil clown named Pennywise (Bill Skarsgard), It has been training to scare the Losers even harder. They're back in Derry and at a disadvantage, having forgotten most of their childhoods. But Skarsgard reveals that Pennywise may secretly hope the Losers kill him for good and end this cycle.
"We talked a lot about [whether] there's this urge that maybe Pennywise really, really wants to be defeated finally and forever," Skarsgard said at a press conference. "So what made it more interesting to me is he's angry, he wants revenge but there might be, sort of. That's if you could imagine such a thing as a subconscious of Pennywise that is maybe wanting to be destroyed."
Andy Muschietti, director of both It: Chapter One and It: Chapter Two agreed.
"You definitely were drawn to the idea that he finally wants to be killed," Muschietti said. "I think it connects to the idea we discussed for the first movie that this is a character that is fighting to survive, strangely because it's a character that lives in the imagination of children. So to keep on living, he has to keep on killing. As long as he keeps killing, he will be alive."

Stephen King may agree with Skarsgard too. The Pennywise actor picked up prose from King's original tome that led him to this theory.

"Pennywise seems like he's afraid of the kids in the book a little bit," Skarsgard said. "His biggest fear is them coming back and defeating him or challenging him again. Like [Muschietti] said, he just wants to be left alone and be a beast of habit kind of a thing. What if he wants them back? If he wants them back, and he's enjoying it, and he's playing a mind game on all of the losers, and it's revenge and maybe some masochistic side of it?"
Back to do battle with It once again is a new cast of A-list movie stars portraying the kids' grown-up versions of the from It: Chapter One .
Jessica Chastain plays Beverly, portrayed as a teenager by Sophia Lillis in the first film. As soon as viewers saw Lillis as Beverly, they suggested Chastain play her as an adult. Muschietti, who directed Chastain in Mama , was ahead of them. Lillis was excited for Chapter Two to cast Chastain, too.
"When I first heard she was going to play me, I guess I felt relieved," Lillis said. "I thought she was perfect for the role so having her actually accept the role, I was very relieved about that. I kind of expected her to do really well."

Fans of King's novel are waiting to see Chastain in the book's infamous blood bath scene.
"I had said to Andy and [producer] Barbara [Muschietti] before we did it, I said, 'I'm happy to do it,'" Chastain said. "'The only thing that would make me super happy at the end is when I'm finished and you guys call wrap, I want you guys in white T-shirts. And I'm going to give you guys a bear hug and we're going to take a photo of it.' And it was amazing, actually. Because Andy complained so much just from having the slime on him for a little bit."
More grueling than the blood bath, Chastain faced continuity for every scene that followed.
"I didn't understand, because I thought that the blood would magically disappear because it's in her imagination," Chastain said. "So I just imagined when the scene was over, she'd be back to being normal Beverly. But Andy, because he loves to torture me, dressed me in blood for the whole end of the film."
Muschietti instructed all the young actors to write letters to their adult counterparts. Most took it seriously, but Finn Wolfhard remained in character as class clown Richie.
"His letter was very Richie," Hader said. "It was like, 'This is dumb. I'm being made to do this.'"
As an adult, Richie becomes a tad more emotional, although he never loses his sense of comic relief.
"I had to do that scene where I had to cry in the water, and it was freezing cold," Hader said. "Andy Muschietti was on a God mic and he was going, "Now Bill, I need you to cry, and then I need you to splash each other, and then I need you to go back to childhood. And then Bill, I need you to realize you cannot go back to childhood. And then I need you to cry like you've never cried.' Okay, so cry, play grab-ass in the water, cry harder. Got it."
Despite their victory in the summer of 1989, many of the Losers revert to their childhood selves as soon as they return to Derry. Eddie (Jack Dylan Grazer) stood up to his mother as a child, but grown-up Eddie (James Ransone) returns to his passive ways.

"You see at the end of It One , I kind of transition out of the submissive Eddie thing," Grazer said. "I say to my mom, 'I know my life has been a lie.' Then I tell myself, remind myself don't go back to that place. Stand your ground, have some power. It's kind of sad that I wrote that and then he reverts back to being pathetic."
As adults, the Losers are still just as susceptible to Pennywise's tricks. Skarsgard believes Pennywise never sees the Losers as adults anyway. They're still the same kids to him.
"I don't think he perceives age the same way as we do," Skarsgard said. "Watching the movie as well, I think the adult losers are so well casted, you really feel that these are the same people that you're watching. Of course, they are stuck in their childhood traumas. They have to overcome that in order to defeat Pennywise."
It: Chapter Two is in theaters Friday, September 6.