MUSIC
The pop trio eyes new heights with fifth studio album, Off to the Races.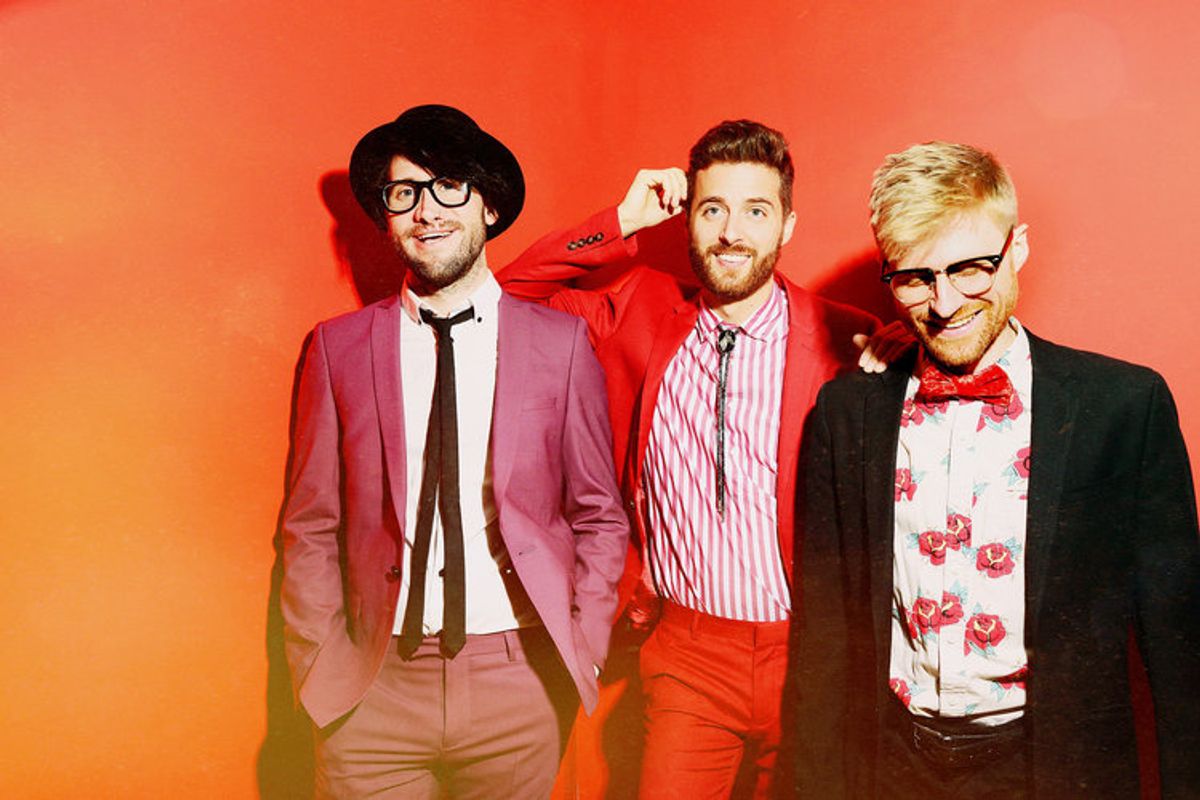 Shervin Lainez
The group digs further into Queen-inspired tales of time and love.
"Remember when your life felt like it would be never ending?" Jukebox the Ghost opine on "See You Soon," a blistered piano-based stunner embedded on their new record, Off to the Races. It's an existential lullaby, for sure, and one which carries enough weight to knock the listener to the ground. Now five albums into their career, the band ⎯⎯ comprised of long-time friends Ben Thornewill (piano, vocals), Tommy Siegel (guitar, vocals), and Jesse Kristin (drums, vocals) ⎯⎯ consider the role of time in their lives, particularly its rapid but fleeting nature.
"In my dreams, you always stop to say 'hi' to me / And it's been so long, I've forgotten what it's like to say to you, 'I'll see you soon,'" they warble over a starry display of percussion and twinkling, sky-ridden ivory. "See You Soon" is the new record's biggest moment, even in its close-knit intimacy. "[This is] one of those magical songs that isn't about a specific moment in time, but it's about feeling. When I was writing that song, I was at the piano and just started playing," Thornewill tells Popdust over a recent phone call. "I was reminiscing on people that I had lost and the passage of time. It's about all of that. When I play it, I still get kind of emotional."
From the gentle tilt of "Time and I" to the vibrant bubble of "Colorful," themes of growing older and feeling that burden run unapologetically throughout much of the album. Off to the Races is as ferociously anthemic as it is incredibly raw and personal. The trio are in their early 30s now, but their spirits are forever rooted in childlike wander, ignited through a resolve to never let go of the past or what makes them feel truly alive.
"Time and I" stemmed from a poignant conversation, which came at a crucial time in Thornewill's life with a "family friend," now in her late 80s, early 90s. "She's a painter and lives in the West Village. We were just talking, and she was reminiscing on time. She said to me, 'Time and I don't see eye to eye.' That really stuck with me. I sat down at the piano and started writing about it," he says.
Of course, that moment brought their own lives into clearer focus. "As a theme on the whole record, this is album number five. We've been at this for a while. No matter what age you are, you always feel like it's the fastest year of your life. It really does. We've spent a lot of time thinking about our lives and how we've spent so much time touring and doing this."
Below, Thornewill discusses his favorite Queen song to cover, how the Queen influence presented itself in newer shades on the album and lessons learned in his 20s.
When you spend so much time thinking about time and getting older, do any fears come out of that?

Yeah, I think you're always afraid of getting older in some ways. Life gets easier in some ways, and you get more nostalgic in others. We're lucky that we're still doing something that we love, and it continues to grow. That gives us hope for the passing of time. It makes us happy to continue doing this.
What did you learn in your 20s and through your previous four albums?
So much. From how to tour and how to make music to learning how to value what's important and appreciating fans. We remember so distinctly being on those early tours and having no idea what we were doing or how the stage worked. We recently went on a tour and this other band called us "tour dads," which made us laugh. We didn't think we were that old. All of a sudden, we had been doing all that. I think we know what we're doing now, hopefully.
Are there any things you wished you would have done differently?
That's such a tricky question. In many ways, yes, lots of little things or small personal injustices or things I screwed up. Big picture stuff, it all makes us who we are. Getting rid of those things would eliminate who I am now.
You are currently in the middle of a brand new tour. What new song are people connecting with the most from the album?

"Jumpstarted," the tune we're opening with, gets a great reaction. There's a split, though, between "Everybody's Lonely" and "Fred Astaire" for the biggest moment on the tour.
What is your tour preparation generally like?
For this tour, it was about learning a whole new record. It was learning and arranging them and then figuring out the instrumentation. We even ended up buying a mandolin three days before we left on tour. It was a last-minute crisis of faith in how we were playing one of the songs.
How do you set about weaving your old stuff with the new?
It's always a challenge. We're having a lot of luck with putting a whole bunch of this new record on the set. The one thing we're doing on this tour to take the responsibility off our shoulders is we've gotten a Wheel of Fortune wheel and written a whole set of old songs that we'd normally put in the set. For the encore, we have the audience spin it and whatever it lands on, we play.
You've spoken previously about how his new album was a restart in a lot of ways. How does that leak over into the live show?
We're incorporating a lot of new things, adding in new three-part harmonies. Every time you release a new record, you sort of reinvent yourself onstage, too. There are new things you have to do now to perform. A big part of this record and getting ready for this tour was embodying a bit of Queen and using their crazy arrangements and big guitar solos.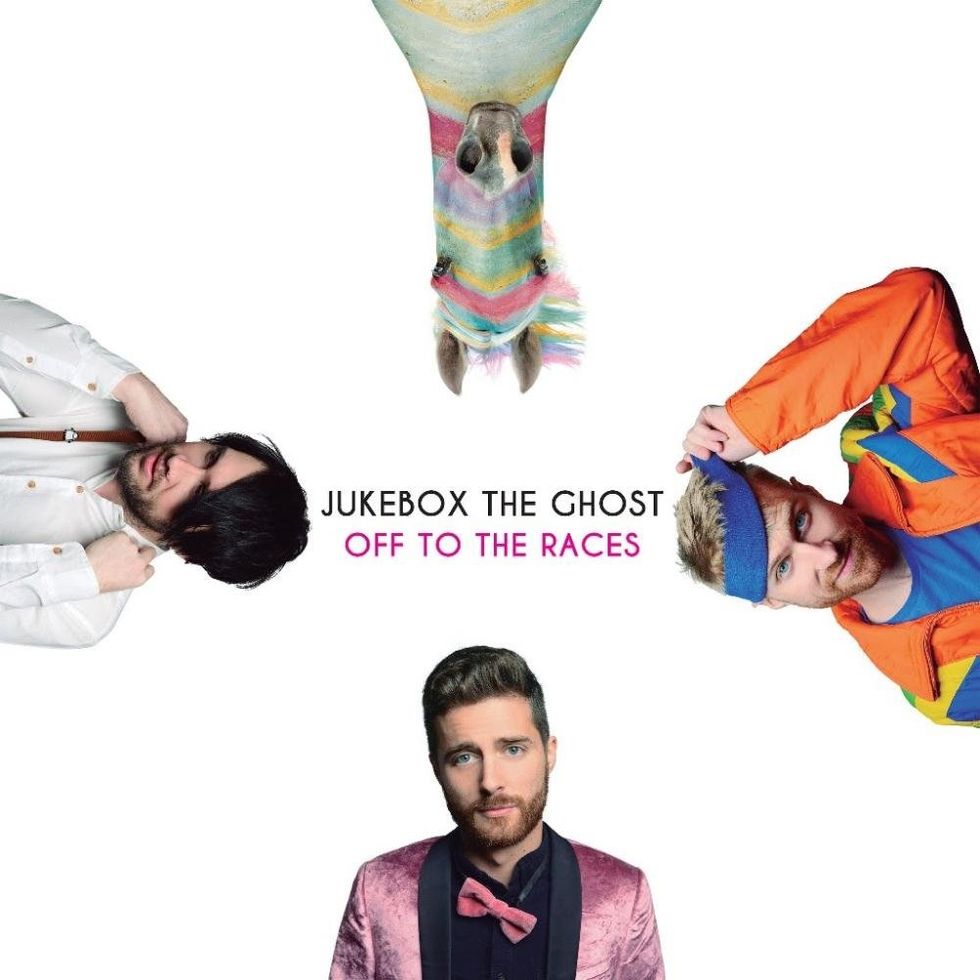 player.lemonadebox.com
Coming off your yearly Hallow-Queen show each fall, did you make a conscious effort to channel Queen on this album or did that start to happen rather organically?

Both, actually. We had a couple songs that lent themselves to a Queen-ish vibe. It's funny. We've been compared to Queen for years and years. Because we've been doing these Hallow-Queen shows and doing covers of their songs, we found a new respect for all the songs. When we were recording, it was more like we'd get to a place and say, "Yeah, we can do 70 different vocal layers on this." Queen was almost our permission slip for getting a lot of that stuff on the record.
What is your favorite Queen song to cover?
"Bohemian Rhapsody" is always a spectacular adventure. It's not a deep cut, but it's a lot of fun and a big challenge.
In an interview with Consequence of Sound, you spoke about standout cut "Everybody's Lonely" and how it relates to painter Jackson Pollock in dealing with art versus noise. Did you find yourself toying with that idea throughout the rest of the album?
Oh, yes! I think we got it right. A lot of that selection process happens before we even get into the studio. We come in with 30 or 40 songs per record. There is a lot of time spent making sure we all believe in all the songs on the record. Then, we make sure the production on the song is something special and that we can stand by it.
With "Colorful," you end the album on hopeful note, especially with such lyrics as, "Take your fears and let them go." How did you arrive on that discernment?

That song is about being a unique person and your true self and not letting the stuff that happens as you get older drag you down. It's also about remembering to play and be youthful. It's holding onto whatever you want to hold on to.
What moments are you most proud of on the record?
We're proud of every song in our own way. Tom and I spent a lot of time working on vocal stacks and really thick harmonies. I love hearing all the vocal work we've done scattered throughout the record. That's something I'm really glad we incorporated this time.
You recently stated there are four new tracks which didn't make the record. What can you tease about those?
There are four tunes we made as part of the 10 that are on this record. They are in the same world. Some are a little quirkier than what the record is. We decided to hold off on those. The 10 on the album work so well together. That said, the one thing I can tease is that we know we want to release them and release them before too long. It might be a series of singles or a 'b-sides' EP.
Check out the band's remaining tour dates:
April 25 - The Music Box - San Diego, CA
April 26 - Roxy - Los Angeles, CA
April 28 - August Hall - San Francisco, CA
April 30 - Wonder Ballroom - Portland, OR
May 1 - Neptune - Seattle, WA
May 3 - Metro Music Hall - Salt Lake City, UT
May 5 - Bluebird - Denver, CO
May 7 - Waiting Room - Omaha, NE
May 8 - Varsity Theatre - Minneapolis, MN
May 10 - HOB - Chicago, IL
May 11 - Magic Stick - Detroit, MI
May 12 - A&R Music Bar - Columbus, OH
May 14 - Headliner's Music Hall - Louisville, KY
May 15 - Beachland Ballroom - Cleveland, OH
May 17 - 9:30 Club - Washington, DC
May 18 - Mr. Small's - Pittsburgh, PA
May 19 - Tralf Music Hall - Buffalo, NY
May 21 - Brooklyn Steel - Brooklyn, NY
May 22 - Royale - Boston, MA
May 25 - BottleRock - Napa Valley, CA
---
Jason Scott is a freelance music journalist with bylines in Billboard, PopCrush, Ladygunn, Greatist, AXS, Uproxx, Paste and many others. Follow him on Twitter.
---
POP⚡DUST | Read More…
INTERVIEW | Shana Halligan Undergoes Tremendous Transformation on 'The Voice'
INTERVIEW | The Shadowboxers step out of Justin Timberlake's shadow with debut EP