MUSIC
The pop singer-songwriter readies a new EP, Private Lives, out April 20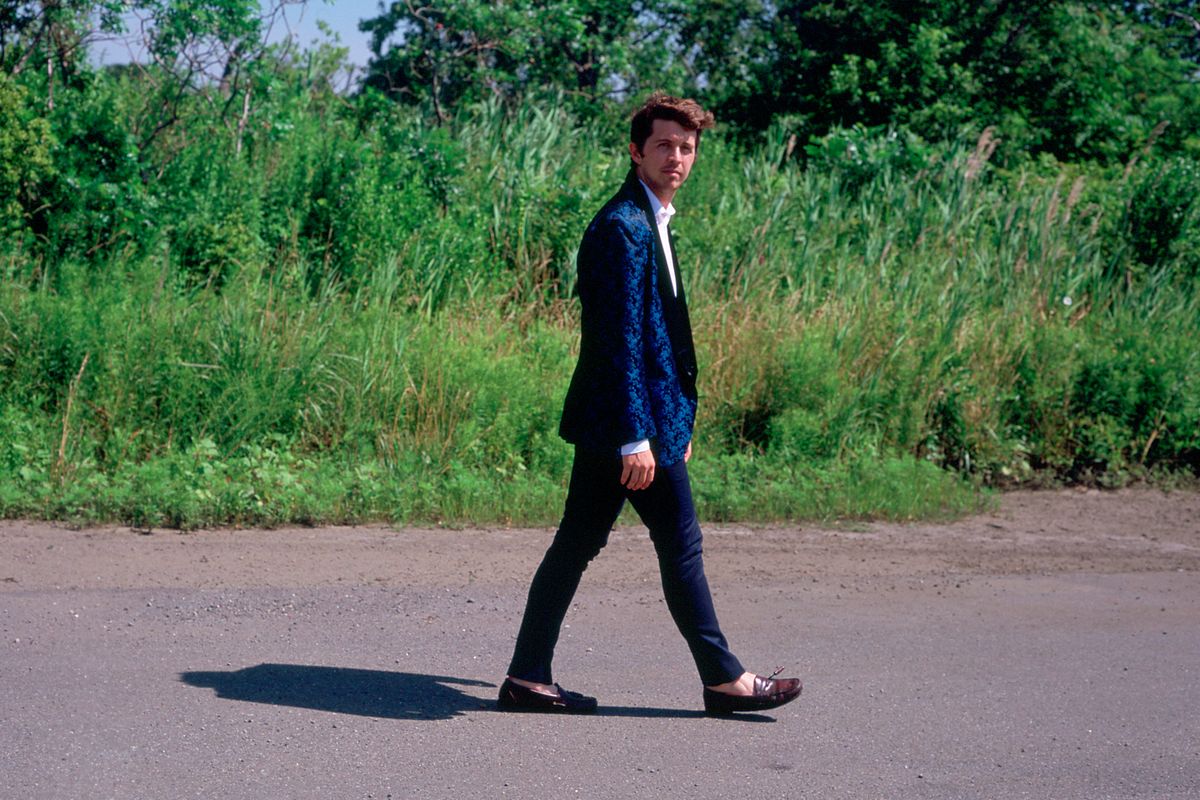 Kristen Dorata
The sticky funk track is a glorious space odyssey.
Public perception is everything, at least to some people. The obscurity and detachment of Instagram bleeds over into our real lives. In an attempt to uphold our online brand, we apply filters to how we dress, speak, act. It might be a subconscious thing, too, instilled in us through black screens reflecting distorted viewpoints of self-worth and the world, on a macro level.
One such encounter propelled pop upstart Sean McVerry to examine everyday behavior with his aptly titled "Red Light," a song adorned with warm, enveloping synths and a dollop of dream-funk. "Head to toe, you're waiting for some paparazzi," he struts over his words. "Your hair like Audrey's / Thinking you're the real thing." His penmanship is no nonsense, dripping profusely with swagger, but there is a calmness to this delivery as well.
"I try to keep myself from falling in the well," he spouts, confirming his resolve not to succumb to the invigorating sparkle of illusion. McVerry, born in Connecticut but a product of Brooklyn's vibrant music scene, explains how the song came to be. "Musically, 'Red Light' was originally this slow, dreamy groove I made with a few old keyboards of mine. I kind of swam in it for a while in this studio, reflecting on a few ideas and concepts, eventually coming back to this moment I had riding my bike in Brooklyn. I was riding around my neighborhood and stopped for some traffic, noticing this group of hip looking folks sitting on their steps in what looked like this completely staged scene — down to every outfit, casual-yet-rigid-stance and synchronized-cigarette-drag."
Amber Vittoria
"Red Light," along with "So Certain," anchors his forthcoming new EP, appropriately titled Private Lives, out April 20 on Sleep Well Records.

"Is there someone you're looking for?" he later sings through billowing layers of scattered drums and a melody so thick you have to wade in chest-deep. "Some kind of modern man? Give people what they want, something they understand." It's an addictive outlook as it is downright grim: we get a high from the attention, the likes, the RTs. And there's no way we can stop it.
He continues, "[It was] easy to satirize, but then again, something most folks (including me) are guilty of — which is putting on this little show for public perception. I sped up the track to match my perhaps misguided bitter energy, added a few drops of self-deprecation and recorded a bass line that ensured non-stop-head-bobbing."
Listen to "Red Light" (and dance your face off) below:
---
Jason Scott is a freelance music journalist with bylines in Billboard, PopCrush, Ladygunn, Greatist, AXS, Uproxx, Paste and many others. Follow him on Twitter.
---
POP⚡DUST | Read More…
PREMIERE | Parker Matthews dismantles culture of promiscuity in "Hit and Run" video
PREMIERE | Sam Setton weaves through Tokyo in 'My City' video
PREMIERE | Natali Felicia slays her demons on debut album, 'Wrong Era'
Related Articles Around the Web