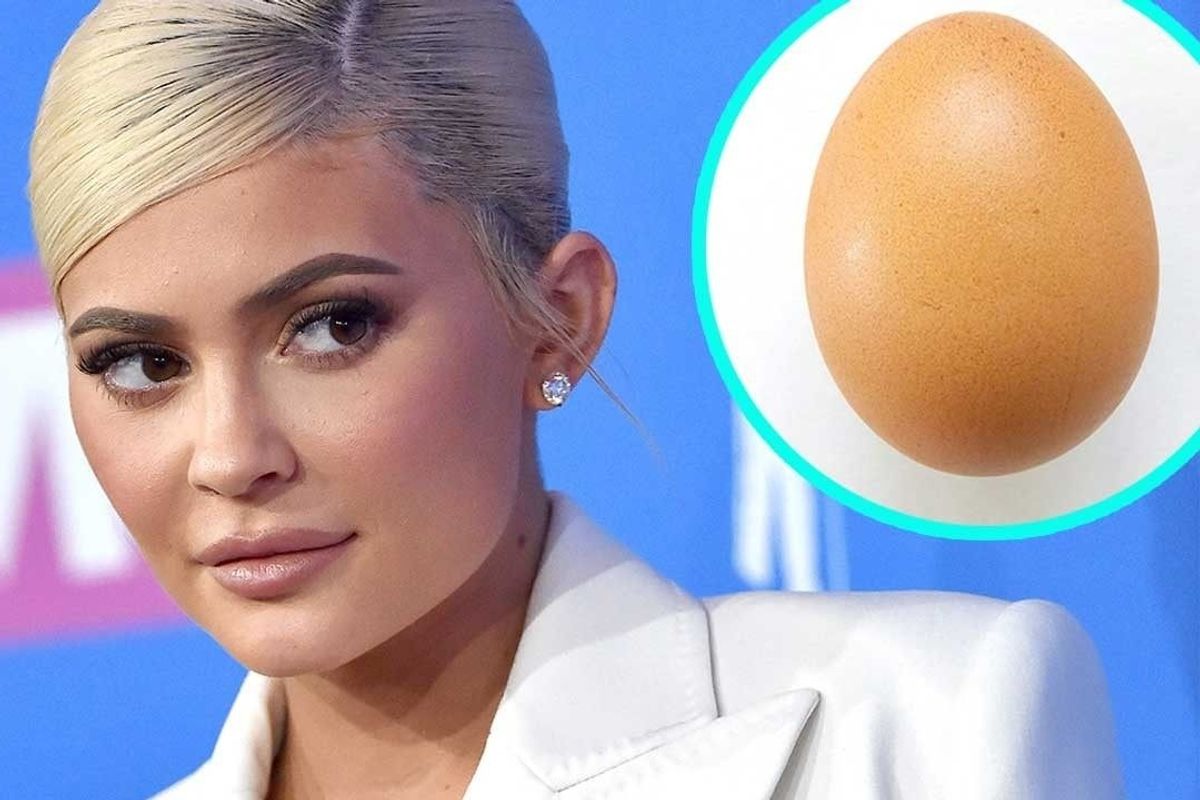 Entertainment Tonight
In honor of #WorldEggDay, we're revisiting one of the most important cultural moments of our time: the day an egg became more famous than Kylie Jenner.
The impossibly proportioned bodies of Instagram queens like Alexis Ren and Emily Ratajkowski flood our newsfeeds and timelines daily, inciting envy and insecurity in the minds of even the most self-confident. Women everywhere already despair at the possibility of achieving the perfect butt-to-waist ratio, but now another unrealistic body expectation has been established as the ruler of Instagram.
Round, bronzed, smooth, and expressionless, this social media star just set the record for most likes of all time on Instagram, beating Kylie Jenner's 18.2 million record with over 30 million likes on a single photo. The worst part? This break-out star hasn't had any work done, and the photo didn't undergo any alterations. This curvy beauty is 100% organic. Set against a simple white background, she gazes out at the viewer boldly, naked, inviting judgment, seemingly cognizant of her own undeniable perfection. The viewer has no choice but to despair, the image itself a gorgeous neutral onto which we project our fears and imperfections. It's more than a viral photo. It's a phenomenon—the highest art, a glance at the face of the divine, a wholesome breakfast.
The account, enticingly named, @world_record_egg, captioned the now iconic photo, "Let's set a world record together and get the most liked post on Instagram. Beating the current world record held by Kylie Jenner (18 million)! We got this 🙌 #LikeTheEgg #EggSoldiers #EggGang"
It seems the unabashed starlet already coined names for her growing fan club—such is her power—and people all over social media are branding themselves as #EggSoldiers.

The recently dethroned Kylie Jenner did not take this defeat lying down, posting a video of herself in athleisure cracking the likeness of her rival on the sidewalk.
In a clear indication of her superiority, Madame Egg did not retaliate or even acknowledge Jenner's attempt at starting a feud. As John Berger says in his landmark essay "Ways of Seeing": "The happiness of being envied is glamour. Being envied is a solitary form of reassurance. It depends precisely upon not sharing your experience with those who envy you. You are observed with interest but you do not observe with interest—if you do, you will become less enviable." In redefining beauty, the speckled sphere embodied these words and did not even acknowledge Jenner's petty stunt with a like. All hail the queen.

We would be remiss not to mention the questions the phenomenon raises. Who is this famous egg? Where did she come from? Has her life always been so sunny-side-up? Who was the gifted photographer? What's her workout routine? Are her freckles natural? Is social media the greatest plight humanity has ever seen? What came first: the chicken or the egg?
The famous egg has thus far declined to comment on her rising status or rumored romantic relationship with the salt of #SaltBae fame, but this reporter will not rest until she scores an interview with a figure of this kind of cultural import.