CULTURE
Why Is Lizzo in a Thong More Outrageous Than These Outfits?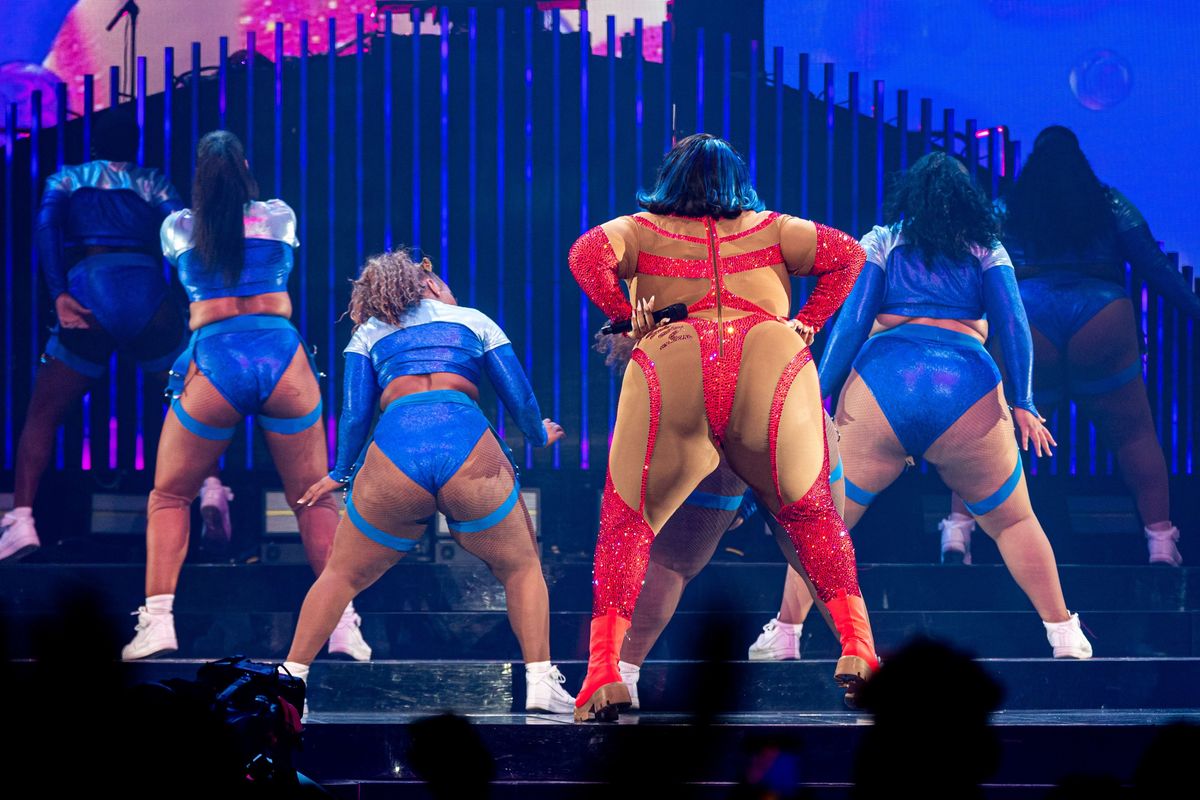 Photo by Mairo Cinquetti/NurPhoto/Shutterstock
Lizzo in a thong is just too much for some people to take.
The "Juice" singer attended the Lakers vs. Timberwolves game on Sunday, but the Lakers' win was not what drew the most attention. Rather, the 31-year-old's outfit seemed to invite the Internet to have an opinion on the propriety of forward fashion, what's "family friendly" at a sporting event, and whether body positivity can go too far.
---
Lizzo's black T-shirt dress with cut-outs on the back exposed her thong and fishnet stockings, which she skillfully showed off by twerking along with the Laker Girls' performance to her song "Juice." Her choice of apparel has since been called an "incident" that's spurred "outrage" and "controversy," as well as praise that Lizzo continues to embody the "brazen confidence and joie de vivre we should all take into 2020."
"This is how a bad bitch goes to the Lakers game vs Minnesota," Lizzo said as she walked through the stadium. "You bitches can't even spell Minnesota!" Plenty of fat-phobia and fat-shaming colored comments on social media, from criticisms of Lizzo "showing her bare ass" at a "family-friendly" event to comparisons to the professional wrestler Solofa Fatu Jr. known as Rikishi (who even trended on Twitter, along with the Grammy-nominated singer).
If anything, Jezebelnoted the real problem with the outfit: "Here's the truth: the dress is a cool, good, fun look. She should be able to trot around with her butt out at a family-friendly event; Americans could stand to be less prudish. However, I cannot stop thinking about her exposed ass and... other sensitive areas... sitting on a stadium seat... I can only hope someone reminded her to protect her vagine?"
But seriously, the sheer amount of scrutiny being applied to Lizzo's outfit is indicative of the minute criticism that women of color, especially plus-size women of color, face in the public eye. The impulse to derive moral or personality flaws from a woman's fashion choices comes from misogyny's history of biased beauty standards, which still mar our perceptions and media today. So however "loud" Lizzo has been about her body positivity activism, it can't be "too loud" or "too far" when there are still such discrepancies in how we treat women of different races and different sizes. As Lizzo told People, "If you saw Anne Hathaway in a bikini on a billboard, you wouldn't call her brave."
Truly, the same daring fashion statement would have been mostly praised if it were worn by a Kardashian–or perhaps any white woman with a slim figure. Remember Khloe Kardashian in an entire mesh outfit? Remember when Taylor Momsen (Gossip Girl) forewent pants to wear long T-shirts and fishnets on a regular basis (much like Lizzo)? Whether going out to dinner, attending a party, or watching a public sporting event, what deep moral consequences are there to women wearing revealing clothing? If the argument is that she's sexualizing her body by revealing it, then how is that different from centuries of patriarchal shame and censorship that condemned the image of women's bodies (including, at one time, ankles and wrists) that didn't already do that?